Mid-Term Evaluation: Leading the Way for Gender Equality Programme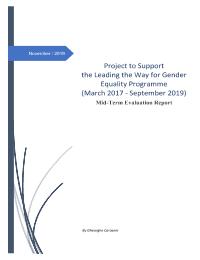 Evaluation Plan:

Evaluation Type:

Mid Term Project

Planned End Date:

01/2020

Completion Date:

01/2020

Status:

Completed

Management Response:

No

Evaluation Budget(US $):

25,000
Title
Mid-Term Evaluation: Leading the Way for Gender Equality Programme
Atlas Project Number:

00088397

Evaluation Plan:
2019-2023, Cambodia
Evaluation Type:
Mid Term Project
Status:
Completed
Completion Date:
01/2020
Planned End Date:

01/2020

Management Response:
Yes

UNDP Signature Solution

:
Corporate Outcome and Output (UNDP Strategic Plan 2018-2021)

1. Output 1.6.1 Country-led measures accelerated to advance gender equality and women's empowerment

SDG Goal

Goal 5. Achieve gender equality and empower all women and girls

SDG Target

5.5 Ensure women's full and effective participation and equal opportunities for leadership at all levels of decision-making in political, economic and public life

Evaluation Budget(US $):

25,000

Source of Funding:
Project Budget
Evaluation Expenditure(US $):

18,500

Joint Programme:
No
Joint Evaluation:

No

Evaluation Team members:

| Name | Title | Email | Nationality |
| --- | --- | --- | --- |
| Gheorghe Caraseni | International Consultant | gheorghecaraseni@gmai.com | |

GEF Evaluation:

No

Key Stakeholders:
Countries:

CAMBODIA
Lessons
1.

The program design and complexity should be tailored to the capacity of the implementing partner, available human resources and time allocation. Implementation of the LWGE program illustrates that this is a very important aspect, which should not be underestimated during the project development phase, because it influences substantially the program performance. De-facto, "it can make or break the business" depending on the current state of play. It is not just about the commitment, it is about potential and capacity. Otherwise, it will affect and, even jeopardize the program implementation and threaten its performance and perspectives



2.

Complex program needs milestones, more proactive approach, consistent interaction and communication between the actors and guidance (coaching) throughout the entire project cycle management. This is both a planning and partnership-related aspect. It is far not sufficient to have clear operational procedures, to oversight the implementation process and to react promptly in case of demand or need. There is necessary to have milestones and to be proactive in monitoring the progress and providing guidance, even when the implementing partner did not ask (yet) for support. A coach does not provide coaching only when the trainee asked for it, he/she does it whenever he/she identify the need, even when the trainees does not realize that support is needed. This is valid both for UNDP and for Steering Committee (which also should steer, beside monitoring and approval). Communication and interaction between the partners is almost never, too much and the more complex the program, the more interaction and implementation dynamic is needed.



3.

Capacity development is linked to generating and managing changes and it is a difficult and sensitive process, still vague and unclear for many stakeholders, therefore often it encounters personal and institutional resistance. It should involve a clear step-by-step implementation approach and a thematic expert, which can guide the program during overcoming those resistances and transforming reluctances into incentives.



Findings
Recommendations
1

Reinforce LWGE program implementation with UNDP as the key driving force.

2

Advocate for approval of the drafted gender policy documents.

3

Follow up with the identification of financial commitments to support NGP and NRV and lobby if needed.

4

Concentrate more on capacity development of MoWA, incl. at the individual level.

5

Provide tailored assistance to MoWA units on integration the RBM approach.

6

Provide coaching to program management unit in integration capacity development in MoWA units and encourage further coaching of MoWA of other Cambodian public institutions.

7

Provide evaluation support to the Secretariat of NCDD in evaluation the strategy and action plan on advancing women on decision making on SNA.

8

Encourage development of the Back-Home Action Plans by the participants after the study visits and/or thematic trainings.

9

Involve UN WOMEN more actively, especially during the last six months in the perspective of taking over and development of the next initiative.

10

Develop a two-component program mostly focused on: 1) Cross-sectorial/ministerial gender mainstreaming and 2) Development of the RBM-based M&E system within MoWA.

11

Maintain capacity development as back up component and involve a Capacity Development Consultant responsible with CDF implementation.

12

Apply the Principle "Do less, but do better" and narrow down the results during the project management cycle.

13

Handover the educational subcomponent to MoEYS, and media sensitization subcomponent to MoInf and involve additional implementing partners.

14

Develop a monitoring mechanism of Media Code of Conduct on violence against Women and hand it over to MoInf.

15

Consider development of the blended learning format on GEWE for the civil servants.

16

Involve more actively civil society organizations in the next program.