Final Evaluation: Early Warning System Project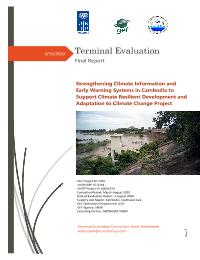 Evaluation Plan:

Evaluation Type:

Final Project

Planned End Date:

11/2020

Completion Date:

10/2020

Status:

Completed

Management Response:

No

Evaluation Budget(US $):

45,000
Title
Final Evaluation: Early Warning System Project
Atlas Project Number:

82718,00082718

Evaluation Plan:
2019-2023, Cambodia
Evaluation Type:
Final Project
Status:
Completed
Completion Date:
10/2020
Planned End Date:

11/2020

Management Response:
Yes

Focus Area

:
Corporate Outcome and Output (UNDP Strategic Plan 2018-2021)

1. Output 3.3.1 Evidence-based assessment and planning tools and mechanisms applied to enable implementation of gender-sensitive and risk-informed prevention and preparedness to limit the impact of natural hazards and pandemics and promote peaceful, just and inclusive societies

SDG Goal

Goal 1. End poverty in all its forms everywhere
Goal 13. Take urgent action to combat climate change and its impacts

SDG Target

1.5 By 2030, build the resilience of the poor and those in vulnerable situations and reduce their exposure and vulnerability to climate-related extreme events and other economic, social and environmental shocks and disasters
13.1 Strengthen resilience and adaptive capacity to climate-related hazards and natural disasters in all countries

Evaluation Budget(US $):

45,000

Source of Funding:
Project Budget
Evaluation Expenditure(US $):

15,000

Joint Programme:
No
Joint Evaluation:

No

Evaluation Team members:

| Name | Title | Nationality |
| --- | --- | --- |
| Amal Aldababseh | International Consultant | JORDAN |

GEF Evaluation:

Yes

| | |
| --- | --- |
| GEF Project Title: | Strengthening Climate Information and Early Warning Systems in Cambodia to Support Climate Resilient Development and Adaptation to Climate Change Project |
| Evaluation Type: | Terminal Evaluation |
| Focal Area: | Climate Change |
| Project Type: | FSP |
| GEF Phase: | GEF-5 |
| GEF Project ID: | 5318 |
| PIMS Number: | 5235 |

Key Stakeholders:
MInistry of Water Resources and Meteorology, Department of Hydrology, Department of Meteorology and River Work
Countries:

CAMBODIA
Recommendations
1

An exit strategy and sustainability plan to be developed, discussed among key stakeholders, and approved by the Project Board before the operational closure of the project. The project should hold a workshop with stakeholders to adopt the comprehensive exit strategy and ensure the project's results are sustainable. The vision should provide a clear statement that work on EWS and CI is crucial to protect human lives, enhance community resilience, and ensure the sustainability of the project's impacts. (UNDP/ MOWRAM).

2

Continuous financial support from the government, e.g. through dedicating a budget line for equipment' O&M cost, and efforts to promote learning and enhancing knowledge sharing to improve participation in CI and EWS is required. An urgent and clear plan of action needs to be developed to ensure the maintenance of the equipment after 2020 is completed (MOWRAM, UNDP).

3

Ensure project impacts sustainability by institutionalizing the project's results and work. The project should investigate establishing a specialized EWS/CI Unit or a Directorate at the national government level through existing planning mechanisms and link it to regional/provincial departments. The possibility of linking the work of this Unit/Directorate to all line ministries and directorate should be investigated to utilize functional existed mechanisms (MOWRAM, UNDP).

4

In addition to the use of EWS and CI in the agriculture sector to ensure food security, the Government (with the support of UNDP) must investigate possibilities for community-based and private enterprise-based sustainable use of EWS/CI in other sectors like health, water resources management, disaster risk reductions etc., with a focus on the role of women (UNDP, MOWRAM, RGC).

5

The project has managed to produce a set of valuable documentation including public awareness products, training manuals, technical notes, Facebook pages, that contain a lot of important information for farmers, local beneficiaries, etc. It is recommended to develop a dissemination plan for these tools to ensure that future initiatives build on the project activities and results and incorporate the project's products in its work (UNDP, MOWRAM).

6

Capture lessons learned from this project, particularly on the role of the private sector in EWS and supporting DRR work and share at the national/regional/global level (UNDP CO).

7

MOWRAM to encourage and attract active participation of the private sector in use of EWS/CI to enhance national and local climate resilience and adaptation. Through private-public-partnership, dedicate a certain percentage of the Corporate Social Responsibility (CSR) fund to finance better environment/climate change adaptation measures and tools through effective communication.

8

MOWRAM, in coordination with other government entities, undertakes intensive and periodic inspection on the installed stations and provide the needed maintenance to ensure the long-term use of the installed stations.