Final Evaluation: Collaborative Management for Watershed and Ecosystem Service Protection and Rehabilitation in the Cardamom Mountains, Upper Prek Thnot River Basin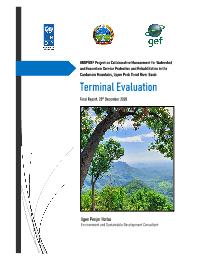 Evaluation Plan:

Evaluation Type:

Final Project

Planned End Date:

12/2020

Completion Date:

12/2020

Status:

Completed

Management Response:

No

Evaluation Budget(US $):

17,700
Title
Final Evaluation: Collaborative Management for Watershed and Ecosystem Service Protection and Rehabilitation in the Cardamom Mountains, Upper Prek Thnot River Basin
Atlas Project Number:

90509

Evaluation Plan:
2019-2023, Cambodia
Evaluation Type:
Final Project
Status:
Completed
Completion Date:
12/2020
Planned End Date:

12/2020

Management Response:
Yes

Focus Area

:

1. Poverty
2. Sustainable
3. Others

Corporate Outcome and Output (UNDP Strategic Plan 2018-2021)

1. Output 2.1.1 Low emission and climate resilient objectives addressed in national, sub-national and sectoral development plans and policies to promote economic diversification and green growth

SDG Target

15.1 By 2020, ensure the conservation, restoration and sustainable use of terrestrial and inland freshwater ecosystems and their services, in particular forests, wetlands, mountains and drylands, in line with obligations under international agreements
15.2 By 2020, promote the implementation of sustainable management of all types of forests, halt deforestation, restore degraded forests and substantially increase afforestation and reforestation globally
15.4 By 2030, ensure the conservation of mountain ecosystems, including their biodiversity, in order to enhance their capacity to provide benefits that are essential for sustainable development

Evaluation Budget(US $):

17,700

Source of Funding:
Project Budget
Evaluation Expenditure(US $):

17,700

Joint Programme:
No
Joint Evaluation:

No

Evaluation Team members:

| Name | Title | Nationality |
| --- | --- | --- |
| Ugen Penjor Norbu | International Consultant | |

GEF Evaluation:

Yes

| | |
| --- | --- |
| GEF Project Title: | Collaborative Management for Watershed and Ecosystem Service Protection and Rehabilitation in the Cardamom Mountains, Upper Prek Thnot River Basin |
| Evaluation Type: | Terminal Evaluation |
| Focal Area: | Land Degradation |
| Project Type: | MSP |
| GEF Phase: | GEF-6 |
| GEF Project ID: | 4945 |
| PIMS Number: | 5944 |

Key Stakeholders:
Ministry of Agriculture (IP), other direct project partners - Department of Agricultural Land Resources Management, Provincial Department of Agriculture, Forestry and Fisheries (Kampong Speu), Mlup Baitong (NGO)
Countries:

CAMBODIA
Recommendations
1

An exit strategy and sustainability plan need to be developed in close consultation with the project stakeholders before the project closure.

2

Explore the possibility of initiating community-led projects, such as through UNDP/ GEF Small Grants Program, to continue and strengthen some of the promising sustainable livelihood and community-based SLM interventions initiated through the project but requires more support for consolidation and larger impact.

3

On-farm SLM demonstrations should consider integrating participatory and group-based on-farm learning process such as Farmer Field School (FFS), which are known to be successful in farmer-to-farmer exchange of knowledge, skills and experience, and in enhancing community uptake of introduced technology.

4

Continue dialogue and advocacy with ELC-holding agribusinesses for collaboration on a longer term based on PPP model, building on the short-term cooperative agreement and collaborative experience initiated through this project.

5

Pursue and initiate PES schemes as a sustainable financing and environmental governance mechanism for ecosystem services, building on the ecosystem valuation done by the project.

6

Consolidate CF/ CPA activities and explore opportunities to link with REDD+ initiatives, learning from other CFs and CPAs that have successfully linked with REDD+.

7

Where possible, link management of CF/ CPAs to improved conditions of catchment area/ source of local water supply systems to demonstrate the importance of landscape conservation approach and the inter-linkage between community development and conservation objectives.

8

All knowledge and information generated by various consulting work done under the project need to be consolidated and documented systematically as ready references and basis for decision-making and planning future SLM and watershed management interventions.