Midterm Review (MTR) of the UNDP-supported GEF-financed project Technology Transfer for Climate Resilient Flood Management in Vrbas River Basin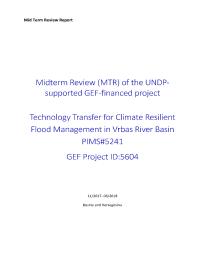 Evaluation Plan:

Evaluation Type:

Final Project

Planned End Date:

02/2019

Completion Date:

02/2019

Status:

Completed

Management Response:

Yes

Evaluation Budget(US $):

13,360
Title
Midterm Review (MTR) of the UNDP-supported GEF-financed project Technology Transfer for Climate Resilient Flood Management in Vrbas River Basin
Atlas Project Number:

00083690

Evaluation Plan:
2015-2020, Bosnia and Hercegovina
Evaluation Type:
Final Project
Status:
Completed
Completion Date:
02/2019
Planned End Date:

02/2019

Management Response:
Yes

UNDP Signature Solution

:
Corporate Outcome and Output (UNDP Strategic Plan 2018-2021)

1. Output 2.3.1 Data and risk-informed development policies, plans, systems and financing incorporate integrated and gender-responsive solutions to reduce disaster risks, enable climate change adaptation and mitigation, and prevent risk of conflict

SDG Goal

Goal 13. Take urgent action to combat climate change and its impacts

SDG Target

13.1 Strengthen resilience and adaptive capacity to climate-related hazards and natural disasters in all countries
13.2 Integrate climate change measures into national policies, strategies and planning
13.3 Improve education, awareness-raising and human and institutional capacity on climate change mitigation, adaptation, impact reduction and early warning

Evaluation Budget(US $):

13,360

Source of Funding:
Project budget/donor resources
Evaluation Expenditure(US $):

13,360

Joint Programme:
No
Joint Evaluation:

No

Evaluation Team members:

| Name | Title | Email | Nationality |
| --- | --- | --- | --- |
| Georg Petersen | Evaluation Consultant | gpetersen@hydroc.de | |

GEF Evaluation:

Yes

| | |
| --- | --- |
| GEF Project Title: | Technology Transfer for Climate Resilient Flood Management in Vrbas River Basin |
| Evaluation Type: | Mid-term Review |
| Focal Area: | Climate Change |
| Project Type: | EA |
| GEF Phase: | GEF-1 |
| GEF Project ID: | 5604 |
| PIMS Number: | 5241 |

Key Stakeholders:
Ministry of Spatial Planning, Construction and Ecology of Republika Srpska; Ministry of Foreign Trade and Economic Relations of Bosnia and Herzegovina; Ministry of Agriculture, Water-Management and Forestry of Federation of BiH; Ministry of Agriculture, Forestry and Water Resources of Republika Srpska; Ministry of Environment and Tourism of Federation of Bosnia and Herzegovina
Countries:

BOSNIA AND HERCEGOVINA
Recommendations
1

Repeating exposure through on-the-job training is necessary to ensure long term sustainability of the new technologies.

2

More emphasis, capacity building and knowledge transfer regarding "making room for water" and/or "living with floods" concepts to beneficiaries would be highly beneficial in order to enable these beneficiaries to further develop means for holistic flood management in their jurisdictions.

3

The government of BiH as well as entities and municipalities will need to find ways and conduct the necessary legal adjustments to collect and/or allocate the necessary funds to ensure long term sustainability of the flood protection, adaptation and warning interventions. It is expected that capital intensive maintenance and replacement works will become necessary in the future that will need respective financing. Financing will need to cover both capital costs and staffing costs. The project is to develop a sustainability strategy with as exact as possible financial projections in cooperation with the respective stakeholders.

4

Guidelines for potential upscaling including lessons learnt should be produced. Upscaling of project methodologies and results should be done through concrete project proposals covering other flood prone river basins in Bosnia and Herzegovina.

5

Explore implementation of agro-forestry measures with direct involvement of beneficiaries e.g. project to provide seedlings and municipality or farmers to provide labor for planting.

6

The project should support development of by-laws that will regulate the development of the flood risk management plan and continue with the development of the Vrbas river basin flood risk management plan as a pilot for the rest of BiH.

7

Insurance models with applicable tariffs to be developed and discussed with stakeholders. Simulation of the model can be initiated in pilot municipalities. In order to ensure necessary insurance take-up, the 'solidarity' approach for financing should be explored.