Terminal evaluation of the Highly Migratory Fish Stocks in the West Pacific and East Asian Seas Project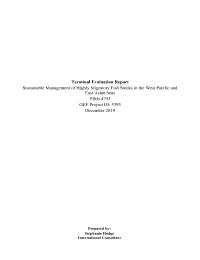 Evaluation Plan:

Evaluation Type:

Final Project

Planned End Date:

12/2019

Completion Date:

12/2019

Status:

Completed

Management Response:

No

Evaluation Budget(US $):

30,000
Title
Terminal evaluation of the Highly Migratory Fish Stocks in the West Pacific and East Asian Seas Project
Atlas Project Number:

00077221

Evaluation Plan:
2019-2023, Philippines
Evaluation Type:
Final Project
Status:
Completed
Completion Date:
12/2019
Planned End Date:

12/2019

Management Response:
Yes

Focus Area

:
Corporate Outcome and Output (UNDP Strategic Plan 2018-2021)

1. Output 1.4.1 Solutions scaled up for sustainable management of natural resources, including sustainable commodities and green and inclusive value chains

SDG Goal

Goal 14. Conserve and sustainably use the oceans, seas and marine resources for sustainable development

SDG Target

14.2 By 2020, sustainably manage and protect marine and coastal ecosystems to avoid significant adverse impacts, including by strengthening their resilience, and take action for their restoration in order to achieve healthy and productive oceans

Evaluation Budget(US $):

30,000

Source of Funding:
Project budget
Evaluation Expenditure(US $):

26,548

Joint Programme:
No
Joint Evaluation:

No

Evaluation Team members:

| Name | Title | Nationality |
| --- | --- | --- |
| Stephanie Jill Hodge | Evaluation Specialist | |

GEF Evaluation:

Yes

| | |
| --- | --- |
| GEF Project Title: | Sustainable Management of Highly Migratory Fish Stocks in the West Pacific and East Asian Seas |
| Evaluation Type: | Terminal Evaluation |
| Focal Area: | International Waters |
| Project Type: | FSP |
| GEF Phase: | GEF-5 |
| GEF Project ID: | 5393 |
| PIMS Number: | 4753 |

Key Stakeholders:
Western and Central Pacific Fisheries Commission
Countries:

PHILIPPINES
Lessons
Findings
1.

3.1. PROJECT DESIGN AND FORMULATION

3.1.1. Relevance to International, Regional and National Priorities

This Project was a follow-up to a successful first phase implemented from 2010 to 2012. The first phase focused on improvements in data quality and compliance towards Conservation and Management Measures (CMMs) of the WCPFC for the three beneficiary countries: Indonesia and Philippines (full members of the Commission), and Vietnam, a cooperating nonmember. This second phase was designed to follow up with gaps in data quality and CMM compliance and included an expanded scope, covering four additional cross-cutting areas: climate change, ecosystem approach to fisheries management (EAFM), ecolabeling and harvest strategies. The implementation strategy changed slightly with the execution partner as the secretariat of the WCPFC. NOPs was dropped. The Project was highly relevant to regional and national fisheries management priorities and plans, TE consultant learned the Project had been highly aligned. It was reported by interviewees as highly relevant to regional plans and programmes (WCPFC) but less relevant to the subregional EAS agenda. Additionally during implementation, the Project began to fit within the context of the national commitments to work on sustainable development goals SDGs and Agenda 2030, Climate change 2015 and Sendia 2015




Tag: Fishery Climate Change Adaptation Climate change governance Coherence Relevance Data and Statistics

2.

3.1.2. Analysis of TOC/Strategy—Assumptions and Risks

TE found different views on the design effectiveness. Naturally, the design would be different for each country as each country had different capacity needs and interests towards the projects regional cooperation goals. Indonesia agrees the project had comprehensively covering the gaps on data collection and monitoring but missed the important aspect of data collection from the need for an observer program. There is a need still for operational data to be obtained from a functioning observer program in all three countries which required by the WCPFC (funding and programming work may be required to help fill this capacity gap linked to project expected outcomes - new project with New Zealand does not fill it).




Tag: Fishery Climate change governance Effectiveness Human and Financial resources Knowledge management Monitoring and Evaluation Programme/Project Design Risk Management Theory of Change Data and Statistics

3.

3.1.3. Results Framework

The project results framework was comprehensive with 10 indicators and 66 end-of-project targets, 4 at the objective level, and 63 divided among 8 expected project outcomes. These were distributed across regional, subregional and national dimensions. The detailed log frame (Annexes attached) was reported by project management interviewed as a "general" guide, used for annual work planning and implementation, but it had not been adhered to closely as strict monitoring tool, i.e. against final expected results (also see monitoring section for commentary).




Tag: Fishery Rural development Climate Change Adaptation Gender Equality Women's Empowerment Monitoring and Evaluation Results-Based Management Theory of Change Capacity Building Data and Statistics

4.

3.1.4. Gender Mainstreaming and Social Safeguards Analysis (See project mainstreaming section in findings section below)

The Project document states the project monitoring would ensure the participation of women in all its activities and will target at the minimum, 30 percent women participation in the national, regional and international capacity building activities. It will, to the extent possible, provide equal access to and benefits from the Project resources to both men and women. The project would undertake gender-disaggregated monitoring of its activities, outputs and impacts. This was not done and represents a lesson learned for the implementing partner as to the need for monitoring staff.




Tag: Vulnerable Gender Equality Gender Mainstreaming Women's Empowerment Monitoring and Evaluation Capacity Building Data and Statistics

5.

3.2. PROJECT IMPLEMENTATION AND ADAPTIVE MANAGEMENT

Project Implementation and Adaptive Management: Rating: Moderately Satisfactory

3.2.1. Management and Oversight Arrangements Project Implementing Unit (PIU)

Based on the Project Cooperative Agreement (PCA) signed on 07 October 2014, WCPFC-IP was responsible for the overall Project and reporting to UNDP in the Philippines. WCPFC-IP has assigned the Responsible Parties (RPs):

(NFRD) and Bureau of Fisheries and Aquatic Resources (BFAR) in Philippines, Center for Fisheries Research (CFR) and Directorate General of Capture Fisheries (DGCF) in Indonesia, and Directorate of Fisheries (D-Fish), Ministry of Agriculture and Resource Development (MARD), and Department of Capture Fisheries and Resource Protection (DECAFIREP) in Vietnam to undertake day-to-day implementation activities of the Project.

The WCPFC PIU was situated in Pohnpei, Federated States of Micronesia (FSM). The PIU had hired a full time Project Management Assistant and Finance Officer, both under the supervision of the Project Manager and Finance and Administration Manager of WCPFC-IP. The PIU liaises with Responsible Parties (RPs) to the Project namely National Fisheries Research and Development Institute (NFRD) and Bureau of Fisheries and Aquatic Resources (BFAR) in Philippines, Center for Fisheries Research (CFR) and Directorate General of Capture Fisheries (DGCF) in Indonesia, and Directorate of Fisheries (D-Fish), Ministry of Agriculture and Resource Development (MARD), and Department of Capture Fisheries and Resource Protection (DECAFIREP) in Vietnam including other stakeholders, in order to support the implementation of the Project.




Tag: Fishery Global Environment Facility fund Oversight Programme/Project Design Project and Programme management Country Government Capacity Building Technical Support

6.

3.2.2. Implementation Approach and Work Planning

TE learned the project had a delayed start of project activities in Indonesia and Vietnam. The project endorsed by the GEF CEO on 12 May 2014, national governments approved the project document on 27 October – the official start date of the project – but it took a year for registration of the project and internal, domestic approval processes in Indonesia and Vietnam. The second phase, contained cross-cutting areas, technical areas not part of the first phase, including climate change analysis and planning, pilot implementation of ecosystem approach to fisheries management (EAFM), facilitation of market-based approaches, and development of harvest strategies. Interviewees confirmed during TE, the level of preparedness for the cross cutting areas and the sub regional targets was low. Interviewees from all countries and the region, as well as the MTE suggested the project expected outcomes would take more resource and a much longer implementation phase.




Tag: Climate change governance Global Environment Facility fund Policies & Procedures Project and Programme management Capacity Building Technical Support

7.

3.2.3. Finance and Co-financing

The project was audited (2017). The audit was presented during the third project board meeting after concern was raised on accountability for national expenditure. While the WP had been capacity assessed, the countries systems were not. During the Board meeting for example (UNDP-Philippines) presented a summary of the audit findings from November 2014 to December 2016. The audit covers three financial statements: statement of expenditures (CDR), statement of assets and equipment, and statement of cash position. Findings, implications and recommendations delivered.

Two findings were

1) absence of acquittals for cash advanced made to implementing countries and

2) improper asset management, where both were scored as high risk.




Tag: Climate change governance Efficiency Operational Efficiency

8.

3.2.4. Monitoring and Evaluation Systems (Project Level)

While the project has generated substantive results, the formal monitoring and evaluation system was fairly rudimentary. The monitoring system and results were reported by interviewees (and based on consultancy and document review) as weak. For example, key scientific achievements and policy-level results achieved were insufficiently documented. Improvements with respect to compliance to WCPFC CMMs had to be generally captured in the annual reports from the TCC meetings (SPI data report 2019 attached as separate Annexes) and testimonials included in the WCPFC data and statistics reports.




Tag: Fishery Climate change governance Global Environment Facility fund Monitoring and Evaluation Policies & Procedures Theory of Change

9.

3.2.5. Stakeholder Engagement and Partnerships (Synergies)

The project document listed an extensive array of UN, government, NGO and private sector partners expected across the region (see section above). Examples of complementary projects and programs including the FAO-GEF Programme on Global Sustainable Fisheries Management and Biodiversity Conservation in the Areas beyond National Jurisdiction (ABNJ)

- World Bank-GEF Ocean Partnerships for Sustainable Fisheries & Biodiversity Conservation;

- UNDP GEF Pacific Islands Oceanic Fisheries Management Project (PIOFMP);

- Coral Triangle Initiative (CTI), the EAFM Working Group. There are other projects and programs operating at the national level, including USAID supported Smart Seas project in Philippines.





Tag: Climate change governance Biodiversity Coherence Global Environment Facility fund Partnership Programme Synergy Civil Societies and NGOs Private Sector UN Agencies

10.

3.2.6. Adaptive Management

The project was implemented according to the log frame and the activities outlined by the project document. Here, it was important to note the difference between using the log frame as a guide for work planning and using it as a results monitoring tool. The use of project document as a monitoring tool by project management was limited. As mentioned in design section, the GEF grant had been reduced before approval of the project and the design and expected results framework remained the same. The adaptive management measures included the PM guiding and rationalizing budget allocation for the cross-cutting project activities and expertise. Most of these inputs were expert consultancies and knowledge inputs but generally these area were overambitious in absence of the over half the project budget originally conceived for the work. The budget and results focussed on monitoring and data collection systems. Interviews were very promising about the PM unique profile to guide them technical and TE interviewees stated the decision on work planning were made jointly. The project manager made special trip to walk the NTCs and other national counterparts through comprehensive planning exercises in order to deliver on all expected results. The annual work plans were then approved by the projects boards. This was verified at TE.




Tag: Efficiency Global Environment Facility fund Monitoring and Evaluation Project and Programme management Theory of Change Data and Statistics

11.

3.2.7. Communications and Knowledge Management

The communication and knowledge management approach was very weak. KM was not viewed as an important implementing modality (for results i.e. policy etc.) and the expected outputs were late in developed in project timeline. Communication was insular and generally directed to the scientific and technical community involved. Project management only reached a decision with PEMSEA late for implementing KM outputs late during project implementation. This negated the progress on objective to learn and share knowledge linked to national policy goals and KM needs, PEMSEA especially for as per the subregional knowledge sharing and sub -regional governance targets, as a sustainability strategy and as PR the subregional governance goals.




Tag: Effectiveness Communication Knowledge management Capacity Building

12.

3.2.8. COUNTRY OWNERSHIP

Country ownership has been high. The cumulative co-financing contributions at final exceed the committed sum. Generally, the ownership have been facilitated through an effective execution modality with the project activities aligned and integrated with national programming and budgeting. This was partly due to the PM unique CTA /PM competencies and reported abilities to meander through the unique national government cultures to get results. This strength of the project has been recognized by MTE and again during TE. There was a strong continuity of the implementation partners, including project manager, national coordinators, regional partners, UNDP CO staff, and UNDP GEF RTA. The WCPFC has provided steady co-financing contributions, including the in-kind project management services rendered by the Science Manager of the WCPFC.




Tag: Efficiency Sustainability Global Environment Facility fund Government Cost-sharing Ownership Private Sector

13.

3.2.9 MAINSTREAMING

At its essence, the project's substantive content focused on mainstreaming cross-cutting issues and priorities (including gender) of UNDP/GEF. The general work on fisheries management and monitoring improvements supports job creation, gender, and equality. For mainstreaming, TE considered the project effects on gender, local populations (e.g., income generation/job creation, improved natural resource management arrangements with local groups, improved policy frameworks for resource allocation and distribution, and regeneration of natural resources for long-term sustainability) and the extent to which the project objectives conformed to agreed priorities in the UNDP country programme document (CPD) and other country programme documents, whether project outcomes have contributed to better preparations to cope with disasters or mitigate risk (if applicable), and the extent to which the poor, the indigenous, persons with disabilities, women, and other disadvantaged or marginalized groups benefited from the project and the povertyenvironment nexus (how the project's environmental conservation activities contributed to poverty reduction).




Tag: Fishery Disaster Risk Reduction Vulnerable Global Environment Facility fund Gender Equality Gender Mainstreaming Civic Engagement Indigenous people Poverty Reduction

14.

3.2.10. IA/ UNDP/GEF VALUE ADDED

The UNDP Philippines and UNDP APRC (Asia Pacific Regional Centre) were reported as providing continuous oversight and strategic technical support and participation in the implementation and adaptive management towards results. UNDP Philippines was commended and reported as providing excellent day-to-day support to project manager and implementation strategies. On the technical side, oversight was provided by the Regional Technical Advisor from UNDP APRC




Tag: Effectiveness Global Environment Facility fund

15.

3.3 RESULTS (ATTAINMENT OF OBJECTIVES) (RATED*)

3.3.1. Progress towards Outcomes Analysis

Objective: To improve the management of highly migratory species in the entire West and Central Pacific (WCPF) Convention area by continuing to strengthen national capacities and international participation of Indonesia, Philippines and Vietnam in WCPF Commission activities.

Progress towards achieving project objective is rated as: Satisfactory

The Project improved monitoring of oceanic tuna fisheries in the EAS. This was a substantive aim of the project and is fully achieved at project closure. There were testimonials during TE and scientific evidence (data and monitoring improvements) to support the assessment of the objective. The original project design was scrutinized and rationalized during the MTE. It had been adapted by management during work planning and project boards. For instance, at the onset, the overly ambitious targets around the subregional governance and cross-cutting areas were further rationalized as "making contributions." The Project was, however, highly successful in delivering results with respect to its core work of improving data collection and monitoring of tuna stocks.

Significant barriers (highlighted by the MTE and verified by TE) came with the expanded scope, including subregional governance targets and four cross-cutting areas, including climate change assessment and planning, application of market-based approaches, implementation of EAFM, etc. The Project's ability to meet those end targets was challenged by (1) limited resources and (2) shortfalls in resource (consults, PIRs and MTE verified).

In TE discussions with the project management at regional and country level and based on a review of various project board decisions, the bulk of the budget allocation went to support continued improvements in data collection and monitoring while modest amounts were spent for the cross-cutting and subregional governance aspects. Adaptive management measures were taken, including downscaling activities by focusing on compilation of prior studies. MTE highlighted factors (verified), including recruiting qualified experts to carry out consultancies, such as climate change prediction, supply chain analyses and design of EAFM field trials.

The MTE 2017 had recommended leveraging opportunities on complementary projects and programs and working with the private sector. TE verified that post-MTE, the Project's regional and national teams began to place more emphasis on having increased synergies with complementary donor projects and private sector partners. Time and resources were limited, however, and the teams could do only so much in this regard. To build in synergies, more stakeholders were invited to activities and events, usually workshops. To sustain the important cross-cutting work, an exit strategy was needed as a priority. The Project, while excellent in the science aspects, was less effective at policy. Remedial measures needed to be put in place to ensure sustainability. TE suggested a case study of economic benefits, an exit strategy for data and monitoring gaps and subregional governance and a classification scheme and dissemination plan for all the knowledge outputs linked to the PEMSEA KM and Monitoring contract.




Tag: Agriculture co-operatives Fishery Climate Change Adaptation Effectiveness Sustainability Donor relations Knowledge management Monitoring and Evaluation Private Sector Data and Statistics

16.

3.3 RESULTS (ATTAINMENT OF OBJECTIVES) (CONTINUATION)

3.3.1. Progress towards Outcomes Analysis

Objective: To improve the management of highly migratory species in the entire West and Central Pacific (WCPF) Convention area by continuing to strengthen national capacities and international participation of Indonesia, Philippines and Vietnam in WCPF Commission activities.

Progress towards achieving project objective is rated as: Satisfactory

COMPONENT 2: Implementation of policy, institutional and fishery management reforms




Tag: Fishery Climate change governance Biodiversity Public administration reform Risk Management Private Sector Capacity Building Data and Statistics

17.

3.3 RESULTS (ATTAINMENT OF OBJECTIVES) (CONTINUATION)

3.3.1. Progress towards Outcomes Analysis

Objective: To improve the management of highly migratory species in the entire West and Central Pacific (WCPF) Convention area by continuing to strengthen national capacities and international participation of Indonesia, Philippines and Vietnam in WCPF Commission activities.

Progress towards achieving project objective is rated as: Satisfactory

COMPONENT 3: Knowledge sharing on highly migratory fish stocks




Tag: Fishery Global Environment Facility fund Knowledge management Capacity Building
Recommendations
1

Evaluation recommendation 1.

Responsible Entities: GEF Secretariat, Regional UNDP/GEF RTA, UNDP, ASEAN, SEAFDEC, PEMSEA, National governments, WCPFC, New Zealand Project Proponents, Donors

On Exit Strategy: Develop Exit Strategy and Knowledge Product Dissemination Plan. Host Workshop.

• To support project sustainability, consolidation, dissemination, and embedding the project results into national and regional processes.

• To provide concrete recommendations in the future for work on these cross-cutting areas: Climate Change, Ecosystems, Market-based Strategies and Economics, and the Sub-regional Governance cooperation work. The exit strategy and workshop might contain the following:

• Developing a plan for consolidation of the project outputs for optimal audience reach and use. This includes consolidation of all project knowledge outputs, documentation, and classification and uploading to the PEMSEA website as a matter of priority

• Doing a political mapping and dissemination strategy in order to bridge the Science-Policy interface at the regional and subregional levels;

• To present the results to the relevant policy-level decision makers as TE found the policy-science interface had been limited during implementation. This can begin by mapping the policy audience for the exit strategy. The meeting can be hosted, presenting the results, conclusions and discussion of way forward of the Project;

• Produce a gendered and cost benefit analysis of the work in each country data and monitoring improvement (preferably in story form/case study format) in order to position the work for continued budget and financing with the relevant national policy makers. Project team might engage a policy think tank, but economic benefit information needs to be compiled next as a matter of priority; a study and recommendations to government on the sustainable financing and mechanisms for maintaining adequate levels of data collection should be included in the cost benefit analysis. Government funding streams for data collection structures, including enumerators, samplers, etc., remain tenuous and/or uncommitted in the three beneficiary countries and need to be pursued.

• To discuss the recommendations for the continuation of work for the cross cutting thematic areas EAFM, CC, Economics (Market Strategies/Pricing) (see below).

2

Evaluation recommendation 2.

Responsible Entities: National Governments ( lead) WCPFC/UNDP/GEF UNDP/GEF / Donor community / New Zealand Project Proponents.

Addressing Technical Capacity Gaps and Continuation of Project Gains.

National Governments carry forward the Project's work by ensuring sustainable budgets for data and compliance, monitoring and assigning national focal points. Address data and information technical gaps that still need to be strengthened as well, including assessment on capacity gaps in the following ways:

• Implementation of the National Tuna Management Plans;

• Continuation of building the capacities for an observer program, data collection for commercial fisheries (other than purse seine and longline), data collection for bycatch, ERS, and discard; • Continuation of strengthening the work on monitoring the vessels fishing in EEZ, High Seas, and Territorial and distinguishing their catch base on different zones (VMS, SPot trace, EMS, e-logbook);

• Continuation of improving and sustaining efforts at building capacity related to tuna data collection, monitoring, policy analysis, and management.

3

Evaluation Recommendation 3.

Responsible Entities: UNDP/GEF. WCPFC Donor community and nationalGovernments, New Zealand Project Proponents.
On Market Strategies and Economics
The TE revealed that tuna fisheries are a buyer's market and as such does not promote efficiency, equality, or equity. Follow-up work at WCPFC should include regional work on market pricing in the EAS region (led by WCPFC and a pilots i.e. Philippines to promote good practice. (Osaka market was highlighted as a good example that might be replicated regionally). It should be the feasible then to collaborate with the private sector on application of market-based commodity pricing.
These can be done through adoption of market-based approaches, conduct an assessment of the feasibility of continued collaborating with the private sector. Follow up with the Asian Seafood Improvement Collaborative (ASIC), an industry-driven initiative including operators from Indonesia, Philippines, and Vietnam. Such future collaboration is consistent with the regional context of the Project and can lead to constructive engagement with the private sector to carry forward this work. Develop concrete recommendations (possibly pilot idea) to be included in the exit strategy.

4

Evaluation recommendation 4.

Responsible Entities: UNDP/GEF, WCPFC

On Ecosystems Approach to Fisheries Management

The subregional work for improving monitoring systems requires finding ways to assess reduction in ETP species. No regional monitoring systems are yet in place, and their existence is a need. Country reports to the WCPFC contain some narrative entries on by catch, but developing specific monitoring systems for select ETP species now remains to be done. Develop concrete recommendations to be included in the exit strategy.

5

Evaluation recommendation 5.

Responsible Entities: UNDP/GEF. WCPFC

On Climate Change

To continue the sub-regional work for improving monitoring systems for predicting and assessing climate change impacts on tuna fisheries requires consideration and action is required. Develop concrete recommendations to be included in the exit strategy.

6

Evaluation recommendation 6.
Responsible Entities: UNDP/GEF. WCPFC

On Gender

Develop a case study on the Gender dimension (results) to showcase in the exit strategy.

7

LESSON LEARNED

Design – Links to National, Regional, International Priorities

Fit for the purpose: Phase two of project continued with meeting a high demand for technical support on data and monitoring linked to the Regional Convention. Additionally, the national priorities fit technically for fisheries' improvements. The project's implementation approach learning by doing (through WCPFP) was ideal as the focus instrumentally supported the EAS countries with quality data collection and monitoring linked to their reporting requirements connected with the WCPFC Convention. However, the implementation approach through WCPFC also needed a greater focus on the new cross cutting areas requiring a broader work focus and a full project team especially knowledge inputs to set the new agenda i.e. economics, EAS sustained sub regional collaboration mechanism and regional policy work for Vietnam's inclusion into the convention.

Design – Adequacy of Strategies/Log Frame/TOC

The project was not adequately adapted during the inception period. The project design was not reflective of the significant budget reduction (half). This was flagged at Project Board meetings and during MTE, when the expectations were downscaled to contributions. The major budget constraints forced significant changes in the end targets for the cross-cutting and subregional work on climate change, ecosystems, market approaches and harvest strategies. While the project influenced these areas, i.e. setting agenda, etc., and work has begun, it does not meet the end targets envisioned in terms of a monitoring system and data collection at the regional level. The inception period is important for adjusting strategies and scope in line with the budget. This work is still a regional need.

Including the new cross-cutting areas and sub regional collaboration mechanism goals in phase two needed regional policy end targets and strategies, i.e. to influence the WCPFP agenda. This was not clear in the Log Frame, TOC and implementation strategies. Additionally, the cross-cutting area had some ambitious change targets, so the project is a capacity building and agenda-setting the initiative, i.e. cross-cutting areas, climate change and ecosystems monitoring systems for upgrading the marketing approaches.

Theories of Change TOCs is important in narrative and in visual for design and for monitoring. The use of Log Frame as a monitoring tool was not apparent during implementation and the project document did not articulate good theories of change in the narrative, especially for the ambitious longer-term end targets of the cross-cutting areas. As mentioned above, the sub regional cooperation and EAS data sharing targets required political input, others needed a good strategy for bridging the science to the policy regional goals.

The project document needed an exit strategy. This is still needed before the project can close.

Implementation – Management/Finance/IP/UNDP /GEF Lessons

The project management made good use of adaptive management measures, e.g. project board decisions on changes to indicators.

Management action required a high commitment, and this was fostered by stakeholder participation, and thorough data related work on enforcement and compliance.

Dedicated and skilled technical (data and monitoring technical input from SPI) persons were essential to conduct and implement the projects. The role of SPI in this project implementation and success cannot be understated.

As a capacity building measure for sustainability came mostly from the government employees involved in implementation. They were primary beneficiaries and supported learning results greater than if hiring contractual staff with less buy-in. This learning was underreported in the results monitoring system-PIR reports. While such an approach works, the strategies for the project CB targets sustainability (staff turnover) are this equally important i.e. public service certificates and policy and budget related goals.

Fostering collaboration and partnership with stakeholders, other agencies and organizations was a good strategy in attaining the Project targets/outputs/outcomes. The cooperation of relevant agencies was very important. Due to a low budget, much of the high-cost cross-cutting work was done pro bono by "high-level" experts and friends of the country.

Consistency and continuation were necessary for data collection, which required adequate supervision, funding, infrastructure and a database system in its management. The implementing partner should have included a full project team, which would have facilitated better implementation and better documentation of learning results and work on knowledge management.

Having a plan for direct communication from UNDP to NTCs was needed in relation to the project results monitoring and the audit process (HACTS, etc.)

Having a full project team is important for a greater effort and to avoid overloading full-time scientific staff members at the secretariat of the convention. Having a full-time staff at WCPFC must be considered a requisite for similar projects in the future.

Key learning has been the selection of a very strong PM with the best technical background is a significant for results, positive lesson learned.

Having a good communication line for implementation between UNDP, PM and NTCs is important.

Knowledge Management

Knowledge management was an implementing strategy and an expected result, but this was not recognized. The weak narrative of knowledge management in the design made it unusable as a modality for implementation.

Sustainability

Sustainability must be built into the design or projects are at risk. The instrumental focus on data and monitoring is not enough to sustain the results. The project needed a broader focus and the sustainability mechanisms built-in.While data and reporting support is key for sustaining some of the regional results, national sustainability is dependent on the policy environment. Having a project exit strategy to sum up this project's knowledge output will have high importance for sustainability. Many of the outputs require a policy-focused dissemination strategy.

Learning together by doing was an excellent implementation strategy for each country to improve data collection and compliance at the regional level and as a means to improve fisheries nationally through the three-country workshop and south south cooperation.

The project is only beginning to make a case for subregional governance. The early stage took place through recent collaborations with SEADEC, ASEAN i.e. during the CF discussions. The three countries are members of these organizations and the work carried out through this project, i.e. convening and gap/collaboration identification work, now urgently need a follow up plan with these agencies.

Cross-cutting areas needed longer-term strategy and achieving strong "formal" partnering institutions at the onset.

Results

In terms of sustaining the results on data collection, monitoring and reporting cycle, it was also important to build up the capacities for analysis and management skills. These skills are necessary to translate the data collected into high-quality reports and management advice. Although the focus on data collection and monitoring is good, an additional need existed for focusing equally on management and analysis for policy and decision making.

The instrumental role of high quality scientific input/oversight and technical level experts in implementation was highlighted.

As highlighted above, the project stated its work on the Sub regional collaboration targets i.e. a consultative forum and building synergies with key agencies for sustainability. These now urgently need an exit strategy.

Solid monitoring and evaluation plan including hosting regular and excellent prepared board meetings, MTE, TE and tracking were important to maintain the appropriate support for the management side.

Advocacy and policy work needed more strategy for sustainability and uptake (work bridging science with policy makers and their staff). This was essential to translate scientific work into policy.