Mid-Term Evaluation of Bhutan Sustainable Low Emission Urban Transport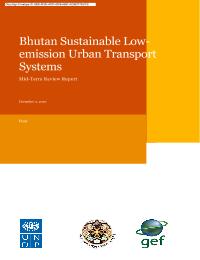 Evaluation Plan:

Evaluation Type:

Mid Term Project

Planned End Date:

12/2020

Completion Date:

12/2020

Status:

Completed

Management Response:

Yes

Evaluation Budget(US $):

20,000
Title
Mid-Term Evaluation of Bhutan Sustainable Low Emission Urban Transport
Atlas Project Number:

79852

Evaluation Plan:
2019-2023, Bhutan
Evaluation Type:
Mid Term Project
Status:
Completed
Completion Date:
12/2020
Planned End Date:

12/2020

Management Response:
Yes

Focus Area

:
Corporate Outcome and Output (UNDP Strategic Plan 2018-2021)

1. Output 1.5.1 Solutions adopted to achieve universal access to clean, affordable and sustainable energy
2. Output 2.1.1 Low emission and climate resilient objectives addressed in national, sub-national and sectoral development plans and policies to promote economic diversification and green growth
3. Output 2.5.1 Solutions developed, financed and applied at scale for energy efficiency and transformation to clean energy and zero-carbon development, for poverty eradication and structural transformation

SDG Target

13.2 Integrate climate change measures into national policies, strategies and planning
13.b Promote mechanisms for raising capacity for effective climate change-related planning and management in least developed countries and small island developing States, including focusing on women, youth and local and marginalized communities

Evaluation Budget(US $):

20,000

Source of Funding:
Project M&E Budget
Evaluation Expenditure(US $):

18,500

Joint Programme:
No
Joint Evaluation:

No

Evaluation Team members:

| Name | Title | Nationality |
| --- | --- | --- |
| Ameya Udgaonkar | International Consultant | INDIA |
| Chhimi Dorji | National Consultant | |
| Ameya Udgaonkar | International Consultant | INDIA |
| Chhimi Dorji | National Consultant | |

GEF Evaluation:

Yes

| | |
| --- | --- |
| GEF Project Title: | Bhutan Sustainable Low Urban Transport Project |
| Evaluation Type: | Mid-term Review |
| Focal Area: | Climate Change |
| Project Type: | FSP |
| GEF Phase: | GEF-6 |
| GEF Project ID: | 9367 |
| PIMS Number: | 5563 |

Key Stakeholders:
Royal Government of Bhutan - GNHC, Ministry of Agriculture, MInistry of Economic Affairs, Ministry of Homw & Cultural Affairs, Ministry of Works & Human Settlement, MInistyr of Information & Communication,
Countries:

BHUTAN

Comments:

United Nations Sustainable Development Partnership Framework (UNSDPF) Outcome 4 - By 2023, Bhutan's communities and its economy are more resilient to climate induced disasters and biodiversity loss as well as economic vulnerability
Recommendations
1

Identify the training need of transport policy maker and transport staff/officials, create a well-defined training programme for officials and identify the officials to be trained.

2

Ensure the perception survey conducted towards the end of the project records the willingness of taxi drivers to switch to EV cars

3

The project is advised to apply for 12-18-month extension.

4

Enhance the capacity of the Project Management Unit (PMU)

5

Ensure commitment from taxi drivers and prepare a backup plan to ensure deployment of EVs.

6

A feasibility study to explore possibility of manufacturing EV components using local resources to make Bhutan a player in the EV industry could be commissioned as part of the project.

Study and propose taxation policy for PHEVs and HEVs depending on their performance to promote LEVs in addition to EVs.