Strengthening Community Resilience to Disasters & Climate Change (CPD Output 3.1)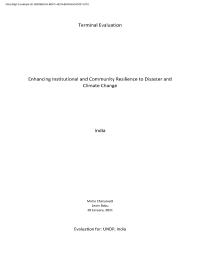 Evaluation Plan:

Evaluation Type:

Final Project

Planned End Date:

04/2021

Completion Date:

01/2021

Status:

Completed

Management Response:

No

Evaluation Budget(US $):

20,000
Title
Strengthening Community Resilience to Disasters & Climate Change (CPD Output 3.1)
Atlas Project Number:

00075890

Evaluation Plan:
2022-2022, India
Evaluation Type:
Final Project
Status:
Completed
Completion Date:
01/2021
Planned End Date:

04/2021

Management Response:
Yes

Focus Area

:
Corporate Outcome and Output (UNDP Strategic Plan 2018-2021)

1. Output 2.1.1 Low emission and climate resilient objectives addressed in national, sub-national and sectoral development plans and policies to promote economic diversification and green growth

SDG Goal

Goal 13. Take urgent action to combat climate change and its impacts

SDG Target

13.1 Strengthen resilience and adaptive capacity to climate-related hazards and natural disasters in all countries
13.2 Integrate climate change measures into national policies, strategies and planning

Evaluation Budget(US $):

20,000

Source of Funding:
Evaluation Expenditure(US $):

20,000

Joint Programme:
No
Joint Evaluation:

No

Evaluation Team members:

| Name | Title | Nationality |
| --- | --- | --- |
| Moho Chaturvedi | Mr | |

GEF Evaluation:

No

Key Stakeholders:
Ministry of Home Affairs, Municipal Corporations of Cuttack, Vijawada, Vishakapatnam, Shimla, Navi Mumbai, Shillong
Countries:

INDIA
Recommendations
1

Discussions suggest that the present project activities and tools developed under them have attracted attention of other cities of the project states. This has resulted in a demand for the project to be expanded to other cities of the state. The states showing interest in expansion to other cities include Andhra Pradesh, Himachal Pradesh, Maharashtra and Meghalaya. Therefore, it could be considered if a hub and spoke model can be explored with the project city becoming a hub to be developed as a guiding city for other cities who might want to follow a similar model within a state. This may not only help improve the effective implementation of the project activities in the project cities, it can create capacities in the state for expansion while also creating a development model for urban areas to include disaster risk reduction in their city plans

2

To include gender as a focus, there should be an output that specifically monitors gender parameters and cuts across the different outcomes. Some actions such as disaster response and preparedness may also have specific actions for various vulnerable groups and women, to identify their special needs and therefore add identified needs into their planning and simulation exercise. Nonetheless, it should be very clear that there is an additional burden put on women as compared to other members of a community for any response or mitigation actions. While women are important actors in city resilience creation and response, they are neither the only actors, nor should be expected to be made solely or mainly responsible for all additional activities in development projects, hence design must consider appropriate actions and the burden of responsibility.

3

The project has undertaken some good work in the community to build capacities. However, this presently is insufficient to create long term impact in the community outside the limited reach of schools and colleges. Therefore, greater tailored response, based upon specific vulnerabilities of areas within the ward will be required. Future projects may consider selecting a few vulnerable wards to work in, where depending upon the local challenges, identify appropriate tailored disaster response actions and create plans and response systems accordingly.