Mid-term Evaluation of the Securing multiple ecosystems benefit through SLM in the productive but degraded landscapes of South Africa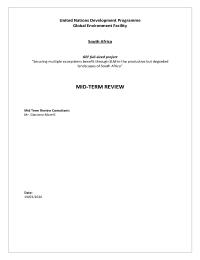 Evaluation Plan:

Evaluation Type:

Mid Term Project

Planned End Date:

03/2020

Completion Date:

04/2020

Status:

Completed

Management Response:

No

Evaluation Budget(US $):

15,000
Title
Mid-term Evaluation of the Securing multiple ecosystems benefit through SLM in the productive but degraded landscapes of South Africa
Atlas Project Number:

00088758

Evaluation Plan:
2013-2020, South Africa
Evaluation Type:
Mid Term Project
Status:
Completed
Completion Date:
04/2020
Planned End Date:

03/2020

Management Response:
Yes

UNDP Signature Solution

:
Corporate Outcome and Output (UNDP Strategic Plan 2018-2021)

1. Output 1.4.1 Solutions scaled up for sustainable management of natural resources, including sustainable commodities and green and inclusive value chains

SDG Goal

Goal 15. Protect, restore and promote sustainable use of terrestrial ecosystems, sustainably manage forests, combat desertification, and halt and reverse land degradation and halt biodiversity loss

SDG Target

15.1 By 2020, ensure the conservation, restoration and sustainable use of terrestrial and inland freshwater ecosystems and their services, in particular forests, wetlands, mountains and drylands, in line with obligations under international agreements
15.3 By 2030, combat desertification, restore degraded land and soil, including land affected by desertification, drought and floods, and strive to achieve a land degradation-neutral world

Evaluation Budget(US $):

15,000

Source of Funding:
GEF
Evaluation Expenditure(US $):

13,200

Joint Programme:
No
Joint Evaluation:

No

Evaluation Team members:

| Name | Title | Email | Nationality |
| --- | --- | --- | --- |

GEF Evaluation:

Yes

| | |
| --- | --- |
| GEF Project Title: | Securing multiple ecosystems |
| Evaluation Type: | Mid-term Review |
| Focal Area: | Land Degradation |
| Project Type: | FSP |
| GEF Phase: | GEF-5 |
| GEF Project ID: | 5327 |
| PIMS Number: | 5054 |

Key Stakeholders:
Department of Environmental Affairs, Deaprtment of Agriculture, Rhodes University, CSIR, The Endangered Wildlife Trust (EWT) and UNDP
Countries:

SOUTH AFRICA
Recommendations
1

Delegate to a small working team, composed of five individuals, the approval process of the small grants. The suggested composition of such a team is the following: 1) a member from DEFF; 2) a member from DALRRD; and 3) a member from SANBI or DWA.

2

Develop an additional format for reporting to PSC members in collaboration with RPs. The new format should include straight-to-the-point information organized in a two-pager for each landscape. Ideally, it should contain key information such as short description of project status, challenges, ways forward and required support from the PSC, if needed. It should constitute a working annex to the annual work plans.

3

Plan at least one meeting per month to facilitate a fruitful discussion in which ideas and project needs are shared and discussed, a common understanding of project actions developed, and agreements about what is strategic and what is ordinary project management are reached. DEFF as Implementing Partner should restrict their inputs to issues of strategic nature.

4

Ensure that there is a periodical flow of information between RPs and PMU, aiming at keeping the PMU updated on project status to be reported against the landscape M&E system. In addition to the already existing quarterly reports, it is suggested to add a formal communication via email, in the middle of every quarter, presenting concise updates against the key indicators and risks identified in each landscape M&E system.

5

Include in the quarterly report format the relevant indicators as per each landscape M&E system.