PIMS 5143 (SE4ALL) Mid-term Evaluation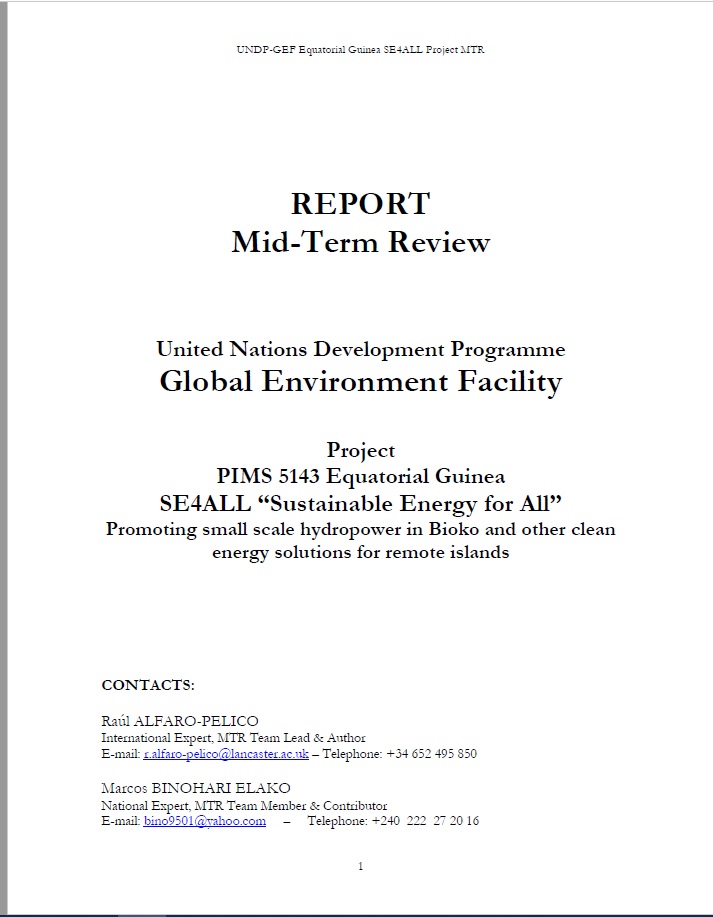 Evaluation Plan:

Evaluation Type:

Mid Term Project

Planned End Date:

12/2019

Completion Date:

09/2020

Status:

Completed

Management Response:

Yes

Evaluation Budget(US $):

20,000
Title
PIMS 5143 (SE4ALL) Mid-term Evaluation
Atlas Project Number:

00094909

Evaluation Plan:
2019-2023, Equatorial Guinea
Evaluation Type:
Mid Term Project
Status:
Completed
Completion Date:
09/2020
Planned End Date:

12/2019

Management Response:
Yes

UNDP Signature Solution

:
Corporate Outcome and Output (UNDP Strategic Plan 2018-2021)

1. Output 1.5.1 Solutions adopted to achieve universal access to clean, affordable and sustainable energy

SDG Goal

Goal 7. Ensure access to affordable, reliable, sustainable and modern energy for all

SDG Target

7.1 By 2030, ensure universal access to affordable, reliable and modern energy services

Evaluation Budget(US $):

20,000

Source of Funding:
Project Funds
Evaluation Expenditure(US $):

35,000

Joint Programme:
No
Joint Evaluation:

No

Evaluation Team members:

| Name | Title | Email | Nationality |
| --- | --- | --- | --- |
| Raúl ALFARO-PELICO | International Expert, Team leader | r.alfaro-pelico@lancaster.ac.uk | |
| Marcos BINOHARI ELAKO | National Expert, Team Member | bino9501@yahoo.com | |

GEF Evaluation:

Yes

| | |
| --- | --- |
| GEF Project Title: | SE4ALL |
| Evaluation Type: | Mid-term Review |
| Focal Area: | Climate Change |
| Project Type: | EA |
| GEF Phase: | GEF-5 |
| GEF Project ID: | |
| PIMS Number: | PIMS 5143 |

Key Stakeholders:
Ministry of Agriculture, livestock, forestry and the environment; Ministry of Industry and Energy; GEF
Countries:

EQUATORIAL GUINEA
Recommendations
1

Reactivate the project with its high levels in the Ministry of Industry and Energy (MIE) and the Ministry of Agriculture, Livestock, Forests and the Environment (MAGBOMA). It is necessary to reorient the project strategy so that the national counterparts have a useful and effective role. It is recommended to make a situational diagnosis of the project in order to reschedule it,

2

Update the project implementation mechanisms (organization chart, NIM). As in other UNDP-GEF projects at the global level, the project team could be installed in the office of the implementing partner (MAGBOMA) or responsible party (MIE) of the project, with the aim of strengthening the coordination and ownership of their national counterparts.

3

Strengthen the project management team in its key areas of operational deficiency. A chief technical advisor (CTA) should be hired who can regularly oversee the technical deliverables, as well as strengthen the procurement area to streamline project management and processes.

4

Renew ties with the Ministry of Mines and Hydrocarbons to promote the energy transition. As the guardian ministry of private sector activities, apart from accelerating national co-financing, it has the ability to catalyze the mobilization of companies' resources, as part of their corporate social responsibility, or strategies for sustainable development, climate neutrality and social impact.