Terminal Evaluation of Project 'Enhancing Capacity for Implementing Rio Conventions'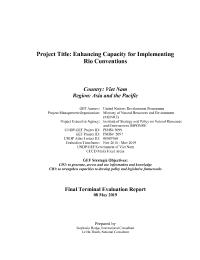 Evaluation Plan:

Evaluation Type:

Final Project

Planned End Date:

07/2019

Completion Date:

07/2019

Status:

Completed

Management Response:

Yes

Evaluation Budget(US $):

30,000
Title
Terminal Evaluation of Project 'Enhancing Capacity for Implementing Rio Conventions'
Atlas Project Number:

00089760

Evaluation Plan:
2017-2021, Viet Nam
Evaluation Type:
Final Project
Status:
Completed
Completion Date:
07/2019
Planned End Date:

07/2019

Management Response:
Yes

Focus Area

:
Corporate Outcome and Output (UNDP Strategic Plan 2018-2021)

1. Output 2.4.1 Gender-responsive legal and regulatory frameworks, policies and institutions strengthened, and solutions adopted, to address conservation, sustainable use and equitable benefit sharing of natural resources, in line with international conventions and national legislation

Evaluation Budget(US $):

30,000

Source of Funding:
GEF
Evaluation Expenditure(US $):

30,000

Joint Programme:
No
Joint Evaluation:

No

Evaluation Team members:

| Name | Title | Nationality |
| --- | --- | --- |
| Stephanie Hodge | International Consultant | |
| Le Ha Thanh | National Consultant | |

GEF Evaluation:

Yes

| | |
| --- | --- |
| GEF Project Title: | Enhancing Capacity for Implementing Rio Conventions |
| Evaluation Type: | Terminal Evaluation |
| Focal Area: | Multifocal Areas |
| Project Type: | MSP |
| GEF Phase: | GEF-5 |
| GEF Project ID: | 5097 |
| PIMS Number: | 5099 |

Key Stakeholders:
Ministry of Natural Resources and Environment (MONRE); Project Executive Agency: Institute of Strategy and Policy on Natural Resources and Environment (ISPONRE)
Countries:

VIET NAM
Lessons
Findings
1.

Based on the strategy and consults with stakeholders involved in implementation, the project was formulated to support capacities and deal with barriers to environmental monitoring, data collection, and management and support mainstreaming environment into subnational and national development planning (including linking to post 2015 SDG work). In this sense, the project was highly ambitious. However, it was not fully thought through in terms of pathways towards the expected outcomes, which necessitate a longer-term capacity building process, work on monitoring, and integrating global issues and data collection standards in national systems This required consideration of cross-sectoral work on the environmental dimensions of SDGs. It might have been optimal to have written all the log frame end targets as the project's "making a contribution to" a greater goal.




Tag: Environment Policy Environmental impact assessment Natural Resouce management Programme/Project Design Results-Based Management Capacity Building Data and Statistics SDG Integration

2.

The project strategy (as written in ProDoc) aimed to make a significant contribution through capacity building, training, learning by doing, and development of relevant tools to support changes in the approach to planning and support to management systems. The support was aimed at an ambitious change agenda, including teaching and translating highly technical content for public sector civil servants and public use. There was insufficient time and too few resources for the longer-term effects desired. The project team is commended for delivering what the document stated and for sensitizing stakeholders, including policy makers, about the ongoing need for tools that to strengthen capacities for mainstreaming and monitoring. The project (log frame and strategy) did not set realistic targets, and there was no reflection on larger structural issues and course correction. The team applied adaptive management to annual work planning and implemented guided by high level steering committee.




Tag: Change Management Programme/Project Design Results-Based Management Strategic Positioning Capacity Building

3.

Respondents concurred that the original project framework and strategy many have been missing an overarching enabling component for sustainable and environmental management - knowledge management, as a coordination, communication, or policy learning support component. Communications and the need for KM were highlighted by over two thirds of the respondents. Policy advocacy, learning, and dynamic knowledge sharing and coordination are key, however, for building capacity in the longer term. The policy advocacy and documentation work was built into the separate outputs areas, but might rather have been more effective across components, using a programme approach directed at targeted areas for policy changes. The project team did a lot to compensate for these structural issues in terms of adaptive management. It implemented a number of capacity building activities to support policy and advocacy around the tools developed, i.e. economic valuation toolkit workshops and policy briefs, etc. Many of the knowledge products need to be further disseminated and rolled out.




Tag: Environment Policy Natural Resouce management Communication Knowledge management Programme/Project Design Capacity Building Policy Advisory

4.

The project was a capacity development project. Normally, it would conform to the operational principles of capacity development as identified in the GEF Strategic Approach to Capacity Building. Annex 12 summarizes the project documents' stated conformity with the 11 operational principles and was reviewed. Annex 12 lists all project training activities conducted. The actual capacity building approach was "to build capacity by doing" building key tools and guidance on strategic areas ecosystem valuation and natural capital accounting, EPI, and mainstreaming the three Rio Conventions considerations in planning at provincial level. In the absence of a capacity building strategy (targeting three levels of capacities: organizational, institutional, and individual). However, as a knowledge management and policy advocacy strategy, the project made a limited contribution to the future implementation of the three Rio Conventions. Team had determined (based on desk review) that while learning by doing and piloting in one project was a valid means for capacity building and has contributed to the implementation of the three Rio Conventions implementation in practice, a more systematic approach to embed a national learning process towards longer-term results is required for transformative expected results. In addition, an up-to-date capacity baseline for MONRE and MARD is needed across-sectors to inform the approach. Institutional capacities, in particular, need to be strengthened to support integrated environmental assessments and planning at the national and subnational level.




Tag: Climate change governance Biodiversity Environmental impact assessment Natural Resouce management Global Environment Facility fund Knowledge management Capacity Building Policy Advisory Agenda 2030 Data and Statistics SDG Integration

5.

The project was designed with key assumptions of cross-sector and higher-up policy ownership in addition to a basic understanding of the three Rio Conventions, the requirements for capacity building, and how that links to environmental management, monitoring, and policy/sector mainstreaming. In addition, key assumptions included a focus on tools development and a single pilot that would lead to systemic changes and policy agreements, design, and strategy around tools and transformative results. For instance, (i) capacity building approach, (ii) design linked to pilot-influenced planning outcomes, (iii) sustainability and scale-up approach, (iv) cross-sectoral work, (v) data collection and monitoring accountabilities, and (vi) integration of SDGs indicators with the three Rio Conventions work. While some of these assumptions hold true, many did not.




Tag: Environmental impact assessment Natural Resouce management Change Management Programme/Project Design Capacity Building Policy Advisory Agenda 2030 SDG Integration

6.

The project was designed to replicate the learning and to contribute to implementation of standards arising from the three Rio Conventions in the Viet Nam context. Although awareness and mainstreaming of the three Rio Conventions and environmental considerations in the policy-making process of stakeholders have increased through many training activities, the efforts to strengthen the knowledge and capacities systematically were effective however there might be more thinking about the post project links to institutions of learning. The approach and knowledge transfer system with target beneficiaries, i.e. three Rio Conventions focal points, might have benefited from a role in technical monitoring and oversight. For longer-term capacity building, linkages could have been fostered through MONRE's department of human resources and universities and academia. In addition, knowledge material and case lessons from the pilot can be better documented and disseminated to a target audience for learning purposes and scale-up. A peer reviewed academic public policy learning case study that maps the institutional relationship and longer-term capacity strengthening needs based on project implementation could help to consolidate the work.




Tag: Knowledge management Partnership Sustainability Civil Societies and NGOs Country Government Capacity Building Policy Advisory SDG accelerators SDG Integration

7.

The project was implemented under NIM modality. The Implementing Partner was ISPONRE of MONRE. Implementing Entity/Responsible Partners: ISPONRE of MONRE, UNDP. Project implementation arrangements as reported by respondents were functioning well. One criticism was that the level of joint coordination between PMU, three Rio Conventions focal points, and stakeholders could have been improved i.e. knowledge management, learning together, and communication strategy.




Tag: Communication Knowledge management Oversight Project and Programme management Country Government UNDP Management UNDP management Coordination

8.

Neither the project strategy nor the implementation approach made full use of the technical or steering committee for policy advocacy (through steering committee technical presentation of work) and capacity building (i.e. to undertake assessment in subnational work, as one example). Consensus of three focal points (one reportedly a member of the steering committee) was that there were no regular meetings or mechanisms for their technical inputting and vetting of products and activities (tools development and the provincial mainstreaming work). On the other hand, the project management unit says they invited focal points to all meetings, but at the time they could not attend due to scheduling conflicts.




Tag: Communication Implementation Modality Knowledge management Oversight Project and Programme management Capacity Building Policy Advisory

9.

With an ambitious project learning agenda, the strategy was to implement through a partnership approach (see stakeholders analysis). To a degree, stakeholders reported activities done in partnership, i.e. WWF were included and three Rio Conventions focal points were consulted. Synergies with other GEF projects might have been explored during work planning. The team noted that PMU did involve GIZ and WWF in training workshops on ecosystem valuation. In addition, a partnership on natural capital platform was established to facilitate the collaboration among related initiatives. For the future, developing a partnership engagement plan could be considered at the onset. This was a deficient implementation and a lesson learned.




Tag: Global Environment Facility fund Implementation Modality Partnership Strategic Positioning Civil Societies and NGOs UN Agencies

10.

A shortcoming reported consistently by interviewees was that the strategy and the implementation pathway were not reflective of involving key stakeholders in implementation and monitoring. This included involving key stakeholders like statistics department , who were outside MONRE, MARD, and in cases, the three Rio Conventions UN focal points, in monitoring and planning. Several three Rio Conventions focal points reported not being included in the project monitoring, planning, and decision-making in a substantive way, i.e. on overall strategy and management activities—a criticism of the implementation approach. Respondents stated that the project was small and the work was not perceived as a priority. They concurred that the project might have been raised in importance as to the strategic nature of its content, which might have been better communicated to the high-level participants. The PMU countered this view, stating that they did invite all the technical groups and line ministries to all relevant project activities, and the consultants also arranged learning meetings during their consultancies.




Tag: Implementation Modality Monitoring and Evaluation Oversight Project and Programme management Country Government UN Agencies

11.

As mandated by the Viet Nam-UN Harmonized Programme and Project Management Guidelines (HPPMG) Harmonized Approach to Cash Transfers (HACT) guidelines, UNDP disbursed project funds to the implementing partners through a direct cash transfer (DCT) modality on a quarterly basis on a request from the PMU, who in turn reported and certified the expenditure back. Both request and report were linked to quarterly work plans, part of the annual work plan approved by the project board. Most of the project funds were disbursed in this manner. However, UNDP supported the project by directly paying for some services as foreseen in the project document, for instance, consultancies and associated travel as well as audit fees. The project's audits in 2016, 2017, and 2018, conducted by the international auditing firms and UNDP, concluded that the project "did not note any matters involving internal control and other operational matters of the project."




Tag: Human and Financial resources Implementation Modality Monitoring and Evaluation Project and Programme management Country Government Cash Transfers

12.

At project inception and annual planning and budgeting, the allocation of GEF budget per component was modified to reflex the project adjustments with the total GEF fund remained unchanged. All the adjustments were verified by PSC and approved by UNDP.




Tag: Global Environment Facility fund Human and Financial resources Operational Efficiency

13.

As per project document and inception report, co-finance in cash amounted to US$1,344,646 with in-cash contribution from UNDP (US$725,000), GoV (US$440,000), and others (US$179,646). Actual disbursements were, respectively, US$725,000, US$1,140,000, and US$100,000. Actual co-finance in-cash exceeded planned co-finance by 46%. The GoV expressed strong support to the project through increasing contribution to project costs amounted of US$1,140,000 (Table 11).

There are some differences between original and actual co-financing for the project. Thus, NGOs, including CRES and WWF, have reduced their funding; however, ISPONRE has strongly supported project implementation via both grant and in-kind funding.




Tag: Government Cost-sharing Human and Financial resources Civil Societies and NGOs

14.

The project was highly cost effective as a contribution to ongoing activities. Its contribution provides good international comparative experiences, tools, and approaches to ongoing environmental management reform efforts and added value. How these tools and the learning are to be scaled was a concern of evaluators. The UNDP/GEF project was designed to influence investments already being made by government and development partners and to record an impact beyond the limited GEF contribution. For both Outcomes, the strategic use of GEF funds is to mainstream into/onto ongoing processes and to modify them in order to yield global environmental benefits. This is far more cost-effective than if GEF were to support the entire initiative.

For Outcome 1, project baseline was supported by UNDP, ISPONRE, and other partners, addressing the issues of indicator systems, resource valuation, and EPI. Almost all the EPI related outputs have been covered by UNDP. GEF supports contributions and additional activities and inputs to ensure that the three Rio Conventions are integrated into the baseline process.




Tag: Environment Policy Environmental impact assessment Natural Resouce management Effectiveness Global Environment Facility fund Human and Financial resources Operational Efficiency UNDP Management UNDP management SDG Integration

15.

The project implementation structure included a Project Steering Committee (PSC) and a Project Management Unit (PMU), which ISPONRE established for the day-to-day management of project activities. The PMU was hosted in the ISPONRE building and comprised the following positions:

NPD (part time, financed by government)
National Project Manager (part-time, financed by government)
National Project Accountant (part-time, financed by government)
Project Administration/Interpreter (full-time, financed by project).




Tag: Effectiveness Government Cost-sharing Implementation Modality Knowledge management Oversight Project and Programme management Country Government

16.

Project monitoring and evaluation were conducted in accordance with established UNDP and GEF procedures. A plan was developed (Annex V of ProDoc) which provides a logical and practical structure for monitoring project performance. The GEF tracking tool for CCCD, a key part of project monitoring and evaluation activities to assess project delivery, was used and is included in Annex 9. The project fulfilled the basic monitoring requirements, including inception, annual reporting, three steering committee meetings, and annual and quarterly reports. The inception report consultant might have conducted a capacity needs assessment as a first step, after which he could have caught some of the structural project learning design problems. A lesson learned is that with the three Rio Conventions cross-cutting learning projects, it is good to include internationals that have background in capacity development and learning or knowledge management. However, the basic finding is that the PMU took forward activities not in the original log frame and plans (based on the inception report and log frame analysis).




Tag: Global Environment Facility fund Human and Financial resources Monitoring and Evaluation Oversight Project and Programme management Results-Based Management Country Government UNDP Management UNDP management SDG accelerators SDG monitoring and reporting

17.

According to PMU, a technical working group was comprised of independent experts, technical government agency representatives, and representatives from stakeholder groups who met regularly to discuss and deliberate on project outputs, help design project activities, and support resources to project. However, a criticism was that the project management did not fully employ the technical committee to include the three Rio Conventions focal point as per the objectives of learning by doing activities, especially regarding the pilot implementation. The three Rio Conventions goals might have been included in implementation for technical oversight on all knowledge products and part of the pilot's objectives to show the need for in-house capacity on environmental monitoring and assessment and for the PSC to persuade and advocate for policy changes around environmental mainstreaming in planning. Such a role would include joint advocacy for additional longer-term work on capacity building to support the implementation of the tools piloted, building indicators, developing monitoring systems, and undertaking planning with high level participants.




Tag: Change Management Communication Oversight Project and Programme management Civil Societies and NGOs Country Government UN Agencies Agenda 2030 SDG Integration

18.

The project was implemented according to UNDP's National Implementation Modality as per NIM guidelines agreed upon by UNDP and the Government of Viet Nam. UNDP was the GEF Implementing Agency, with the UNDP Country Office responsible for transparent practices, appropriate conduct, and professional auditing. The Executing Agency was the ISPONRE of MONRE. UNDP thus supervised the project activities in accordance with the Viet Nam-UN Harmonized Programme and Project Management Guidelines (HPPMG).




Tag: Effectiveness Global Environment Facility fund Implementation Modality Oversight Project and Programme management Country Government UNDP Independent Offices UNDP Management UNDP management Coordination

19.

The project is considered relevant, as the project is in line with national laws, regulations and policies, and is relevant to local user needs and priorities as well. The project supports agreed UNDP country priorities as well as GEF strategic priorities for multi-focal area.




Tag: Biodiversity Environmental impact assessment Natural Resouce management Relevance Global Environment Facility fund Joint UN Programme Country Government UN Agencies UNDP Management UNDP management Capacity Building Policy Advisory Agenda 2030 SDG accelerators SDG Integration SDG monitoring and reporting

20.

Structural design issues—Overambitious and unclear pathway for transformative changes expected

The project was designed to support capacity-related barriers related to environmental management and mainstreaming the three Rio Conventions and environment into subnational and national development planning including linking to post 2015 SDGs work. Highly ambitious and not logically thought through in terms of longer-term expected outcomes and involving the need for more systematic capacity building and cross-sectoral work on monitoring and integration of global standards and norms and approaches for linking to national monitoring systems, the project also required consideration of the cross-sectoral work on the environmental dimension of all SDGs. Having a phased approach and wording in log frame, such as "making a contribution," might have been a better articulation of the targets. The project was aimed at transformation of planning and management systems by end date. With a large scope with highly technical content, time was too short and resources too few for the longer term impacts desired. The project team is commended for delivering what the documents stated and for sensitizing stakeholders, including policy makers, about the ongoing need for tools that to strengthen capacities for mainstreaming and monitoring.




Tag: Natural Resouce management Challenges Relevance Results-Based Management Capacity Building Policy Advisory Agenda 2030 SDG accelerators SDG Integration SDG monitoring and reporting

21.

Design, sustainability, and scale-up issues—missing a third project component for monitoring learning and knowledge sharing

The original project framework and strategy were reviewed by consultants and found to be missing an overarching enabling learning component: a monitoring knowledge management coordination communication, or policy learning support component. Key stakeholders interviewed concurred widely on this gap. Communication was highlighted by over two thirds of those interviewed. Policy advocacy, learning, and dynamic knowledge sharing and coordination are key, moreover, for building capacity in the longer term. The policy advocacy and documentation work was built into the separate output areas but might have been more effective across components, using a program approach and directed at targeted areas for policy changes. This was done ad hoc, and the design was missing a third component on knowledge management, learning, and communication. The project team compensated for these structural issues in terms of adaptive management and capacity building activities to support policy and advocacy around the tools developed, i.e. economic valuation toolkit workshops and policy briefs. Many of the knowledge products produced will need to be disseminated and rolled out.




Tag: Challenges Relevance Communication Knowledge management Monitoring and Evaluation Programme/Project Design Results-Based Management Policy Advisory

22.

The project effectively showcased lessons (with stakeholders) on the three Rio Conventions and SDGs indicator development, developed tools (ecosystem valuation, etc.), and successfully mainstreamed the three Rio Conventions into planning approaches and tools in one pilot at the provincial level. The tools, indicators, development, and pilot need further dissemination packaging. Project successfully contributed and sensitized the key government environment departments, i.e. MONRE, VEA, Biodiversity and Climate Change, ISPONRE, and MARD for further work.




Tag: Effectiveness Knowledge management Civil Societies and NGOs Country Government Agenda 2030 SDG accelerators SDG Integration

23.

The project had many positive unintended policy consequences

The project secured commitment to various legal instruments of national or local scope that will pave the way for future three Rio Conventions implementation and integration of global environmental concerns into its national strategic planning and development processes, including Decision 5018/QD-BNN-TCLN from 6 December 2017 of MARD on approving "Proposal on voluntary land degradation neutrality target setting in Viet Nam in the period of 2017–2020 with vision to 2030" and Decision 38/NQ-CP of Government from 9 May 2018 on "Land use planning for Ha Giang to 2020 and land use planning for the last five years (2016–2020)." No objection decision has come from MONRE since 2018 on the Office of Climate Change to support the work of UNFCCC, etc. The project supported MONRE in development of the policy on strengthening regional linkage in NRE management and climate change response. The policy has been approved by the MONRE Minister and has being submitted to the Prime Minister for approval. Moreover, officials from MONRE, MARD, and provincial departments benefited from the training materials and capacity development activities led by PMU in cooperation with other ODA projects.




Tag: Climate change governance Environment Policy Effectiveness Country Government Agenda 2030 SDG accelerators SDG Integration

24.

Capacity building—Implementation approach

Ultimately, the three Rio Conventions is a capacity building project. The approach employed was "to build capacity by doing": building key tools and guidance on strategic area ecosystem valuation and natural capital accounting, EPI, and mainstreaming three Rio Conventions considerations at provincial level. The absence of a capacity building strategy (three targeted levels of capacities: organizational, institutional, and individual), knowledge management, and policy advocacy strategy, limited the project's contribution to the sensitization implementing of the three Rio Conventions. The team had determined (based on desk review) that while learning-by-doing and piloting were a valid means for capacity building and have contributed to the implementation of the three Rio Conventions implementation in practice, an embedded national learning process is needed to get longer-term desired results. The basic issue is that a capacity baseline for MONRE and MARD is needed across sectors to inform the approach. The last capacity assessment was the NCSA in 2005. In particular, a focus on building institutional capacities to support planning at the national and subnational level would be a good start. Although awareness of the three Rio Conventions and mainstreaming them and environmental considerations into the policy-making process of stakeholders has increased through project activities, the efforts to strengthen the knowledge and capacities systematically could have been more effective than generic or non-targeted awareness-raising activities. The approach and knowledge transfer system with target beneficiaries, i.e. the three Rio Conventions focal points, might have benefited from a role in technical monitoring and oversight. For the longer term, capacity building, partnerships, and long linkages might have been fostered with the Government departments of public service and learning certification, human resources of MONRE, universities, and academia.




Tag: Environment Policy Environmental impact assessment Knowledge management Country Government Capacity Building Policy Advisory Technical Support Agenda 2030 SDG Integration

25.

Log Frame—Expected results

While the design might have been better served with smarter indicators, more realistic targets, a third component and, possibly, articulation of a phased approach in the strategy for more systemic capacity building in partnership with national institutions (mentioned above), the project achieved all it set out to do. The review of the project achievements via stated indicators is attached in the results section as a table.




Tag: Effectiveness Programme/Project Design Results-Based Management

26.

Outcome 1. While all work plan activities were delivered and tools and guidance have been developed, key stakeholders interviewed reported confusion over the project's indicators and the approach of working on two sets of indicators, one for the three Rio Conventions and SDGs and one on EPI. The VEA (key beneficiary and project stakeholder) reported they needed support with their work on EPI performance monitoring but had been confused when approached for work on quality environmental indicators in relation to EPI work. They reported not being approached in relation to their needs to support EPI performance indicators explicitly (see Steering Committee minutes). The response by PMU team was that the VEA were consulted on project design and had been a PSC member. This was verified. An agreement was reached (see Steering Committee meeting notes) for PMU to continue working on a set of three Rio Conventions indicators to bring in global good practice from other countries and to pilot at subnational level as contributions to the VEA work. In principle, MONRE VEA is the business owner for the environmental monitoring and management work. The project strategy was also to make project contributions to the three Rio Convention reporting exercises by supporting the UNCBD focal point in developing a set of indicators to monitor the area changes in mangrove forests in the period of 2000–2015 for the reporting process and to support UNCCD in building a baseline of land degradation for the period of 2000–2015 period, focusing on three main indicators, including forest cover, land productivity, and carbon organic in soil, and identifying high priority areas for land degradation in Viet Nam (in the North West region, South Central Coast, and Central Highlands). However, this work—including the overall intention and indicators—was not systematically visible to evaluators.




Tag: Environmental impact assessment Effectiveness Implementation Modality Project and Programme management Civil Societies and NGOs Country Government Agenda 2030 SDG accelerators SDG Integration SDG monitoring and reporting

27.

Outcome 2. The project successfully piloted an integrated environmental assessment and planning process at the provincial level, using the three Rio Conventions issues as guides. It implemented a successful demonstration on how the provision of technical support provided to provinces for mainstreaming and integration of the three Rio Conventions can improve subnational planning. However, MTE noted a gap in the plan per expected results to build training teams and ownership of this work at MONRE and MARD for scale-up, especially for integrated environmental assessments to scale up and roll out. The need for capacity for environment assessment can be scaled up, horizontally scaled, and downscaled.




Tag: Environmental impact assessment Effectiveness Agenda 2030 SDG accelerators SDG Integration SDG monitoring and reporting

28.

The project was cost effective and gave value for money as a small financial input that began to tackle very challenging environmental results areas for Viet Nam. This includes advancing tools for ecosystem services and integrated environmental management and planning and building capacity of tools and approaches "by doing" in one province. The work at the provincial level expresses a good Viet Nam practice and might be further documented as a case study for a full-scale follow-up (focused on the three levels of capacities: institutional (enforcing regulation, ecosystems services, etc.), organizational (public sector certification), and individual (public schools and universities) capacity building programme.




Tag: Efficiency Operational Efficiency Capacity Building

29.

The project delivered all that it stated it would and on time. Delivery has reached 98.3% of the GEF grant at the time of the terminal evaluation and is receiving a high efficiency rating. Total project disbursement was US$958,438 (98.3%). Project implementation arrangements were reported functioning although the level of coordination between PMU, three Rio Conventions focal point, and stakeholders was highlighted as an area that could have been improved, i.e. with a good KM and communication strategy. All the required project oversight mechanisms were in place. A key lesson learned was that the role of the steering and technical committees might have been enhanced to provide more monitoring oversight and buy-in capacity, and/or policy influence for future scaling and enabling environment toward more transformative results around integrated planning and environmental management and monitoring.




Tag: Efficiency Global Environment Facility fund Operational Efficiency Project and Programme management

30.

The project was executed through national implementation modality NIM. The government counterparts to UNDP expressed a high degree of ownership over the final results. This project was implemented to advance quality data collection and SEA in planning as set by the three Rio Conventions for environmental monitoring/management based on a number of global and national policies. This included supporting work on SDGs planning, reporting, and developing an agenda on environmental mainstreaming and supporting mainstreaming and monitoring tools.




Tag: Environmental impact assessment Ownership Country Government Agenda 2030 SDG accelerators SDG Integration SDG monitoring and reporting

31.

This project was implemented during a unique window of opportunity with global standards around SDGs and the three Rio Conventions for national data collection, cross-country guidance for environmental monitoring/management, and an approved national Law on Planning in 2017, amended Law on Statistics in 2015. The cross-sector work on SDGs and national planning are also representing mainstreaming . Nonetheless, while the project demonstrated subnational level mainstreaming in one province, much more is needed to take it to scale, including building cross-sectoral consensus and ownership and policy momentum and entrenching a public capacity building plan for all province and national departments for sustainability.




Tag: Environment Policy Environmental impact assessment Joint UN Programme Capacity Building Policy Advisory Agenda 2030 SDG accelerators SDG Integration SDG monitoring and reporting Voluntary National Review

32.

The project overall sustainability is rated likely. The financial and institutional dimensions of sustainability are considered likely, as the current legal and regulatory framework does indeed enable good environment for environmental protection in Viet Nam. Moreover, sustained state and donor support for environmental protection is very likely. The socio-economic and environmental dimensions of sustainability are assessed as likely as the level of threats to environmental problems in Viet Nam is likely to increase over the next decade due to population growth, economic development and the vulnerability of Viet Nam's environment.




Tag: Sustainability Government Cost-sharing Human and Financial resources Sustainability Country Government Donor

33.

Financial risk

The project has done its work, successfully contributing to policy and decision-making, and succeeding in securing the enactment of various legal instruments of national or local scope that enabled the three Rio Conventions implementation and integrating global environmental concerns into its national strategic planning and development processes through the following means:

Working with a range of partners,
Building on existing initiatives and stakeholders,
Ensuring all aims and outputs are pragmatic and realistic,
Ensuring the project is aligned with political processes and developing political support,
Capacity building and learning by doing.

These issues have been assessed above. In general, the project might do basic things, such as dissemination strategy and a national level workshop and/or a series of policy-science seminars on the results, to ensure the continuation and consolidation of the knowledge products and to mobilize interest in a phase two for a full scale-up-project linked to planning and MONRE and MARD.




Tag: Challenges Sustainability Partnership Programme Synergy Results-Based Management Sustainability Capacity Building

34.

First, stakeholders at national and local level on the project sites expressed their support for the three Rio Conventions implementation and integrating global environmental concerns into its national strategic planning and development processes. However, the understanding of the three Rio Conventions and integrating global environmental concerning national strategic planning and development processes is different among stakeholders.




Tag: Emission Reduction Natural Resouce management Water resources Sustainability Trade and Development Agenda 2030 SDG Integration

35.

Institutional and governance risk

The project has contributed to the enabling environment with legal documents approval. These important decisions/laws provide the foundation for monitoring/replication (i.e. Decisions 5018/QD-BNN-TCLN from 6 December 2017 of MARD on approving the "Proposal on voluntary land degradation neutrality target setting in Viet Nam in the period of 2017–2020 with vision to 2030"; Decision 38/NQ-CP from 9 May 2018 on "Land use planning for Ha Giang to 2020 and land use planning for the last 5 years (2016-2020)", and a no objection decision of MONRE in 2018 on the office of climate change to support the work of UNFCCC. The government decision on list of indicators will also provide the basis for scale-up and help implement in 63 provinces of Viet Nam.




Tag: Sustainability Change Management Human and Financial resources Sustainability Country Government Capacity Building

36.

Environmental risk

Based on the recent environmental screening, meetings with environmental specialists and officials of international institutions involved in environmental programs, the following are some of environmental issues facing the country:

Loss of habitat and biodiversity as a result of changes in land use, Increased demand for energy,
Soil degradation caused by compaction, loss of nutrients, and erosion,
Degradation of freshwater resources and increase in the risk of waterborne disease, Reduction in the quantity of freshwater resources caused by increased use,
Increased greenhouse gas emissions,
Increases in solid, liquid and organic waste,
Degradation of environmental quality and effects on human health due to the misuse and overuse of fertilizers and pesticides.

The current policy and regulatory framework in Viet Nam offers sufficient support for effective environmental protection and sustainable development. However, there is a risk of environmental objectives having lower priority in front of development goals. For instance, in 2008, about 100 km2 of primary dipterocarp rain forest of the Annamite range were lost to a rubber plantation, under a government MONRE plan (2014).




Tag: Emission Reduction Natural Disaster Biodiversity Drinking water supply Energy Natural Resouce management Waste management Water resources Challenges Sustainability Health Crises Country Government

37.

The project impact is rated as significant. This project's support for the strengthening the capacity for implementing the three Rio Conventions has laid foundations for future impacts, making an enormous contribution by developing and demonstrating the application of tools that will eventually lead to national and global environmental benefits. While policy-making itself is a function of government (central and local) and a complex process in Viet Nam, the project approach and efforts, together with other initiatives implemented in parallel and supported by different development partners, have contributed to the strengthening of environment.




Tag: Climate Change Adaptation Biodiversity Natural Resouce management Impact Policy Advisory Agenda 2030 SDG accelerators SDG Integration

38.

The project's targets were very specific in terms of enhancing the capacity for implementing the three Rio Conventions by developing and applying tools that will lead to global environmental benefits. The potential impacts of improved management on gender roles in environmental protection and/or gender roles in the society of Viet Nam at large are well beyond the scope of this project. In this context, however, it must be noted that the project has taken some measures to address gender inequalities and empowering women. The leader of PSC was a woman, and the project coordinator and senior official of the ISPONRE was also a woman. Up to 40% of participants of training courses provided by the project were female. Viet Nam's Gender Development Index shows that the country is making some progress closing the gap in gender inequality. However, in the area of women's leadership, the rates in the public sector are low (UNDP, 2012), and in fact, most of officials interviewed for this evaluation report were men.




Tag: Environment Policy Natural Resouce management Gender Equality Gender Mainstreaming Gender Parity Capacity Building Agenda 2030 SDG Integration
Recommendations
1

1. Present project results with development partners and pitch for a full-scale capacity development project for monitoring sustainable development involving ISPONRE as a knowledge manager and technical capacity building and training supporter

2

2. UNDP/GOV/GEF to use project results to advocate further work on a full set of environmental management indicators (using Rio Conventions as benchmark standards) and for developing a monitoring system including information management for sustainable development in Viet Nam using the three Rio Conventions and SDG as an entry point to advance "knowledge and monitoring" work already started.

3

3. Partner with the academic community and the education ministry to develop a training package for ecosystem services and integrated planning for public servants and for public at large.

4

4. Dissemination and communications strategy for knowledge products

5

5. Take forward the natural capital learning platform and host activities for broader public and private sector awareness of the three Rio Conventions and SDGs and building national monitoring systems. Take forward work on the natural capital platform as potential learning platform.

6

6. Involve key actors and sectors in designing and implementing the follow-up initiative that includes planning, education, financial, and industry ministries in activities. New project can lead from behind, i.e. build capacity for policy actions with these ministries on board and if they are actively involved in capacity development activities.