Independent Country Programme Evaluation: Burkina Faso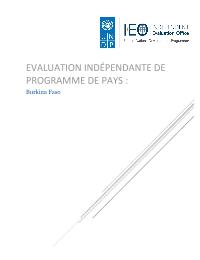 Evaluation Plan:

Evaluation Type:

ICPE/ADR

Planned End Date:

12/2019

Completion Date:

12/2019

Status:

Completed

Management Response:

No

Evaluation Budget(US $):

50,000
Title
Independent Country Programme Evaluation: Burkina Faso
Atlas Project Number:
Evaluation Plan:
2018-2021, Independent Evaluation Office
Evaluation Type:
ICPE/ADR
Status:
Completed
Completion Date:
12/2019
Planned End Date:

12/2019

Management Response:
No

Focus Area

:

1. Poverty
2. Governance
3. Resilience
4. Sustainable
5. Energy
6. Others

Corporate Outcome and Output (UNDP Strategic Plan 2018-2021)

1. Output 1.1.1 Capacities developed across the whole of government to integrate the 2030 Agenda, the Paris Agreement and other international agreements in development plans and budgets, and to analyse progress towards the SDGs, using innovative and data-driven solutions
2. Output 1.1.2 Marginalised groups, particularly the poor, women, people with disabilities and displaced are empowered to gain universal access to basic services and financial and non-financial assets to build productive capacities and benefit from sustainable livelihoods and jobs
3. Output 1.2.1 Capacities at national and sub-national levels strengthened to promote inclusive local economic development and deliver basic services including HIV and related services
4. Output 1.2.3 Institutions and systems enabled to address awareness, prevention and enforcement of anti-corruption measures to maximize availability of resources for poverty eradication
5. Output 1.4.1 Solutions scaled up for sustainable management of natural resources, including sustainable commodities and green and inclusive value chains
6. Output 1.5.1 Solutions adopted to achieve universal access to clean, affordable and sustainable energy
7. Output 2.2.3 Capacities, functions and financing of rule of law and national human rights institutions and systems strengthened to expand access to justice and combat discrimination, with a focus on women and other marginalised groups
8. Output 3.2.2 National and local systems enabled and communities empowered to ensure the restoration of justice institutions, redress mechanisms and community security
9. Output 3.3.1 Evidence-based assessment and planning tools and mechanisms applied to enable implementation of gender-sensitive and risk-informed prevention and preparedness to limit the impact of natural hazards and pandemics and promote peaceful, just and inclusive societies

Evaluation Budget(US $):

50,000

Source of Funding:
Evaluation Expenditure(US $):

50,000

Joint Programme:
No
Joint Evaluation:

No

Evaluation Team members:

| Name | Title | Nationality |
| --- | --- | --- |
| Youri Bless | Former Evaluation Specialist | |
| Oanh Nguyen,Gedeon Djissa | Evaluation Specialist,Evaluation Consultant | |
| Youssouf Ouattara,Gedeon Djissa | Evaluation Consultant,Evaluation Consultant | |
| Youri Bless | Evaluation Specialist | |
| Oanh Nguyen | Evaluation Specialist | |
| Gedeon Djissa | Evaluation Consultant | |
| Raymond Onana | Evaluation Consultant | |
| Youssouf Ouattara | Evaluation Consultant | |

GEF Evaluation:

No

Key Stakeholders:
Countries:

BURKINA FASO
Lessons
Findings
1.

Finding 1: During this programming cycle, UNDP made notable efforts to adapt to the deteriorating security environment in order to provide a more relevant programmatic response. Following the advice of various UN missions, UNDP is acting within the Sustaining Peace Initiative and has identified the Humanitarian-Development-Peace Nexus as the most relevant approach to accelerate overall programme implementation. The country office initiated a process to ensure a regional presence and adjust its internal capacities, to adapt to these new operational and technical needs.




Tag: Effectiveness Relevance Operational Efficiency Humanitarian development nexus Peace Building Security Mainstreaming, Acceleration and Policy Support (MAPS)

2.

Finding 2: UNDP has contributed to the Government's efforts to achieve its economic and social development objectives by strengthening their operational planning capacities. UNDP also supported the domestication process for the sustainable development goals (SDGs), including the development of the country's SDG profile. However, there are gaps in capacity building of national partners responsible for collecting and measuring the data for indicators in PNDES planning sectors.




Tag: UN Country Team Peace Building Capacity Building Inclusive economic growth Operational Services Agenda 2030 Data and Statistics SDG Integration

3.

Finding 3: Through material and technical support, UNDP has contributed to enabling some legislative and judicial bodies to carry out their missions and make progress in their respective mandates. In most cases, the results of UNDP support remain fragile and therefore require consolidation actions to be sustained over time, especially in relation to democratic and administrative governance.




Tag: Effectiveness Impact Sustainability Anti-corruption Human rights Justice system Rule of law Operational Efficiency Procurement Security Social cohesion Technical Support

4.

Finding 4: Promoting the rule of law in Burkina Faso is a priority area in the current programming cycle, reflected in support for initiatives that focus on protecting the rights of people living with HIV/AIDS and access to justice for citizens. Overall, UNDP support in these areas meets real needs. However, the results of the activities carried out so far are generally not very visible, and significant efforts are still required to promote the rule of law, particularly in the context of the programme's realignment towards issues of peace and social cohesion.




Tag: Effectiveness Impact Human rights Justice system Rule of law HIV / AIDS Peace Building Social cohesion

5.

Finding 5: UNDP contributed to strengthening social cohesion in the Sahel and North regions through initiatives involving important civil society actors. Difficulties in accessing and securing stable and long-term resources from non-state organisations associated with these interventions limit their ability to drive and achieve the transformational changes expected.




Tag: Effectiveness Efficiency Resource mobilization Civic Engagement Social cohesion

6.

Finding 6: Through the project to support Security Sector Reform, UNDP enabled Burkina Faso to undertake a process of structural reforms which should support the establishment of defence and security forces which are more effective, respect the principles of democratic governance and provide quality services to the population. The restructuring of the defence and security system underway, as well as the legal instruments being developed, illustrate advances that put Burkina Faso security sector reform on the right track.




Tag: Effectiveness Civic Engagement Public administration reform Rule of law Civil Societies and NGOs Country Government Security

7.

Finding 7: UNDP contributed to the strengthening of regional and municipal development plans, through the integration of issues related to environmental protection and sustainable management of natural resources, and support for the implementation of some activities included in these plans. In its intervention sites, UNDP contributed to the management of protected areas and reduction of land degradation through behavioural changes in the use of natural resources and the adoption of best practices. However, due to the limited capacity of municipalities and regions to implement their development plans, the results have been mixed.




Tag: Natural Resouce management Protected Areas Effectiveness Relevance Sustainability Local Governance Integration

8.

Finding 8: UNDP contributed to the development of income-generating activities through support to non-wood forest products and the development of new agricultural sectors such as rice production in the lowlands. Positive results were noted for a few beneficiaries, who indicated a slight improvement in their income levels. However, evidence is limited and results mixed. The envisaged economic value chains are not very viable and do not ensure sustainability or scale-up.




Tag: Agriculture land resouces Effectiveness Sustainability Inclusive economic growth Jobs and Livelihoods

9.

Finding 9: UNDP support in the area of the environment has prioritised pilot initiatives, some of which have shown encouraging results that can be scaled up, although challenges remain. In addition, the recent nature and limited scope of these interventions mean that it is not yet possible to assess their impact on the environment.




Tag: Agriculture Relevance Sustainability

10.

Finding 10: In the area of economic governance and the development of local economies, through the PADEL project, UNDP contributed to strengthening the economic infrastructure of some municipalities in the Sahel region. However, the effective operationalisation of infrastructure interventions is still affected by organisational and security problems which hamper commissioning and execution.




Tag: Challenges Effectiveness Local Governance

11.

Finding 11: The UNDP country programme targeted vulnerable groups for the development of employment and business creation opportunities. UNDP support for the development of entrepreneurial initiatives by young people and women has been based on an innovative incubation model. Some results have been noted in this area, but the scope of the intervention remains very limited and the involvement of state structures promoting entrepreneurship has not been sufficient to ensure sustainability and scale-up of the interventions.




Tag: Vulnerable Challenges Effectiveness Impact Sustainability Women's Empowerment Innovation Country Government Jobs and Livelihoods Youth

12.

Finding 12: UNDP support for strengthening access to energy remains very limited. The initiatives intended to address the energy component of the outcome are not well developed and have not achieved expected results.




Tag: Energy Effectiveness Relevance Gender Equality Women's Empowerment Results-Based Management

13.

Finding 13: UNDP interventions have strengthened the capacities of actors involved in the production and management of geo-climatic information through training and the installation of weather stations. However, several key interventions did not reach their objectives. The establishment of a platform for the dissemination of information to target populations was not achieved due to a lack of coordination and follow-up support to actors involved in the production and dissemination of climate information.




Tag: Climate Change Adaptation Climate change governance Effectiveness Impact Resource mobilization Small Grants Programme Ownership

14.

Finding 14: UNDP contributed to building the capacities of certain government structures involved in disaster management, and supported the recovery of some vulnerable populations affected by disasters through economic initiatives. There is no evidence on the use of prevention tools by different actors, which limits the evaluation of the contribution of UNDP in this area. Though there are results in supporting populations vulnerable to disasters, the absence of a beneficiary monitoring mechanism makes it difficult to assess the real changes obtained at the level of all beneficiaries.




Tag: Disaster Risk Reduction Vulnerable Effectiveness Impact Relevance Monitoring and Evaluation Results-Based Management

15.

Finding 15: The UNDP programme is well aligned to its own mandate and the national priorities identified in PNDES. However, the UNDP programme is limited in terms of coherence and complementarity between different activities. The configuration of some interventions shows a compartmentalisation which results in separate project teams and poorly integrated work plans. This creates a high risk of overlapping interventions on the ground, thus posing a problem of efficiency in programme implementation. In addition, the programme theory of change does not include the key assumptions behind its effective implementation, such as the availability of resources and the evolution of the security situation, which have had a substantial impact on the implementation of the programme.




Tag: Coherence Effectiveness Efficiency Relevance Programme Synergy Theory of Change Technology

16.

Finding 16: UNDP has developed strong and diverse partnerships with government partners at national level for the implementation of its country programme. However, partnerships with bilateral and multilateral development partners, including UN agencies, are weak. The establishment of integrated offices for the UN system is expected to facilitate collaboration between UN agencies for greater synergy of action.




Tag: Coherence Effectiveness Change Management Partnership Programme Synergy Bilateral partners Civil Societies and NGOs Country Government UN Agencies

17.

Finding 17: The CPD did not sufficiently integrate knowledge management into the country programme. While there were ad hoc activities to capitalise on the experience of certain projects, the programme did not define a strategy or formal mechanism for knowledge management and sharing to systematically document and disseminate information, experiences and lessons between the different thematic teams. Consequently, experiences from projects are not sufficiently used to inform the development of new projects.




Tag: Effectiveness Impact Knowledge management Results-Based Management

18.

Finding 18: Mobilising resources for programme implementation has proven to be a challenge. There is also some inefficiency in the use of resources.





Tag: Efficiency Impact Global Fund Resource mobilization Multilateral Partners Operational Efficiency

19.

Finding 19: The UNDP programme portfolio reveals a high proportion of projects implemented under the direct implementation modality (DIM) compared to the national implementation modality (NIM), which is not favourable to national ownership and capacity building. Taking into account the difficult operating environment due to the deteriorating security situation in many intervention areas, UNDP has adopted coping strategies including the "faire-faire" approach, the use of satellite GIS, and work with UNVs at community level. These strategies can be an important lever for the implementation and monitoring of interventions.




Tag: Challenges Effectiveness Implementation Modality Innovation Monitoring and Evaluation Ownership UN Agencies

20.

Finding 20: The monitoring and evaluation (M&E) system relates more to the implementation of activities and the financial execution of projects, than to the achievement of results and impacts.




Tag: Effectiveness Efficiency Impact Monitoring and Evaluation Results-Based Management Theory of Change

21.

Finding 21: The UNDP country office gives low priority to gender, as reflected in the absence of resources dedicated to the gender action plan. The country office did not have formal mechanisms to ensure the effective integration of gender into the design and implementation of projects and programmes for gender-transformative results, although there are some programme interventions that directly target women.




Tag: Coherence Effectiveness Impact Gender Equality Gender Mainstreaming Women's Empowerment

22.

Finding 22: In the current programming cycle, UNDP fostered the effective engagement of key players in the planning and implementation of interventions, strengthening opportunities for sustainability. However, the UNDP exit strategy is not systematic and the transfer of skills to national and municipal structures is not sufficient to ensure the sustainability of results. The sustainability of results achieved with UNDP support varies depending on the areas of intervention, but is generally very fragile.




Tag: Coherence Effectiveness Impact Sustainability
Recommendations
1

Recommendation 1. In view of the evolution of the security and humanitarian context in Burkina Faso, UNDP should continue to restructure its interventions around the Sustaining Peace initiative and the HDPN. This will enable interventions to be implemented in integration with those of other UN agencies and development partners operating in the country. The establishment of regional offices provides an opportunity for this synergy, but collaboration between actors must be systematic, from design to implementation and evaluation of initiatives. Special emphasis should be placed on strengthening the internal technical and operational capacities of UNDP.

Efforts to reorient interventions to adjust to the context are encouraging and should be continued. UNDP positioning on the Sustaining Peace Initiative and the HDPN is strategic given the complexity of the security crisis and the multiplicity of development actors. The consolidation of UN agency actions through regional offices could reinforce synergies and avoid the compartmentalisation of interventions, which will contribute to strengthening impact on local populations. Capacity building must be systematic for all agencies deployed in regional offices, to ensure the effective operationalisation of the offices and avoid imbalances in the capacity of agencies which could undermine the effectiveness and efficiency of implementation of inventions in the field. The restructuring underway requires a set of technical capacities linked to the areas of social cohesion, rule of law, security and resilience, which will be at the centre of UNDP response.

2

Recommendation 2. UNDP should promote a programmatic and consolidated approach focused on a small number of key transformational interventions in each thematic area. The development of an intervention logic to guide the development and implementation of activities could help to accelerate planning and implementation of the programme, particularly for the next cycle. The consolidation of interventions around the programmes on social cohesion, security and rule of law (COSED) and sustainable livelihoods (PAMED), currently being finalised, is part of this dynamic and must be reinforced across all areas of UNDP intervention.

UNDP should refocus its interventions to avoid the development of several small initiatives whose effects and results are very limited compared to the expectations of national actors and partners at different levels. The adoption of a consolidated programmatic approach in the next programming cycle would avoid the development of small initiatives in silos managed by separate project teams, which limits the effectiveness and efficiency of UNDP in the areas of intervention. The dispersal of interventions can be avoided with upstream consolidation and stronger synergy between actions in the different thematic areas, which appears to be taking place with the development of the COSED and PAMED programmes. It is entirely relevant for one project to replicate the actions of another in different localities or intervention areas. However, in this case there must be coordination between the various intervention teams from the first stages of design of the new project, as sharing of experiences will allow better orientation of the actions for improved results. This has not been the case in the country office, where different projects were led by separate teams, from design to implementation.

3

Recommendation 3. UNDP should focus its capacity strengthening support to institutions: to deliver their mandate on the one hand; and to vulnerable communities to integrate into the national economic fabric on the other. An approach integrating these two dimensions would better respond to the challenges of resilience and vulnerabilities.

As part of the reorientation of the UNDP programme to HDPN, significant emphasis should be placed on the capacity of the institutions targeted by UNDP, so that these State and non-governmental bodies can become sustainable institutions responsible for the monitoring, prevention and management of conflicts, and the long term promotion of the rule of law. UNDP should ensure that its community level interventions targeting livelihoods and resilience to climatic, economic and security shocks, can effectively contribute to the development of local capacity to undertake, produce and integrate viable value chains. Through interventions that integrate these two dimensions, UNDP can provide a relevant response to the challenges and vulnerabilities that fuel the security crisis and the expansion of instability in Burkina Faso, for example by capitalising on the COSED and PAMED initiatives.

4

Recommendation 4. UNDP should strengthen its knowledge management and communications, and dialogue with donors and national partners. Dialogue with donors would encourage interest in funding the programme and improve perceptions of UNDP, and with national partners it would encourage respect for agreed timelines and accelerate the achievement of results. Communication and dialogue based on good knowledge management, including the sharing of practical experiences from UNDP projects in the field, would provide opportunities to scale-up pilot interventions which have had good results.

Effective communication with partners should be based on knowledge management that focuses on monitoring results more than activities. UNDP should review and improve its monitoring system to effectively provide data to measure progress against targeted results and objectives. It should take advantage of the tools already in place and analyse where information gaps remain. Effective knowledge management should therefore help to understand the reasons for the success of projects and communicate better with technical and financial partners. In the area of resource mobilisation, UNDP should continue to improve communication and dialogue with its traditional and potential partners in Burkina Faso. UNDP should more systematically consider partnerships with donors in Burkina Faso, when they intervene in areas where it has a comparative advantage. Dialogue and collaboration must be re-established with traditional partners with whom UNDP has had negative experiences in previous cycles and which continue to be an obstacle to the mobilisation of resources. Good knowledge management and good dialogue with partners should also provide opportunities for scaling up UNDP initiatives. UNDP should communicate more with national partners on its procedures, whether for the approval of work plans or the availability of resources, as this has proven to be an obstacle to the effective and timely implementation of interventions. Better communication could ensure that activities comply better with agreed timelines and thus accelerate the achievement of results, especially in sectors such as agriculture where activities which did not take seasons into account have seen harmful consequences on expected results.

5

Recommendation 5. UNDP should strengthen its gender efforts and identify strategic approaches and interventions leading to transformational change for women.

The UNDP country office should first and foremost strengthen its internal capacity to promote gender equity. This could, for example, involve more gender-sensitive training, awareness-raising and recruitment. This will allow the UNDP office to better promote gender in its programme, to go beyond the targeting of women in projects, towards providing effective solutions to the structural barriers that prevent the effective participation of women in the political, economic and social life of Burkina Faso.
Management response not available