Independent Country Programme Evaluation: China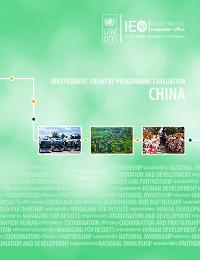 Evaluation Plan:

Evaluation Type:

ICPE/ADR

Planned End Date:

12/2019

Completion Date:

12/2019

Status:

Completed

Management Response:

Yes

Evaluation Budget(US $):

71,300
Title
Independent Country Programme Evaluation: China
Atlas Project Number:
Evaluation Plan:
2018-2021, Independent Evaluation Office
Evaluation Type:
ICPE/ADR
Status:
Completed
Completion Date:
12/2019
Planned End Date:

12/2019

Management Response:
Yes

Focus Area

:

1. Poverty
2. Governance
3. Resilience
4. Sustainable
5. Others

Corporate Outcome and Output (UNDP Strategic Plan 2018-2021)

1. Output 1.1.1 Capacities developed across the whole of government to integrate the 2030 Agenda, the Paris Agreement and other international agreements in development plans and budgets, and to analyse progress towards the SDGs, using innovative and data-driven solutions
2. Output 1.1.2 Marginalised groups, particularly the poor, women, people with disabilities and displaced are empowered to gain universal access to basic services and financial and non-financial assets to build productive capacities and benefit from sustainable livelihoods and jobs
3. Output 1.2.1 Capacities at national and sub-national levels strengthened to promote inclusive local economic development and deliver basic services including HIV and related services
4. Output 1.2.2 Enabling environment strengthened to expand public and private financing for the achievement of the SDGs
5. Output 1.4.1 Solutions scaled up for sustainable management of natural resources, including sustainable commodities and green and inclusive value chains
6. Output 2.1.1 Low emission and climate resilient objectives addressed in national, sub-national and sectoral development plans and policies to promote economic diversification and green growth
7. Output 3.3.1 Evidence-based assessment and planning tools and mechanisms applied to enable implementation of gender-sensitive and risk-informed prevention and preparedness to limit the impact of natural hazards and pandemics and promote peaceful, just and inclusive societies

Evaluation Budget(US $):

71,300

Source of Funding:
Evaluation Expenditure(US $):

63,700

Joint Programme:
No
Joint Evaluation:

No

Evaluation Team members:

| Name | Title | Nationality |
| --- | --- | --- |
| Landry Fanou | Research Consultant | |
| Gedeon Djiss | Research Consultant | |

GEF Evaluation:

No

Key Stakeholders:
Countries:

CHINA, PEOPLE'S REPUBLIC
Lessons
Findings
1.

Finding 1. UNDP's systematic efforts to reshape its partnership with China within a fast-evolving context has largely been a success, resulting in a country programme well aligned with national priorities. The responsiveness of the CO to the changing context and different potential roles for UNDP must be applauded. However, the pilot testing of various models of engagement for financing due to the upcoming change in the funding approach for UNDP's physical presence means that the cost recovery modality is still evolving and is not yet finally shaped.




Tag: SDG Integration SDG monitoring and reporting Country Support Platform Operational Efficiency Partnership Green Climate Green Economy Global Environment Facility fund Coherence Effectiveness Efficiency South-South Cooperation Technical Support

2.

Finding 2. UNDP's efforts to generate income and improve the livelihoods of poor households, women and ethnic minorities through better access to financial services, job creation and entrepreneurship achieved encouraging results. Through piloting, demonstration and capacity building, UNDP projects produced knowledge with policy implications. However, given the limited scale and number of projects, the real impact of UNDP's work will depend on whether and how successfully interventions can be scaled up in other areas.




Tag: Capacity Building Inclusive economic growth Jobs and Livelihoods Poverty Reduction Technology Gender Equality Women's Empowerment Innovation Government Cost-sharing Effectiveness Efficiency Impact Country Government Technical Support

3.

Finding 3. Through its work in SDG localization and SDG financing, UNDP has supported China to explore the use of SDG targets as a standard for social and economic development and economic policy decisions.




Tag: Effectiveness Sustainability Private Sector Financing Gender Equality Women's Empowerment Local Governance Innovation Strategic Positioning Inclusive economic growth Technology Advocacy Policy Advisory Agenda 2030 SDG Integration

4.

Finding 4. UNDP's work in broadening access to justice and social services, and in supporting public sector reform and the development of civil society was limited, mostly because it was unable to mobilize resources to work in these areas. Notwithstanding, UNDP's efforts to support marginalized groups, including lesbian, gay, bisexual, transgender and intersex (LGBTI) people and people living with HIV/ AIDS (PLHIV) in a context of strong social stigma are to be applauded.




Tag: Capacity Building Social Protection Civic Engagement Justice system Public administration reform Vulnerable Gender Equality Gender Mainstreaming Gender transformation Gender-Based Violence Women's Empowerment HIV / AIDS Resource mobilization

5.

Finding 5. UNDP's Environment, Energy, Climate Change and Ozone Layer Protection Programme responds to country priorities and is well on track to achieve, and in some cases exceed, the set targets. There is still a need for continued emphasis on influencing policies, standards and regulations, at the same time demonstrating innovative solutions at local level.




Tag: Local Governance Adaptation Fund Green Climate Green Economy Effectiveness Impact Sustainability Technical Support

6.

Finding 6. UNDP has effectively cooperated with the Government of China in biodiversity and ecosystem conservation for a long time, providing technical and managerial support. Through its projects it was instrumental in the adoption of new practices, standards and policy frameworks, as well as the improved conservation and management of protected areas.




Tag: Agriculture Biodiversity Ecosystem based adaption Protected Areas Effectiveness Efficiency Global Environment Facility fund Private Sector Financing Knowledge management UN Agencies Capacity Building Coordination Technical Support SDG Integration SDG monitoring and reporting

7.

Finding 7. UNDP's support in the area of climate change mitigation/renewable energy/energy efficiency achieved noteworthy results through the revision and inclusion of new policies and the demonstration of new tools and applications. This also contributed to China's positioning as a leader in the Paris Agreement actions, and green, low carbon development. Continued support, especially at policy and standard-setting level, is still needed to sustain the results.




Tag: Knowledge management Adaptation Fund Energy Green Climate Green Economy Renewable energy Effectiveness Impact Sustainability Policy Advisory

8.

Finding 8. UNDP is the international lead agency for coordinating China's response to its Montreal Protocol commitments, which require the country to phase out production and consumption of HCFCs by 2030. Currently, a globally significant amount of HCFCs has already been phased out. More support is needed, including to create conducive regulatory and market conditions for the uptake of new technologies and the implementation of the Kigali amendment.




Tag: Technology Strategic Positioning Environment Policy Green Climate Green Economy Effectiveness Impact Donor UN Agencies Coordination Policy Advisory

9.

Finding 9. In the area of chemical waste, especially persistent organic pollutants, several GEFfunded projects were implemented. These projects achieved significant results that can have important national and global impact when further scaled up.




Tag: Waste management Global Environment Facility fund Effectiveness Impact Agriculture Civil Societies and NGOs Country Government Policy Advisory

10.

Finding 10. UNDP China contributes to improved DRM at domestic and international level, but the link with climate change adaptation and other resilience programmes could be strengthened for increased resources and greater synergies and effect for disaster risk reduction.




Tag: Climate Change Adaptation Disaster risk management Adaptation Fund Coherence Impact Programme Synergy Quality Assurance Bilateral partners Resilience Coordination South-South Cooperation SDG Integration

11.

Finding 11. UNDP has been a key partner in supporting the Government of China on its aid policy and expanding its role in global partnerships through leveraging its global network. However, UNDP's positioning, as well as the medium- and long-term strategy for its engagement in this area will need to be clarified.




Tag: Challenges Effectiveness Impact Resource mobilization Country Support Platform Global Policy Network Human and Financial resources Partnership Strategic Positioning Policy Advisory South-South Cooperation Agenda 2030 SDG Integration

12.

Finding 12. UNDP has effectively built into its strategies several factors that enable its projects to succeed. These include strong alignment with government priorities, close engagement with key government institutions, and working consistently in specific areas for a longer period of time to generate more results and impact. Operating in China for 40 years, UNDP's status as a trusted and legitimate international partner also enables it to be a channel for innovation.




Tag: Strategic Positioning Effectiveness Impact Relevance Country Government Policy Advisory

13.

Finding 13. UNDP's strategy included a focus on upstream policy work, accompanied by downstream local pilots and demonstrations. This strategy facilitated mainstreaming of good practices from local pilot projects and replicating innovative approaches for greater impact. However, a thorough and evidence-based analysis of opportunities for effecting development change, as well as the necessary assumptions and risks which could give better insights and provide scenarios going forward would have further strengthened its agility and effectiveness.




Tag: Results-Based Management Risk Management Theory of Change Effectiveness Impact Policy Advisory

14.

Finding 14. The trusted partnership with the government enabled UNDP to work in key priority areas, test innovative approaches, and enjoy high government ownership at different levels. However, UNDP's effectiveness was somewhat hampered by limited joint activities and programmes with other UN agencies and other development partners. Collaboration with NGOs, though evolving, is still limited.




Tag: Partnership Global Environment Facility fund Relevance Sustainability Civil Societies and NGOs Country Government UN Agencies

15.

Finding 15. There were some good examples of partnerships with the private sector and academia, which enhanced the effectiveness of UNDP's programme. UNDP's convening ability helped bring partners from different sectors to explore innovative approaches.




Tag: Education Inclusive economic growth e-Governance SDG Integration Private Sector Financing Coherence Effectiveness Relevance Civil Societies and NGOs Private Sector Coordination Policy Advisory

16.

Finding 16. Recent efforts in the office to strengthen gender aspects, including in-house capacity strengthening and planning for gender mainstreaming at project level were hampered by the limited resources allocated. Although there are some specific projects benefiting women, in general indicators and targets are not gender-sensitive. There is room for improvement in both gender mainstreaming and gender results achieved.




Tag: Inclusive economic growth Gender Equality Gender Mainstreaming Women's Empowerment Operational Efficiency Programme/Project Design Results-Based Management Theory of Change Effectiveness Efficiency Impact

17.

Finding 17. Despite very limited core funding, UNDP was able to mobilize sizeable resources from different sources, such as vertical trust funds, thirdparty cost-sharing (including the private sector) and government cost-sharing. However, vertical trust funds accounted for most of the non-core resources, demonstrating very strong dependence on GEF and Montreal Protocol funding.




Tag: Global Environment Facility fund Government Cost-sharing Private Sector Financing Resource mobilization Vertical Trust Funds Effectiveness Efficiency

18.

Finding 18. Good efforts to standardize reporting and strengthen CO monitoring capacities allowed for the appropriate tracking of financial delivery and progress of activities. However, the current monitoring and evaluation (M&E) system is not sufficiently commensurate with the complexity of the environment in which UNDP operates in China, as well as the size and complexity of the UNDP programme.




Tag: Country Support Platform Monitoring and Evaluation Operational Efficiency Effectiveness Efficiency Relevance Policy Advisory South-South Cooperation

19.

Finding 19. UNDP has successfully used communication to promote its visibility and strengthen awareness on key topics and issues, thereby enhancing the effectiveness of its programme. It has also invested in producing and disseminating knowledge products.




Tag: Agenda 2030 SDG Integration Knowledge management Partnership Effectiveness Civil Societies and NGOs Private Sector

20.

Finding 20. Despite recent efforts, including the office restructuring, there still appears to be limited synergy between programmes/projects, giving the impression that projects are working in silos and thereby not taking advantage of pooled resources and increased effectiveness to have even bigger impact.




Tag: Gender Equality Gender Mainstreaming SDG Integration Change Management Programme Synergy Results-Based Management Theory of Change Global Environment Facility fund Effectiveness Efficiency Impact Relevance Policy Advisory
Recommendations
1

The new CPD should clearly define UNDP's positioning and roles in China. To remain relevant, UNDP should continue to be agile, both in its thematic offerings and its modalities. Its work needs to be underpinned by clear theories of change, developed in consultation with key stakeholders and applied using a reflective approach. UNDP should consider establishing an advisory group to provide strategic feedback and advice on its work and interactions within the broader policy and institutional context in China.

It is important to reach clarity and agreement on the CO's role in this phase of differential funding presence for the UNDP-China partnership post-2020. At the time of the evaluation, there was still uncertainty about the level of government funding contribution, the approaches, areas and modalities of work (including both development work in China and work to support China's global partnership), as well as the corresponding size and expertise required for the CO in this new phase. The CO has been working in different areas, testing different working modalities and models of partnership for resource mobilization. It is time for stocktaking to clearly define the way forward.

There are different models of UNDP operation in middle- and upper- middle-income countries. UNDP (the CO, together with the regional bureau and headquarters) may assess these models and discuss different scenarios in the context of China. As China is a large country with high levels of diversity, when working at sub-national level UNDP should carefully reflect on its areas of work, working modalities, and resource mobilization approaches for different regions (i.e. less- and more-advanced regions, rural and urban). This is due to different implications in terms of local capacity and funding.

The new country programme, developed in consultation with the government and linked to China's Fourteenth Five-Year Plan, should be underpinned by a theory or theories of change which consider the evolving environment in China, the reduced funding envelope from corporate UNDP resources, and UNDP's strengths. Such a theory of change would give better insight into the proposed programme and allow for better visibility and understanding of UNDP support for transformational change in China. Given the rapid growth, structural changes and complexity of China, a reflective approach should be used in applying the theory of change during programme implementation. Significant value could be gained from establishing an advisory group comprising China experts to help the office keep abreast of the latest developments and provide advice.


2

Building on lessons learned from previous work and UNDP comparative advantages, UNDP should focus on where it can offer most value for China and global development and how to optimize its comparative advantages. For development work within China, this should include continuing to support China's transition to a green, low-carbon economy, promotion of the SDGs, and advocacy for the needs of poor and marginalized groups of society. SDG localization could serve as an entry point for UNDP programmes in China.

The scale of UNDP's work in China is small compared to financial and substantive inputs from the Government of China and some other multilateral partners. Still, UNDP has been able to bring added value through its development expertise rooted in its global experience and presence. Considering the key lessons learned from past and current programmes, UNDP China should continue to support China's shift to using SDGs as a standard for development and economic decisions, its transformation to a green, low-carbon economy, and work to advocate for the needs of the poorest and most marginalized people.

UNDP is well placed to promote the adoption of the SDGs in China. It has been appreciated for introducing international values, standards, expertise, advanced technologies and new development approaches in various areas. UNDP's expertise on integrating multidisciplinary development areas is a comparative advantage for work on SDG localization, which requires a holistic approach addressing economic, social and environmental development. Such SDG localization projects/ programmes could serve as a platform for resource mobilization and integration (from donors, including the private sector and national partners). This will help reduce the imbalance of the current programme, where most expenditure was in environment-related areas. UNDP should continue to promote innovative approaches and work closely with relevant partners for national ownership and possible policy impact. SDG localization could be a potential area where joint programming with other UN agencies would be useful.

UNDP has been a long-time partner of the Government of China in environment/energy/climate change via projects funded by the GEF and the Montreal Protocol. Such partnerships should continue to maintain the momentum built through past projects. However, UNDP will need to be prepared to work with the Government of China to ensure it meets increasingly higher expectations about government contributions. For example, GEF's updated co-financing policy requests a ratio of investment mobilized to GEF financing of at least 5:1 for the portfolio of projects and programmes approved in UMICs, and encourages all countries to seek to mobilize greater investment.

UNDP has strong convening power and should continue to raise and provide support to addressing issues which may be challenging within the national context (such as support to LGBTI people and PLHIV). Efforts to identify such issues, and approaches to address them, are important and should continue in the future.

3

UNDP should continue its support to China's global development engagement. Expectations around the global development engagement funded by China should be clarified, and further corporate guidance would be useful.

Given the prominence of South-South cooperation and BRI for both China and UNDP, UNDP should continue its role in this area. It should work on capacity development for stakeholders in China to engage in South-South cooperation, to help China better share its experiences in development with other developing countries. The expectations of the government about the role and resourcing for UNDP's support to SouthSouth cooperation programmes should be clarified. Further corporate guidance on cross-border programming of South-South cooperation, including responsibilities and financial accountabilities of country offices involved would be useful. Monitoring and reporting on South-South initiatives should be improved, including efforts to document lessons learned. Overall, future global partnership work requires a clear corporate strategy, guidance and support.

4

To facilitate the scaling out and scaling up of its successful pilots and demonstrations, UNDP should continue to strengthen knowledge management, M&E, policy advocacy and resource mobilization.

UNDP China has been shifting to an upstream strategy, including advocacy, policy dialogue and advice, capacity building and pilot experiments, partly due to limited and decreasing resources. Upstream policy approaches require solid knowledge and expertise. UNDP has a presence in about 170 countries and territories and has been in China for 40 years. This is UNDP's most unique advantage but also the one that has probably not been fully leveraged. Knowledge on successful (and unsuccessful) practices in terms of thematic area approaches and strategies, as well as ways of working (resource mobilization, partnerships, policy advocacy, etc.) should be generated, further disseminated and used for future programming in China and elsewhere. Efforts should be supported by headquarters.

The M&E system should be improved to capture the extent to which observed changes can be attributed to UNDP's support. More efforts should be made to improve the coverage and rigour of evaluations and knowledge management, which is required to increase prospects for scaling up pilots. Evaluations should be planned strategically to provide substantive information for decision making and learning, and address the CO's priorities, emerging or innovative areas of engagement, potential scale-up opportunities and cross-cutting issues.

The differentiated funding presence transition sets an even higher bar for UNDP's resource mobilization. In the current and past programmes, the CO, in its efforts on resource mobilization, explored different partnerships and models and gained a better understanding of what works more effectively and efficiently. While continuing to seize opportunities when they arise, a systematic resource mobilization strategy and action plan should be developed. The strategy should include a structured due diligence process for selecting non-traditional partners (including the private sector) with clear, well-defined and relevant criteria. The process should include assessment of risk factors and potential conflict of interest, etc. Specific risks associated with partnerships and resource mobilization activities should be identified, addressed and monitored through a risk management process. The strategy should also include a mapping of key players in each area of intervention to facilitate strengthening synergies.


5

UNDP should further strengthen the gender aspect of its programme, to achieve more gender-responsive and gender-transformative results.

UNDP's gender equality strategy, which is being developed, should serve as a framework for mainstreaming gender in the CO and in its programme. The annual action plan should be accompanied by resources for implementation. At the moment, most of the interventions are expected to contribute to gender equality in a limited way (GEN1). The office should try to increase the number of interventions that have gender equality as the main objective (GEN3), in line with UNDP's corporate objective of having at least 15 percent of budget for GEN3 projects—as defined in the UNDP Gender Equality Strategy 2018-2021 (currently this is at 1 percent). More efforts should be made to consider the specific needs of men and women, and enhance gender norms and structures to achieve more gender-responsive and transformative results.