Independent Country Programme Evaluation: Georgia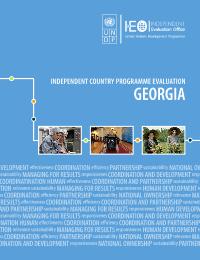 Evaluation Plan:

Evaluation Type:

ICPE/ADR

Planned End Date:

12/2019

Completion Date:

12/2019

Status:

Completed

Management Response:

No

Evaluation Budget(US $):

35,000
Title
Independent Country Programme Evaluation: Georgia
Atlas Project Number:
Evaluation Plan:
2018-2021, Independent Evaluation Office
Evaluation Type:
ICPE/ADR
Status:
Completed
Completion Date:
12/2019
Planned End Date:

12/2019

Management Response:
Yes

UNDP Signature Solution

:

1. Poverty
2. Governance
3. Resilience
4. Sustainable

Corporate Outcome and Output (UNDP Strategic Plan 2018-2021)

1. Output 1.1.1 Capacities developed across the whole of government to integrate the 2030 Agenda, the Paris Agreement and other international agreements in development plans and budgets, and to analyse progress towards the SDGs, using innovative and data-driven solutions
2. Output 1.1.2 Marginalised groups, particularly the poor, women, people with disabilities and displaced are empowered to gain universal access to basic services and financial and non-financial assets to build productive capacities and benefit from sustainable livelihoods and jobs
3. Output 1.2.1 Capacities at national and sub-national levels strengthened to promote inclusive local economic development and deliver basic services including HIV and related services
4. Output 2.2.2 Constitution-making, electoral and parliamentary processes and institutions strengthened to promote inclusion, transparency and accountability
5. Output 2.2.3 Capacities, functions and financing of rule of law and national human rights institutions and systems strengthened to expand access to justice and combat discrimination, with a focus on women and other marginalised groups
6. Output 2.3.1 Data and risk-informed development policies, plans, systems and financing incorporate integrated and gender-responsive solutions to reduce disaster risks, enable climate change adaptation and mitigation, and prevent risk of conflict
7. Output 2.4.1 Gender-responsive legal and regulatory frameworks, policies and institutions strengthened, and solutions adopted, to address conservation, sustainable use and equitable benefit sharing of natural resources, in line with international conventions and national legislation
8. Output 3.1.1 Core government functions and inclusive basic services4 restored post-crisis for stabilisation, durable solutions to displacement and return to sustainable development pathways within the framework of national policies and priorities
9. Output 3.2.1 National capacities strengthened for reintegration, reconciliation, peaceful management of conflict and prevention of violent extremism in response to national policies and priorities

Evaluation Budget(US $):

35,000

Source of Funding:
Evaluation Expenditure(US $):

35,000

Joint Programme:
No
Joint Evaluation:

No

Evaluation Team members:

| Name | Title | Email | Nationality |
| --- | --- | --- | --- |
| Tianhan Gui | Research Consultant | | |
| Elinor Bajraktari | Evaluation Consultant | | |
| Nino Partskhaladze | Evaluation Consultant | | |

GEF Evaluation:

No

Key Stakeholders:
Countries:

GEORGIA, REPUBLIC OF
Lessons
Findings
1.

Finding 1: UNDP has contributed to improving the country's system of checks and balances by working on different accountability streams (see Figure 1). It strengthened the role and functioning of the Parliament, enhanced the role of civil society in governance, and improved the transparency, accountability and functioning of the Government. UNDP also effectively contributed to further promote the decentralization of government functions by supporting the approval of the Decentralization Strategy and Action Plan. Further efforts are needed to promote gender mainstreaming in public administration reform and link the latter to ongoing public financial management reform.




Tag: Effectiveness Sustainability Gender Equality Gender Mainstreaming Anti-corruption Civic Engagement Local Governance Parliament Inclusive economic growth

2.

Finding 2: UNDP has shown flexibility in the delivery of interventions in the area of governance, adapting its support to the country's changing needs and priorities. Synergies among projects have been well exploited, although room for improvement remains.




Tag: Energy Coherence Effectiveness Gender Equality Women's Empowerment Human rights Public administration reform Rule of law Monitoring and Evaluation Programme Synergy Country Government Donor Jobs and Livelihoods Policy Advisory Technical Support Data and Statistics

3.

Finding 3: UNDP has played an important role in promoting the protection of human rights among vulnerable groups, embracing the principle of leaving no one behind. It supported the institutional strengthening of national stakeholders across different areas, including law enforcement oversight, access to justice, persons with disabilities, and protection of privacy. Limited national commitment at top levels and cultural resistance have partly affected the effectiveness of UNDP's interventions in this area.




Tag: Vulnerable Effectiveness Impact Human rights Justice system Public administration reform Rule of law Country Government Disabilities Leaving no one behind

4.

Finding 4: UNDP has been involved for some time in integrated border management in Georgia. It supported the operational performance of border management agencies and promoted cooperation between Georgia and Azerbaijan.




Tag: Human rights Rule of law Coordination Operational Services

5.

Finding 5: Through the long-running European Neighbourhood Programme for Agriculture and Rural Development (ENPARD), UNDP effectively supported the authorities' efforts to promote rural development through policy and organizational capacity development interventions and contributed to the creation of employment opportunities in rural areas. The project could strengthen its linkages and synergies with relevant projects in the governance area. In addition, further efforts should be promoted to assess the project's impact in terms of socioeconomic development and enhanced livelihoods.




Tag: Agriculture Rural development Effectiveness Impact Relevance Programme Synergy Capacity Building Policy Advisory

6.

Finding 6: UNDP supported government efforts to make vocational and educational training more responsive to labour market needs. It supported the establishment of a modern vocational and educational training system in agriculture, introduced up-to-date learning models, and addressed knowledge gaps of farmers through agricultural extension or consultation services. Participating colleges are now better aligned to the demands of the local labour market, teachers have been trained, and vocational and educational training sites have been refurbished. Initial results appear promising in terms of employment and enhanced agricultural productivity. The partnership with the private sector in this area can be further strengthened.




Tag: Agriculture Coherence Effectiveness Country Government Private Sector Jobs and Livelihoods

7.

Finding 7: In the Autonomous Republic of Abkhazia, UNDP reinforced the capacity of CSOs to deliver services and bring social change. The initiatives it supported responded to important health and education needs and contributed to the well-being of the population in conflict-affected territories. Development needs in the Autonomous Republic of Abkhazia remain high, but work is constrained by the political context and the limitations posed to the country office's ability to work with de facto authorities.




Tag: Civil Societies and NGOs Social cohesion Education

8.

Finding 8: UNDP played an important coordination role among development partners in the Autonomous Republic of Abkhazia and helped maintain dialogue between the Georgian Government and Abkhaz de facto authorities. It significantly enhanced contacts and people-to-people dialogue across the administrative boundary line. Anecdotal evidence points to enhanced social cohesion contributing to peace and stability, although some limitations of the current approach have surfaced.




Tag: Effectiveness Relevance Promotion of dialogue Social cohesion Coordination

9.

Finding 9: UNDP substantially increased the environmental data collection and management capacities of government institutions. Collected data and information are being used to varying degrees for reporting and evidence-based decision-making. Data availability and use need to be further ensured and strengthened.




Tag: Monitoring and Evaluation UN Agencies Data and Statistics

10.

Finding 10. UNDP contributed to reducing emissions of greenhouse gases and hydrochlorofluorocarbons (HCFCs) by supporting government policies and measures across various economic sectors. The results of the pilot projects will need to be scaled up and replicated in order to promote a significant change, under the framework of a national policy on energy efficiency and renewable energy.




Tag: Energy Green Climate Effectiveness Sustainability

11.

Finding 11: UNDP played a significant role in laying the groundwork for reducing the risk of disasters and increasing the resilience of the country's population. It contributed to enhancing flood resistance in the Rioni River Basin, enlarged the surface area under the protected area regime, and promoted alternative opportunities for people whose livelihoods depended on natural resources in protected areas. Results at the national level are expected to be seen with the upscale of some interventions, including the enlargement of protected area coverage and the building of national capacities to address climate change.




Tag: Disaster Risk Reduction Natural Disaster Protected Areas

12.

Finding 12: UNDP has performed remarkably in terms of resource mobilization, building a strong funding basis. The office has attracted funding from both traditional and new donors, including the Green Climate Fund, but still relies significantly on EU funding. Cost-sharing with national actors is the most sustainable path towards diversification.




Tag: Effectiveness Efficiency Aid Coordination Global Climate Fund Government Cost-sharing Private Sector Financing Resource mobilization Bilateral partners Country Government

13.

Finding 13: UNDP has implemented a number of complementary projects, within and across thematic areas of intervention. There are some good examples of cooperation among projects that have enabled the country office to generate synergies and efficiencies. Room for stronger collaboration exists, especially at the subnational level, where UNDP has put significant effort.




Tag: Coherence Effectiveness Impact Gender Equality Gender Mainstreaming Human rights Local Governance Rule of law Integration Partnership Programme Synergy Country Government Inclusive economic growth Coordination

14.

Finding 14: In most cases, the results of UNDP interventions appear to be sustainable, meaning that their effects will be maintained beyond UNDP's support. However, when it comes to the implementation of laws and strategies that have been supported by the country office, sustainability is less certain. UNDP has put in place some measures to mitigate this risk, which should be made more consistent across projects.




Tag: Coherence Effectiveness Relevance Sustainability Global Climate Fund Gender Equality Gender Mainstreaming Justice system Rule of law Results-Based Management Risk Management Civil Societies and NGOs Country Government Capacity Building

15.

Finding 15: UNDP has demonstrated good use of data and evidence in project management, especially in larger projects. The allocation of dedicated resources for monitoring and evaluation enhanced the quality of results frameworks and promoted results-based management at the project level. There is, however, a need for better articulation and measurement of programme-level results, particularly at the outcome level.




Tag: Effectiveness Efficiency Relevance Gender Equality Gender Mainstreaming Knowledge management Monitoring and Evaluation Project and Programme management Results-Based Management Theory of Change Security Data and Statistics

16.

Finding 16: In areas where it has had significant engagement, UNDP supported national counterparts in establishing coordination structures and promoted the development of plans for action-oriented coordination. While some bilateral stakeholders advocated for UNDP to play a more active role in coordination, United Nations partners stressed the importance of a clear division of labour, based on respective mandates.




Tag: Rural development Climate change governance Coherence Effectiveness Efficiency Sustainability Election Human rights Justice system Local Governance Public administration reform Donor relations Integration Joint UN Programme Strategic Positioning Country Government UN Agencies UN Country Team Coordination Operational Services Technical Support SDG Integration

17.

Finding 17: UNDP has played a leading role in the promotion and nationalization of the SDGs. It supported the integration of the SDGs into planning tools and information management systems. Significant gaps remain, however, in the availability of data and use of evidence for policymaking. The involvement of CSOs and the private sector in behaviour change initiatives for the achievement of the SDGs has not yet been fully tapped.




Tag: Civic Engagement Local Governance Public administration reform Knowledge management Civil Societies and NGOs Private Sector UN Country Team Technology Coordination Policy Advisory Technical Support Agenda 2030 Data and Statistics Mainstreaming, Acceleration and Policy Support (MAPS) SDG Integration Voluntary National Review

18.

Finding 18: UNDP's contribution to gender equality and the empowerment of women mostly occurred through the Joint UN Programme for Gender Equality, which achieved important changes at the institutional level for gender mainstreaming and women's empowerment. Its efforts to promote the advancement of women in politics, however, did not produce the expected results, although some improvement has been registered. The country office also supported targeted interventions to enhance women's economic empowerment and began important work to promote behaviour change in the area of gender-based violence, albeit in a very limited fashion and separate from other partners' work in this area. UNDP is well positioned to continue its collaboration with other UN agencies to further advance women's rights and gender equality but needs to reinforce its capacity.




Tag: Disaster risk management Disaster Risk Reduction Effectiveness Impact Relevance Gender Equality Gender Mainstreaming Gender transformation Gender-Based Violence Women's Empowerment Human rights Local Governance Parliament Human and Financial resources Innovation Joint UN Programme UN Agencies Jobs and Livelihoods
Recommendations
1

Recommendation 1: UNDP should ensure alignment of its next CPD with Georgia's SDG commitments and focus on the areas identified by the MAPS mission as lagging behind. In particular, UNDP should:

a. Deepen and broaden its engagement in the area of human rights and gender equality, including in new areas such as the care economy. UNDP should continue to advocate for the elimination of all forms of discrimination and support the State Inspector's Service (SIS) in its role to investigate and prosecute human rights violations by law enforcement and security offices. In the area of gender equality and the empowerment of women, given the interrelated nature of inequalities that affect the capacity of women to fully enjoy their rights, UNDP should continue working in close cooperation with other UN country team members, and through a closer engagement with the executive branch of the government, on policy and programmatic interventions that would both promote positive discrimination and tackle behaviour change. To continue working effectively in this area, the country office should strengthen its capacities by establishing a dedicated gender team.

b. Deepen its engagement at the local level with a focus on addressing rural-urban disparities and invest in the human capital development of youth, strengthening the integration of its portfolios. UNDP should deepen its engagement in rural areas to address the poverty divide and the negative demographic dynamics that are affecting the socioeconomic development of the country, promoting education and jobs that are in line with current and future market demands. Taking advantage of ENPARD's size and comprehensiveness, UNDP should consider how to strengthen linkages with activities in the area of natural resource management to promote green jobs.

c. Reinforce its engagement in the areas of green energy and sustainable cities at the policy level. UNDP should formalize good practices and lessons learned from its different pilot initiatives in the area of energy and environment and ensure their integration into national policies and strategies. The country office should promote dialogue among different stakeholders, including at the local level and in the private sector, around regulations and incentives. In all these areas, UNDP should work in close coordination with the United Nations Resident Coordinator's Office and define joint or coordinated interventions based on its areas of comparative and collaborative advantage.

2

Recommendation 2: In preparing the next CPD, and in consultation with stakeholders, UNDP should develop issue-based theories of change against which it could map current and planned interventions.

In relation to issues UNDP considers important to tackle, UNDP should develop – in consultation with national and international stakeholders – theories of change that identify its expected contribution vis-à-vis that of other partners. A systemic mapping of initiatives against expected results would reveal opportunities for synergies not only among projects and activities implemented by UNDP, but also with those of other donors operating in the respective areas.

3

Recommendation 3: With the approval of the Decentralization Strategy, UNDP should enhance its efforts to build the capacity of municipalities for the delivery of services at the local level and promote further integration of its portfolios.

Since municipalities will have enhanced functions and responsibilities as a result of the approval of the Decentralization Strategy, UNDP should continue to build their capacity around the delivery of specific services, based on a theory of change approach linking service delivery to enhanced socioeconomic benefits for rural and vulnerable populations. UNDP should reinforce the cooperation between its governance and local economic development portfolios, particularly through the ENPARD project and its support to civil society in rural areas.

4

Recommendation 4: In agreement with the Georgian Government and Abkhaz de facto authorities, UNDP should extend the dialogue across the administrative boundary line beyond professionals to include decision-makers at the local level and communities to promote technical solutions for sustainable development.

In the Autonomous Republic of Abkhazia, UNDP should consider any opportunity to develop and implement integrated area-based programmes, including community-based infrastructure works.

5

Recommendation 5: UNDP should strengthen its monitoring and evaluation practices by adopting the following measures:

a. Based on theories of change developed for the new CPD, establish outcome-level indicators that reflect behaviour change that originated in one or more project interventions. These indicators should be pitched at a level where the contribution is easier to determine than by using UNPSD indicators.

b. Consider expanding the population survey to cover the effectiveness and impact of UNDP's initiatives related to governance and improvement of service delivery at large, to assess needs and inform future planning in these areas.

c. Establish a baseline and explore the use of qualitative indicators and perception surveys to assess the effectiveness of results in the Autonomous Republic of Abkhazia in terms of enhanced social cohesion.

d. Carry out more thematic or outcome-level evaluations, which are more cost-efficient and provide better evidence of aggregate results achieved by UNDP in its key areas of intervention.

e. Continue tracking the implementation of pilots beyond the end of a project's lifetime – which is typically too short to allow for a definitive assessment of success/effectiveness.

6

Recommendation 6:UNDP should develop a long-term resource mobilization strategy and minimize over-reliance on EU funding.

The strategy should ideally be coordinated with a UN country team resource mobilization strategy and recognize cost-sharing with national actors (government institutions and private sector) as the most sustainable path towards diversification.