Independent Country Programme Evaluation: Panama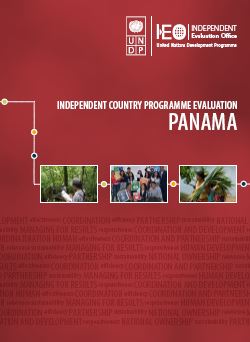 Evaluation Plan:

Evaluation Type:

ICPE/ADR

Planned End Date:

12/2019

Completion Date:

12/2019

Status:

Completed

Management Response:

Yes

Evaluation Budget(US $):

50,000
Title
Independent Country Programme Evaluation: Panama
Atlas Project Number:
Evaluation Plan:
2018-2021, Independent Evaluation Office
Evaluation Type:
ICPE/ADR
Status:
Completed
Completion Date:
12/2019
Planned End Date:

12/2019

Management Response:
Yes

Focus Area

:

1. Poverty
2. Governance
3. Sustainable
4. Gender
5. Others

Corporate Outcome and Output (UNDP Strategic Plan 2018-2021)

1. Output 1.1.1 Capacities developed across the whole of government to integrate the 2030 Agenda, the Paris Agreement and other international agreements in development plans and budgets, and to analyse progress towards the SDGs, using innovative and data-driven solutions
2. Output 1.2.1 Capacities at national and sub-national levels strengthened to promote inclusive local economic development and deliver basic services including HIV and related services
3. Output 1.2.2 Enabling environment strengthened to expand public and private financing for the achievement of the SDGs
4. Output 1.4.1 Solutions scaled up for sustainable management of natural resources, including sustainable commodities and green and inclusive value chains
5. Output 1.6.1 Country-led measures accelerated to advance gender equality and women's empowerment
6. Output 2.1.1 Low emission and climate resilient objectives addressed in national, sub-national and sectoral development plans and policies to promote economic diversification and green growth
7. Output 2.2.1 Use of digital technologies and big data enabled for improved public services and other government functions
8. Output 2.2.2 Constitution-making, electoral and parliamentary processes and institutions strengthened to promote inclusion, transparency and accountability
9. Output 2.2.3 Capacities, functions and financing of rule of law and national human rights institutions and systems strengthened to expand access to justice and combat discrimination, with a focus on women and other marginalised groups
10. Output 3.2.2 National and local systems enabled and communities empowered to ensure the restoration of justice institutions, redress mechanisms and community security

Evaluation Budget(US $):

50,000

Source of Funding:
Evaluation Expenditure(US $):

50,000

Joint Programme:
No
Joint Evaluation:

No

Evaluation Team members:

| Name | Title | Email | Nationality |
| --- | --- | --- | --- |
| Ana Rosa Soares | Lead Evaluator | | BRAZIL |
| Nana Gibradze | Evaluation Consultant | ngibradze@gmail.com | |
| Carlos Alviar | Evaluation Consultant | calviar@gmail.com | |

GEF Evaluation:

No

Key Stakeholders:
Countries:

PANAMA
Lessons
Findings
1.

Finding 1. UNDP has approached inequality and inclusion in Panama through multiple fronts in alignment with its multidimensional and human development approach. In this process, it has helped to strengthen key social sector institutions and promoted the participatory development of social policies and strategic planning documents that mainstreamed the SDGs. Although integration of multidimensional solutions has been a challenge and there has been limited progress in effectively reducing inequality and improving inclusion, UNDP's work has helped to change the way social institutions in Panama engage in participatory policy discussions involving multiple sectors. The country now has better knowledge and understanding of poverty and development through the multidimensional lens.




Tag: Effectiveness Inclusive economic growth Inequalities Poverty Reduction Policy Advisory

2.

Finding 2. UNDP is contributing to improving the promotion and delivery of quality HIV and TB health services in Panama. However, national capacities and allocated resources are still insufficient to ensure a timely, successful transition out of the Global Fund in 2021. A transition plan has been developed, but delays were experienced in its implementation.




Tag: HIV / AIDS Global Fund Effectiveness Technical Support

3.

Finding 3. UNDP's work on improving social services and inclusion has broad outputs and multiple projects, some with limited scope and scale. This makes them susceptible to being executed in silos, with limited integration with other areas, and thus at risk of not strategically addressing social equity and inclusion to ensure significant sustainable results.




Tag: Inclusive economic growth Inequalities Effectiveness Efficiency Technical Support

4.

Finding 4. UNDP has been key in supporting and facilitating participatory dialogue processes that made important contributions to the establishment of consensus and agreements, institutional structures, public policies and development plans. Tangible results contributing to the outcome-level changes have been achieved in some State modernization and institutional reforms; however, these are less uniform and have varied degrees of effectiveness and sustainability.




Tag: Civic Engagement Public administration reform Sustainability Promotion of dialogue Effectiveness Efficiency Technical Support

5.

Finding 5. UNDP has significantly contributed to institutional strengthening and improved accountability, transparency and results-based management of select government institutions in Panama. It has done so by providing useful and tested planning tools, especially through the SIGOB mechanism.




Tag: Operational Efficiency Results-Based Management Effectiveness Technical Support

6.

Finding 6. UNDP has helped to enhance women's capacities for political participation through training of female candidates and by strengthening institutional frameworks through the creation of the Advisory Committee of Indigenous Women within the National Council for Indigenous Peoples. The effectiveness of these interventions, however, continues to be hampered by structural and cultural barriers that haven't yet been addressed due to insufficient human and financial resources.




Tag: Indigenous people Women's Empowerment Effectiveness Policy Advisory

7.

Finding 7. While the majority of the planned results have been achieved as per established indicators and targets, the outcome was overly ambitious, and many of the assumptions that underpinned the theory of change did not hold. UNDP did not sufficiently factor in all the risks associated with the deficiencies of the Panamanian public management system and its political and governance context. Nor did UNDP effectively apply adaptive management, considering the magnitude, diversity and complexity of the portfolio, thus reducing its effectiveness and diluting focus.




Tag: Operational Efficiency Theory of Change Effectiveness Technical Support

8.

Finding 8. UNDP effectively contributed to improving commitments to compliance with international environmental agreements. UNDP has also provided the Government with technical advice and supported the participatory development of environmental and energy strategies, plans and policies. This contributed to the institutional strengthening of the Ministry of Environment and helped to prevent and mediate social conflicts related to the use of natural resources.




Tag: Environment Policy Environmental impact assessment Natural Resouce management Effectiveness Policy Advisory

9.

Finding 9. UNDP's partnership with the Panama Canal Authority has generated innovative approaches for the comprehensive management of the Panama Canal Water Basin. This has improved the capacities of priority rural units by diversifying economic activities and generating sustainable livelihood options that have been incorporated into local economic development.




Tag: Innovation Project and Programme management Effectiveness Technical Support

10.

Finding 10. UNDP's work to integrate resilience, DRM and climate change adaptation in municipal management plans and budgets has been moderately successful but limited in scope. Although the target of work with 10 municipalities is on track to be achieved by 2020, this is a small percentage of the country's municipalities. UNDP's work on mangrove conservation has also been too limited in scope to significantly contribute to the CPD outcome. The rest of the programme, in general, lacked proper mainstreaming of resilience strategies as initially intended in the CPD.




Tag: Capacity Building Climate Change Adaptation Resilience building Operational Efficiency Effectiveness Technical Support

11.

Finding 11. UNDP has helped to strengthen the structure of Panama's Science and Technology Institute, facilitating a participatory process to develop the National Strategic Plan on Science and Technology and establish its planning, monitoring and evaluation unit. This helped to strategically position science and technology in the political agenda and increase the number of practising doctoral-level scientists in the country. Nevertheless, UNDP's work with science and technology does not yet have a holistic strategy integrated with the rest of the programme.




Tag: Capacity Building Education Effectiveness Technical Support

12.

Finding 12. UNDP has made relevant contributions to the development of more effective systems to prevent and address different types of violence in Panama. The programme has been successful in strengthening national capacities for citizen security by providing support for the participatory development and implementation of the National Security Strategy and its articulation at the local level. It has also acted as a link between the national and local levels, to promote the national security, justice and decentralization agendas with local authorities.




Tag: Capacity Building Justice system Security Effectiveness Technical Support

13.

Finding 13. UNDP has successfully integrated gender into the National Security Strategy and made advances towards gender mainstreaming in citizen security knowledge, information and monitoring systems, programmes, policies and institutional capacities to prevent and address gender-based violence, at both central and local levels.




Tag: Gender Equality Gender Mainstreaming Gender-Based Violence Effectiveness Technical Support

14.

Finding 14. Implementation of institutional and judiciary reforms and the decentralization process did not progress as expected. The country office did not adequately factor in the risks associated with the inherent deficiencies of the Panamanian public management system. In addition, UNDP's contribution to more significant local-level implementation of the security, justice and decentralization agendas has been challenged by its insufficient outreach at the local level.




Tag: Justice system Rule of law Implementation Modality Challenges Technical Support

15.

Finding 15. Without significant UNDP core resources, it has been challenging for the organization to work within a programme approach based on clear theories of change with coherent strategies and solutions to development issues without significant UNDP core resources. The programme is aligned with government priorities, but at times it is overly driven by the government's funding dispersal demands and is distracted by funding opportunities that may not always be in alignment with the systems thinking approach required by theories of change to effectively and sustainably address development issues. This has led to overly ambitious objectives and broad outputs to allow multiple but narrow projects to be fit under outcomes. They do not always effectively contribute to integrated, sustainable solutions to the development issues that need to be addressed.




Tag: Theory of Change Resource mobilization Efficiency Technical Support

16.

Finding 16. The country office has made substantive progress in mainstreaming gender in its programme and within the office business environment, as reflected in the office being awarded the UNDP silver Gender Equality Seal. Gender mainstreaming, however, has been mostly focused on gender-targeted and gender-responsive approaches and not enough on transformative matters that address key structural barriers and root causes of inequality. UNDP's effectiveness in promoting gender equality is constrained by limited human resources and the institutional capacities of responsible institutions.




Tag: Gender Mainstreaming Programme/Project Design Coherence Relevance Technical Support

17.

Finding 17. South-South cooperation and knowledge management have been underutilized by the programme. There have been ad-hoc initiatives in the framework of some projects, but they have not been systematic. Exchange of experiences has not been properly systematized or documented, and evaluations and lessons learned have been insufficiently used for learning, improving results, replication and scaling up initiatives in Panama and other countries.




Tag: Knowledge management Efficiency South-South Cooperation
Recommendations
1

Advance on SDGs with focus on inequality/leave no one behind – UNDP should help Panama close the inequality gap by better focusing its projects, initiatives and investments on innovations to accelerate achievement of the SDGs with renewed focus on leaving no one behind.

Taking advantage of its local and corporate experience with the government transition (empalme) UNDP can use its strategic position to support the incoming Government with innovations that can help the country tackle the underlying and structural causes of institutional inefficiency and inequalities. These include the lack of a functioning permanent public civil service; ineffective mechanisms to prevent corruption; limited care for children and elderly people, impeding gender equality and women's empowerment; and limited economic opportunities for indigenous communities. It will be important to strategically clarify UNDP's integrator role and highlight its corporate comparative advantages and the added value of the human development and multidimensional poverty reduction approaches in addressing inequalities, with a strategic focus on leaving no one behind.

2

Balance administrative, substantive and innovative support – UNDP should incrementally move away from its predominant role as funds/project administrator and make clear to partners its interest in contributing as a strategic and substantive technical development partner. It should underscore its ability to support national partners not only with technical advice but also with innovative solutions to solve the structural causes of inefficiency and dependence on UNDP's operational and administrative support.

For that, UNDP will have to commit to being more programme- and results-oriented, as opposed to being driven by demand, process, activities and opportunities. This will require UNDP to impress upon its government partners that it has the requisite skills and experience to provide such strategic advice and to convince them to pay for such services. It will be important to construct theories of change to address development issues and not align outputs to outcomes; work in an integrated fashion, with a proper analysis of the context and barriers to change that would offer an updated view of underlying causes of problems; and clear analysis of stakeholders' capacities and means to contribute to innovative systems and solutions. Such an approach will require a frank mapping of assumptions, and alignment of inputs and synergic partnerships and resources to build realistic, integrated solution pathways with mitigation strategies for associated risks. This should allow construction of a vision of change based on a more coherent analysis of causes that identifies the links and gaps within and between institutions. It will indicate the minimum and ideal conditions to justify investment and different forms, scale and times of engagement. Equally important is to pursue adaptive management, continuously monitoring to adapt as circumstances change, and to be agile.

3

Focus on structural causes of institutional inefficiencies – UNDP should take the opportunity of the launch of the National Human Development Report, which addresses the renewal of institutions, to introduce a series of dialogues about institutional reforms. The aim would be to address structural causes of institutional inefficiencies — a serious impediment to the sustainability of development results.

Leveraging its role as enabler of participatory consultation processes, UNDP can frame the structural causes and barriers to effectively and sustainably addressing institutional inefficiencies as a proposal for a new dialogue series for public sector reform. This will allow UNDP to strategically position itself with the incoming Government by facilitating national stakeholder consultations. These will provide for ample citizen engagement, following the experience of the previous dialogue processes. In addressing barriers, it will be important to look for opportunities to develop an enabling environment and tackle the underlying causes and negative factors that affect poor governance. UNDP can further help with the State's limited capacity and discretion to implement the agreements and commitments in the absence of effective regulations and norms to enforce transparent implementation and prevent corruption. Other opportunities for UNDP to assist lie in addressing the gaps related to representation and weaknesses of civil society to generate the demand and transparently be informed on the implementation of agreements and commitments achieved.

4

Redirect gender mainstreaming to focus on addressing structural barriers and the root causes of inequality – UNDP should adjust its theory of change to even more strategically mainstream gender in the programme. In particular it should focus efforts in most if not all initiatives to address structural barriers and the root causes of gender inequality.

UNDP can go beyond targeting to include men and women in initiatives. It can consider the different barriers faced by men and women in fulfilling their needs and achieving equitable distribution of benefits, resources, status and rights. It can aim to address the root cause of inequalities and discrimination, contributing more to changes in norms, cultural values and power structures. This includes targeting key issues in behaviour change and an enabling environment, such as developing structures to provide care for children and elderly people, as providing such care is a key impediment to women's participation in the labour force; and helping women to engage more in politics. For such an approach UNDP should reinforce the gender capacities of the country office staff and partners. It also needs a broadly participatory process to adapt its theory of change specifically for mainstreaming a gender focus in initiatives for behaviour change for transformational results.

5

Ensure the transition from the Global Fund sustains HIV/ AIDS results – UNDP should work with national partners and the Global Fund to revise the transition plan and develop risk mitigation strategies to ensure Panama will be prepared to transition out of the Global Fund on time and to sustain HIV/ AIDS and TB treatment and prevention results.

This should include adequate capacity assessment and a proposal for the timely strengthening of the institutional framework to take over the required responsibilities. It is also necessary to define and agree on the technical and financial requirements to develop the required regulations and procedures related to prevention and treatment supply chains. These will allow national funds to be used under rigorous and transparent processes. The challenges ahead require an integrated approach involving multiple stakeholders, not just the health sector.