Independent Country Programme Evaluation: Syria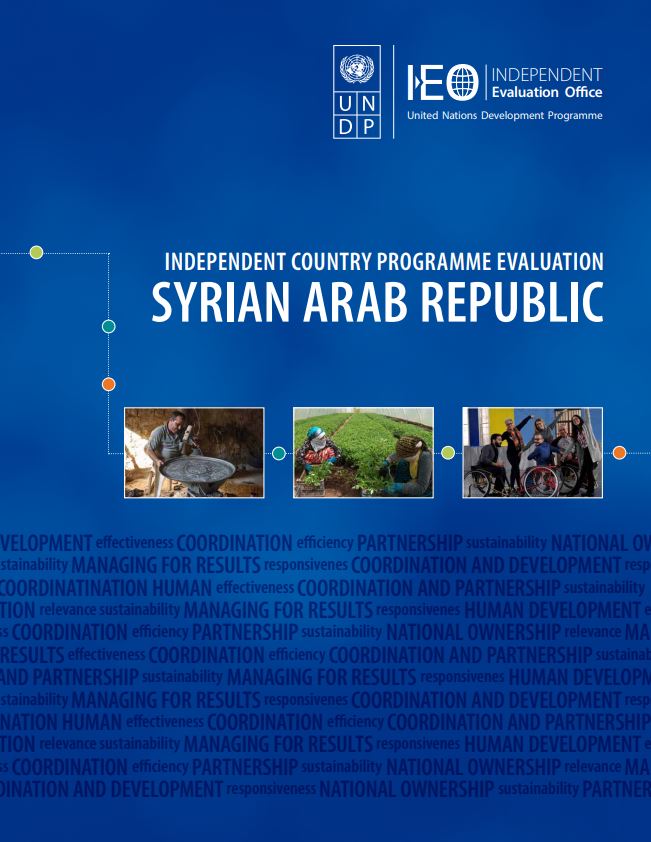 Evaluation Plan:

Evaluation Type:

ICPE/ADR

Planned End Date:

12/2019

Status:

Overdue

Management Response:

No

Evaluation Budget(US $):

160,000
Title
Independent Country Programme Evaluation: Syria
Atlas Project Number:
Evaluation Plan:
2018-2021, Independent Evaluation Office
Evaluation Type:
ICPE/ADR
Status:
Overdue
Planned End Date:

12/2019

Management Response:
No
Corporate Outcome and Output (UNDP Strategic Plan 2018-2021)

1. Output 1.1.2 Marginalised groups, particularly the poor, women, people with disabilities and displaced are empowered to gain universal access to basic services and financial and non-financial assets to build productive capacities and benefit from sustainable livelihoods and jobs
2. Output 1.2.3 Institutions and systems enabled to address awareness, prevention and enforcement of anti-corruption measures to maximize availability of resources for poverty eradication
3. Output 1.3.1 National capacities and evidence-based assessment and planning tools enable gender-responsive and risk-informed development investments, including for response to and recovery from crisis
4. Output 2.2.3 Capacities, functions and financing of rule of law and national human rights institutions and systems strengthened to expand access to justice and combat discrimination, with a focus on women and other marginalised groups
5. Output 2.3.1 Data and risk-informed development policies, plans, systems and financing incorporate integrated and gender-responsive solutions to reduce disaster risks, enable climate change adaptation and mitigation, and prevent risk of conflict
6. Output 3.1.1 Core government functions and inclusive basic services4 restored post-crisis for stabilisation, durable solutions to displacement and return to sustainable development pathways within the framework of national policies and priorities

Evaluation Budget(US $):

160,000

Source of Funding:
Joint Programme:
No
Joint Evaluation:

No

GEF Evaluation:

No

Key Stakeholders:
Countries:

SYRIAN ARAB REPUBLIC
Lessons
Findings
1.

CHAPTER 2. FINDINGS

This chapter presents the findings of UNDP's role and contribution to humanitarian, recovery, and rehabilitation efforts in Syria. The programming context in Syria is unprecedented in its complexities. According to United Nations estimates, close to 400,000 lives have been lost in the nine-year conflict and over half the country's population has been displaced. The challenge this has posed is significant for the national and international response. The scale of the reconstruction, economic revitalization, restoration of the services, and peacebuilding efforts that are needed are enormous in several parts of Syria. Also, simultaneous efforts are needed towards accelerating sustainable development in areas not severely affected by conflict while strengthening the interface of humanitarian and development interventions in areas that are recovering from the crisis.

Despite such immense needs, the current international support to Syria is predominantly humanitarian response and within this parameter focuses on rehabilitation of necessary infrastructure. The implications of such restrictions are huge for rapid return to peace, stability and development, and minimize negative coping mechanisms of the citizens. There are also considerable constraints placed on the scope of support UNDP can provide in Syria, limiting UNDP's role to recovery and rehabilitation activities in a humanitarian mode. The analysis of UNDP's role and contribution in Syria, presented below, considers these challenges.

The analysis of the two outcomes is presented below in five sections. Section 2.1 provides an analysis of UNDP's positioning and factors that affected its role and contribution. This is followed by Section 2.2 on support to employment generation and livelihoods. Section 2.3. presents the findings on infrastructure and rehabilitation services, which covers debris clearance, local infrastructure, electricity and renewable energy, and solid waste management. Section 2.4. analyses cross-cutting themes, viz., social cohesion and community peace, local development, gender mainstreaming, and youth development and empowerment. Lastly, Section 2.5 focuses on programme management.

2.1. UNDP PROGRAMME POSITIONING

This section analyses UNDP development programme positioning and key factors in UNDP response in Syria. A key factor that emerged strongly during the evaluation is the constraints on UNDP in exercising its development mandate. In addition, other factors in UNDP positioning, namely programme approach and partnerships are analysed.

Finding 1. Multiple constraints to programming impacted UNDP's positioning and a response that is commensurate with its comparative advantage. Although not by its own choice, UNDP's role in Syria was largely confined to humanitarian-related support and could only engage in recovery and rehabilitation activities.




Tag: Humanitarian Crisis Challenges Efficiency Relevance Resource mobilization Local Governance Donor relations Operational Efficiency Programme/Project Design Project and Programme management Conflict Humanitarian development nexus Peace Building Reconstruction Resilience Security Social cohesion Stabilization

2.

Finding 2. UNDP senior management at the headquarters has consistently taken the position that development assistance in Syria needs to be simultaneously pursued alongside humanitarian support. Reflecting this position, a resilience-based approach with complementary strategies to enable a medium-term development perspective underpins UNDP programme strategies in Syria. The country programme strategy, however, is yet to translate into practice. The disconnect between the narrative of the importance that the UN and donors place on humanitarian-development linkages and its actual practice in Syria, for reasons beyond UNDP's influence, constrained UNDP's capacity to exercise its development mandate. The lack of a development approach could have negative dividends for peace.




Tag: Humanitarian Crisis Effectiveness Efficiency Relevance Local Governance Public administration reform Business Model Country Support Platform Donor relations Programme Synergy Project and Programme management Results-Based Management Risk Management Theory of Change Country Government UN Agencies UNDP Management Conflict Displacement Humanitarian development nexus Reconstruction Resilience Stabilization Inclusive economic growth Jobs and Livelihoods Social Protection Data and Statistics

3.

Finding 3. Building on its decades of development cooperation in Syria and partnerships with national and local government entities, UNDP could facilitate a speedy recovery. Since the onset of the conflict, partnerships at the national level are not formalized due to restrictions on development cooperation.




Tag: Coherence Relevance Resource mobilization Local Governance Public administration reform Business Model Country Support Platform Donor relations Partnership Policies & Procedures Programme Synergy Bilateral partners Civil Societies and NGOs Country Government UN Country Team Conflict Humanitarian development nexus Reconstruction Resilience Social cohesion Capacity Building Jobs and Livelihoods Policy Advisory Technical Support

4.

Finding 4. UNDP has supported Sustainable Development Goals (SDGs) implementation through micro-level pilots on SDG advocacy among youth and methodological support to the SDG national report. There is scope for UNDP to build on its role as an integrator to work on the localization of the SDGs as an entry point for local development, promotion of peace and social cohesion.




Tag: Effectiveness Local Governance Integration Ownership Strategic Positioning Country Government Peace Building Social cohesion Youth Advocacy Agenda 2030 Data and Statistics Leaving no one behind Mainstreaming, Acceleration and Policy Support (MAPS) SDG Integration SDG monitoring and reporting Voluntary National Review

5.

2.2. EMPLOYMENT GENERATION AND LIVELIHOODS

The livelihoods outcome entailed a programme expenditure of US$49 million between 2016 and mid-2019 (Figure 2). Resources received for this outcome totalled $76 million as of mid-2019, reaching an 88 percent execution rate for the 2016-2018 period. Compared to the other outcome on infrastructure and basic services, this was a smaller area of support. As of September 2019, the portfolio comprised 13 projects.

The crisis has extensively disrupted the livelihoods and local economy, leading to increased poverty and vulnerabilities, unemployment and competition for job opportunities. As a response, UNDP programmes aimed to generate employment opportunities, revitalize livelihoods, and provide skills training for income generation for vulnerable populations. Activities under the employment and livelihoods outcome were designed to be implemented in four areas: i) rural and agricultural livelihoods; ii) active labour market; iii) inclusive private sector recovery; and iv) disability inclusion.

Finding 5. UNDP employment and livelihoods programmes represented a range of micro-level activities oriented towards emergency relief and recovery. The portfolio lacks a comprehensive strategy to go beyond immediate employment needs to support livelihood efforts sustainably. Overall employment and livelihood efforts lacked consolidation and had limitations in technical depth and context specificity.




Tag: Livestock Rural development Effectiveness Efficiency Sustainability Gender Equality Women's Empowerment Local Governance Public administration reform Donor relations Integration Knowledge management Partnership Procurement Programme Synergy Theory of Change Civil Societies and NGOs Country Government Private Sector UN Agencies Reconstruction Disabilities Inclusive economic growth Jobs and Livelihoods Micro-credit Poverty Reduction Youth Policy Advisory Technical Support

6.

Finding 6. Support for medical rehabilitation services improved capacities of service providers to deliver prosthetics to PWD. In addition to enhancing the dignity, the prosthetics increased inclusion and participation of PWD and their access to other socio-economic opportunities, not necessarily by UNDP.




Tag: Effectiveness Civic Engagement Human rights Access to Medicines Health Sector Social cohesion Capacity Building Disabilities Inclusive economic growth Jobs and Livelihoods Social Protection

7.

2.3. INFRASTRUCTURE REHABILITATION AND SERVICES

The infrastructure and services outcome entailed a programme expenditure of $79.2 million between 2016 and mid-2019 (Figure 3). Resources received for this outcome totalled $117.2 million as of mid-2019, reaching a 68 percent execution rate for the 2016-2018 period. As of September 2019, the portfolio comprised 17 projects.

Damage related to infrastructure and basic services have been massive. Roads, water supply, sanitation, electricity systems, and hundreds of hospitals and schools have been destroyed. Destruction of housing and infrastructure is estimated at around $90 billion; the total area under cultivation has fallen by 40 percent. An estimated 2.8 million Syrian children have never attended or missed school during the conflict. UNDP aimed to support local communities and promote the return of IDPs by restoring and rehabilitating basic social infrastructure and services in severely affected crisis areas. This includes restoring electricity supply (in addition to exploring renewable and alternative energy sources); repairing schools (in partnership with UNICEF); rehabilitating health facilities (for which WHO provides equipment and medical supplies and UNFPA provides maternal health facilities); supporting debris management; and rehabilitating roads, sanitation networks, commercial areas and businesses, in cooperation with local authorities, municipalities, technical directorates, and local communities.

DEBRIS CLEARANCE

Finding 7. UNDP support to debris and waste removal gave access to destroyed city centres and residential neighbourhoods and provided emergency income to returnees and IDPs. Debris removal was also a prerequisite for other infrastructure projects such as rehabilitation of drinking water and sewage systems, schools, health centres and local market areas. Notwithstanding geopolitical factors that inhibited return, particularly in Homs, overall debris clearance from public spaces is an essential step for rehabilitation.




Tag: Drinking water supply Sanitation Waste management Gender Equality Women's Empowerment Local Governance Displacement Humanitarian development nexus Reconstruction Resilience Stabilization Capacity Building Micro-credit Social Protection Youth

8.

LOCAL INFRASTRUCTURE

Finding 8. Although the scale of UNDP response was not commensurate with the huge demand for infrastructure and services, the evaluation shows positive contributions in enabling services.




Tag: Vulnerable Drinking water supply Effectiveness Sustainability Displacement Reconstruction Resilience Jobs and Livelihoods Micro-credit Social Protection

9.

Finding 9. Multiple constraints beyond UNDP's control limited further rehabilitation and reactivation of markets. Needs outpaced UNDP funding envelope and small-scale joint UN initiatives were insufficient.




Tag: Effectiveness Efficiency Operational Efficiency Partnership UN Agencies Conflict Displacement Social Protection

10.

ELECTRICITY AND RENEWABLE ENERGY

Finding 10. Improving access to energy supply and installation of solar street lighting increased the security of local communities and accelerated the return of IDPs and refugees. Sustainability of such interventions remains at risk because of weak institutional anchoring.




Tag: Energy Effectiveness Sustainability Procurement Risk Management Country Government Private Sector Displacement Reconstruction Refugees Security Social Protection

11.

SOLID WASTE MANAGEMENT

Finding 11. UNDP support to solid waste management (SWM) complemented debris removals, which made urban areas affected by the conflict accessible.




Tag: Rural development Waste management Sustainability Gender Equality Women's Empowerment Local Governance Communication Civil Societies and NGOs Private Sector Displacement Humanitarian development nexus Reconstruction Jobs and Livelihoods Micro-credit Social Protection Urbanization Youth

12.

2.4. CROSS-CUTTING PROGRAMME THEMES

This section discusses two areas UNDP intended to pursue but where engagement has been limited viz., social cohesion and community peace and local development. Also analysed are efforts to promote gender equality and youth development.

SOCIAL COHESION AND COMMUNITY PEACE

Finding 12. Social cohesion initiatives were implemented in an isolated way instead of using them as a programming approach across all areas, along with conflict sensitivity and community peace. Given the dispersed and limited scale of such initiatives, contributions remain minimal.




Tag: Relevance Sustainability Civic Engagement Human rights Justice system Local Governance Rule of law Communication UN Agencies Conflict resolution Peace Building Promotion of dialogue Security Social cohesion Youth

13.

LOCAL DEVELOPMENT

Finding 13. Despite several initiatives at the subnational level, there is no structured engagement in local development. Opportunities for broader engagement during rehabilitation support were not utilized for strengthening local development processes. It is time for UNDP to shift the modality of engagement from CSO implementation to anchoring initiatives in subnational government processes and implementing recovery efforts through local authorities. The area-based development approach is in the early stages and yet to take into consideration the particularities of the Syrian context and the importance of working with the local government institutions.




Tag: Vulnerable Effectiveness Sustainability Anti-corruption Election Human rights Justice system Local Governance Business Model Country Support Platform Human and Financial resources Project and Programme management Theory of Change Civil Societies and NGOs Private Sector Conflict Conflict resolution Displacement Humanitarian development nexus Promotion of dialogue Reconstruction Refugees Resilience Security Social cohesion Stabilization Capacity Building Jobs and Livelihoods Social Protection Youth Technical Support SDG Integration

14.

Finding 14. UNDP support to capacity development of CSOs is relevant to the Syrian context and has the potential to professionalize CSO governance and management in line with good practices. Institutionalized efforts are needed to enhance the role of CSOs as advocacy bodies and service providers in areas of high demand. UNDP should broaden CSO partnerships beyond FBOs, which may otherwise monopolize CSO service provision support.




Tag: Gender Equality Civic Engagement Partnership Conflict resolution Peace Building Social cohesion Capacity Building Jobs and Livelihoods Social Protection

15.

GENDER MAINSTREAMING

Finding 15. UNDP initiatives ensured the participation of women to increase their economic opportunities; however, the types of activities implemented were not geared towards addressing the gender considerations of the crisis, particularly changes in the roles of Syrian women. The change in male-female demography and its implications for recovery and development interventions in the coming years is yet to be addressed by international cooperation in general.




Tag: Gender Equality Gender Mainstreaming Women's Empowerment Integration Policies & Procedures Results-Based Management Conflict Reconstruction Social cohesion Capacity Building Inclusive economic growth Jobs and Livelihoods Advocacy

16.

YOUTH DEVELOPMENT AND EMPOWERMENT

Finding 16. Specific efforts were made to include youth in employment and social cohesion programmes. There were changes at the individual level, but interventions remained fragmented, at the micro level. The Syrian context needs a strategic approach to youth development which was lacking, and merely including youth as beneficiaries and one-off short-duration projects of employment and empowerment are insufficient given the socio-economic challenges youth confront.




Tag: Vulnerable Sustainability Results-Based Management Theory of Change Country Government UN Agencies Conflict resolution Peace Building Promotion of dialogue Social cohesion Inclusive economic growth Jobs and Livelihoods Youth Policy Advisory Technical Support Data and Statistics SDG Integration

17.

2.5. PROGRAMME MANAGEMENT

Finding 17. There is space to improve data analysis for evidence-based programming. Given the impact of the crisis on the social fabric of communities, rigorous conflict sensitivity analysis should inform programme strategies.




Tag: Effectiveness Relevance Gender Equality Women's Empowerment Justice system Local Governance Donor relations Partnership Programme Synergy Project and Programme management Results-Based Management Risk Management UN Agencies Conflict Extremism Inclusive economic growth Data and Statistics

18.

Finding 18. There is considerable scope for building on programme synergies across and within programme areas and themes. The UNDP programme is yet to translate into a more integrated approach to recovery and rehabilitation. Programme silos are undermining the coherence of UNDP response.




Tag: Coherence Effectiveness Local Governance Integration Programme Synergy Conflict Conflict resolution Humanitarian development nexus Reconstruction Stabilization Jobs and Livelihoods Social Protection

19.

Finding 19. Frequent changes within UNDP country office senior management (three different country representatives during the programme period) impacted programme management.




Tag: Resource mobilization Business Model Change Management Country Support Platform Project and Programme management

20.

Finding 20. The field offices improved UNDP's ability to respond to recovery and rehabilitation needs and deliver more efficiently on the ground. The potential of the area offices to expand programme scale and depth and respond to the diversity of contexts is yet to be fully leveraged. Issues related to efficiency gains in programme management structure are yet to be addressed.




Tag: Effectiveness Efficiency Resource mobilization Local Governance Business Model Communication Country Support Platform Human and Financial resources Operational Efficiency Conflict Reconstruction Operational Services

21.

Finding 21. UNDP has taken measures to strengthen programme management and project oversight systems and processes. This has allowed to regularly monitor progress on projects, ensure quality control and mitigate operational risks. UNDP is yet to streamline multiple streams of monitoring data to strengthen programme oversight, to identify risks for timely action, and improve learning.




Tag: Effectiveness Knowledge management Oversight Project and Programme management Quality Assurance Risk Management Capacity Building Youth
Recommendations
1

Recommendation 1. Unless recovery efforts are linked to re/development and are addressed simultaneously, there is a risk to the fragile peace in Syria. UNDP should reinforce its development mandate and implement a multi-track strategy to address simultaneously areas still in crisis and those which are moving towards a postconflict situation. To do so, UNDP should strengthen its engagement with the Government at different levels to promote well-tested development programme approaches linked to recovery efforts. UNDP should apply a resilience-based approach to humanitarian interventions, recovery, and re/development support.

UNDP should pursue a multi-track strategy to reinforce support to policy and capacity development at the national level and strengthen institutions at the sub-national level. UNDP should be proactive in identifying key areas for institutionalized early recovery and re/development for substantive engagement, with emphasis on sustainable employment, strengthened local governance, improved service delivery and local development. Measures should be taken to anchor recovery and rehabilitation work within local government frameworks to strengthen service delivery processes. Drawing on its corporate work, UNDP is well-positioned to support sensitive areas such as elections and constitutional review process if the opportunities arise.

For sustainable reconstruction, UNDP must engage with the Government at different levels and establish formal partnerships as other UN agencies have done. The expectations for UNDP support to re/development are high and have to be carefully managed. Unmet expectations could undermine the strategic role UNDP can play in Syria's return to peace and development. UNDP should explore programming arrangements that would respond to the constraints of donor agencies while, at the same time, allowing UNDP to uphold its mandate.

2

Recommendation 2. UNDP should invest in efforts to promote a UN common vision for integrated local development to serve as a platform for rehabilitation, institutionalized early recovery and addressing re/development. UNDP should leverage its area offices to develop a more comprehensive local development programme beyond project implementation.

To bridge humanitarian efforts and local development, UNDP should promote area-based integrated local development solutions in a phased manner to strengthen services and improve sustainable employment and livelihoods. This should be done by engaging key actors, including the Government, UN, and the private sector in providing more holistic solutions. In areas it chooses to support, UNDP should engage substantively as against one-off micro initiatives on a range of themes.

UNDP is well-positioned to provide context-specific programme models for employment and livelihoods. It should put greater emphasis on providing viable programme models for sustainable employment at scale rather than short-term income generation initiatives which target a small group. Routine enterprise development responses that do not address market linkages, access to finance, and linkages to private sector investments are bound to produce limited impact. As UNDP resources will not be sufficient to address the full range of issues, UNDP should use the right set of tools and partnerships while supporting vocational training and enterprise development. UNDP should pursue opportunities for innovation in agricultural livelihoods, drawing on international best practices and partnerships with relevant UN agencies.

A deliberate approach to service delivery areas such as solid waste management, water management, and energy efficiency should be pursued for strategic engagement. UNDP should develop a phased approach for a national solid waste management strategy, which would re-establish local government waste management in terms of manpower and cost-recovery and gradually increase attention to sustainable waste management practices according to national policy targets. UNDP should also engage in the upcoming national energy strategy and promotion/integration of renewable energy options.

An additional area where UNDP should strategically engage in is the facilitation of private sector engagement. Despite the crisis, there is considerable private sector engagement in Syria, and this will increase in the future. Building on the current initiatives, UNDP should identify appropriate tools and areas for systematically pursuing private sector engagement and development, especially in Aleppo.Social cohesion and community peace efforts should be integrated across programmes at the local level.

3

Recommendation 3. UNDP should pay specific attention to youth employment. Jointly with other UN agencies, UNDP should take concrete measures to address the gender implications of the crisis in select sectors. The demographic imbalance after the crisis presents a renewed opportunity to further pursue gender equality and women's empowerment at the policy level.

The crisis further exacerbated gendered social norms, inequalities, and vulnerabilities with an additional challenge of imbalance of male-female ratio and a significant increase in the female-headed households. This situation needs both women-oriented responses as well as gender-informed recovery and reconstruction strategies. This is an area where UNDP contribution will be enhanced with partnerships. While there are ongoing partnerships with UN agencies, further joint efforts are needed for a comprehensive response to address gender- and women-specific issues in recovery and re/development.

The Syria context also requires a strategic approach to youth development and not merely including youth as beneficiaries in one-off short-duration projects on employment and empowerment. Given the significant role youth play in peacebuilding and development of Syria, UNDP should facilitate systematic youth employment strategies.

4

Recommendation 4. UNDP should further develop and institutionalize stronger partnerships with other UN agencies in complementary areas of employment and livelihoods, service delivery and women's empowerment.

Partnerships with UN agencies are critical for the repositioning of UNDP as well as the UN in responding to institutionalized early recovery and re/development programming needs in Syria. UNDP should pursue programme partnerships with UN agencies in complementary areas of employment and livelihoods, service delivery, and cross-cutting issues such as women's empowerment and social cohesion. Partnerships with the UN need to be institutionalized with a clear purpose and targets. Area-based approach in select thematic areas should be pursued with other UN agencies to provide integrated solutions.

An area where concerted joint efforts with the UN are needed is the strengthening of development statistics at the national and subnational levels and needs and market assessments at the subnational level. Building on its ongoing work in this area, UNDP should invest resources in conducting conflict sensitivity and market assessments to enable evidence-based programming in Syria. As there is an increased interest in mainstreaming the SDGs at the national level, UNDP should support efforts towards strengthening development data systems to enable SDG monitoring, an area where joint UN efforts can be more productive. UNDP should consider support to policy analysis and specific assessments such as implications of brain drain.

5

Recommendation 5. UNDP should ensure conflict sensitivity and gender analysis informs programme interventions. Further emphasis should be given to strengthening the programme and management efficiencies.

Currently, needs analysis is carried out with a humanitarian response goal. For sustainable employment, livelihoods and inclusive service delivery, broader needs and market assessments are required. In addition, conflict sensitivity and gender analysis should inform UNDP programme interventions. With the change in the country's demography, the importance of gender analysis in programming should be emphasized.

UNDP should also strengthen linkages between and within programme areas as parallel interventions on similar themes are undermining UNDP's contributions. It would be important to revisit programme team structures for greater efficiency gains and consolidate programme team structures and themes to strengthen UNDP's response and contribution. UNDP should identify key integrator elements that will be catalytic for institutionalized early recovery and re/development.

UNDP has made a considerable investment in developing a monitoring system with different streams of data, including an online data portal. Attention should be paid to streamline multiple sources of data into one online database system to reduce redundancies and for effective use of this data for programme management and oversight and for sharing lessons.

6

Corporate UNDP

Recommendation 6. UNDP programme should be guided by a corporate strategy to communicate its development approach unambiguously and get the buy-in of all actors involved. An early recovery/stabilization strategy should inform UNDP's response in conflict and post-conflict contexts.

Resilience approach and its different manifestations should not be left vague, instead should be clarified how it will manifest and consistently applied in crisis contexts. To provide clarity regarding what the international community can expect from the organization consistently, UNDP at the corporate level should develop a set of signature programme models to accelerate peace and transition to development.

UNDP needs to work with its member states to ensure a predictable stream of funding for early recovery/stabilization programmes that underpin the humanitarian-development nexus approach. This is essential for UNDP to provide global thought leadership in promoting the humanitarian-development nexus approach, which is urgently needed given the increasing trend of prolonged humanitarian programmes even when there is a need for development support.

7

Corporate UNDP

Recommendation 7. A politically sensitive and programmatically challenging response in Syria needs steady leadership. UNDP should desist from changing the country-level leadership frequently as it disrupts country programme strategy, momentum and efforts in building partnerships.

While UNDP corporate management may have reasons for frequent change in the country office leadership, this has impacted programme performance and morale. UNDP management should ensure continued and consistent leadership for the entire country programme period.