Annual Evaluation of Project: Sustainable Development and Integrated Water Management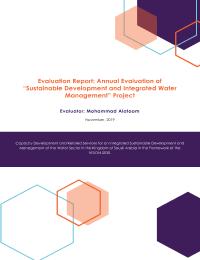 Evaluation Plan:

Evaluation Type:

Mid Term Project

Planned End Date:

10/2019

Completion Date:

11/2019

Status:

Completed

Management Response:

Yes

Evaluation Budget(US $):

40,000
Title
Annual Evaluation of Project: Sustainable Development and Integrated Water Management
Atlas Project Number:

00107640

Evaluation Plan:
2017-2021, Saudi Arabia
Evaluation Type:
Mid Term Project
Status:
Completed
Completion Date:
11/2019
Planned End Date:

10/2019

Management Response:
Yes

UNDP Signature Solution

:
Corporate Outcome and Output (UNDP Strategic Plan 2018-2021)

1. Output 1.4.1 Solutions scaled up for sustainable management of natural resources, including sustainable commodities and green and inclusive value chains

SDG Goal

Goal 12. Ensure sustainable consumption and production patterns

SDG Target

12.2 By 2030, achieve the sustainable management and efficient use of natural resources

Evaluation Budget(US $):

40,000

Source of Funding:
Government Cost Sharing
Evaluation Expenditure(US $):

31,500

Joint Programme:
No
Joint Evaluation:

No

Evaluation Team members:

| Name | Title | Email | Nationality |
| --- | --- | --- | --- |
| | | | |

GEF Evaluation:

No

Key Stakeholders:
Countries:

SAUDI ARABIA
Lessons
1.

Adaptive management and the project cycle should be clearly understood. Absence of adaptive and agile project management approach leads to further complicate the barriers and missing the change opportunities. The inception phase is the first opportunity to review the current status of the project and to determine whether circumstances have changed against the assumptions made in the Project Document. The inception phase should have the confidence and authority to significantly challenge the project's design and not to accept it as a fait accompli. The role of an inception phase that could have been utilised to allow for validating the project design prior actual implementation starts. It would have helped addressing the deficiencies in the project design. Such a project needed a defined inception phase at start up to review the design elements, engage stakeholders. Any changes to the programme strategy, management arrangements, monitoring framework and participation of stakeholders should be documented in an inception report, which should be endorsed by the management committee overseeing the development of the programme/project.
Project governance and management arrangements are critical to the successful outcome of a project. Much of the confusion surrounding the management arrangements in the project appear to have stemmed from imprecise instructions in the Project Document. Deficiencies in project governance design lead to severe delivery risks. This was evidently the case with this project where governance was largely ineffective and highly influenced the decision making and day to day business.
Projects need to balance the focus on activities versus the developmental results. Generating high quality products and services may not be enough, unless achieving the ultimate intended outcome (i.e capacity building). In case of this project, there are significant achievement mainly studies, analyses, information, and training events. There are indispensable deliverables but they also remain as information products, unless stakeholders uptake these information, used it and build the capacity, the long-term impact of the project will be limited.



Findings
1.

The project overall objectives and outputs are aligned to the MEWA needs and priorities, vision 2030 and UNDP priorities.
Weak design of the project document (results framework, governance structure and risk identification and management).
A moderately satisfactory progress in meeting its expected results. The review of the project achievements indicates generally a strong focus on activities as opposed to developmental results (i.e capacity building).
The current management arrangements are ineffective. These are largely the result of ambiguities in the original project design (the Project Document).
Limited project management capacities in the project.
The project is largely reliant on external funding sources to implement its activities and no clear resource mobilization plan outlining funding alternatives – should the NTF funding fails.
Key project outputs are under-resourced, mainly the NCWRS and Water Extensional Education Center.
There are key concerns over the sustainability of the program results, especially in terms of skills and knowledge transfer from experts to the MEWA staff, and MEWA ability to run the business beyond the project.



Recommendations
1

Undertake a substantive review of the project document

2

Identify capacity needs and develop a capacity building plan

3

Re-structure the project management unit with an intent to enhance the project management capacity and streamline decision making process

4

| | |
| --- | --- |
| | Re-activate the project board and project coordination group (currently called steering committee) |

5

UNDP to support the project with communication expertise

6

Upgrade the software and hardware assets to meet the modelling technical requirements

7

Assess the project financial needs and develop a resource mobilization plan

8

Review the project resourcing strategy and ToRs of all experts and address the deficit

9

Design fit-for-purpose reporting templates with a greater focus on the M&E framework – including the performance indicators
Management Response Documents