Terminal Evaluation of the Promoting Sustainable Bio-energy Production from Biomass In Timor-Leste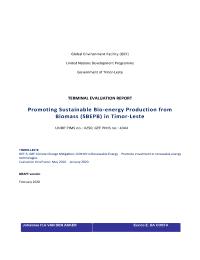 Evaluation Plan:

Evaluation Type:

Final Project

Planned End Date:

04/2020

Completion Date:

03/2020

Status:

Completed

Management Response:

No

Evaluation Budget(US $):

45,000
Title
Terminal Evaluation of the Promoting Sustainable Bio-energy Production from Biomass In Timor-Leste
Atlas Project Number:

00077146

Evaluation Plan:
2015-2020, Timor-Leste
Evaluation Type:
Final Project
Status:
Completed
Completion Date:
03/2020
Planned End Date:

04/2020

Management Response:
Yes

UNDP Signature Solution

:
Corporate Outcome and Output (UNDP Strategic Plan 2018-2021)

1. Output 2.1.1 Low emission and climate resilient objectives addressed in national, sub-national and sectoral development plans and policies to promote economic diversification and green growth
2. Output 3.5.1 Energy access re-established for crisis-affected populations, with a focus on gender-sensitive, risk-informed and sustainable recovery

SDG Goal

Goal 7. Ensure access to affordable, reliable, sustainable and modern energy for all

SDG Target

7.1 By 2030, ensure universal access to affordable, reliable and modern energy services

Evaluation Budget(US $):

45,000

Source of Funding:
GEF
Evaluation Expenditure(US $):

25,180

Joint Programme:
No
Joint Evaluation:

No

Evaluation Team members:

| Name | Title | Email | Nationality |
| --- | --- | --- | --- |

GEF Evaluation:

Yes

| | |
| --- | --- |
| GEF Project Title: | Terminal Evaluation of the Promoting Sustainable Bio-energy Production from Biomass In Timor-Leste |
| Evaluation Type: | Terminal Evaluation |
| Focal Area: | Climate Change |
| Project Type: | FSP |
| GEF Phase: | GEF-5 |
| GEF Project ID: | 4344 |
| PIMS Number: | 4250 |

Key Stakeholders:
The Government of Timor-Leste, Ministry of Public woroks (State Secretary of Electricity)
Countries:

Timor-Leste
Recommendations
1

Given the difficulties in getting the project started, volatile political situation, diminishing co-financing and over-optimistic project design, project management reacted with adaptive management. For example, by changing the stove dissemination approach, early 2019, the number of stoves sold was doubled in 2019.

2

Looking only at results, the TE Team would have given MU rating. However, in view of the initial limited capacity and low customer readiness at project start, as well as external factors (delays and government impasse), the Team takes the context into account and gives a MS rating. The main results have been that the Project, unlike stove programs in the past, has showed a path, although at the very beginning, towards a more commercial approach.

3

To address the concern on the sustainability of the Improved Cook Stoves (ICS) initiative, TE recommended that the remaining Project funds are used to carry surveys to gather information on the willingness and ability to pay and on experiences of end-users with the 21,000 stoves that have been distributed. This could answer questions, such as: Are these still used? Do end-users have suggestions for improvements? Do they receive sufficient post-sale support?

4

Once the political situation has stabilized, post-project activities (where and if possible, supported by UNDP) should focus on getting the RE Law approved with the Government making appropriate budget available for implementation of the Law, e.g., by funding (with support by other development partners) bioenergy, bio-briquetting, solar and other renewable and rural energy programs.

5

Rather than subsidizing technology, another way forward would be to back up finance (loans, guarantees) for business development, i.e. for producers to innovate and expand and for producers/businesses to set up marketing and distribution channels.

6

Another funding path is to financially support local government to implement local renewable energy development plans (such as the 100% ICS suco plans promoted by the Project). A third way is to have other Ministries involved. For example, the Ministry of Education could be involved to integrate clean cookstoves in the school feeding program

7

TE has also suggested setting up an ICS producer association as already mentioned by MTR. TE's recommendation is to have such association, maybe, with wider stakeholder membership, including development partners and NGOs to enable learning from past experiences, share lessons learned, cooperate in carrying out surveys and assessments, and coordinate funding and program planning. The association could also be a vehicle for future government and/or donor-supported projects to deliver with training for producers on cookstove innovation and business development, raise awareness and facilitate its private sector members to set up marketing, distribution and after-sales support channels.

8

Follow-up program The current SBEPB Project has supported the demonstration of ICS and, unlike other stove programs in the past, it has encouraged some commercialization by supporting business development of local producers and promoted sales of stoves with a reduced subsidy. However, hampered by external factors (political instability, reduced co-financing, lack of interest shown by financial intermediaries), the Project has not been able to lift the market to the next phase of 'deployment' in its short period (see Box 22). Also, the end-user does not seem to be ready yet to pay a price which is closer to the actual cost of producing and transporting the stove to the end-user.

Developing a sustainable and scalable clean cookstove and fuels industry is a long- term effort and will require a commitment of 10-15 years and good coordination between the various public sector and private sector partners. It will take much longer than the typical duration of a donor- or NGO-supported project of a few years only. This needs the Government's longer-term commitment (setting targets and making budget available), while UNDP could coordinate with other funding and development partners as well as local stakeholders on defining a follow-up project. The table in Box 24 gives a summary of actions to be supported in such a program and stakeholders and actors involved, while Box 26 gives an overview of factors that affect the sustainability of cookstove dissemination.