Mid-term Review of Cooperative Market Development Project (CMDP)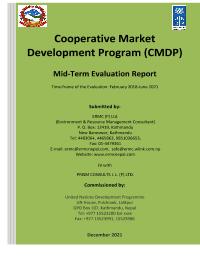 Evaluation Plan:

Evaluation Type:

Mid Term Project

Planned End Date:

12/2021

Completion Date:

12/2021

Status:

Completed

Management Response:

Yes

Evaluation Budget(US $):

21,000
Title
Mid-term Review of Cooperative Market Development Project (CMDP)
Atlas Project Number:

00102540

Evaluation Plan:
2018-2022, Nepal
Evaluation Type:
Mid Term Project
Status:
Completed
Completion Date:
12/2021
Planned End Date:

12/2021

Management Response:
Yes

Focus Area

:
Corporate Outcome and Output (UNDP Strategic Plan 2018-2021)

1. Output 1.1.2 Marginalised groups, particularly the poor, women, people with disabilities and displaced are empowered to gain universal access to basic services and financial and non-financial assets to build productive capacities and benefit from sustainable livelihoods and jobs

SDG Goal

Goal 1. End poverty in all its forms everywhere
Goal 2. End hunger, achieve food security and improved nutrition and promote sustainable agriculture
Goal 7. Ensure access to affordable, reliable, sustainable and modern energy for all
Goal 8. Promote sustained, inclusive and sustainable economic growth, full and productive employment and decent work for all

SDG Target

1.2 By 2030, reduce at least by half the proportion of men, women and children of all ages living in poverty in all its dimensions according to national definitions
2.3 By 2030, double the agricultural productivity and incomes of small-scale food producers, in particular women, indigenous peoples, family farmers, pastoralists and fishers, including through secure and equal access to land, other productive resources and inputs, knowledge, financial services, markets and opportunities for value addition and non-farm employment
7.1 By 2030, ensure universal access to affordable, reliable and modern energy services
8.3 Promote development-oriented policies that support productive activities, decent job creation, entrepreneurship, creativity and innovation, and encourage the formalization and growth of micro-, small- and medium-sized enterprises, including through access to financial services

Evaluation Budget(US $):

21,000

Source of Funding:
Project Budget
Evaluation Expenditure(US $):

18,000

Joint Programme:
No
Joint Evaluation:

No

Evaluation Team members:

| Name | Title | Nationality |
| --- | --- | --- |
| Dr. Kiran Raj Joshi | Team Leader | |
| Mr. Kishor Kafle | GESI Expert | |
| Dr. Pratap Chhatkuli | Cooperative Expert | |
| Mr. Mahadev Bhatta | Agriculturist | |
| Mr. Sugam Bajracharya | Data Analyst | |

GEF Evaluation:

No

Key Stakeholders:
UNDP, MoLCPA, Cooperative Board, Farmers, CSOs
Countries:

NEPAL
Recommendations
1

The cooperative market chain is a new concept at primary cooperatives, DCUs and NEFSCOV level. Capacity of market operation of such organizations is limited. In order to prepare these organizations in future after completion of this program, some immediate support for working capital management, and skilled human resources to enhance marketing function of cooperatives should be provisioned by CMDP and implementing partners. Further, formulation of workable Business plan, and other relevant polices have to be developed by cooperatives. The project should make strong backward and forward linkages between all the stakeholders in the cooperative market value chain providing necessary support as per their need.

2

As discussed with DCU and NEFSCOV, satellite and district markets are more concentrated to the retailing of products with sorting and grading facilities. Moreover, primary cooperatives largely concern with provision of wholesale markets where they can regularly supply fruits and vegetables collected through farmers. Hence, there should be a clear understanding among primary cooperatives and satellite markets regarding capacity of supplies and other market related terms and conditions. CMDP should work as mediator among them and a clear cut marketing guidelines specifying the roles of different actors they have to make.

3

As the major program outcome is development of regional and district markets, which is still under construction, has created doubt among cooperatives whether the program will be successful or not. Till the cooperative market network comes into full operation, the project may adapt immediate strategies like partnering and collaborating with existing private markets, acquiring and promoting separate stalls in Kalimati Bazar for CMDP partner cooperatives. If cooperatives have dedicated stalls during absence of regional and district markets, the plan of eliminating middle-person could be achieved which enables farmers to receive additional benefits.

4

Marketing function at cooperative is interrelated with other functions. To sustain the marketing function at cooperatives and district union level, a robust business plan with business analysis and investment plan have to be operationalized and translated into annual plan. In addition, Board and staff should be made fully aware about this. Business plans of CMDP markets which are under preparation should be completed timely.

5

To enhance the cooperative-to-cooperative marketing concept, the program has to focus on the practice of documentation and use of supply chain and market related data/information in the program areas. It might be important for them to analyses market demand, pricing and marketing plan. Plan and activities for increasing capacity of cooperatives and DCUs in keeping record, managing and utilizing the market and supply chain related data/figures for strengthening their business has to carried out by CMDP.

6

Capacities of primary cooperatives are not same to run marketing activities. Support has to be based on their capacity to run business and their willingness to participate in cooperative-to-cooperative marketing concept. Capacity and Need assessment of each cooperative have to be carried out. Periodic Capacity and Need assessment have to carried out, specially before providing support to the cooperatives.

7

Coordination with other donors in implementation level can complement to achieve program results and avoid duplication of supports. The cooperative program staffs have to be oriented to be fully aware about other similar minded project being supported by other funding agencies, organizations at the field level. For this regular meetings have to be carried.

8

The MTR team recommends expanding co-financing approach while implementing the programs at field level. It will also help in addressing the funding gaps of the program.

9

Cooperative unit at local government level is weak. It requires more support for proper documentation, listing, capacity building of cooperatives and monitoring of their works. Proper dedicated separate plan have to prepared and implement for this.

10

Out of the four types of agreement types, the evaluator found RPA the best for construction of marketing outlets. For operational costs, LVGA was best suited. The LoA was only one possible option to make agreement with government entities. Thus in future, LVGA agreements should be followed.

11

Though the program activities were somewhat hampered during the Covid period in 2020, the progress in the year 2021 seems quite satisfactory and the project has been back to its track. The construction of different levels of markets viz. municipal, district, regional and satellite market have been slowed down. The year 2022 which is the last year for the project may not be enough to smoothly run the cooperative market chain as it required some time (gestation period) for the cooperatives to get set to run their market. It is recommended to compensate certain timeframe for operationalization of markets in cooperative-to-cooperative approach. Time extension of program for additional years can be considered. UNDP and MOLCPA have to work on it.

12

The MTR team recommends following aspects should be considered while implementing the activities at different level.

1. CMDP should support Primary cooperatives by followings:

- Providing Business and marketing skill trainings to cooperatives

- Providing Financial management software and related trainings

- Supporting to needy farmers for production related small infrastructures like Irrigation facilities and equipment related to markets ,

- Supporting for management of additional collection points within cooperatives, this will help in increasing volume of collection of fruits and vegetables.

- Providing sorting, grading, and packaging support to cooperatives

- Training required to development of skills related with scale of production based on market demand

- Increasing coverage area of members specially fruits and vegetable farmers so that larger numbers of cooperative members could be introduced..

2. CMDP should support DCUs/NEFSCOV by followings:

- Providing short term support like working capital management, staffing for running district/satellite markets

- Supporting in Policy formulation and preparation of long term plan

- CMDP should make sure engagement of program staffs are more focused on market management activities. Currently, numbers of staffs supported are not sufficient so additional staffs supports have to be provided in DCUs.

- Activities for capacity building on procurement of goods and services have to be carried out. This could include orientation and training to staffs.

- Continuous supports in internalizing capacity building activities of primary cooperative business level have to be carried out. For this CMDP should carry out frequent monitoring activities, and provide support for analyzing the record kept.

- Coordination with local governments for mainstreaming cooperative market chain approach and leveraging resources has to be carried out. Number of coordination meetings among stakeholders had been decreased due to COVID, the frequency of meeting should be increased.

Only completion of planned activities is not sufficient to achieve results, DCUs should focus on results of program. Engagement of program staff should focus more on market management activities.

13

Based on our findings and field observations, the program has been able to achieve its goals and is highly successful, it is recommended to expand the program coverage in additional districts focusing regional market of Pokhara and Butwal. This will help in expansion of markets for existing cooperatives and markets will have more volume of vegetables and fruits for sale. UNDP and MOLCPA have to work towards this direction.