Final Evaluation of Technical Assistance for Micro Enterprise Development for Poverty Alleviation (MEDPA-TA)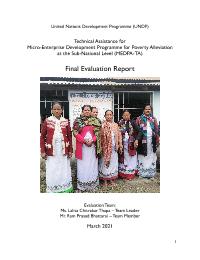 Evaluation Plan:

Evaluation Type:

Final Project

Planned End Date:

03/2021

Completion Date:

03/2021

Status:

Completed

Management Response:

Yes

Evaluation Budget(US $):

8,000
Title
Final Evaluation of Technical Assistance for Micro Enterprise Development for Poverty Alleviation (MEDPA-TA)
Atlas Project Number:

00106411

Evaluation Plan:
2018-2022, Nepal
Evaluation Type:
Final Project
Status:
Completed
Completion Date:
03/2021
Planned End Date:

03/2021

Management Response:
Yes

Focus Area

:
Corporate Outcome and Output (UNDP Strategic Plan 2018-2021)

1. Output 1.1.2 Marginalised groups, particularly the poor, women, people with disabilities and displaced are empowered to gain universal access to basic services and financial and non-financial assets to build productive capacities and benefit from sustainable livelihoods and jobs

SDG Goal

Goal 1. End poverty in all its forms everywhere

SDG Target

1.2 By 2030, reduce at least by half the proportion of men, women and children of all ages living in poverty in all its dimensions according to national definitions

Evaluation Budget(US $):

8,000

Source of Funding:
Evaluation Expenditure(US $):

7,500

Joint Programme:
No
Joint Evaluation:

No

Evaluation Team members:

| Name | Title | Nationality |
| --- | --- | --- |
| Ms. Lalita C. Thapa | Team Leader | |
| Mr. Ram Prasad Bhattarai | Team member | |

GEF Evaluation:

No

Key Stakeholders:
UNDP, Ministry of Industry, Commerce and Supplies, Provincial and Local Governments, CSOs etc
Countries:

NEPAL
Recommendations
1

In view of the magnitude of the support needed at the local government level, and to ensure the institutionalisation of the tremendous achievements made in building the capacity and systems, it is highly recommended to continue the TA support for at least two more years. Since a project has a timeline with specific objective, it is expected to phase out at a certain point, once the objectives are fulfilled, an important success indicator. Therefore, a phase-wise exit strategy of the project should be closely and regularly monitored as part of the project management to make the exit process as practical and smooth as possible (MoICS/UNDP/MoF).

2

In order to ensure greater participation of development partners for financial support to the project, various funding mechanisms, including cost-sharing under a practical and mutually agreeable implementation modality, e.g. NIM, should be explored (MoICS/UNDP).

3

As frequent changes of officials and political leaders are expected, periodic orientation on the MED model should be a permanent feature of the programme to familiarize the officials and responsible entities for MED activities at all levels of the federal governance system. To support such activities, a certain portion of the resources allocated to the LGs should constitute capacity support cost. Various options in mobilizing resources and choosing appropriate implementation modalities should be considered to ensure the proper use of government resources at the local level. (MoICS/MoF/UNDP).

4

Appropriate roles of existing government structures in the Districts should be identified and utilized as tremendous amount of investments were made with decades of MEDEP support. The ways and means to use infrastructures within DCSI and CSIDB built in the past for MED should be explored. (MoICS)

5

While the Operational Guidelines (2077) have been updated to make them more GESI responsive, there are still some aspects to be addressed, e.g. the MED Coordination Committee (Chapter 8). Instead of nominating two women entrepreneurs by the Chair of the Committee, submission of appropriate representative should be called from Women Entrepreneurs Associations/Groups to make the process more democratic and transparent (MoICS).

6

As the primary objective of the project is to improve livelihoods of poor and socially deprived people, it would be important to find out the status of these entrepreneurs and the socio-economic changes in their lives. A thorough examination of the enterprises and their products should be carried out to assess quality standards and competitiveness with market prices to provide guidance in updating and improving the MED model (MoICS/UNPD).

7

Conscious and deliberate actions are required to ensure coherence and synergy of project interventions at all levels, more prominently at programmatic levels, by both national and international development partners. At least one coordination meeting should be held at with all development partners of UNDP projects contributing to specific UNDAF outcome and CPD output with the participation of relevant stakeholders (MoICS/UNDP).

8

M&E is an important aspect of project management and should be included in Project Board Meetings. All key partners including funding agencies are well consulted when conducting M&E activities. The knowledge and information collected from such events are well documented and mechanisms to manage such knowledge are streamlined (MoICS/UNDP).