Mid Term Review of Country Programme Document (CPD)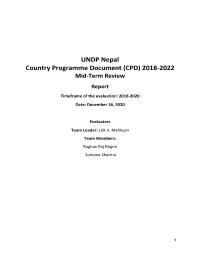 Evaluation Plan:

Evaluation Type:

Country Programme Evaluation

Planned End Date:

12/2020

Completion Date:

12/2020

Status:

Completed

Management Response:

Yes

Evaluation Budget(US $):

30,000
Title
Mid Term Review of Country Programme Document (CPD)
Atlas Project Number:
Evaluation Plan:
2018-2022, Nepal
Evaluation Type:
Country Programme Evaluation
Status:
Completed
Completion Date:
12/2020
Planned End Date:

12/2020

Management Response:
Yes
Corporate Outcome and Output (UNDP Strategic Plan 2018-2021)
Evaluation Budget(US $):

30,000

Source of Funding:
Core Fund
Evaluation Expenditure(US $):

28,650

Joint Programme:
No
Joint Evaluation:

No

Evaluation Team members:

| Name | Title | Nationality |
| --- | --- | --- |
| Lilit V. Melikyan | Independent consultant | |
| Raghav Raj Regmi | Independent consultant | |
| Sunaina Sharma | Independent consultant | |

GEF Evaluation:

No

Key Stakeholders:
UNDP, Government of Nepal, Donors, Projects etc
Countries:

NEPAL
Recommendations
1

Strengthen programmatic footprint with more coherence in the Portfolio Managers, Program Advisors, Field Offices working together with less silos with (a) all three reporting lines to the Deputy Resident Representative; (b) Strengthened RM function, with, potentially, a separate RM staff, ideally with Energy/Environment profile; and (c) explicit coordinating role for the FOs; and (d) enabling environment, like projects' databases and e-portals.

2

Enhance the implementation of the Partnership and Communication Action Plan, to strengthen Partnerships and Communication with the Government and Development Partners. In particular: i) revitalize communications and coordination with traditional donors and long-time partners going beyond regular reporting and formal participation in coordination meetings, ii) be more specific and generous in ensuring the visibility of the donor partners, iii) build strategic partnership with SNL governments helping them formulate their demands for development; (iv) ensure that the links between DRM/CCA and governance /rule of law on one hand and poverty reduction on the other of UNDP operations are articulated better in the outreach materials; (v) ensure better targeted distribution of knowledge products and project updates (the latter- with one pager summaries), and (vi) ensure that planned communication activities are implemented by the GoN counterparts for the NIM projects (e.g. with formal agreements).

3

Improve the CO MEL systems with (a) a revised and improved Theory of change (with descriptions of pathways, boundary partners, risks and assumptions) well linked to the CPD indicators) ; b) enhanced/regular capturing of lessons Learned, especially for the long-standing areas of engagement, and pilot initiatives (as well as portfolio level lessons learnt) (c) revise CPD output indicators to capture the institution building/policy level outputs under the inclusive economic growth, and (d) improve the overall presentation of the APRs to make them more informative by showing the SDGs they contribute to, and the projects contributing to the indicator.

4

For the democratic governance, rule of law and human rights portfolio focus on; i) Effective resource mobilization, ii) capacity building of provincial planning commissions beyond the current engagement, iii) expanding institutional system and capacity building support to the six new rights commissions and iv) support to justice sector key institutions like the 'constitutional bench' at federal level, and the judicial committees at local level.

5

Support building accountability measures at SNL: Support the strengthening local transparency measures (with participatory monitoring mechanisms) and accountability (with RTI) at SNL for good governance. SPSP, PSP, and A2J the CPD already have engagements on this, however these should be made more focused, with the development of appropriate institutional mechanisms at SNL as a high priority (e.g., joint watchdog forums, community score cards or social audits (after assessing the previous experience) etc.). This will also support enlarging the space for civic engagement in local governance.

6

Conduct an in-depth analysis of the potential, strength and risk factors of the Cooperatives sector and 'Value chain development'. Adopt a strategic approach for the 'next flagship intervention' in inclusive Economic Growth of a 'game changer nature'. Critical understanding of the architecture and 'modus operandi' of all the actors involved in value chain development (e.g., middlemen) and cooperatives (with this being high political priority but less so for the government) is important for sustainability. Using the footings of MEDEP to upgrade the level of interventions under VCD and cooperatives' support and support to MEs- supporting 'SMEs' together with private banking sector, national level microfinance institutions and government (with a potential 'Champion' institution from the latter). The TEVT sector also holds the possibility of a 'Flagship' agenda for 'sector policy and institutional reform'. Accelerator Lab could be used as breeding ground for innovative ideas for next flagship agenda and program.

7

Engage in social protection/poverty reduction more explicitly in the next 2 years in the light of COVID/post-COVID, with for example, supporting reforms in social safety nets, social security programs. In the next CPD this could be expanded into contributory pension scheme, health insurance, active labour market policies, etc.

8

In the next 3 years (a) shift the focus from DRR (but continuing to support SNL governments with integrated DRM and CCA plans, guides and DIMS and NDRRMA- with risk governance) to addressing Climate Change risks and green recovery. In supporting the local governments, strengthen their capacity to (a) incorporate the considerations for prevalent social issues in the local integrated DRM and CCA plans; (b) to conduct comprehensive hazard, vulnerability and capacity assessments; and (c) criteria and/or operational guidelines for resilience building/resilience development. Support them with Local Disaster and Climate Resilience Planning Guidelines and establishment of municipal level project fund management committees with clear guidelines on operational and maintenance funds. Support the PGs in project planning and monitoring through relevant coordination and/or steering mechanisms. In addressing climate change, play a more active role in policy advice in CCA, CCM, and CF. Support green recovery with engagement cleaner air quality (with aggressive resource mobilization for POPs and engagement in clean cooking), effective waste management (with the upcoming urban and hospital waste management initiative), access to RE in urban areas, and enhanced biodiversity protection. Support extension systems to help the GoN spread the knowledge generated from the pilots throughout the country.

9

Ensure regular strategic and thematic interface with the CSOs, academia and private sector from alliance- building perspective. It could be through consultative (thematic) platforms with participation of prominent think tanks and experts: that will help UNDP to be better informed of the 'development environment' and help with advocacy on specific issues. With the private sector, engage also with 'corporate foundations' from resource mobilization perspective.

10

Make UNDP GESI expertise even more impactful by: (a) Ensuring that GESI is considered in all interventions consistently, and support this with corresponding formally approved guides and procedures. make GESI related reporting more comprehensive and visible in various reports at project as well as country level; (b) Supporting LGs in designing and implementing explicit GESI projects in association with local CSOs; and (c) working with private sector and academia on human rights and GESI.