Evaluation of UNDP Support to Conflict-Affected Countries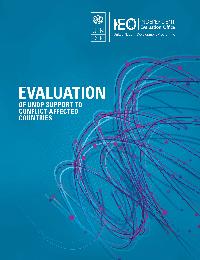 Evaluation Plan:

Evaluation Type:

Thematic

Planned End Date:

01/2021

Completion Date:

01/2021

Status:

Completed

Management Response:

Yes

Evaluation Budget(US $):

250,000
Title
Evaluation of UNDP Support to Conflict-Affected Countries
Atlas Project Number:
Evaluation Plan:
2018-2021, Independent Evaluation Office
Evaluation Type:
Thematic
Status:
Completed
Completion Date:
01/2021
Planned End Date:

01/2021

Management Response:
Yes

Focus Area

:
Corporate Outcome and Output (UNDP Strategic Plan 2018-2021)

1. Output 2.3.1 Data and risk-informed development policies, plans, systems and financing incorporate integrated and gender-responsive solutions to reduce disaster risks, enable climate change adaptation and mitigation, and prevent risk of conflict
2. Output 3.3.1 Evidence-based assessment and planning tools and mechanisms applied to enable implementation of gender-sensitive and risk-informed prevention and preparedness to limit the impact of natural hazards and pandemics and promote peaceful, just and inclusive societies

Evaluation Budget(US $):

250,000

Source of Funding:
Evaluation Expenditure(US $):

250,000

Joint Programme:
No
Joint Evaluation:

No

Evaluation Team members:

| Name | Title | Nationality |
| --- | --- | --- |
| Hisham Khogali | Evaluation Consultant | |
| Patty Chang | Evaluation Consultant | |
| Elizabeth Wojnar | Research Consultant | |
| Tobias Schillings | Research Consultant | |
| Vijayalakshmi Vadivelu | Lead Evaluator | |
| Andrew Rathmell | Evaluation Consultant | |
| Sue Nelson | Evaluation Consultant | |

GEF Evaluation:

No

Key Stakeholders:
Countries:

GLOBAL
Recommendations
1

UNDP needs a well-focused corporate policy that responds to the SecretaryGeneral's call for a coordinated and integrated approach to sustainable peace. UNDP should demonstrate global leadership in facilitating and promoting the HDPN agenda.

UNDP should prioritize its support and engagement in the United Nations peace reform agenda. Within UNCTs, UNDP should support joint analysis, planning and programming towards collective nexus outcomes in select sectors.

Given the favourable global policy environment, with the United Nations impetus for sustainable peace and NWoW for programme collaboration and the nexus approach, UNDP should identify areas where country offices will consistently contribute to HDPN policy and advocacy. At the country level, enable programming instruments for linking humanitarian, development and peace responses, that are anchored in development frameworks.

To unpack the complexity of HDPN programming, identify sectors where programme models can be developed to demonstrate development and peace outcomes to inform policy. Prioritize HDPN solutions at the local level in efforts to strengthen services and livelihoods. For policy lessons in nexus, programming to strengthen pathways to peace and address drivers of conflict, implement well-tested signature programme models in a select area in all conflict-affected countries.

2

Prioritize support to conflict prevention at global and country levels. UNDP should develop its prevention offer with a focus on facilitating long-term structural change and a generational transformation agenda in conflict-affected countries. Identify areas where there will be a sustained long-term focus. As part of the prevention offer, address the interlinked dimensions of climate and conflict.

The core added value of UNDP is its ability to work long-term with government institutions and communities to build effective and accountable governance and peace ecosystems. In line with the Secretary General's priorities, conflict prevention should become a central theme of country programmes in fragile contexts. Rather than automatically qualifying all institutional strengthening and economic growth as prevention interventions, UNDP should identify and pursue key accelerators of prevention. Focus on the drivers of conflict and related fragility to address risks early on, before they escalate to crisis. Anchor UNDP support at the local level to enable bottom-up change processes.

As UNDP develops its corporate strategy for support to fragile and conflict-affected countries, build on the organization's comparative strengths in multiple programme areas for system-wide engagement on key areas of conflict prevention and response.

The evaluation recommends three areas for prioritizing prevention support. First, PVE should be more explicitly brought within the conflict prevention fold, to ensure that this subset of conflict prevention is not ad hoc and disconnected. In a sustained manner, prioritize youth development as part of PVE. Collaborate and invest in integrated, multi-sectoral approaches to youth empowerment and to ensure that PVE National Action Plans and other national policy frameworks to build peace are both youthinclusive and youth-focused. Second, given the extensive environment and crisis programme portfolios of UNDP, address interlinked dimensions of risk from multiple crises that exacerbate conflict. Identify UNDP programmes where the integration of a prevention dimension can add value. Lastly, consistently support local risk and tension monitoring /early warning systems as a signature offer of UNDP, separately or as part of ongoing data collection mechanisms. Collaborate with the United Nations and other agencies for collective efforts in data collection and the interpretation of risk.

3

UNDP management should ensure organization-wide policy coherence to address inconsistent conceptual and programmatic responses across regions. Address constraints that are limiting the substantive and long-term engagement of UNDP in core areas of support.

UNDP should ensure that there is policy coherence across its programme countries, putting corporate strategies and tools into practice. Predominantly generalist support can reduce the potential role of UNDP in post-conflict countries. Consistently prioritize long-term engagement in select areas with technical depth. Prioritize comprehensive global programmes on select themes to provide well-tested signature solutions to country offices, for conceptual coherence, and to facilitate UNDP engagement in global policy and advocacy on integrated responses to peace and development.

The regional bureaux and Crisis Bureau should enhance their coordination for conceptual and programmatic coherence. Take measures to ensure corporate strategies and guidance are used by country offices to stay ahead of the curve in responding to crises.

4

UNDP should emphasize medium- to long-term livelihood and employment support. It should take measures to put holistic employment and livelihood options into practice for wider use and replication in conflict and post-conflict contexts.

In conflict-affected countries, UNDP should seek opportunities for more substantive programmatic engagement on poverty reduction, developing more realistic medium- to long-term frameworks for livelihoods and employment. UNDP should emphasize employment and livelihood approaches that seek to address the structural underpinnings of poverty and fragility. Programme areas which enable structural transformation in income generation and employment, such as inclusive business and markets, need consistent engagement. Specific attention should be paid to the peace dividend as a way to address challenges for sustainable businesses and livelihoods. Likewise, ensure conflict-sensitivity in the design and implementation of livelihoods programmes.

Prioritize SDG-related analysis and planning support in conflict-affected countries, to keep the focus on sustainable development and peace. Consider strengthening the economist programme for more consistent support to policy analysis and planning.

5

UNDP should make long-term governance intervention central to its agenda of conflict prevention and peacebuilding. UNDP governance programmes should invest in new public administration models, with emphasis on planning and analysis, digital technologies and private sector engagement.

An excessive focus on short-term support can be counterproductive to the role UNDP can play in addressing governance challenges. To stay relevant in the governance area, UNDP needs to engage in reform-oriented core governance support at national and local government levels. Identify select areas of core governance function for consistent, long-term engagement across conflict-affected countries.

There will inevitably be pressure from partner governments and donors alike to support a short-term technical facilitation or fiduciary role, and this may be to the financial benefit of UNDP. Too much focus on short-term technical facilitation support runs the risk that UNDP is not seen as an agency with governance expertise that can facilitate reform and an institutional strengthening agenda.

6

The Sahel programme is considerably underfunded. UNDP should demonstrate the urgency and intensity of the response demanded by the situation in the Sahel and Horn of Africa, recognize the unique challenges faced by the Sahel and prioritise the regional programme to galvanise support. Prioritise partnerships for a coordinated and collective response.

Take measures to put NWoW into practice in the Sahel, forging partnerships with humanitarian and development agencies for a consolidated response. UNDP should pay specific attention to mobilizing resources for its programme in the Sahel, while at the same time taking concrete measures to enable financing. Consider developing a Sahel programme to address intersecting elements of security, climate and development challenges.

7

Stabilization programmes need further consolidation. Merely focusing on infrastructure rehabilitation and building will not produce the desired outcomes unless combined with capacity development of local institutions and peace initiatives. Building on lessons from ongoing stabilization programmes, anchor future programmes within a peace and development framework.

UNDP support to stabilization demonstrates the importance and unique value-proposition of its work in conflict and post-conflict countries. UNDP should ensure that its stabilization approaches are linked to institutional strengthening, peacebuilding and other early recovery interventions. Provide a stabilization programme framework for country offices, with mandatory principles of linkages with peace and development efforts.

8

UNDP should further improve collaboration with United Nations agencies, the World Bank and bilateral donors for contributions to long-term outcomes in conflict-affected countries.

UNDP has embarked on a strong partnership with humanitarian and peace agencies and with the World Bank. Systematize and clarify expectations for more efficient collaboration to further HDPN at global and country levels. The delinking of the Resident Coordinator function from UNDP has consequences for UNDP programmes in mission countries. UNDP should strengthen partnerships with DPPA and DPO for engagement in the areas of rule of law, the security sector and elections. Instead of one-off project-based partnerships, identify areas of synergy for regular collaboration with FAO and ILO to strengthen value chain and employment interventions.

Leverage the UNDP comparative advantage in conflict-affected countries to strengthen partnerships with the World Bank and develop global thematic initiatives in key areas of prevention and response, to further the HDPN agenda. Consolidate programmatic and advocacy partnerships for a comprehensive Sahel response.

9

UNDP should make private sector engagement integral to its economic revitalization, inclusive growth and service delivery support. UNDP should accelerate the pace and scale of its engagement, with context-specific tools and interventions.

The recently adopted corporate private sector strategy is important for the momentum of private sector development and engagement in conflict-affected countries. While UNDP recognizes the significance of private sector engagement in crisis contexts, and has developed tools to enable it, further efforts and resource investments are needed to systematically pursue this. UNDP should ensure a long-term commitment to private-sector-related support, and this should be integral to country programmes.

Conflict contexts are diverse, and UNDP should have a more customized approach to private sector engagement to address structural constraints in harnessing market opportunities. Innovative private sector finance tools should be developed and promoted. UNDP should strengthen partnerships to address private sector development policy bottlenecks, and catalyze and de-risk private sector investments in conflict contexts. UNDP should select sectors for consistent private sector development.

10

UNDP should prioritize support to GEWE for enabling gender-inclusive prevention, response and peace solutions.

Notwithstanding the initiatives of specialized agencies, UNDP should take concerted efforts to address the drivers of gender inequality. Improve the effectiveness of gender-responsive and gender-transformative interventions based on a well-grounded programme approach. To this effect, the indicators developed by the United Nations Technical Working Group on Global Indicators for UNSCR 1325, currently being revised, are a suitable framework.

Beyond the mainstreaming approach, UNDP should develop sectoral strategies for enhancing women's productive capacities and livelihoods. UNDP should increase its capacity of gender expertise, which is on a decreasing trend. Likewise, the Crisis Bureau should build its capacity to support GEWE in conflict-affected countries, in coordination with the regional bureaux. Addressing GEWE in conflict contexts requires dedicated resources. Take measures to mobilize resources for GEWE-related programming in crisis contexts, given the opportunities the range of UNDP programme engagement provides. Take measures to address issues of coherence in the comparative advantages between UNDP and UN Women at the country level.