Terminal Evaluation of Efficient Energy Production and Utilization of Cookstove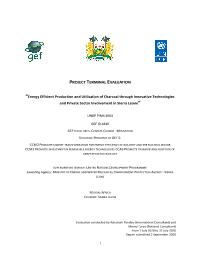 Evaluation Plan:

Evaluation Type:

Final Project

Planned End Date:

06/2020

Completion Date:

09/2020

Status:

Completed

Management Response:

Yes

Evaluation Budget(US $):

30,000
Title
Terminal Evaluation of Efficient Energy Production and Utilization of Cookstove
Atlas Project Number:

00081156

Evaluation Plan:
2020-2023, Sierra Leone
Evaluation Type:
Final Project
Status:
Completed
Completion Date:
09/2020
Planned End Date:

06/2020

Management Response:
Yes

UNDP Signature Solution

:
Corporate Outcome and Output (UNDP Strategic Plan 2018-2021)

1. Output 2.5.1 Solutions developed, financed and applied at scale for energy efficiency and transformation to clean energy and zero-carbon development, for poverty eradication and structural transformation

SDG Goal

Goal 1. End poverty in all its forms everywhere
Goal 7. Ensure access to affordable, reliable, sustainable and modern energy for all

SDG Target

1.1 By 2030, eradicate extreme poverty for all people everywhere, currently measured as people living on less than $1.25 a day
7.1 By 2030, ensure universal access to affordable, reliable and modern energy services

Evaluation Budget(US $):

30,000

Source of Funding:
GEF Project Budget
Evaluation Expenditure(US $):

16,500

Joint Programme:
No
Joint Evaluation:

No

Evaluation Team members:

| Name | Title | Email | Nationality |
| --- | --- | --- | --- |
| Ashutosh Pandey | Mr. | ashutoshp2002@gmail.com | INDIA |
| Momo Turay | Mr. | mfturay@yahoo.co.uk | |

GEF Evaluation:

Yes

| | |
| --- | --- |
| GEF Project Title: | Efficient Energy Production and Utilization of Cookstove |
| Evaluation Type: | Terminal Evaluation |
| Focal Area: | Climate Change |
| Project Type: | FSP |
| GEF Phase: | GEF-5 |
| GEF Project ID: | 4840 |
| PIMS Number: | 4904 |

Key Stakeholders:
The Ministry of Energy, Ministry of Agriculture and Forests, Government Technical Institute, Westwind Energy, Environment Protection Agency
Countries:

SIERRA LEONE
Recommendations
1

A number of activities remain work in progress and effort is required to ensure there are continued efforts by other partners. These include the development of efficiency standards & certification, use of CCDC infrastructure to test cookstoves and promote best practices, and continued maintenance of woodlots developed under the project. A roadmap workshop may be organised with participation from various partners from the Government sector, private sector, NGOs, and other donors. This workshop will provide an opportunity to transfer knowledge to other partners and to explore potential engagement opportunities

2

The project has supported the development of the National Energy Policy and Bioenergy Policy; these policies were validated during the project duration. However, enactment and popularization activities are still pending. UNDP may pursue MOE to enact these policies to support clean bioenergy development in the country.

3

Capacity building and awareness creation activities were performed under the project. Knowledge material developed for these activities must be documented and handed over to relevant partners and agencies including CCDC. These knowledge materials and learning from the project can also be shared with other regional or local programs in Africa.

4

The project has also established forestry initiatives at the community level with local management committees to create a model for sustainable supply of biomass for charcoal production. The National Forestry Policy has not been updated since the start of the project and there may be an opportunity for the project to influence the forestry policy when updated. MAF can also take up the expansion of woodlots to newer areas using government funding support

5

During 2019, project has developed financing schemes and also engaged potential partners including Ecobank and BRAC. There exists a great potential to operationalize these financing schemes to support improved cook stove (ICS) entrepreneurs, efficient charcoal producers, and users. UNDP could keep engaged with these partners to support by providing knowledge support as well as linking them with other partners active in the sector.