Foundational and Short-Term (FaST) activities of the United Nations Fund for Recovery Reconstruction and Development in Darfur (UNDF)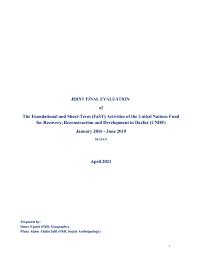 Evaluation Plan:

Evaluation Type:

Final Project

Planned End Date:

04/2021

Status:

Overdue

Management Response:

No

Evaluation Budget(US $):

95,000
Title
Foundational and Short-Term (FaST) activities of the United Nations Fund for Recovery Reconstruction and Development in Darfur (UNDF)
Atlas Project Number:

00086522

Evaluation Plan:
2018-2021, Sudan
Evaluation Type:
Final Project
Status:
Overdue
Planned End Date:

04/2021

Management Response:
No

UNDP Signature Solution

:
Corporate Outcome and Output (UNDP Strategic Plan 2018-2021)

1. Output 3.1.1 Core government functions and inclusive basic services4 restored post-crisis for stabilisation, durable solutions to displacement and return to sustainable development pathways within the framework of national policies and priorities
2. Output 3.2.1 National capacities strengthened for reintegration, reconciliation, peaceful management of conflict and prevention of violent extremism in response to national policies and priorities

SDG Goal

Goal 11. Make cities and human settlements inclusive, safe, resilient and sustainable
Goal 16. Promote peaceful and inclusive societies for sustainable development, provide access to justice for all and build effective, accountable and inclusive institutions at all levels
Goal 5. Achieve gender equality and empower all women and girls

SDG Target

11.a Support positive economic, social and environmental links between urban, peri-urban and rural areas by strengthening national and regional development planning
16.1 Significantly reduce all forms of violence and related death rates everywhere
16.b Promote and enforce non-discriminatory laws and policies for sustainable development
5.2 Eliminate all forms of violence against all women and girls in the public and private spheres, including trafficking and sexual and other types of exploitation

Evaluation Budget(US $):

95,000

Source of Funding:
Joint Evaluation (Agnecies cost sharing)
Joint Programme:
Yes
Joint Evaluation:

Yes

Joint with UN Agencies
Joint with

The UNDF was established under the overall leadership of the former Darfur Regional Authority (DRA) and the United Nations Country Team (UNCT), represented by the UN Resident Coordinator, and with participation of the Government of Sudan (GoS).

GEF Evaluation:

No

Key Stakeholders:
UNDP, UNICEF, UNFPA, UNWOMEN, WFP, FAO, UNHABITAT, UNAMID, UNHCR, IOM, Government Counterparts/different line Ministries, including HAC (in the 5 states of Darfur), IPs/NGOs,
Countries:

SUDAN

Comments:

This is a final projects joint evaluation plan: Namely for the DDS Projects (Darfur, Development Strategy Projects), the Foundational and Short-Term (FaST) activities of the United Nations Fund for Recovery Reconstruction and Development in Darfur (UNDF). Final Evaluation to be completed by the third quarter of 2020.

But due to the health challenges during the first quarter of 2021 affected many of those involved directly in the evaluation exercise. The final evaluation report is under the process by the two consultants. Follow up is goingon.