Evaluación del Proyecto Estrategia REDD II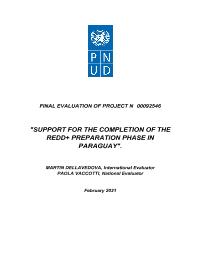 Evaluation Plan:

Evaluation Type:

Final Project

Planned End Date:

03/2021

Completion Date:

02/2021

Status:

Completed

Management Response:

No

Evaluation Budget(US $):

15,000
Title
Evaluación del Proyecto Estrategia REDD II
Atlas Project Number:

00084610

Evaluation Plan:
2020-2024, Paraguay
Evaluation Type:
Final Project
Status:
Completed
Completion Date:
02/2021
Planned End Date:

03/2021

Management Response:
Yes

Focus Area

:

1. Resilience
2. Sustainable
3. Others

Corporate Outcome and Output (UNDP Strategic Plan 2018-2021)

1. Output 2.3.1 Data and risk-informed development policies, plans, systems and financing incorporate integrated and gender-responsive solutions to reduce disaster risks, enable climate change adaptation and mitigation, and prevent risk of conflict

SDG Goal

Goal 13. Take urgent action to combat climate change and its impacts
Goal 15. Protect, restore and promote sustainable use of terrestrial ecosystems, sustainably manage forests, combat desertification, and halt and reverse land degradation and halt biodiversity loss
Goal 9. Build resilient infrastructure, promote inclusive and sustainable industrialization and foster innovation

SDG Target

13.2 Integrate climate change measures into national policies, strategies and planning
15.1 By 2020, ensure the conservation, restoration and sustainable use of terrestrial and inland freshwater ecosystems and their services, in particular forests, wetlands, mountains and drylands, in line with obligations under international agreements
9.4 By 2030, upgrade infrastructure and retrofit industries to make them sustainable, with increased resource-use efficiency and greater adoption of clean and environmentally sound technologies and industrial processes, with all countries taking action in accordance with their respective capabilities

Evaluation Budget(US $):

15,000

Source of Funding:
FCPF
Evaluation Expenditure(US $):

18,596

Joint Programme:
No
Joint Evaluation:

No

Evaluation Team members:

| Name | Title | Nationality |
| --- | --- | --- |
| Martin Dellavedova | Team Leader International Evaluator | ARGENTINA |
| Paola Vaccotti | National Evaluator | |
| Eric Muller | Associate Evaluator | |
| Micaela Toledo | Associate Evaluator | |

GEF Evaluation:

No

Key Stakeholders:
Countries:

PARAGUAY
Lessons
1.

1) Due to the difficulty generally observed in understanding REDD+, its potential and limitations, it is necessary to have trained technicians in charge of promoting this type of initiative in the public agencies where they work. This would reduce efforts by the PMU to sensitize technicians when there are changes in personnel in the agencies that act as focal points for the project.

2) The contracting of teams for the execution of consultancies that require technical but also strategic specialties should consider the formation of multidisciplinary teams that include local personnel who have worked in REDD+ and know not only the objectives and progress of the projects, but also the social, economic, environmental and above all political context of the country, so as not to duplicate efforts and to work within a broad vision framework.

3)The gender approach goes far beyond the fulfillment of a quota of female participation in certain events and training. This perspective must generate concrete instances to improve the existing conditions of gender inequality and achieve the effective empowerment of women. In some cases, these instances should be designed and implemented by specialists in addressing these approaches.

4) The design of a REDD+ strategy at the national level requires the inclusion of all economic and social sectors. In Paraguay, the importance of indigenous communities in REDD+ is mainly due to the fact that they are the owners of large tracts of land distributed in 13 departments of the country and in Asunción. Including communities in the process of building the national strategy requires adapting the message to the language of each community. It is also necessary to establish spaces for dialogue between community representatives and other social and economic sectors, while ensuring compliance with regulations on free, prior and informed consent.

5)Including FAPI in the discussion of the ENCBS is a step forward in relation to the traditional way in which public policies are designed; however, it is not enough to guarantee the inclusion of all indigenous communities in REDD+ processes. The INDI has turned out to be a weaker institution than expected during the design phase of the PBCS document. Although the project has carried out activities aimed at strengthening it, the complexity of the work carried out by this institution, together with the need to cover communities scattered throughout Paraguayan territory and the lack of a budget in line with its functions, have resulted in major complications in achieving a real presence and results at the field work level.

6)The strengthening of a Sustainable Finance Roundtable is of greater importance than it is usually assigned. The existence and proper functioning of this type of organization allows for the commitment of the financial system to the promotion of sustainable finance and the development of green financial products. The MFS makes it possible to coordinate and strengthen links with key actors in the private sector that have an impact on the promotion of sustainable development.

7)In order to ensure the continuity of REDD+ initiatives and that the country continues to build on what has been achieved, it is necessary to have the real involvement and commitment of the Central Government. Only by incorporating the issue into the public agenda will it be possible for the Paraguayan government to allocate sufficient resources to achieve REDD+ objectives.

8)Generally, in countries where there are low levels of industrialization and the economy is characterized by a high dependence on the primary sector, natural resources (including forest resources) are under constant stress. In these cases, the unions and associations that bring together rural producers tend to accumulate a high degree of power over other economic and social sectors. This privileged situation often gives them the power to veto certain policies and initiatives that they consider a "threat", which they may find impossible to implement because they do not have the support of the key sector. It is necessary to break with the idea that working with certain traditional sectors implies renouncing the objectives of REDD+ and pursuing those of these sectors. On the contrary, it is only by working in coordination with these vital sectors for economic growth and development that REDD+ initiatives will achieve the desired sustainability, maximizing their impact.

9)The approach that has been given to the ENBCS rescues the processes that the country is developing with a sustainable development perspective, based on productive systems, where natural capital and forest resources are a key part of the country's long-term development. This has proved to be a success of the project, facilitating its acceptance by all economic and social sectors, as it makes visible the individual efforts that producers have been making for some time. The national general elections mean that public institutions are going through a transition period between the outgoing government and the newly elected one, which generates a recession in decision-making on the technical and operational processes required by the project, extending the execution deadlines



Findings
1.

Analyzing the execution of the PNBCS, it is possible to affirm that the challenge of completing the REDD+ readiness phase has been met, because the work of the team hired by UNDP under the direction of MADES has achieved most of the goals established in the indicators of the Results Framework, demonstrating that the continuity of the projects can be achieved, based on the foundations installed by the UN REDD project.

The main objective of the Forests for Sustainable Growth Project has been to strengthen Paraguay's national capacities to effectively participate in the REDD+ mechanism, a mechanism of the United Nations Framework Convention on Climate Change, and this objective has been met. With the implementation of the PNBCS, the country's readiness phase as part of the mechanism for reducing emissions from deforestation and forest degradation has been completed.

This readiness process started with the support of the United Nations System agencies (FAO, UN Environment, UNDP) in July 2011, and after almost 10 years the country has complied with the 4 pillars of the Warsaw Framework, as it has a Forest Strategy for Sustainable Growth; has submitted its Forest Emissions Reference Level and Technical Annex, with an additional one in the process of submission to the United Nations Framework Convention on Climate Change; the National Forest Monitoring System has been strengthened and institutionalized, ensuring consistency between national reports to international organizations; and the Safeguards Information System is linked to the Environmental Information System.

This project has sought to enhance the role of national technicians from government institutions, and in particular MADES, INFONA and other national institutions, through capacity building, thus partially ensuring the sustainability of post-project results. In addition, it has generated a large number of policy instruments, documents and consultancies to support the country in its REDD+ objectives. However, the systematization and registration of these products, as well as their socialization and friendly communication, has not been optimal and there is a real risk that the institutions that should continue with the actions of this project will not be able to appropriate these valuable resources. Ultimately, it remains that the products of this project are translated into actions in each of the supported organizations, always seeking a more sustainable growth at the national level.

The participatory processes led by MADES, together with other national government institutions, the private sector, the financial sector, civil society, academia, peasant organizations, indigenous peoples, women's groups and young people, have made it possible to build a National Forestry Strategy for Sustainable Growth and its Implementation Plan, rescuing national information from each of the sectors and translating it into a public policy document constructed in a participatory manner.

Various national institutions from all sectors of society have contributed to the achievement of the results presented at the close of this project. It is important to mention that UNDP has carried out intense efforts to ensure the participation and inclusion of all economic and social sectors, although sometimes this has not been achieved. After all, the process of designing the ENBCS has been as participatory as possible, given the economic and social context of Paraguay and the struggle of interests among the main sectors.

During the last year of implementation, one of the greatest health, economic and social crises on record was experienced as a result of the pandemic caused by COVID-19, which generated great uncertainty in all sectors and required the redirection of public resources to the healthsystem. This new context implied a great challenge for the execution of the project, preventing the visit to indigenous communities (due to demanding national sanitary restrictions) and forcing the adoption of virtual work and consultation instruments, which in many cases meant a limitation for people with limited access to technological resources and internet. In spite of this, the PBCS achieved practically all its objectives, generating a solid base of strategic knowledge, tools, mechanisms and instruments that will serve for the implementation of the ENBCS.

Due to the characteristics of the project, its objectives and expected results, the application of magnifying glasses is of utmost importance so that the gender approach and the inclusion of indigenous communities are reflected throughout the project cycle, from its design, implementation and even its evaluation.

In relation to the gender approach, the ENBCS includes its guidelines through the participation of women in all areas of decision-making about the forest (due to their dependence on it as a means of livelihood and roots) and from their particular role with respect to men; it also seeks to guarantee equitable access to services such as specialized education about the forest (knowledge of legislation, good environmental and energy practices, etc.), land and financial or investment credit. Specifically, the following MAPs were included with the objective of strengthening women's capacities: sustainable production systems, sustainable forest management, rooting policies, development of capacities for environmental regulation, control, monitoring and penalization. In all cases, the policies are aimed at strengthening the capacities of women in their communities.

Regarding the quantitative indicators disaggregated by sex, in general, there was greater participation of women when it was for spaces for reflection and socialization. However, when the call was related to training on productive alternatives or issues related to payment for environmental services and was directed to indigenous communities and disadvantaged sectors, the minimum objective of 30% of women's presence was reached, but the difficulty that these women (indigenous and rural) have for active participation in spaces of these characteristics continues to be visualized, possibly due to the burden of care tasks and responsibilities around their homes.

When it came to participation in technical training spaces, although a minimum of 30% of women's participation was sought, in most cases, women outnumbered even the number of male participants.

Regarding the inclusion of indigenous communities in the Project cycle, FAPI representatives have been constantly participating in the Project Committee itself.

The expansion of participation to include the voices of other indigenous communities (13 indigenous peoples in total in the country) should have been led by INDI as a member of the Technical Committee, but no efforts were made in this regard.

The referents of indigenous peoples and communities have stated that, although they are currently convened by the State, donors and NGOs for the different processes of design, socialization and validation, most of the times this happens, specific characteristics and situations of this particular group are not taken into account, which require an adaptation in terms of the way of communicating and the timing of the processes.

Regarding MADES and UNDP, referents of indigenous organizations have stated that relations have not always been positive, but that a relationship based on trust and respect has been built (especially UNDP) based on the fulfillment of objectives and expectations both in the BCS Project and in previous projects related to environment and sustainability.

In terms of its linkage with the BCS Project, one benefit has been to materialize the strategy with the linkage of forest monitoring and reference levels, as well as the awareness and application of safeguards. Beyond the advances, several challenges remain to be faced that transcend the Project's actions and should be considered, for the implementation of the ENBCS such as:

? A definition of carbon rights and a possible REDD+ benefit sharing scheme for the different relevant stakeholders,

? Achieving greater involvement of the agricultural and livestock sector, two very important sectors due to their relationship with USCUSS and land tenure, both determining factors for the creation of a benefit sharing system to be defined. In the last four years, important results have been generated that will serve as a basis for the generation of public policies to strengthen environmental management and promote sustainable growth. The actions of the Forests for Sustainable Growth project will continue with the implementation of the various initiatives that are currently underway and with those that will be initiated as a result of the products generated by the project. Initially, the project will have continuity with the arrival of the REDD+ results-based payments project in Paraguay that will be implemented by UNEP in coordination with other UN agencies.



Recommendations
1

1: Recomendaciones para una efectiva Comunicación para el Desarrollo:

Se recomienda promover mecanismos de comunicación entre todos los actores implementando la propuesta de Estrategia de Comunicación (ya desarrollada por el proyecto).Además, se sugiere la elaboración de material en lenguas nativas para lograr una mayor apropiación de los pueblos indígenas, incluyéndolos con respeto y transparencia para generar espacios de confianza y compromiso entre partes. Debido a las limitaciones respecto a las capacidades de lectura y escritura presentes en las comunidades indígenas, resulta necesario en algunos casos el uso de herramientas específicas como material audiovisual con una narrativa particular, para que el mensaje llegue a los destinatarios esperados de forma correcta.
En países donde existen bajos niveles de industrialización y la economía se caracteriza por una alta dependencia del sector primario, es necesario que los proyectos de REDD+ promuevan alianzas con los principales actores de este sector (ganadería, agricultura, minería, etc.). Existe un riesgo real de que, sin el apoyo de estos sectores vitales para el crecimiento y desarrollo económico del país, las iniciativas de REDD+ no logren la sostenibilidad deseada. Para propiciar el trabajo conjunto con estos sectores las estrategias que se aborden deben concentrarse en los objetivos e intereses en común, para luego, una vez establecido el diálogo y afianzados los espacios de trabajo, se puedan dar rondas de negociación que permitan un abordaje constructivo de la problemática.
La voluntad política es un factor preponderante y debe utilizarse a favor del proyecto. En este sentido, el PNUD y los responsables del proyecto deben lograr convencer a las autoridades del MADES que los productos generados por esta iniciativa son excelentes herramientas para implementar una política de REDD+ a nivel nacional, y con esto incrementar la imagen positiva de la actual gestión política. El PNUD y los responsables técnicos al interior del MADES deben demostrar al ministro que los riesgos políticos que implica el diseño de este tipo de estrategias ya han sido asumidos por la UGP, y que en esta instancia existe grandes posibilidades de apropiarse de los resultados.

2

Recomendaciones para incrementar las incidencia de futuros proyectos

PNUD se caracteriza por su rol de facilitador de espacios de diálogo, reflexión y convivencia. Es importante profundizar y afianzar estas capacidades a través de la generación de espacios donde participen actores claves de diversos sectores. Como ejemplo: se recomienda evitar actividades de planificación con actores clave, separándolos por área de pertenencia (sector público, privado, ONGs, pueblos indígenas, etc.) como se realizó durante la ejecución del proyecto, y potenciar los espacios de encuentro entre los mismos para generar empatía, construcción colectiva y transmisión de saberes.
Para lograr un impulso continuo en las iniciativas de REDD+ se recomienda promover procesos de selección al interior de la institución beneficiaria (en este caso el MADES) que faciliten la contratación de técnicos formados en la temática y que permanezcan una vez finalizada la ejecución del proyecto.
Para minimizar la recesión en la toma de decisiones sobre los procesos técnicos y operativos que el proyecto requiere causados por los cambios de autoridades, la UGP debe acompañar constantemente a los técnicos y a las autoridades del MADES, procurando mantener el interés de la institución para lograr la continuidad de las actividades.

Para maximizar el impacto de las actividades de REDD+ que en la actualidad llevan a cabo actores públicos y privados, se recomienda fortalecer los procedimientos de coordinación entre las instituciones públicas relevantes. Para esta tarea podría ser el MADES quien se encargue de ordenar los esfuerzos velando por la correcta implementación de la ENBCS. Para ello, se necesita una decisión política firme, que otorgue al MADES el rol de implementador de la ENBCS y le brinde los recursos necesarios (financieros, tecnológicos y de personal) para asegurar un adecuado cumplimiento de esta tarea.

Puede analizarse la opción de incluir entre las actividades del equipo ejecutor, la elaboración de documentos estratégicos, ya que en la práctica han demostrado trabajar con mayor eficiencia y calidad que algunas de las empresas externas extranjeras contratadas. Resulta necesario sistematizar las consultorías que han generado productos clave, por año, consultor, temática, entre otros criterios de importancia, para que los actores relevantes tomen conocimiento de estos productos y puedan ser utilizados para fortalecer capacidades. Es necesario mejorar la disponibilidad de información y comunicar mejor su existencia y los principales resultados, para lograr un mejor aprovechamiento de las consultorías realizadas.

La actual crisis sanitaria deja como aprendizaje la necesidad de insertar un análisis de viabilidad y riesgos, así como una matriz con estrategias de contingencia, en todos los proyectos que el PNUD elabore.