Terminal Evaluation of the Fifth Operational Phase of the GEF-Small Grants Programme in the Philippines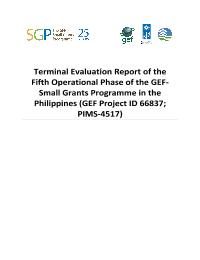 Evaluation Plan:

Evaluation Type:

Final Project

Planned End Date:

06/2018

Completion Date:

12/2020

Status:

Completed

Management Response:

No

Evaluation Budget(US $):

50,000
Title
Terminal Evaluation of the Fifth Operational Phase of the GEF-Small Grants Programme in the Philippines
Atlas Project Number:

66837

Evaluation Plan:
2012-2018, Philippines
Evaluation Type:
Final Project
Status:
Completed
Completion Date:
12/2020
Planned End Date:

06/2018

Management Response:
Yes

Focus Area

:
Corporate Outcome and Output (UNDP Strategic Plan 2018-2021)

1. Output 1.4.1 Solutions scaled up for sustainable management of natural resources, including sustainable commodities and green and inclusive value chains
2. Output 2.4.1 Gender-responsive legal and regulatory frameworks, policies and institutions strengthened, and solutions adopted, to address conservation, sustainable use and equitable benefit sharing of natural resources, in line with international conventions and national legislation

SDG Target

14.2 By 2020, sustainably manage and protect marine and coastal ecosystems to avoid significant adverse impacts, including by strengthening their resilience, and take action for their restoration in order to achieve healthy and productive oceans
15.4 By 2030, ensure the conservation of mountain ecosystems, including their biodiversity, in order to enhance their capacity to provide benefits that are essential for sustainable development

Evaluation Budget(US $):

50,000

Source of Funding:
Evaluation Expenditure(US $):

50,000

Joint Programme:
No
Joint Evaluation:

No

Evaluation Team members:

| Name | Title | Nationality |
| --- | --- | --- |
| Hari Ramalu Ragavan | International consultant | INDIA |
| Rafael E. Camat Jr. | National consultant | |

GEF Evaluation:

Yes

| | |
| --- | --- |
| GEF Project Title: | Fifth Operational Phase of the GEF-Small Grants Programme in the Philippines |
| Evaluation Type: | Terminal Evaluation |
| Focal Area: | Multifocal Areas |
| Project Type: | FSP |
| GEF Phase: | GEF-5 |
| GEF Project ID: | 4338 |
| PIMS Number: | 4517 |

Key Stakeholders:
Department of Environment and Natural Resources, Biodiversity Management Bureau
Countries:

PHILIPPINES
Lessons
1.

It is a must that a data base be developed and put in place to monitor project accomplishments. Design of the database should respond to a well-developed Monitoring and Evaluation tool which should be based on the Theory of Change and Results Based Monitoring and Evaluation. The usual use of the Microsoft Excel program is not adequate to help project management to track the progress of accomplishments for multi small grants as evidenced in the constant changes in the accomplishment figures of the project.



2.

Total Economic Valuation for Ecosystems Services as tool, is too complicated for community users to understand and use in their management planning. TEV at community level should be orientation level the aim of which is for them to appreciate use of it as a guide for planning.



3.

Grantees are very poor in writing project proposals and project reports. This is evidenced by the fact that despite the simplified template for the Terminal Report, more than 50% of the grantees still had to be handheld in preparing their reports. More than anything, this is a question of capability/skills on the part of the grantees.



Findings
1.

SGP remains relevant:

a. National targets and international commitments; b. Civil Society can greatly contribute to meeting targets and SGP provides avenue for it; c. In the Philippine context where the accountability of NGOs is in question, SGP provides an opportunity for CSOs, the genuine ones at least, to disprove accusations of corruption; d. SGP provides opportunities for CSOs to assert "participatory development".



2.

SGP5 in the Philippines proved strong in social inclusion, showing that biodiversity conservation is everybody's work and for everyone's benefit:

a. Women, youth and children; b. Indigenous People; c. It has potential to include more, e.g., elders, PWDs, urban poor; d. It can also include other professions that are not normally included: accountants, medical workers, engineers, food servers, etc.



3.

There are a number of good things about the design: a. As stated, how it contributes to national targets and global benefits is clear; b. It scales up the work of SGP from scattered and independent small projects to landscapebased synergistic community of projects; c. It adopts the Grant Maker Plus strategy that gives emphasis to KM and capability-building .



4.

However, there are aspects of the design that could have been better: a. Some targets are too ambitious i. Target landscapes are too large (400,000 ha). While the projects exceeded the target, it is submitted that this is so only because of the legal instruments that covered such expanse. However, there are no actual interventions that took place in all of them. ii. Targeting replication projects is not apt. Replication should only happen when a past project already shows at least a color of sustainability – something that cannot be determined after only 1-2 years of implementation; b. The management is too complicated; c. Uncertainties in the design caused delays i. RP was not identified – the procurement process took too long ii. Landscapes were not identified, the priority sites are too large d. The M&E was not well-designed.



5.

SGP5 was able to fulfil and even exceeded much of its targets



Recommendations
1

In the production landscape, biodiversity mainstreaming has focused primarily on improving and changing production practices to be more biodiversity friendly with a focus on sectors that have significant biodiversity impacts (agriculture, forestry, fisheries, tourism, and extractives). In the future, mainstreaming must go beyond that by; a). Developing policy and regulatory framework that provides incentives for biodiversity-friendly land and resource use, b). Spatial and land-use planning should ensure that land and resource use is appropriately situated to maximize production without undermining or degrading biodiversity, and c) Pilot an array of financial mechanisms (certification, payment for environmental services, access and benefit sharing agreements, etc.) to provide financial incentives to actors to change current practices that may be degrading biodiversity.

2

DENR should take action to ensure that all co-management plans developed under SGP5 have complete signed agreements in some form and to monitor its progress in a timely manner. The ownership of the initiatives by the community will be greatly enhanced and sustainability is more likely to happen. The co-management must be institutionalized within NIPAS to ensure real implementation of such options of management of protected areas.

3

The co-funding requirement could be made more specific or included so that the grantees and implementing agencies can plan early on and monitor this closely. This could be in the form of more investment on the part of other line agencies/departments in environment related outcome or large private sector investment on a landscapes production or other donor funding. At the moment the co-funding requirement is at the grantee level and the obligation is on the grantees to obtain this. The implementing agencies should be doing this under the cross cutting activities.

4

Enforcement activities are part of management of PAs. Stakeholders are increasingly concerned with the slow response by the authorities for reported violation committed within the PAs/ LCAs. There is a need to focus or increase the enforcement activities by grantees as part of their objectives and targets within the project, a mechanism which would provide quick response to reported violations between authorities and the stakeholders should be set up and more stakeholders should be deputized and properly equipped and funded for patrolling and enforcement activities by LGUs and local police and perhaps, SGP7 should consider this in the scope of project proposals. This should encourage innovative and effective enforcement of PAs management.

5

The separation of funds for grants and cross cutting activities should be decided at the design stage so that the grant giving out process and timing can be managed earlier and progress can be monitored sooner. This should also provide better planning for cross cutting activities and work plans.

6

Multiyear work plan must be created at the design stage so that the project management team and NSC have a basis for activities planning early on. It should serve as guide for budget management, progress reporting and risk management.

7

The National Steering Committee should not be chaired by NPD. It should be chaired by the DENR's undersecretary or persons delegated who preferably is of higher position than the NPD in the implementing agency. This is important for separation of powers and accountability. NPD should be responsible in reporting the progress of the project to NSC with the support of the CPM. NPD is the single responsible person on behalf of the implementing agency for the project and should not be chairing the NSC meeting.

8

Project Management Unit should have monthly meetings with properly accomplished minutes of meeting and should be chaired by the National Project Director. This meeting should be attended by project staff, NPD and the relevant officers from the implementing agency and UNDP. This meeting is important to identify issues, monitoring project risk and progress and to follow up matters arising at the NSC meetings. It is also suggested that the CPM should be invited to attend BMB management meetings so that sharing of information will be to all operating units of BMB and not just limited to focal persons assigned to SGP.

9

The project must have a communication plan at the design stage as part of the cross cutting activities. This is crucial so that the PMU can develop the work plan for delivering the communication plans output in timely manner.

10

SGP7 should seriously consider promoting the strategic grants to capable NGO/CSOs who would access SGP7. There were many grantees who expressed that the $50 thousand maximum amount per grantee may not be sufficient for effective implementation of project goals and targets for landscape projects.

11

As part of the project's monitoring and evaluation system, assessment on knowledge, attitude and practices (KAP) among targeted communities and relevant NGOs and agencies should be done before and after the implementation of activities on awareness and capacity building. This is to determine the project's impact on awareness and capacity building on the values of biological resources among the project stakeholder.

12

GEF Focal Point Philippines should continue with the next phase of SGP7. SGP-5 has built a solid case for community participation in biodiversity conservation by providing concrete examples of the various roles that communities play in biodiversity protection and management, and sustainable use. National GEF Steering Committee should conduct active and inclusive participation of all stakeholders to decide the scope and approach to be taken. The relevant objectives and targets in 2015-2028 Philippine Biodiversity Strategy and Action Plan (PBSAP) that relates to communities should be the starting point for discussion.

13

The landscape approach should be continued because it provides focus and monitoring on specific environmental problems, clear goals and partnerships and indicators and targets. This is relevant either way for single or multi-focal areas for SGP7 implementation. It is also recommended that some of SGP5 activities that have shown good results should be continued in SGP7. Two years of implementation is not enough to address all the problems and threats to biodiversity.

14

The standard UNDP M&E approach is not adequate to capture what is really being accomplished at the project level. SGP7 must apply theory of change to identify the problems to be addressed and the corresponding objectives, outcome, output and activities to be framed for implementation and monitoring. The SGP5 developed M&E manual has introduced the use of the Theory of Change (ToC) in combination with Results Based Monitoring and Evaluation (RBME) at the project and program level. This can be used in developing the M&E for SGP 7. A ToC if done right captures the logical and plausible causal link between inputs to activities to outputs to outcomes. In RBME one monitors for efficiency-the delivery of inputs and conduct of activities to generate outputs, and evaluates for effectiveness- the concomitant generation of outputs, the use of these outputs to produce outcomes and emerging impacts.

15

As one of the upgraded countries under SGP, Philippines should consider NIM implementation with UNDP support. However, since there are only two options provided in the SGP guidelines and NIM is not one of them the current RP of SGP5 should be considered as possible implementation partner. It has the tract record and experience in implementing small grants project even prior to their engagement in SGP5 as RP and the institutional memory of what has been done and accomplished in SGP5 which would help facilitate implementation of SGP7.

16

Delayed signing of agreements, approval of tenure instruments and other management concerns has caused delays in the smooth implementation of SGP5 and has also been experienced in previous SGP4. This risk should be addressed early on in the implementation of SGP7.

17

It is also recommended that mechanism for assisting potential grantees in writing project proposals should be put in place when the call for proposals shall be given for SGP7. Poor quality of project proposals has been one of the major causes of delay in grant approvals.