Disaster Risk and Energy Access Management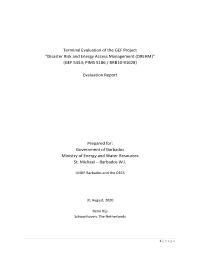 Evaluation Plan:

Evaluation Type:

Final Project

Planned End Date:

12/2019

Completion Date:

11/2020

Status:

Completed

Management Response:

No

Evaluation Budget(US $):

25,000
Title
Disaster Risk and Energy Access Management
Atlas Project Number:

82952

Evaluation Plan:
2017-2021, Barbados
Evaluation Type:
Final Project
Status:
Completed
Completion Date:
11/2020
Planned End Date:

12/2019

Management Response:
Yes

Focus Area

:
Corporate Outcome and Output (UNDP Strategic Plan 2018-2021)

1. Output 1.5.1 Solutions adopted to achieve universal access to clean, affordable and sustainable energy

SDG Target

7.1 By 2030, ensure universal access to affordable, reliable and modern energy services
7.2 By 2030, increase substantially the share of renewable energy in the global energy mix
7.b By 2030, expand infrastructure and upgrade technology for supplying modern and sustainable energy services for all in developing countries, in particular least developed countries, small island developing States and landlocked developing countries, in accordance with their respective programmes of support

Evaluation Budget(US $):

25,000

Source of Funding:
Project
Evaluation Expenditure(US $):

17,322

Joint Programme:
No
Joint Evaluation:

No

Evaluation Team members:

| Name | Title | Nationality |
| --- | --- | --- |
| Remi Rijs | Evaluator | |

GEF Evaluation:

Yes

| | |
| --- | --- |
| GEF Project Title: | Disaster Risk & Energy Access Management (DREAM): Promoting Solar Photovoltaic Systems in Public Buildings for Clean Energy Access, Increased Climate Resilience and Disaster Risk Management |
| Evaluation Type: | Terminal Evaluation |
| Focal Area: | Climate Change |
| Project Type: | MSP |
| GEF Phase: | GEF-5 |
| GEF Project ID: | 5453 |
| PIMS Number: | 5186 |

Key Stakeholders:
Countries:

BARBADOS
Lessons
1.

1. Although a Results Framework is built around deliverables (outputs), one should try to visualise also the underlying processes. The use of project planning software may be a useful tool to determine throughput times, bottlenecks and critical path. Experiences from the GEF CCM project portfolio indicate that expenditures in a first project year tend to be low (US$ 100,000 or less) and that smaller countries rarely expend more than US$ 400,000 annually. The lesson learnt is that project designers should define the throughput time of a GEF Project based on realistic parameters.

2. The time between DREAM Project concept and effective deployment was almost three (3) years. Long preparation and approval times undermine relevance of a project design and causes loss of momentum and continuity in the engagement with national partners. By the time DREAM became operational, several outputs were already completed with funding from other sources. An obsolete design severely reduces evaluability and attribution of results to a project. A lesson learnt is to keep project preparation processes as short and diligent as possible.

3. Lessons and experiences were discussed internally in the Ministry but not commonly documented and reported, as this is not a GOB priority and there is little spare capacity for this. To disclose lessons and make them available to UNDP and the GEF, more time would be needed towards Project closure, as well as funding of specific activities in this direction.

4. Long-term human resources on a project budget are not only a cost item but also the thrust behind a Project and creating value. The position of a Technical Officer or Technical Advisor is a good practice worth consideration by project designers.



Findings
Recommendations
1

As of June 2020, energy production data for the installed PV pilot systems were not made available and no physical verification of system operation and performance could be carried out. The Evaluator recommends an ex-post evaluation to assess operational aspects including O&M costs and validate energy yields, as well as the deployment of the shelters during an emergency situation.

2

Not all communities benefitted equally from the DREAM Project and not all those initially intended were reached. Instead of electricity bill savings flowing back to the GOB, a trust fund could be devised to collect revenues to cover O&M costs of installed PV systems and for implementing EE measures. The Evaluator would recommend the GOB to develop and evaluate proposals into this direction to enhance sustainability and impact.

3

As a good practice, first year programming should allow for proper planning, establishing the required relationships and communication / sensitization of relevant stakeholders, moreover when a due diligence process is required in preparation of investment.

4

Rather than developing the Project Component 2 from a training perspective, an small and medium enterprise development approach might have been more comprehensive to engage with the private sector. Given the small home markets in individual SIDS, the Evaluator would recommend MEWR and UNDP to seek opportunities to link the current achievements to business development programmes in Barbados and the broader Caribbean region to preserve momentum and also generate a sufficiently large market for qualified professionals.

5

National implementing partners are typically not trained in systematic monitoring, and data collection and analysis to this purpose is usually not their priority. It is recommended to UNDP/GEF to support implementing partners to deliver on M&E duties to meet UNDP and GEF guidelines. The most appropriate moments in the Project cycle are: design of the M&E Plan; Inception Workshop (IW); and first Project Implementation Report (PIR). In other words, it is recommended to enforce existing mandatory M&E and oversight procedures. In order to do so, UNDP and GEF should make available the necessary resources, either from the project budget or institutionally. The investment will pay off for the rest of a project's life and increase proficiency of project coordinators.