Environment Sensitive Project MTR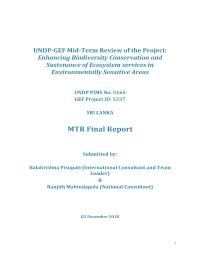 Evaluation Plan:

Evaluation Type:

Mid Term Project

Planned End Date:

12/2018

Completion Date:

12/2018

Status:

Completed

Management Response:

No

Evaluation Budget(US $):

16,000
Title
Environment Sensitive Project MTR
Atlas Project Number:

79607

Evaluation Plan:
2018-2022, Sri Lanka
Evaluation Type:
Mid Term Project
Status:
Completed
Completion Date:
12/2018
Planned End Date:

12/2018

Management Response:
Yes

Focus Area

:
Corporate Outcome and Output (UNDP Strategic Plan 2018-2021)

1. Output 1.4.1 Solutions scaled up for sustainable management of natural resources, including sustainable commodities and green and inclusive value chains

SDG Target

14.5 By 2020, conserve at least 10 per cent of coastal and marine areas, consistent with national and international law and based on the best available scientific information
15.1 By 2020, ensure the conservation, restoration and sustainable use of terrestrial and inland freshwater ecosystems and their services, in particular forests, wetlands, mountains and drylands, in line with obligations under international agreements

Evaluation Budget(US $):

16,000

Source of Funding:
GEF
Evaluation Expenditure(US $):

15,876

Joint Programme:
No
Joint Evaluation:

No

Evaluation Team members:

| Name | Title | Nationality |
| --- | --- | --- |
| Dr Balakrishna Pisupati | International Evaluator | INDIA |

GEF Evaluation:

Yes

| | |
| --- | --- |
| GEF Project Title: | Environment Sensitive Project |
| Evaluation Type: | Mid-term Review |
| Focal Area: | Biodiversity |
| Project Type: | EA |
| GEF Phase: | GEF-1 |
| GEF Project ID: | 5337 |
| PIMS Number: | 5165 |

Key Stakeholders:
Dept of forest conservation, Coast conservation dept, Mahawelia Authority of SL, Landuse policy planning dept, Dept of Irrigation, District Secretariat Offices, Central Environment Authority, Dept of National Planning, Provincial Dept of Agriculture, CBOs.
Countries:

SRI LANKA
Recommendations
1

Using the Technical Paper and supplementary studies, develop urgently a clear articulation of the ESA concept including the context, needs and criteria for identifying ESAs. Based on this, identify a workable number of ESAs with focus on sites, land use/suitability, socio-economic and environmental conditions.
Once identified, it is necessary to develop formal management plans for ESAs (consideration may be given to include community mobilization, stakeholder assessment and their responsibilities, participatory planning /management structures – perhaps taking lessons from co-management work of the Forest Dept.; baseline assessments of key species as indicators; developing management capacities; introduction of livelihood activities as needed or other incentives to offset any drawbacks due to ESA 'demarcation'; introducing participatory monitoring and evaluation etc.)

2

2. Since actions (a) and (b) are urgent pre-requisites for follow-up work, it is recommended that the project secures dedicated and regular technical assistance at least until these two tasks are accomplished. This may be a mix of technical assistance for natural resources management, social mobilization, negotiation and conflict management, land use planning, livelihood development etc.

3

Once the ESA concept is agreed upon, it is recommended that the Indicators in the Results Framework be critically reviewed to align them to the new ESA concept. It is also necessary to include appropriate indicators to evaluate gender-sensitivity in project interventions. At the same time, the Theory of Change too needs re-visiting.

4

Outcome # 1: The ESA Policy and inter-sectoral plan should be finalized after designating ESAs and their management options and key partners agreed upon. Similarly, a capacity needs assessment should be undertaken once the ESA Concept, criteria and management options are finalized.

5

Outcome # 2: Critical biodiversity habitats within ESAs will have to be identified after the ESAs are established; management options for integrating protected areas with the wider landscape will also need to be attempted after ESA identification. The home gardening component requires a clearer linkage to ESAs.

6

The Project's oversight bodies (PB, NSC) must meet more regularly and provide guidance to project implementation; their active oversight during the coming months when the new ESA concept is being finalized will be necessary. The Project may also consider using existing coordination mechanisms in the Divisions as an alternative to LMC. In addition, it is necessary to institutionalize a mechanism for closer coordination of like-minded projects and establish provincial fora for informing and discussing with senior government staff.

7

The National Steering Committee should formalize (i) data sharing mechanism between the relevant agencies as a matter of priority, as ESA determination will need data (including archaeological data) from many government sources; (ii) a mechanism to regularly review co-financing inputs from the partners, (iii) review the Terms of Reference of programmatic staff of PMU from the MoMDE to provide more dedicated time for project implementation and deployment of them more in the field to enhance project's visibility and ownership by GoSL, and (iv) review achievement of the Annual Work-plan at the end of the year.

8

Monitoring and evaluation of project implementation should be systematised; M&E should be based on the Results Framework, and M&E reports should be regularly developed and reviewed as a means of improving project implementation.

9

1. Outreach programme need to be re-designed after ESA identification and their management modalities are firmed-up; stakeholders may be required to be repeatedly briefed on the ESA concept and management updates. Given the novelty of ESA concept, special community mobilisation programmes should be considered; these should be well-structured so that community expectations are not unrealistically enhanced.

One key message from the project could potentially be that conservation and development could happen hand-in-hand and the willingness for people-centered management of environmentally sensitive areas could well be supported and promoted by the Government with full involvement of people

2. The concept of ESAs is relatively new to Sri Lanka but significantly important. The project needs to identify options for providing more visibility to the significant field work that is currently being undertaken to the larger audience, both within the country and outside

10

All project publications should be target-oriented; a clearing house mechanism should be established for ensuring technical rigour, branding standards etc..

11

Undertake a capacity assessment after ESAs are established and their management strategies are agreed upon so that a more focused capacity development programme based on the needs of the stakeholders could be launched. Also, it is recommended that all training programmes be evaluated post-event so that lessons can be developed for future programmes.

12

The inputs provided by the project partners and stakeholder groups for implementing the project are noteworthy and need to be formally recognized in order to increase the ownership of actions and providing better visibility and outcomes of the project.The inputs provided by the project partners and stakeholder groups for implementing the project are noteworthy and need to be formally recognized in order to increase the ownership of actions and providing better visibility and outcomes of the project.

13

Given the current status of the ESA Concept and that three years have lapsed, MTR is of the view that a no-cost extension of the project may be warranted in order to complete all activities to the required standards and realisation of outcomes. The period of the proposed extension can only be gauged after ESAs are identified and their management structures are in place.