TERMINAL EVALUATION (TE) OF THE SIXTH OPERATIONAL PHASE OF THE GEF SMALL GRANTS PROGRAMME IN BOLIVIA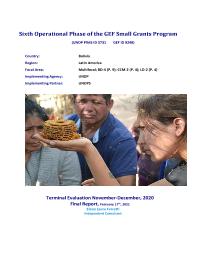 Evaluation Plan:

Evaluation Type:

Final Project

Planned End Date:

04/2021

Completion Date:

02/2021

Status:

Completed

Management Response:

No

Evaluation Budget(US $):

25,000
Title
TERMINAL EVALUATION (TE) OF THE SIXTH OPERATIONAL PHASE OF THE GEF SMALL GRANTS PROGRAMME IN BOLIVIA
Atlas Project Number:

101032

Evaluation Plan:
2018-2022, Bolivia
Evaluation Type:
Final Project
Status:
Completed
Completion Date:
02/2021
Planned End Date:

04/2021

Management Response:
Yes

Focus Area

:
Corporate Outcome and Output (UNDP Strategic Plan 2018-2021)

1. Output 1.4.1 Solutions scaled up for sustainable management of natural resources, including sustainable commodities and green and inclusive value chains

Evaluation Budget(US $):

25,000

Source of Funding:
GEF
Evaluation Expenditure(US $):

15,548

Joint Programme:
No
Joint Evaluation:

No

Evaluation Team members:

| Name | Title | Nationality |
| --- | --- | --- |
| Elena Laura Ferretti | Consultant | |

GEF Evaluation:

Yes

| | |
| --- | --- |
| GEF Project Title: | TERMINAL EVALUATION (TE) OF THE FIFTH OPERATIONAL PHASE OF THE GEF SMALL GRANTS PROGRAMME IN BOLIVIA |
| Evaluation Type: | Terminal Evaluation |
| Focal Area: | Multifocal Areas |
| Project Type: | FSP |
| GEF Phase: | GEF-6 |
| GEF Project ID: | 9248 |
| PIMS Number: | 5731 |

Key Stakeholders:
United Nations Office for Project Services (UNOPS), Ministry of Environment and Water (Vice ministry of Environment, Biodiversity and Climate Change; Vice-Ministry of Forestry Management), Ministry of Land and Rural Development, Ministry of Culture and Tourism, Ministry of Productive Development and Plural Economy, National Institute of Agricultural and Forestry Research (INIAF), National Protected Areas Service of Bolivia (SERNAP), Community-based Organizations (CBOs)
Countries:

BOLIVIA
Lessons
1.

Effectiveness of the Landscape approach. Transitioning from implementing SGP nationwide to a territorial concentration, with transparent and participatory design and monitoring processes are susceptible of generating impact.



2.

Investing time and resources in project design means setting up for success. Accurate project design with a detailed and gender disaggregated collection of baseline data provides key inputs for monitoring questions to guide adaptive management.



3.

Gender mainstreaming is a process. It involves collecting data, identifying the right questions, introducing the idea in ways appropriate to the prevailing culture of rural, intercultural and indigenous groups, facilitating participation with innovative modalities so as to avoid increasing women's workloads and finally ensuring modalities to sustain progress once external support retires.



4.

The definition of indicators related with the agroecological management of sustainable production at community level should carefully consider the direct influence of the activities. Community work is carried out at the level of small integral agroecological production gardens which limits the possibility to cover large areas in terms of hectares.



5.

Successful monitoring allows to identify lessons learnt during implementation and not only at the end. The early identification of lessons learnt is a key input of adaptive management; this requires the development of appropriate tools not only to collect information and data but to immediately analyze them and inform decision-making.



6.

Continuous information to and coordination with government authorities is essential. Informing and coordinating with local authorities convert them into real partners and propulsive agents for stimulating planned activities. Information at higher Government level is essential even when involvement is minimal.



7.

Carefully analyze the capacity of expected GEF co-financing to effectively materialize. The most important expected co-financing from the EU was not received. When designing projects, careful attention should be paid to the effective commitments of especially large co-financing which: i) may be a key element of GEF approval and ii) may negatively impact on the project's implementation when it does not materialize.



Findings
1.

Project design is relevant and appropriate; it builds upon precedent experiences of the Small Grants Programme in Bolivia, widely valued among stakeholders and considers the new requirements of the landscape approach.



2.

The Project objective and the six outcomes are clearly formulated. There are 7 indicators at outcome level plus one indicator at objective level; various outcome indicators have multiple targets.



3.

Assumptions and risks within the PRF present a few shortcomings. While at outcome level, risks identified are pertinent, at objective level, the first risk reported - low capacity of communities to develop and coordinate projects in general and for the conservation and use of biodiversity in particular - constitutes the very underlying reason for the existence of the Project and cannot be included among risks.



4.

The Social and Environmental Screening Process (SESP) was carried out appropriately and concluded that the overall risk for the Project is Low.



5.

Project design included the participation of local actors in the most transparent and extensive way, with workshops held both in the capital city and in each one of the NPs-NAIMs. During design, strict coordination with SERNAP, the responsible entity for PAs and with staff of the Vice-Ministry of the Environment was continuous; concerned municipalities were also involved.



6.

SGP has been pioneering and highly recognized in mainstreaming gender equality and women's empowerment in every step of the program cycle. Resources are always devoted to support the most marginalized groups of the population, including women and especially indigenous women which are among the most vulnerable elements of the population.



7.

Project design envisaged collaboration with a number of complementary projects: i) the Bio-culture National Program, a joint initiative of the Ministry of Environment and Water and the Swiss Agency for Development and Cooperation for the sustainable management of biodiversity as a means to conserving ecosystems and contributing to the "Living Well" (poverty reduction) of indigenous people and rural communities in the Andean Region. SGP already collaborated with the Bio-Culture Project during OP5 in NAIM El Palmar and intended to continue during OP6; ii) the GEF Project "SFM Sustainable forest management in the transboundary ecosystem of the Great American Chaco – GEF Chaco", a regional project involving also Argentina and Paraguay to reverse land degradation and mainstreaming Sustainable Forest Management and Sustainable Land Management into polices and legal frameworks; iii) project "Managing environmental liabilities in protected areas and their influence on water resources", addressing issues related to the management of environmental liabilities in mining and hydrocarbon in and around protected areas. The Project is funded by the European Union (UE) and implemented by UNDP Bolivia; and iv) the EU strong collaboration was envisaged as the main co-financing partner.



8.

Adaptive Management is more than satisfactory. The Project has been implemented during a period of concurrent external difficulties; adaptive management has been applied consistently and, in a way, to avoid major disruptions.



9.

Interviews widely revealed that SGP Bolivia is recognized as a highly trusted party and its approach during OP6 has allowed an exceptional participation and empowerment of people. The nature of SGP is such that the participation of stakeholders is never an issue; however, the adoption of the landscape approach through the COMDEKS methodology has promoted a more effective way to involve all concerned parties in the design of the landscape/resilience strategies, opening the path to a continued and effective participation during all phases of the Project's cycle.



10.

The total Project budget amounts to USD 15,736,208 out of which USD 3,634,703 from the GEF and USD 10,451,505 as co-financing from different partners. AS GEF co-financing Implementing Agency, UNDP is responsible for the execution of the GEF resources and the cash co-financing transferred to the UNDP bank account. A fee of USD 113,568.11 for the specialized project cycle management service goes to UNDP. As implementing Partner, UNOPS takes responsibility for financial management, charging 6% fees for each transaction plus a fixed amount of USD 12.000 per year. Each quarter, UNOPS submits a cumulative financial report to UNDP, utilizing the One UNOPS system. The budget is translated into the UN ATLAS system used by UNDP and quarterly reconciliated.



11.

The co-financing contribution of the Government and UNDP have been honored as planned. UNDP contributed a larger amount through the Laboratorio de Recuperacion Temprana, utilizing the tools and capacities of this project to recuperate living conditions in areas affected by the fires. Funds were canalized through the private Fundacion del Banco Mercantil Santa Cruz and the Korean Cooperation. While the Project always maintained a close relationship with authorities at local level, especially with the decentralized service of SERNAP, the instability of the socio-political situation with turnovers of central government staff may have decreased the possibilities for further support.



12.

For the purpose of design, the monitoring plan is satisfactory; yet, it could have included an indication of possible risks associated with the different monitoring steps.



13.

Monitoring of the Global Environmental Benefits (GEBs) expected for biodiversity, climate change mitigation and adaptation, and sustainable land management is carried out through the Core Indicators Tables (which substitute the Tracking Tools). GEBs result from the synergistic implementation of community-based landscapes management initiatives and their aggregated longer-term impacts.



14.

Overall, the monitoring system established is satisfactory: it is able to early detect problems in the field and provide adaptive management, capture people's perception and lessons learnt, allow collection of detailed data and provides for an effective way to share costs, ensure coordination and complementarity of efforts: at Programme level between the monitoring consultant and resilience strategies consultant; at Project level among the three implementing NGOs of the three resilience projects per PA. Considering the extensiveness of the areas under concern and travelling costs, community monitoring is an essential element of this system. In addition, PA's authorities periodically gather all NGOs working in their areas to supervise activities.



15.

The richness of data collected is undeniable; however, a highly satisfactory rating is not provided as data management deserves a more sophisticated system than the simple excel database used and possibly also the geo-referencing of the projects and systematization in a Geographical Information System. It is likely that Project's actors at different levels collect more data than those which are being effectively analyzed and used.



16.

As the GEF Implementing Agency, UNDP provides quality assurance and oversight services for SGP at global and country levels as well as value-added benefits as programme implementation proceeds in synergy with overall UNDP and UNDP CO programming. It provides high level technical and managerial support from the NDP Global Coordinator for SGP UPCs.



17.

The Social and Environmental Screening Process (SESP) developed at Project design concluded that the overall risk for the Project was Low. The 2020 PIR under the SESP section reports the environmental and social risk associated with the extensive forest fires occurred throughout the Amazon region since August 2019, which involved the three large eco-regions of the Project, the Chaco, Chiquitanìa and Pantanal.



18.

The Project is approaching its end and is well set to reach its outcomes and objective.
As one of the SGP UPCs, SGP Bolivia during OP6 has adopted a community-based landscape approach to enhance and maintain socio-ecological resilience of target landscapes in the ecoregions of Chaco, Chiquitanía and Pantanal through design, implementation and evaluation of grant projects for global environmental benefits and sustainable development.



19.

The relevance of the Project is Highly Satisfactory. Relevance is undoubted both at design and with relation to the strategies of implementation chosen; activities respond to real needs of the population and of the conservation's purposes of PAs. Beneficiaries have been fully involved during all phases of the project's cycle and have directly prioritized actions; this ensures activities contribute to the sustainable use of natural resources, supporting government policies for the management of PAs, local governments' plans as well as providing productive alternatives to involved communities.



20.

The Project's effectiveness is Satisfactory. At the time of the TE, the Project reports coverage of 44.079 ha. under sustainable management in five NP- NAIMs and BZs against the target of 47,200 ha but with expectations to fulfill the target by EoP, considering that 13 small initiatives are still under implementation. Forest conservation and restoration activities and sustainable agricultural practices involved and benefitted 3.131 families in 150 farmer, indigenous and intercultural communities.



21.

Management is rated as satisfactory, with a great level of commitment and dedication of staff and an appropriate and professional coaching of CBOs and NGOs, project monitoring and stimulation of the production of outputs. In the PIRs, the Satisfactory rating has been a constant during implementation from all parties; the moderately satisfactory rating is found only once due to the initial moderate financial disbursement, which is absolutely functional of projects in their initial phases and which was promptly recuperated in the second year of implementation.



22.

The SGP landscape approach is based on the principle that global environmental benefits can be produced and maintained through community-based sustainable development projects. Sustainability is built into the Programme's design and approach and in the Resilience Strategies.



Recommendations
1

(A.1) Define a larger concept of resilience. Stakeholders are invited to reflect about the opportunity to include more communities and a larger territory in resilience strategies. The modality of working with three coordinating NGOs is sound if the territory is wide and communities diverse; otherwise, impact is inevitable but too circumscribed and the burden over a single community may result excessive. Although all small-grants have a built-in resilience component, all projects should be strategically linked to the resilience strategy in each PA; this would convey a more powerful message of resilience.

2

(A.2) Further enrich gender mainstreaming. The already well-conceived and well-applied gender mainstreaming can be further enriched by: i) assessing how current emergencies linked to forest fires and the COVID-19 pandemic have differently impacted on women and men; ii) identifying the underlying causes which facilitated or worsened gender access to resources and benefits; iii) identifying factors which may ensure the sustainability of benefits received by women once SGP support retires.

3

(A.3) Classify small-grants according to their real content. Small-grants initiatives should be classified trough a system led by the GEF SGP CPMT to ensure comparability around the world, especially when the multi-focal area applies. The classification of all resilience projects under the biodiversity focal area is misleading. The strengthening of capacities is treated as a separate area although all SGP grants are capacity development projects.

4

(A.4) Introduce technological innovations. NSC members should be able to receive proposals and comment online. This does not eliminate the need for presential meetings but can make processes more effective, less time and paper-consuming. An online library may be a useful tool for stakeholders to access documents and guidelines.

5

(A.5) Make full use of the financing opportunities offered by SGP. SGP Bolivia did not take advantage of the possibility offered to implement strategic projects up to USD 150.000. In addition, keeping the small-grants financing ceiling to USD 30.000 is not functional to impact, considering: i) the limited number of operating NGOs which means that this limitation does not go in benefit of a larger number of entities; ii) the high operational costs due to the remoteness and vastness of the areas concerned. Ways to enable CBOs to express innovative ideas which could be directly financed even outside an intermediary NGO and outside the complex bureaucratic legal requirements could be explored.

6

(A.6) Do not restrict work to Buffer Zones. Big and small cattle farmers operating inside a NP as in Otuquis should be considered targets; international experiences combining sustainable cattle raising and tourism could be explored.

7

(B.1) Improve the monitoring system. Social and specifically gender data are conspicuous, especially in resilience projects; data collected is richer than those which is being effectively analyzed and used. Systematizing and analyzing them is time consuming. Data management deserves a more structured system than the simple excel database used; the sophistication of the system should be appropriate to the objectives: i) feeding Core and PRF's Indicators; and ii) informing adaptive management to optimize resources and identifying the most vulnerable groups. Two additional improvements are: i) at least for the resilience strategy, the identification of a non-beneficiary control group for later comparability; and ii) the geo-referencing of projects into a GIS.

8

(C.1) Design an exit strategy together with NGOs. Resilience strategies are long processes requiring continuity and oversight. OP7 will not be able to sustain achievements in all areas of OP6; an assessment of the most promising activities requiring further support could be done to at least stimulate NGOs to continue assisting communities to strengthen their capacities to fully operate by themselves or to better articulate producers to the market. An EoP reflection could also stimulate a debate on how to make incidence in public policies to improve productive resources and sustainable management and strengthen the territorial connectivity and coordination within and across territories; this could help in scaling up initiatives and sharing lessons learnt, creating a baseline for discussion and stimulating a dialogue among PAs so that conservation, production, research, and defense of rights' recommendations grow into a strategy for all the PA system of Bolivia.

9

(D.1) Invest in Visibility and Communication. Visibility actions and material produced are often of good quality but they are not coordinated into a communication and knowledge management strategy, identifying formats according to targets and coherently developing different types of knowledge management products, both in Spanish and in English given the relevance each SGP has also for other SGP in the world. The SGP Global Knowledge Management (KM) and Communication strategy, also applicable to UCPs, should be the starting point for the development of a country specific KM and Communication strategy.