MID-TERM EVALUATION REPORT ON STRENGTHENING ACCESS TO JUSTICE AND HUMAN RIGHTS PROTECTION PROJECT IN TANZANIA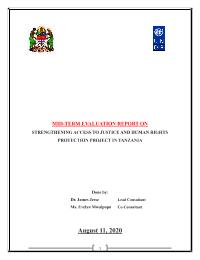 Evaluation Plan:

Evaluation Type:

Mid Term Project

Planned End Date:

08/2020

Completion Date:

01/2021

Status:

Completed

Management Response:

No

Evaluation Budget(US $):

50,000
Title
MID-TERM EVALUATION REPORT ON STRENGTHENING ACCESS TO JUSTICE AND HUMAN RIGHTS PROTECTION PROJECT IN TANZANIA
Atlas Project Number:

95421

Evaluation Plan:
2016-2022, Tanzania
Evaluation Type:
Mid Term Project
Status:
Completed
Completion Date:
01/2021
Planned End Date:

08/2020

Management Response:
Yes

Focus Area

:
Corporate Outcome and Output (UNDP Strategic Plan 2018-2021)

1. Output 2.2.3 Capacities, functions and financing of rule of law and national human rights institutions and systems strengthened to expand access to justice and combat discrimination, with a focus on women and other marginalised groups

SDG Goal

Goal 16. Promote peaceful and inclusive societies for sustainable development, provide access to justice for all and build effective, accountable and inclusive institutions at all levels

SDG Target

16.3 Promote the rule of law at the national and international levels and ensure equal access to justice for all

Evaluation Budget(US $):

50,000

Source of Funding:
Evaluation Expenditure(US $):

42,274

Joint Programme:
No
Joint Evaluation:

No

Evaluation Team members:

| Name | Title | Nationality |
| --- | --- | --- |
| Evelyn Mwaipopo | ms | |

GEF Evaluation:

No

Key Stakeholders:
Ministry of Constitutional and Legal Affairs (MoCLA),Commission for Human Rights and Good Governance(CHRAGG) and National Prosecution Services (NPS)
Countries:

TANZANIA (UNITED REPUBLIC OF )
Recommendations
1

Ensure availability of appropriate baseline data, realistic indicators, and targets

2

Ensure availability of appropriate baseline data, realistic indicators, and targets

3

UNDP should continue to provide financial support for awareness-raising activities about access to justice and human rights protection to justice sector, CSOs, women and other vulnerable groups.

4

UNDP and MoCLA to consider publishing the project achievements to popularize the project and receive feedback from beneficiaries and other external stakeholders, conduct more learning meetings to share lessons learned, challenges encountered and project achievements.

5

Ensure that funds are available immediately after the annual work plan is approved; UNDP, MoCLA, and CHRAGG, should convene a meeting with the Treasury to agree on how to fast track access to project funds

6

MoCLA, NPS, CHRAGG, and targeted CSOs should be supported to design an M&E system at the National, Regional, and District levels (where it may be deemed necessary to capture project success in terms of number and percentages)

7

UNDP needs to establish and maintain a dialogue with implementing partner and responsible parties, other donors, and CSOs to find solutions for the financial needs to sustain current and future A2J project activities.

8

The A2J project should consider the Police Force and Prisons Services as among key implementing/responsible parties: coordination meetings with them and Judiciary may be important to address any gaps within these institutions when the need arises.

9

Focus on a few manageable, tangible and impactful activities based on the availability of the funds.

10

Government of Tanzania, through the legal sector and School of Law to think of developing a curriculum/course purposely to prepare certified court language interpreters to maximize understanding of law and court proceedings for the wider benefit of the public and marginalized groups.

11

Future capacity building activities relating to improving access to justice should place more focus on enhancing the capacity of legal aid service providers at every region and district levels. UNDP and partners should map and collaborate with all CSOs which have programs on legal aid that empower and assist legal aid units and paralegals across the country. LSF and TLS are good examples.

12

To honour the gender aspects of the project, all project progress report should try as much as possible to capture sex disaggregated data which will help to measure the project success in terms of showing improved access to justice and better service by the justice and human rights institutions, and also showing the number of women in targeted districts bringing their cases to the formal justice system.