EF Conservación, uso sostenible de la biodiversidad y preservación de los servicios eco-sistémicos en humedales.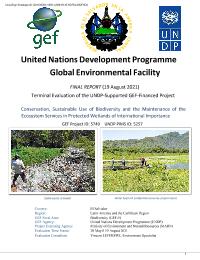 Evaluation Plan:

Evaluation Type:

Final Project

Planned End Date:

09/2021

Completion Date:

09/2021

Status:

Completed

Management Response:

Yes

Evaluation Budget(US $):

25,000
Title
EF Conservación, uso sostenible de la biodiversidad y preservación de los servicios eco-sistémicos en humedales.
Atlas Project Number:

88358

Evaluation Plan:
2016-2021, El Salvador
Evaluation Type:
Final Project
Status:
Completed
Completion Date:
09/2021
Planned End Date:

09/2021

Management Response:
Yes

Focus Area

:
Corporate Outcome and Output (UNDP Strategic Plan 2018-2021)

1. Output 1.4.1 Solutions scaled up for sustainable management of natural resources, including sustainable commodities and green and inclusive value chains

SDG Goal

Goal 15. Protect, restore and promote sustainable use of terrestrial ecosystems, sustainably manage forests, combat desertification, and halt and reverse land degradation and halt biodiversity loss

SDG Target

15.1 By 2020, ensure the conservation, restoration and sustainable use of terrestrial and inland freshwater ecosystems and their services, in particular forests, wetlands, mountains and drylands, in line with obligations under international agreements

Evaluation Budget(US $):

25,000

Source of Funding:
GEF
Evaluation Expenditure(US $):

22,000

Joint Programme:
No
Joint Evaluation:

No

Evaluation Team members:

| Name | Title | Nationality |
| --- | --- | --- |
| Vincent Lefebvre | Evaluator | |

GEF Evaluation:

Yes

| | |
| --- | --- |
| GEF Project Title: | Conservación, uso sostenible de la biodiversidad y preservación de los servicios eco-sistémicos en humedales. |
| Evaluation Type: | Terminal Evaluation |
| Focal Area: | Biodiversity |
| Project Type: | FSP |
| GEF Phase: | GEF-5 |
| GEF Project ID: | 5749 |
| PIMS Number: | 5257 |

Key Stakeholders:
MARN
Countries:

EL SALVADOR
Lessons
1.

(i) Project design and budget allocation:
The budget allocation at the project formulation stage was typically skewed as too optimistic without any period of low delivery corresponding to the project initial operationalization period (inception workshop, purchase of initial equipment - cars, recruitment of staff, baseline studies and consultants).
Most if not all projects experience an initial period of very low project activity that is not considered by project designers who plan for immediate delivery of activities; typically, the budget allocation will follow a linear or logarithmic spending curse; this is in contradiction with any real-world situation, which is why all projects experience major budget delays with reallocations during the second half of the project and need to accelerate delivery often at the expense of quality. This puts unnecessary pressure on project teams that are unable to follow up PRODOC results framework and work plans, inevitably leading to suboptimal delivery and systematic requests of project extensions. In a real situation, projects follow more of a sigmoid delivery curve as for this project
It is, therefore, necessary at the formulation stage to ensure development project implementation in real conditions with the inclusion of an extensive inception period to allow for initial project operationalization. This can have significant positive consequences as it will allow the project team to follow better the PRODOC framework with more logical activity sequencing and allow progressive delivery more in tune with reality.



2.

(ii) Enhancing municipality ownership
Municipalities have shown little interest in wetlands and the environment in general, and focus their main resources on the urban environment, even for small urban centres. This is despite extensive efforts calling for their participation in most on-site project activities without much feedback afterwards. The reasons may be multiple (political lines, insufficient collaboration with the central Government, lack of solidarity between municipalities) but financial resources remain key for mainstreaming any thematic – including environment -.
MARN (and other ministries) must operate a change of paradigm in its relationship with municipalities, by no longer viewing them as development aid recipients but as responsible partners that should be able to tap in resources (mechanisms can vary from direct funding to bidding as per common agreements). The appropriation will be all the easier if municipalities are at the forefront of local wetland environment strategies related to solid waste, and chemical container recycling among others.



3.

(iii) Addressing wetland degradation complexity
The complexity of wetlands biodiversity loss requires a multipronged approach based on multisectoral interventions at central and local levels: a programme approach to wetland degradation (that can also be viewed as resource-intensive agriculture in buffer zones, a poverty issue, urban sanitation and industrial problem) should be the result of an all-encompassing wetland strategy covering all productive and non-productive sectors, possibly the result of interinstitutional dialogue through a Wetland Round Table. This would clarify the need for action from relevant stakeholders (including ministries, municipalities, civil society, private sector) and orient donors accordingly.



4.

(iv) Intervention management structure (PCU – PMU)
Considering what was indicated above, whether project or program, the implementing structure must be strategically located to tap in relevant HR and access counterparts easily. This would require in the case of a project locating it under the Minister or under the GEF focal point for a GEF-funded project or as an ad-hoc structure under the prime minister in the case of a multisectoral programme.



5.

(v) Project governance:
The project governance mechanism through the Steering Committee was very much limited in terms of participation as it included most of the time only UNDP and MARN. These governance structures must be inclusive for the sake of transparency but also efficiency. Indeed, participating stakeholders are better aware of project status and more inclined to own results as they can provide an informed opinion on project conditions – on-site -.
It should have included at the very least (maybe as observers only) representatives of the civil society, several relevant Government sectors (including MAG but others as well), representatives of municipalities or municipal associations and relevant donors (e.g., JICA as a minimum).
Future project design must have more inclusive governance structures considering what was mentioned above.



6.

(vi) Role of UNDP
While UNDP did provide project oversight at steering committee level, ensuring administrative and financial compliance, there has been little evidence that UNDP facilitated interagency dialogue in this project, e.g., bridging gaps between MARN and MAG (or even MOPT). Neither was the lack of participation in steering committees reversed or at least flagged out. Both the review of documents and interviews have shown that it remained narrowly project-focused and procedural. One of the reasons (although there might others internally) might be the rotation of UNDP staff (4 officers during the project lifetime) that did not allow them time to build up network relationships to facilitate that process.
UNDP, as a multilateral agency, has a role to play at that level as it can call out national institutions for dialogue and promote relevant representativity and participation. This is even more important as MARN does not have the budgetary clout to significantly bend government action.



7.

(vii)Usefulness of baseline studies
Experience has shown that most baseline studies result in a long process often not finalised by MTR. Yet, these exercises have value only if integrated at project start-up.
UNDP needs to revisit the mechanism for initiating baseline studies, alternatively: (i) baseline studies should be integrated into PPG, with TRAC funds if necessary, meaning they would be ready at project signature, TORs drafted by the PPG team during formulation, (ii) baselines studies procurement should be initiated immediately after Government project signature through direct UNDP procurement (without project board approval / before PMU contracting), and be ready ideally 1 year after project signature, when the PMU is in place. This would require TORs integrated into the PRODOC beforehand.



8.

(viii) Project outreach and outputs spreading
As per MTR estimate, the project investment has been particularly low (e.g., US$/km²) – at least 10 times lower than other similar environmental interventions. While this may be all arbitrary calculations, there is no doubt that the given budget in relation to the project area has resulted in thinning out beneficiary participation. This was obvious with the limited selection of BPA beneficiaries and lack of follow-up (heightened up by COVID though) and the actual number of farmers that did adopt some BPA measures. This resulted in a very limited impact. The project formulation stage must balance (i) budget with enough funding to ensure some impact (ii) the number of outputs to ensure an integrated approach, and (iii) geographical coverage optimisation to ensure resource consolidation and impact.



9.

(ix) Project area and transport
The project at the formulation stage accounted for a reduced coordinating team. No specific transport was therefore included in the project. This is logical and most of the time, the implementing partner has all the logistics (often accounted for as co-financing) for the PCU. This project had a very reduced transport budget line and had to rely on MARN vehicles that are already under pressure for transport to project areas with issues of delayed or rescheduling of on-site meetings.
For projects requiring limited transport in isolated areas (making own personnel vehicle use, a delicate issue), the design stage of the project must accommodate enough funds for car rental.



10.

(x) MTR recommendations
While donors avoid logframe changes as much as possible, the MTR produced a series of relevant recommendations such as removal of the output on cormorant eradication, the need to review targets. These resulted in several adaptations that should have led to a more comprehensive review of the project. Several recommendations were implemented although it would have been a good opportunity to review the log frame and adjust it better to the reality.



Findings
Recommendations
1

(i) Project closure seminar
While there is no more time to devise an exit strategy, seminars are often organised to celebrate project closure but its primary function is to ensure that project information and knowledge is in the right hands. It is also a necessary exercise for MARN decision-makers to present/formalise how they are going to institutionalise project results (e.g., new budget lines for training, integration of some results in future donor-funded projects, plans to use project results for declaring new PAs).

2

(ii) Ensure follow-up of (BPA) micro-project initiatives and municipality initiatives
Given the absence of MAG in the Steering Committee, it is unlikely at this stage that it will take over even though they are well-tuned with training in good land husbandry techniques. That does not mean that MARN does not have the personnel. At the very least, one or two staff should be assigned part-time for the next 12-24 months to follow-up on beneficiaries and municipalities (e.g., monitoring habit of dropping empty containers to collection points and its follow-up by municipalities, assessing sugarcane growers and livestock breeders associations activities on BPA, assessing any multiplication effect for BPA that require little investment, checking Iberplastic collection centres operationality and whether dump trucks still collect solid waste in rural communities for committed municipalities). This could be done in a variety of forms: simple questionnaire and annual visit of all beneficiaries or free some time from park rangers to do such a survey quarterly with data transfer through newly equipped park rangers' premises as an addendum to their regular information reports.

3

(iii) JIT hyacinth eradication
Now that MARN is about to initiate a chemical and physical parameters' recording system and is already using a satellite imagery analysis system that monitors water bodies, it should develop it further and start planning removal campaigns that pinpoint when and where to remove most effectively and economically hyacinth. This should complement fish monitoring as to whether hyacinth removal is having an effect on fisheries recovery in El Jocotal / Olomega.

4

(iv) Support to municipalities
Solid waste removal campaigns are ineffective if there is no municipality commitment to set up a monitoring and enforcing system
- MARN should concentrate its efforts on the most proactive municipalities and reward them accordingly
- Contact should be made with municipality associations and propose institutional strengthening through FIAES as a strategy to create lobbying capacity to federate municipalities

5

(v) Capacity building
MARN must take advantage of environmental education material produced by the project and initiate/pursue large-scale environmental education campaigns in buffer zones. Interviews have shown that it is not on top of priorities (MARN and municipalities) and again a change of paradigm is necessary to ensure that financial resources are allocated for it on a more permanent basis.
Environmental education targeting children and adolescents through civil society organisations (RAMSAR Committee, ADESCOS, local NGOs) and schools, is one of the most effective activities (highest value for money) to create awareness and to achieve fundamental and sustained behaviour change.

6

Evalation finding: Both UNDP and executing partner (MARN) underperformed in relation to the support provided to the project: MARN support was insufficient with ad-hoc technical support – no assigned counterpart – and a difficulty to transform several draft outputs into final ones (e.g., interinstitutional agreements and reports/proposals remaining at draft stage). UNDP provided little steering in relation to its role as a facilitator at institutional level and custodian for transparency and openness (steering committees with under-representation of stakeholders).
Management Response Documents