Terminal Evaluation for Strengthening Targeted National Capacities to Improve Decision-Making and Mainstreaming Global Environmental Obligations into National Development Priorities (CCCD Project)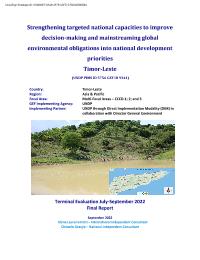 Evaluation Plan:

Evaluation Type:

Final Project

Planned End Date:

12/2022

Completion Date:

09/2022

Status:

Completed

Management Response:

No

Evaluation Budget(US $):

30,975
Title
Terminal Evaluation for Strengthening Targeted National Capacities to Improve Decision-Making and Mainstreaming Global Environmental Obligations into National Development Priorities (CCCD Project)
Atlas Project Number:

111339

Evaluation Plan:
2021-2025, Timor-Leste
Evaluation Type:
Final Project
Status:
Completed
Completion Date:
09/2022
Planned End Date:

12/2022

Management Response:
Yes

Focus Area

:
Corporate Outcome and Output (UNDP Strategic Plan 2018-2021)

1. Output 1.4.1 Solutions scaled up for sustainable management of natural resources, including sustainable commodities and green and inclusive value chains

Evaluation Budget(US $):

30,975

Source of Funding:
Global Environment Facility
Evaluation Expenditure(US $):

30,975

Joint Programme:
No
Joint Evaluation:

No

Evaluation Team members:

| Name | Title | Nationality |
| --- | --- | --- |
| Elena Laura Ferretti | International Consultant | |

GEF Evaluation:

Yes

| | |
| --- | --- |
| GEF Project Title: | Strengthening Targeted National Capacities to Improve Decision-Making and Mainstreaming Global Environmental Obligations into National Development Priorities (CCCD Project) |
| Evaluation Type: | Terminal Evaluation |
| Focal Area: | Multifocal Areas |
| Project Type: | MSP |
| GEF Phase: | GEF-2 |
| GEF Project ID: | 9341 |
| PIMS Number: | 5754 |

Key Stakeholders:
Ministry of Agriculture and Fishery and Secretary of State for Environment
Countries:

Timor-Leste
Recommendations
1

Consider using an online smart-sheet in managing UNDP projects and ensure fully documenting participation, including gender: UNDP CO manages a considerable number of projects through the DIM modality; an online smart-sheet could be used to allow systematic registration of project descriptions, work plans, outputs status, upcoming/outstanding activities and milestones and performance data; it would also be possible to upload and generate documents and reports; data on project participants and beneficiaries would be quickly available and could include the careful monitoring of the Gender Action Plan which is valid beyond the current CCCD projects with proper integrations

2

PRF Indicators to include gender and indigenous group indicators, specifically targeting the incorporation of traditional knowledge and gender-disaggregated environmental data.

3

Monitor the utility of the portals considering, among others: i) Visitors: individuals can be tracked by IP addresses, domain names and cookies; ii) Hits: number of single actions on the site or site section as it is recorded by the web server; iii) Page: count any document, dynamic page or form visited in a valid session; iv) Page view: hits to files designated as pages; v) Forum: number of topics posted and number/frequency of threads; vi) Knowledge base: number of documents downloaded

4

Consider a no-cost extension of the Project. Delay materialized for the initial late hiring of the PC, later for the occurrence of the COVID-19 pandemic and for the difficulties in hiring appropriate national consultants. A project extension of about 3-6 months is suggested, according to funds availability to ensure development of the financial strategy (key for sustainability), completion of certain activities and documentation of lessons learned (to be noted that this possibility was already discussed but the UNDP management did not take action on time to respect the 6 months deadline before Operational Closure).

5

Environmental indicators and Monitoring Plan to be adapted to local conditions: the incorporation of internationally accepted environmental indicators in NEIS and the Monitoring Plan must be adapted to the current capacity, with provision for gradual uptake of further indicators as suggested by international best practice, as resources are available, and gaps identified.

6

Ensure IT management of NEIS by: i) hiring IT resources for SSE to complement IT ANLA staff capacities; ii) ensuring the signature of the MoU between TIC and SSE identifying roles and responsibilities; iii) extending the contract with R2M to ensure troubleshooting, bugs fixing and training on a longer period.

7

Design an exit strategy to consolidate the Information System: establishing the system is only the starting point; to keep momentum, as a minimum there is the need to: i) identify users' roles and responsibilities for the management and maintenance of NEIS; ii) SSE to work on data entry to populate the information sections and explore NEIS' different features in order to identify gaps and problems; iii) ensure close collaboration between ANLA and SSE's municipalities staff to implement a semi-manual system for online environmental licensing applications; iv) conduct a Training Needs Assessment and design a Training Plan for the mid-term; v) ensure that training of staff go beyond data collection, i.e. instead of collecting rainfall pattern data and simply displaying it, ensure capacity to perform data analysis and link it to climate change and its impact on agriculture.

8

Government to take responsibility to train its staff in basic English: GEF funds should not be used to improve the basic capacities for the English language but only to improve environmental reporting capacities. It is also required than local English trainers are provided with induction courses on environmental and climate change issues.

9

SSE to strengthen its coordination and leadership role: i) although the lack of experts and the overwhelming demands of participation to a small group of experts and government representative is recognized, technical Working Groups (WG) are unavoidable in projects like this; it is necessary to train more staff and increase the capacity to delegate at technical level, keeping board and decision-making meetings to the minimum necessary; ii) ensure the signature of the MoA and the commitment of agencies to sustain the NEIS and the incorporation of Rio Conventions' principles in their sectoral plans; iii) ensure that newly acquired skills and knowledge are effectively utilized by keeping trained people in post; iv) further engage with MAF- Forestry Dept. to better support UNCCCD activities; v) further engagement with INAP and the Timor-Leste University to identify supports required for delivering specific environmental and climate change modules for civil servants' induction training; vi) as NEIS is a new feature in SSE, there should be efforts to increase its visibility and use for the general public.