Mid Term Evaluation- Governance and Economic Management Support, (2019- 2022),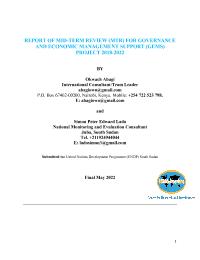 Evaluation Plan:

Evaluation Type:

Mid Term Project

Planned End Date:

03/2022

Completion Date:

05/2022

Status:

Completed

Management Response:

Yes

Evaluation Budget(US $):

40,000
Title
Mid Term Evaluation- Governance and Economic Management Support, (2019- 2022),
Atlas Project Number:

00120769

Evaluation Plan:
2019-2022, South Sudan
Evaluation Type:
Mid Term Project
Status:
Completed
Completion Date:
05/2022
Planned End Date:

03/2022

Management Response:
Yes

Focus Area

:
Corporate Outcome and Output (UNDP Strategic Plan 2018-2021)

1. Output 3.1.1 Core government functions and inclusive basic services4 restored post-crisis for stabilisation, durable solutions to displacement and return to sustainable development pathways within the framework of national policies and priorities

SDG Goal

Goal 1. End poverty in all its forms everywhere

SDG Target

1.2 By 2030, reduce at least by half the proportion of men, women and children of all ages living in poverty in all its dimensions according to national definitions
1.a Ensure significant mobilization of resources from a variety of sources, including through enhanced development cooperation, in order to provide adequate and predictable means for developing countries, in particular least developed countries, to implement programmes and policies to end poverty in all its dimensions

Evaluation Budget(US $):

40,000

Source of Funding:
country office
Evaluation Expenditure(US $):

35,000

Joint Programme:
No
Joint Evaluation:

No

Evaluation Team members:

| Name | Title | Nationality |
| --- | --- | --- |
| Okwach Abagi | Evaluation consultants- Team Leader | |

GEF Evaluation:

No

Key Stakeholders:
Government counterparts, development partners, CSOs, think tanks and beneficiary communities
Countries:

SOUTH SUDAN
Lessons
1.

1. Capacity building in public institutions needs advocacy and awareness raising, consensus on its meaning/scope, and effective management of stakeholders' expectations.
2. Success of a capacity building project, in a fragile state like South Sudan, requires more than just 'one time' (short-time) capacity injection in public institutions, but a "whole system" long term transformation, taking into consideration changing political and economic context of a country.
3. Once it is discovered that the original theory of change and assumptions are not true/realistic, it is critical for parties to consult and have open dialogue with key project stakeholders and partners, and revise the project design as soon as possible.
4. In a fragile environment, like in South Sudan, a continuous review and renewal of work plans is essential to ensure their relevance to program/project context. There is also need to have deeper understanding of the core drivers of peace and conflicts (risks) that could affect a project's success.
5. A transitional capacity building project or programme in public institutions through capacity injection approach requires strong political will and government ownership and leadership, commitment of financial resources and effective monitoring (creating an enabling environment for training and mentorship).
6. Recruiting and deployment of national professional and experienced technical experts (Special Skills Experts) is an effective capacity injection approach into public institution compared to 'jump-in' external/foreign short- and long-term consultants. The approach improves a sense of ownership and respect among the local civil servants.



Findings
1.

Relevance: Overall, the GEMS Project is relevant to South Sudan development context in general, and transformation of public service institutions in particular. The Project focus is on Chapter IV of R-ARCSS (resources, economic and financial management/reforms) through capacity injection into targeted public service is appropriate and useful.

Effectiveness: The total number of SSEs recruited for the project since inception to end of 2021 was 17 out of the targeted 70 in Governance, Service and Economic cluster MDAs. Three (3) of the recruited SSEs were women while the rest were men. By the time of the MTR, a total of 114 senior civil servants (Change Agents) were trained/mentored out of 800 targeted in Governance, Service and Economic cluster MDAs institutions. The use of South Sudanese SSEs was found to be excellent and an effective strategic model of capacity building in public institutions.1 The project has also supported the review and development of relevant policy and legal frameworks in targeted political and economic governance institutions, including the national curriculum for training civil servants, capacity building plans, Finance Management and Accountability ACT 2011 (amendment) Bill 2020, communication and networking mechanism for Ministry of Finance and Planning (MoFP) among others. The Project has also strengthened dialogue among political parties. The Political Party Council(PPC) was established to facilitate the role of registering political parties in the country and regulating the competitive multiparty democracy.

The GEMS project performance was affected by a number of factors. These include the slow pace of the implementation of the R-ARCSS, delay of the formation of the R-GoNU and the COVID-19 pandemic crisis. The donor conditionalities/decision to revise the project as originally designed because of the slow progress of the transition process and an effective, inclusive and accountable. R-TGoNU not being in place also affected the project performance/results.2 The Project management structures and approaches were found to be appropriate and together with the technical competence and experience, contribute to the effective implementation of the project in the 12 months it has been in operation.

Efficiency: The Project had a good budget of USD28,429,550 for the Project period. A significant portion (79.2%) of budgeted funds have not been delivered to UNDP by the donor as planned. This is because the planned activities were delayed for two years because of delay in the formation of the R-GoNU and plan by the donor to revise and change direction of GEMS in early 2021 (see Footnote 2). By the end of 2021, only $5,934,939.93 had been transferred by the donor to UNDP. Out of this, $4,561,495.60 had been spent on project activities during the same period. MTR established that in 2021, the original project budget was revised from USD28,429550 to 5,901,233.44. This is because, the donor had decided that it is going to fund only the project activities in the Economic cluster. The slow progress to political transition and not having an effective, inclusive and accountable R-TGoNU, seems to have made the donor arrive at the disicion that project results in governance cluster is untenable as was originally planned. Thus, had discussions with UNDP to develop a new project document with a reduced budget (and a new agreement between the parties was signed).

Sustainability: The Project Document identify the issue of sustainability as being part and parcel of the Project Strategy. The review of the GEMS Project and its capacity building strategies points out some sustainability measures. Currently, there is no capacity building programme that exist. However, there are signs that the success of the GEMS strategic approach has motivated other development partners, like World Bank, Africa Development Bank to become interested to support capacity building efforts in South Sudan, in particular at the PFM and Sectorial level, including support to Ministries of Health and Education.



Recommendations
1

Continuation with the GEMS Project focus and depth from a holistic and future looking perspective

2

Mainstreaming transformative institutional capacity building in the next UN Cooperation Framework for Sustainable Development

3

Rehabilitation of the National Public Service Training Centre: the government should be supported to rehabilitate the National Public Service Training Centre

4

Government of South Sudan prioritizing capacity building in its national plan: The government should be encouraged and supported to mainstream institutional capacity building into its development agenda (the next five-year national development plan), including clear articulation of resources required, government contribution, effective training model, and effective identification of strategic partners and the role of the private sector

5

Developing adaptive management and exit strategy: Based on the political, peace and security fragility of South Sudan, and on lessons from best practice, UNDP, in consultation with other stakeholders, should develop a clear comprehensive adaptive management plan and an exit strategy,
Management Response Documents
1. Recommendation:

Continuation with the GEMS Project focus and depth from a holistic and future looking perspective
Management Response:
[Added: 2022/06/06]
Agreed: UNDP South Sudan noted the recommendation and will continue to look for options for strategic capacity injection in political and economic governance institutions
Key Actions:
Key Action

Responsible
DueDate
Status
Comments
Documents

Initiate talks with other donors and development partners to support project extension




[Added: 2022/06/06]

RR/ and DRRP

2023/06

Initiated

Incorporate GEMS project lessons learned and results in the design of similar UNDP projects to reinforce the intervention for collective results




[Added: 2022/06/07]

DRR-P/ Governance Advisor, DGSU Team Leader

2023/12

Initiated
2. Recommendation:

Mainstreaming transformative institutional capacity building in the next UN Cooperation Framework for Sustainable Development
Management Response:
[Added: 2022/06/07]
Aggreed: UNDP will continue working with UN agencies and other partners to extend its leadership role in capacity building of government insinuations
Key Actions:
Key Action

Responsible
DueDate
Status
Comments
Documents

Advocate for and work with UN agencies, government, and other development partners to design a joint programme on capacity building, which will be mainstreamed in the next UNSDCF for South Sudan




[Added: 2022/06/07]

[Last Updated: 2022/06/13]

RR/DRRP /Governance Advisor

2024/12

Initiated

The due date is revised to fit in to UNSDCF period

History
3. Recommendation:

Rehabilitation of the National Public Service Training Centre: the government should be supported to rehabilitate the National Public Service Training Centre
Management Response:
[Added: 2022/06/07]
[Last Updated: 2022/06/07]
UNDP will advocate and look for other donors for supporting Rehabilitation of the National Public Service Training Centre
Key Actions:
Key Action

Responsible
DueDate
Status
Comments
Documents

Advocate for and support the rehabilitation of the National Public Service Training Centre




[Added: 2022/06/07]

[Last Updated: 2022/06/13]

DGSU team leader

2023/12

Not Initiated

History
4. Recommendation:

Government of South Sudan prioritizing capacity building in its national plan: The government should be encouraged and supported to mainstream institutional capacity building into its development agenda (the next five-year national development plan), including clear articulation of resources required, government contribution, effective training model, and effective identification of strategic partners and the role of the private sector
Management Response:
[Added: 2022/06/07]
UNDP South Sudan noted the recommendations and will support the government capacity building initiatives
Key Actions:
Key Action

Responsible
DueDate
Status
Comments
Documents

Dialogue with UN agencies and other development partners to support the government capacity building initiatives




[Added: 2022/06/07]

[Last Updated: 2022/06/13]

RR/DRR-P/Governance Advisor

2023/12

Initiated

History
5. Recommendation:

Developing adaptive management and exit strategy: Based on the political, peace and security fragility of South Sudan, and on lessons from best practice, UNDP, in consultation with other stakeholders, should develop a clear comprehensive adaptive management plan and an exit strategy,
Management Response:
[Added: 2022/06/07]
UNDP will prepare clear implementation plan that emphasise on the smooth transition of the revised GEMS project
Key Actions:
Key Action

Responsible
DueDate
Status
Comments
Documents

Engaging the government and developing clear and informative implementation plan for the remaining period of the project




[Added: 2022/06/07]

GEMS PM and DGSU team leader

2022/08

Initiated