Independent Country Programme Evaluation: Haiti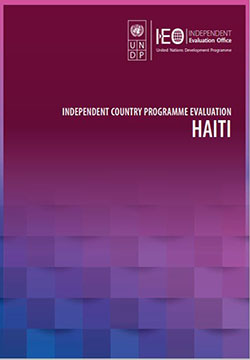 Evaluation Plan:

Evaluation Type:

ICPE/ADR

Planned End Date:

12/2020

Completion Date:

12/2020

Status:

Completed

Management Response:

Yes

Evaluation Budget(US $):

75,300
Title
Independent Country Programme Evaluation: Haiti
Atlas Project Number:

99905,90651,99802,92415,95226,106016,99803,109121,105580,79220,92199,76471,98311,84852,107538,81100,68002,104703,101615,84890,97737,91037,104020,106385,62058,102860,107533,99975,96183,69083,57026,78904

Evaluation Plan:
2018-2021, Independent Evaluation Office
Evaluation Type:
ICPE/ADR
Status:
Completed
Completion Date:
12/2020
Planned End Date:

12/2020

Management Response:
Yes

Focus Area

:

1. Poverty
2. Governance
3. Resilience
4. Sustainable
5. Energy
6. Others

Corporate Outcome and Output (UNDP Strategic Plan 2018-2021)

1. Output 1.1.1 Capacities developed across the whole of government to integrate the 2030 Agenda, the Paris Agreement and other international agreements in development plans and budgets, and to analyse progress towards the SDGs, using innovative and data-driven solutions
2. Output 1.1.2 Marginalised groups, particularly the poor, women, people with disabilities and displaced are empowered to gain universal access to basic services and financial and non-financial assets to build productive capacities and benefit from sustainable livelihoods and jobs
3. Output 1.2.1 Capacities at national and sub-national levels strengthened to promote inclusive local economic development and deliver basic services including HIV and related services
4. Output 1.2.2 Enabling environment strengthened to expand public and private financing for the achievement of the SDGs
5. Output 1.4.1 Solutions scaled up for sustainable management of natural resources, including sustainable commodities and green and inclusive value chains
6. Output 1.5.1 Solutions adopted to achieve universal access to clean, affordable and sustainable energy
7. Output 2.1.2 Capacities developed for progressive expansion of inclusive social protection systems
8. Output 2.2.2 Constitution-making, electoral and parliamentary processes and institutions strengthened to promote inclusion, transparency and accountability
9. Output 2.2.3 Capacities, functions and financing of rule of law and national human rights institutions and systems strengthened to expand access to justice and combat discrimination, with a focus on women and other marginalised groups
10. Output 2.3.1 Data and risk-informed development policies, plans, systems and financing incorporate integrated and gender-responsive solutions to reduce disaster risks, enable climate change adaptation and mitigation, and prevent risk of conflict
11. Output 2.4.1 Gender-responsive legal and regulatory frameworks, policies and institutions strengthened, and solutions adopted, to address conservation, sustainable use and equitable benefit sharing of natural resources, in line with international conventions and national legislation

SDG Target

1.1 By 2030, eradicate extreme poverty for all people everywhere, currently measured as people living on less than $1.25 a day
1.3 Implement nationally appropriate social protection systems and measures for all, including floors, and by 2030 achieve substantial coverage of the poor and the vulnerable
1.4 By 2030, ensure that all men and women, in particular the poor and the vulnerable, have equal rights to economic resources, as well as access to basic services, ownership and control over land and other forms of property, inheritance, natural resources, appropriate new technology and financial services, including microfinance
1.5 By 2030, build the resilience of the poor and those in vulnerable situations and reduce their exposure and vulnerability to climate-related extreme events and other economic, social and environmental shocks and disasters
1.a Ensure significant mobilization of resources from a variety of sources, including through enhanced development cooperation, in order to provide adequate and predictable means for developing countries, in particular least developed countries, to implement programmes and policies to end poverty in all its dimensions
10.3 Ensure equal opportunity and reduce inequalities of outcome, including by eliminating discriminatory laws, policies and practices and promoting appropriate legislation, policies and action in this regard
11.3 By 2030, enhance inclusive and sustainable urbanization and capacity for participatory, integrated and sustainable human settlement planning and management in all countries
11.5 By 2030, significantly reduce the number of deaths and the number of people affected and substantially decrease the direct economic losses relative to global gross domestic product caused by disasters, including water-related disasters, with a focus on protecting the poor and people in vulnerable situations
11.a Support positive economic, social and environmental links between urban, peri-urban and rural areas by strengthening national and regional development planning
11.b By 2020, substantially increase the number of cities and human settlements adopting and implementing integrated policies and plans towards inclusion, resource efficiency, mitigation and adaptation to climate change, resilience to disasters, and develop and implement, in line with the Sendai Framework for Disaster Risk Reduction 2015-2030, holistic disaster risk management at all levels
12.5 By 2030, substantially reduce waste generation through prevention, reduction, recycling and reuse
12.7 Promote public procurement practices that are sustainable, in accordance with national policies and priorities
12.a Support developing countries to strengthen their scientific and technological capacity to move towards more sustainable patterns of consumption and production
13.1 Strengthen resilience and adaptive capacity to climate-related hazards and natural disasters in all countries
13.2 Integrate climate change measures into national policies, strategies and planning
13.3 Improve education, awareness-raising and human and institutional capacity on climate change mitigation, adaptation, impact reduction and early warning
13.b Promote mechanisms for raising capacity for effective climate change-related planning and management in least developed countries and small island developing States, including focusing on women, youth and local and marginalized communities
14.4 By 2020, effectively regulate harvesting and end overfishing, illegal, unreported and unregulated fishing and destructive fishing practices and implement science-based management plans, in order to restore fish stocks in the shortest time feasible, at least to levels that can produce maximum sustainable yield as determined by their biological characteristics
15.2 By 2020, promote the implementation of sustainable management of all types of forests, halt deforestation, restore degraded forests and substantially increase afforestation and reforestation globally
15.3 By 2030, combat desertification, restore degraded land and soil, including land affected by desertification, drought and floods, and strive to achieve a land degradation-neutral world
15.5 Take urgent and significant action to reduce the degradation of natural habitats, halt the loss of biodiversity and, by 2020, protect and prevent the extinction of threatened species
15.9 By 2020, integrate ecosystem and biodiversity values into national and local planning, development processes, poverty reduction strategies and accounts
15.a Mobilize and significantly increase financial resources from all sources to conserve and sustainably use biodiversity and ecosystems
16.1 Significantly reduce all forms of violence and related death rates everywhere
16.3 Promote the rule of law at the national and international levels and ensure equal access to justice for all
16.6 Develop effective, accountable and transparent institutions at all levels
16.7 Ensure responsive, inclusive, participatory and representative decision-making at all levels
16.b Promote and enforce non-discriminatory laws and policies for sustainable development
17.1 Strengthen domestic resource mobilization, including through international support to developing countries, to improve domestic capacity for tax and other revenue collection
17.6 Enhance North-South, South-South and triangular regional and international cooperation on and access to science, technology and innovation and enhance knowledge-sharing on mutually agreed terms, including through improved coordination among existing mechanisms, in particular at the United Nations level, and through a global technology facilitation mechanism
17.9 Enhance international support for implementing effective and targeted capacity-building in developing countries to support national plans to implement all the Sustainable Development Goals, including through North-South, South-South and triangular cooperation
2.3 By 2030, double the agricultural productivity and incomes of small-scale food producers, in particular women, indigenous peoples, family farmers, pastoralists and fishers, including through secure and equal access to land, other productive resources and inputs, knowledge, financial services, markets and opportunities for value addition and non-farm employment
2.4 By 2030, ensure sustainable food production systems and implement resilient agricultural practices that increase productivity and production, that help maintain ecosystems, that strengthen capacity for adaptation to climate change, extreme weather, drought, flooding and other disasters and that progressively improve land and soil quality
4.4 By 2030, substantially increase the number of youth and adults who have relevant skills, including technical and vocational skills, for employment, decent jobs and entrepreneurship
5.5 Ensure women's full and effective participation and equal opportunities for leadership at all levels of decision-making in political, economic and public life
7.1 By 2030, ensure universal access to affordable, reliable and modern energy services
8.3 Promote development-oriented policies that support productive activities, decent job creation, entrepreneurship, creativity and innovation, and encourage the formalization and growth of micro-, small- and medium-sized enterprises, including through access to financial services

Evaluation Budget(US $):

75,300

Source of Funding:
Evaluation Expenditure(US $):

75,300

Joint Programme:
No
Joint Evaluation:

No

Evaluation Team members:

| Name | Title | Nationality |
| --- | --- | --- |
| Oanh Nguyen | Lead Evaluator | |
| Daniel Alonso Valckx | Associate Lead Evaluator | |
| Gedeon Djissa | Research Associate | |
| Gerard Chagniot | Evaluation Consultant | |
| Jempsy Fils-Aimé | Evaluation Consultant | |
| James Gasana | Evaluation Consultant | |
| Isnel Pierreval | Evaluation Consultant | |
| Oanh Nguyen | Lead Evaluator | |
| Daniel Alonso Valckx | Associate Lead Evaluator | |
| Gerard Chagniot | Consultant | |
| Jempsy Fils-Aimé | Consultant | |
| James Gasana | Consultant | |
| Isnel Pierreval | Consultant | |
| Gedeon Djissa | Research Associate | |

GEF Evaluation:

No

Key Stakeholders:
Countries:

HAITI
Recommendations
1

UNDP should strengthen its strategic positioning by elaborating a sound theory of change of its programme to allow better visibility of interventions and to facilitate communication and shared understanding with its partners. UNDP should also make efforts to expand the coverage and impact of its interventions by consolidating its partnerships and establishing new ones with other actors. UNDP must consolidate its integration with the BINUH using a single planning document and annual work plans according to the integrated strategic framework put in place, as well as revisiting coordination and management structure. UNDP must also strengthen coordination with the UN agencies around the strategic objectives of the joint programmes for greater visibility and changes induced.

UNDP should elaborate a sound theory of change to better articulate its priorities and highlight the results achieved. Programme initiatives should be designed with a deliberate emphasis on cross-sectoral linkage. Consequently, it should avoid spreading its action over a wide variety of projects which may lack thematic integration or synergistic complementarities. If the intention is to implement pilot projects whose results will be transformed into public policies or large-scale programmes, this should be adequately communicated and programmed. The programme must be designed taking into account the situation of recurrent political and institutional instability in Haiti. The political, social and health crises that the country is going through make programming complicated and require the country office to be able to rely on programmatic flexibility and contingency scenarios adapted to this environment in order to ensure its institutional resilience.

Institutional anchoring of UNDP at the public sector level is important. The programmatic approach must focus on providing strategic advice and supporting the Government to steer the development of the country. To have an impact on development planning and implementation, UNDP needs to strengthen relationships with key institutions involved. With donors, UNDP should refine and adapt its resource mobilization strategy, continuing to engage with traditional partners with whom it enjoys established credibility while also exploring other partnership opportunities and new international cooperation mechanisms such as the SDG fund. UNDP should also strengthen partnerships with civil society and private sector. The choice of partner institutions should be made on the basis of their capacity to have a lasting impact and to be able to respect performance contracts.

UNDP should support the establishment of a joint management structure (UNCT, ISF/Benchmarks technical working groups) and agree on responsibilities, decision-making processes and have an appropriate internal quality control system for effective accountability and oversight.

2

In terms of programmatic offer, UNDP responses should tackle the deepest structural challenges faced by the country, notably related to social cohesion, governance, economic vulnerabilities and disaster risks. UNDP must work primarily on technical assistance and training for the various partners, while continuing to focus efforts on activities that bring about change and generate a lasting multiplier effect. In addition, as several of the challenges are intergenerational, UNDP should strengthen its support to the youth including capacity development for effective participation in public life, as well as economic empowerment.

In the area of governance and the rule of law, UNDP should focus on technical support and advice to re-establish an environment of social peace on the path to sustainable development, offering opportunities for women and young people to participate in public life. The objective is to ensure the promotion of initiatives leading to transformations while taking into account the needs in terms of equipment and infrastructure by sharing costs with other donors and stakeholders for the provision of basic services and social cohesion. In view of this, UNDP must focus on the advancement of transformative normative frameworks in collaboration with the BINUH and the UN agencies.

The fight against poverty is a multidimensional and dynamic challenge. UNDP can draw inspiration from its projects to help the Government define transformational public policies. It must generate through multi-institutional advocacy the political will essential to achieve results. UNDP is creating its niche in pre-carious urban neighbourhoods through inclusive employment and economic empowerment projects. UNDP must quickly capitalize on this experience. UNDP could also strengthen its work on the themes of women's entrepreneurship and youth entrepreneurship for economic empowerment.

For a more integrated implementation of disaster risk management and climate change adaptation interventions going forward, UNDP should take an explicit resilience capacity-building approach in terms of: (i) Absorption capacity targeting exposed and vulnerable groups in risk awareness and prevention measures; (ii) Adaptive capacity for risk management including diversification of livelihoods and increased efficiency of energy consumption and improved climate-smart agricultural techniques and practices; and (iii) Transformation capacity including integration of climate change into sectoral strategies, scaling up of good practices on community disaster risk management, integration of disaster risk management into urban management, etc. This must be accompanied by actions aimed at safeguarding the country's natural environment, including the implementation of natural resource management approaches and practices

3

UNDP should continue to support capacity-building for partners with an emphasis on upstream and downstream project management to optimize the sustainability of the results obtained. It should strengthen planning, M&E mechanisms and support national partners in results-based management.

UNDP could consider developing a framework to determine what capacity-building means and to have a common understanding with the Government. This framework should include an assessment allowing to identify within a targeted ministry, the key units and mechanisms involved in the planning, budgeting and execution of the socio-economic development projects linked to the country's strategic plan and UNDP plan. For a better contribution to the country, development planning, UNDP should work with the planning unit of each target ministry. UNDP could also involve higher education institutions in a partnership to maintain a continuing education programme for government staff engaged in the planning and execution of the development projects.

Within the framework of the projects, UNDP worked mainly with central authorities. In addition to the authorities working upstream, it is recommended to work with local elected officials (mayors, municipal councillors), and municipal officials, but also local development partners of municipalities (NGOs, grassroots community organizations, etc.), and build their capacity for project management as well. In order for the theoretical knowledge acquired to be transformed into pragmatic actions, training must be followed by adequate post-training support for continuous learning, in particular during the implementation of local development plans. This support must be organized taking into account the specificities of each partner and the level of their skills in project management.

UNDP must also ensure that the design and execution of projects take into account the opportunities to strengthen the partner institutions and tackle the recurring conjunctural problems. In this regard, the duration of projects should be considered to allocate enough time for the most complex interventions. To address the problem of poor knowledge of project management procedures at the institutional level, UNDP can strengthen the training on its procedures and develop operational capacity-building training on project development, project management as well as results-based M&E

4

UNDP should strengthen its own M&E system so that it is able to provide data on the progress of results against targets for all defined indicators, and to generate in a timely manner the information on changes in terms of outcome and impact that are directly related to the UNDP contribution. It is important to integrate a knowledge management component into this system to bring the lessons learned from projects deemed innovative, from the local and regional levels to the levels of planners and political decision-makers in the country.

The current UNDP M&E system meets the minimum requirements for traditional reporting on project implementation. However, this system needs to be strengthened so that it can provide information based on concrete data and analysis on the outcome and impact or benefits of UNDP interventions in order to inform decision-making during programme implementation and maintain donor confidence. Also, it is desirable to readjust the results framework with outcome indicators articulated in a way that allows to capture the contribution of output results to outcome to allow assessing transformational changes. UNDP must pay particular attention to the importance of data collection through greater involvement of the M&E officers of the UN partner agencies in monitoring data analysis while implementing joint programmes.

UNDP should make an inventory and systematically capitalize on its experiences and results achieved in Haiti, identifying the areas where gaps exist. It is essential to consolidate the results and lessons learned from projects to optimize experiences and progress and continue the role of providing strategic advice on programmatic aspects. In general, theories of change appropriate for the respective thematic areas and projects as well as M&E systems should be designed in such a way as to encourage active learning. The knowledge thus gathered could be shared with national partners, project beneficiaries and the public through a user-friendly communication mechanism, with a greater emphasis on positive changes resulting from UNDP interventions.

5

UNDP should accelerate its efforts to strengthen the gender dimension of its programming and further support the structuration and capacities of women as agents of change which could bring a new dynamic in the consolidation of the social fabric and also the network of women's associations at the municipal level by bringing together all the potential public or private actors. UNDP should continue to advocate for the participation of women in governance and mechanisms for the consolidation of peace, social cohesion and the protection of women's rights, for example by promoting the active participation of women in community exchange structures or spaces for dialogue between the national police and the population.

UNDP should strengthen collaboration with civil society partners, especially feminist organizations. It must also continue efforts to support the economic empowerment of women. In the area of resilience, a participatory vulnerability assessment with particular attention to gender specificities could be useful in identifying key issues for gender equality and women's empowerment and to inform the choices of disaster risk reduction and climate change adaptation strategies for this vulnerable group.
Management Response Documents