Independent Country Programme Evaluation: Ecuador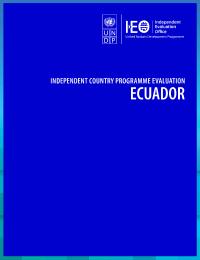 Evaluation Plan:

Evaluation Type:

ICPE/ADR

Planned End Date:

12/2021

Completion Date:

12/2021

Status:

Completed

Management Response:

Yes

Evaluation Budget(US $):

25,000
Title
Independent Country Programme Evaluation: Ecuador
Atlas Project Number:
Evaluation Plan:
2018-2021, Independent Evaluation Office
Evaluation Type:
ICPE/ADR
Status:
Completed
Completion Date:
12/2021
Planned End Date:

12/2021

Management Response:
Yes

Focus Area

:

1. Governance
2. Sustainable
3. Others

Corporate Outcome and Output (UNDP Strategic Plan 2018-2021)

1. Output 2.4.1 Gender-responsive legal and regulatory frameworks, policies and institutions strengthened, and solutions adopted, to address conservation, sustainable use and equitable benefit sharing of natural resources, in line with international conventions and national legislation
2. Output 3.2.1 National capacities strengthened for reintegration, reconciliation, peaceful management of conflict and prevention of violent extremism in response to national policies and priorities

Evaluation Budget(US $):

25,000

Source of Funding:
Evaluation Expenditure(US $):

25,000

Joint Programme:
No
Joint Evaluation:

No

Evaluation Team members:

| Name | Title | Nationality |
| --- | --- | --- |
| Eduardo Gomez Rivero | Lead Evaluator | |
| Juan David Gonzales | Associate Lead Evaluator | |
| Claudia Villanueva | Research Associate | |

GEF Evaluation:

No

Key Stakeholders:
Countries:

ECUADOR
Recommendations
1

UNDP should continue to capitalize on its positioning and added value in Ecuador, supporting the country in the identification, mobilization and execution of resources for the implementation of strategic interventions to address poverty reduction and the socioeconomic consequences of COVID-19, as well as upcoming fiscal and environmental challenges that pose a serious threat to social equity, biodiversity conservation and sustainable development.

UNDP has played a leading role in accessing and coordinating national and international actors to implement highly relevant interventions in Ecuador. However, for the new programme cycle, UNDP needs to leverage its experience and strategic positioning in terms of governance, elections, biodiversity conservation, natural resource management, climate change and the SDGs to strengthen and expand partnerships, mobilize public and private resources and deepen its focus on transformative development interventions for the country. In addition, it must continue to leverage its comparative advantages, especially in driving the sustainability of achieved and future results. It should undertake a review of factors affecting sustainability and an assessment of UNDP capacity to address them. It should maximize the benefits of integrating the specialized mandates of other United Nations agencies, similar to that done to tackle chronic child malnutrition, and reinforce efforts to seize the opportunities arising from working in collaboration with IFIs, such as with the World Bank to address social protection, youth and migration issues.

2

UNDP should adapt its office structure to the realities of the programme it implements. It should consider strengthening the programme and operations areas to allow for more realistic distribution of workloads, avoiding the risk of bottlenecks and delays, and continue to look after staff health and motivation.

Corporate calls to care for the physical and mental health of all office staff have been continuous since the start of the pandemic, and as it drags on, these calls have become more relevant due to accumulated fatigue, stress and psychological distress. The country office must maximize the opportunities arising from the 'People for 2030' strategy and promote measures that enable staff to achieve a better work-life balance, and increase motivation and job satisfaction. At the workload level, the office needs to undertake a thorough reflection and analysis covering processes, time requirements and staffing available for implementation in the context of its growing project portfolio and the new work realities arising from the pandemic. It should encourage the transition to full NIM to reduce the burden of internal processes. Likewise, it should exploit possibilities for operational improvement arising from the clustering process at corporate level. The office needs to assess and consider strengthening the areas of procurement, finance, human resources and M&E. It should also continue to decentralize administrative processes to project units to the extent permitted by internal regulations, optimize workloads at operations and programme levels and free up time for strategic advice and technical oversight of progress.

3

UNDP should leverage its unique strategic positioning on the environment to continue expanding and reinforcing biodiversity conservation, ecosystem management approaches, climate change interventions and the linkages between sustainable development, resilience and poverty reduction.

Leadership on environmental issues should allow for expanded synergies. The next programme should jointly focus on responding to the effects of the COVID-19 socioeconomic crisis on the most vulnerable sectors of the population and the global environmental crisis due to biodiversity decline and climate change and its impacts on Ecuador's various ecosystems and natural resources. Causal analyses of interventions and the specific characteristics of national ecosystems need to be deepened to prove project hypotheses, achieve more transformational impacts in terms of global environmental benefits, and increase effectiveness in meeting the challenges of climate change and biodiversity decline in Ecuador. UNDP should encourage and facilitate learning among projects. The next CPD should strengthen its indicator system and monitoring and sustainability strategies, to showcase its higher-level environmental goals and its inclusive approach, livelihoods promotion and contributions to poverty reduction. The environmental portfolio can also expand opportunities to apply nature-based solutions for DRR and resilience.

4

UNDP needs to build on the lessons and opportunities from the pandemic response to strengthen its programme offer and consolidate its governance and inclusive development area for greater effectiveness.

The experience and information derived from the PDNA should allow UNDP to make coherent programme adjustments for the new programme cycle. Internally, it must design a new theory of change, adapting it to the country's new reality and the UNDP vision and mission for Ecuador. This exercise should enable the consolidation of the area of governance and inclusive development. It should secure its emerging work on anti-corruption and explore the possibility of including complementary and highly relevant areas of work such as justice. In the electoral field, it must continue to strengthen technical capacities, extend the scope of action to future electoral processes at local level and promote the active participation of citizens and civil society to guarantee the sustainability of progress. The drive for sustainable economic development must seek impacts at public policy level and foster partnerships that enable poverty reduction, green recovery, the promotion of the circular economy and the economic inclusion of young people, women and vulnerable households dependent on the informal sector. Innovation should continue to be encouraged and seek to expand the partner ecosystem and move from local initiatives to far-reaching experiments anchored in the programme.

5

UNDP efforts and initiatives on gender should focus on policy impact, to address the structural barriers and root causes of gender inequality and contribute to changes in women's rights, gender norms and cultural values. In this respect, the country office should strengthen its programmatic focus on poverty, social inclusion, indigenous women's rights and young women's empowerment, drawing on lessons from current work in traditionally male-dominated sectors.

UNDP Ecuador must take advantage of its good institutional positioning to address the root causes of gender inequality and promote initiatives that engage public authorities and trigger cultural changes in favour of gender equality and women's empowerment. It has already started to do so at the sectoral level, but it needs to expand the lessons learned from these initiatives in traditionally male-dominated sectors to the rest of its spheres of action. UNDP should explicitly and effectively communicate the transformational changes and results achieved by its interventions on gender equality, to make its added value more visible to and acknowledged by external partners. The impact of the pandemic and the need for a gender-sensitive approach to poverty reduction and socioeconomic recovery requires UNDP to place gender equality at the centre of its interventions, thus serving as a programmatic catalyst to trigger changes in social protection, GBV, resilience, political and electoral rights, natural resource management and economic empowerment. UNDP must have a gender agenda beyond the framework of the next CPD to reflect that consolidating progress on gender issues requires structural changes and sustained work with a long-term vision, and have the monitoring and communication tools to provide evidence of progress. In addition, UNDP should continue strengthening the inclusion of vulnerable or traditionally excluded groups in its programmes.