Final Evaluation of the Project "Crisis Support for Solid Waste, Water Supply and Sewage Institutions in Aden and Mukalla Cities"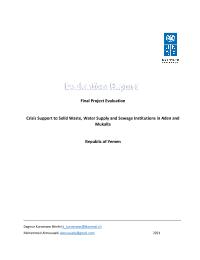 Evaluation Plan:

Evaluation Type:

Final Project

Planned End Date:

07/2021

Completion Date:

07/2021

Status:

Completed

Management Response:

No

Evaluation Budget(US $):

60,000
Title
Final Evaluation of the Project "Crisis Support for Solid Waste, Water Supply and Sewage Institutions in Aden and Mukalla Cities"
Atlas Project Number:

00114138

Evaluation Plan:
2019-2021, Yemen
Evaluation Type:
Final Project
Status:
Completed
Completion Date:
07/2021
Planned End Date:

07/2021

Management Response:
Yes

UNDP Signature Solution

:
Corporate Outcome and Output (UNDP Strategic Plan 2018-2021)

1. Output 3.1.1 Core government functions and inclusive basic services4 restored post-crisis for stabilisation, durable solutions to displacement and return to sustainable development pathways within the framework of national policies and priorities
2. Output 3.2.1 National capacities strengthened for reintegration, reconciliation, peaceful management of conflict and prevention of violent extremism in response to national policies and priorities

SDG Goal

Goal 16. Promote peaceful and inclusive societies for sustainable development, provide access to justice for all and build effective, accountable and inclusive institutions at all levels

SDG Target

16.6 Develop effective, accountable and transparent institutions at all levels

Evaluation Budget(US $):

60,000

Source of Funding:
Government of Japan
Evaluation Expenditure(US $):

23,800

Joint Programme:
No
Joint Evaluation:

No

Evaluation Team members:

| Name | Title | Email | Nationality |
| --- | --- | --- | --- |
| Dagmar Kunzmann Briefel | Ms | d_kunzmann@bluemail.ch | |
| Mohammed Almussaabi | Mr | almussaabi@gmail.com | YEMEN |

GEF Evaluation:

No

Key Stakeholders:
Countries:

YEMEN
Lessons
1.

Working on institution building along with rehabilitation has proved to be more effective than only providing equipment and rehabilitation. The organizational capacity building is the greatest guarantor for the development and continuity of the services of the target institutions.



2.

Including external related Government parties (Ministry of civil service, Ministry of legal affairs) in organizational capacity building workshops in governmental institutions is necessary in order to accelerate implementation later. These Ministries and other Government bodies are needed to sign off certain documents related to organizational change.



3.

Installing an official project standing committee that includes beneficiaries and local authorities for progress update, information exchange and guidance is necessary to enhance support from all parties. This committee or board should be different to the UNDP project decision making body.



4.

Holding capacity trainings in the evening hours had a negative impact on the participation of women. Women could not attend trainings held in the evening due to family obligations. By offering to hold trainings during regular work hours, the management is enhancing women in the work force and generally giving the capacity building training the necessary support and validation.



5.

In support of the WASH committees, engaging existing community committees that are supported by local authorities and have an official status might be easier than relying on a new nomination process. These committees already have community representation roles. Some outreach and awareness campaign might be necessary to ensure adequate representation of women.



Findings
1.

Finding 1: Stakeholders highlighted the positive results achieved under difficult circumstances, benefiting all the population, including vulnerable groups. The evaluators received positive feedback regarding the impact of the project in terms of cleaner streets, access to water and WASH facilities, better working conditions and the delivery of training courses that have helped staff to perform their tasks more efficiently.

Beneficiaries have demonstrated resilience and a keen interest to pursue this project, implemented at a critical time. The project team and partners successfully adapted to and addressed the huge challenges they faced. The targeted institutions expressed their satisfaction with the project modality and its long-term impact, combining the rehabilitation of infrastructure, the provision of equipment and organizational capacity building. International stakeholders emphasized that UNDP should continue to play an active key role in the humanitarian-development nexus in the WASH sector by providing institutional support to the CF and PCWS particularly with a view to moving towards a post-conflict development phase.

The flexibility and support of the project team, well prepared studies ahead of the project, good cooperation with the local authorities and the effective



Recommendations
1

A new project should follow-up with outputs of the capacity building work to deepen the impact of the achieved results. The institutions still need further support to implement the proposed guides, plans and structural changes. This includes a continued focus to empower women by providing further administrative and financial training and support their career development through additional capacity building. Another phase of the UNDP project would further enhance the impact achieved during the current project.

2

The project should include access for third person monitoring in a new project and enhance monitoring and evaluation (M&E). This could be achieved by providing for an M&E position in the project office. The Project Board should fulfill its oversight function as outlined in the project document. A wider range of stakeholders should be included in a different body that meets frequently to discuss progress and challenges.

3

UNDP should explore how to include more women tailored activities that are still accepted by society during the design phase through consultations with UNWOMEN, national women machineries[1] and national women led organisations. The experience of this project has shown that there is willingness to support women's empowerment within these institutions. It is worth exploring other ideas that are acceptable within the local context.

---

[1] National women's machineries (or "national machineries for women's advancement") are government offices, departments, commissions or ministries that provide leadership and support to government efforts to achieve greater equality between women and men.

4

Project activities should include an awareness raising campaign (messages on cleaning, rational use of water, paying for water to ensure sustaining the service) along with rehabilitation work. This will help to increase the engagement and responsiveness of the population in the waste management and water sector.