Midterm evaluation Catalysing Forest Sector project ETH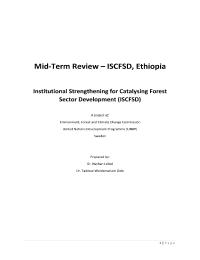 Evaluation Plan:

Evaluation Type:

Mid Term Project

Planned End Date:

10/2021

Completion Date:

12/2021

Status:

Completed

Management Response:

Yes

Evaluation Budget(US $):

55,000
Title
Midterm evaluation Catalysing Forest Sector project ETH
Atlas Project Number:

00112634

Evaluation Plan:
2021-2025, Ethiopia
Evaluation Type:
Mid Term Project
Status:
Completed
Completion Date:
12/2021
Planned End Date:

10/2021

Management Response:
Yes

Focus Area

:
Corporate Outcome and Output (UNDP Strategic Plan 2018-2021)

1. Output 1.4.1 Solutions scaled up for sustainable management of natural resources, including sustainable commodities and green and inclusive value chains

SDG Goal

Goal 15. Protect, restore and promote sustainable use of terrestrial ecosystems, sustainably manage forests, combat desertification, and halt and reverse land degradation and halt biodiversity loss

SDG Target

15.2 By 2020, promote the implementation of sustainable management of all types of forests, halt deforestation, restore degraded forests and substantially increase afforestation and reforestation globally

Evaluation Budget(US $):

55,000

Source of Funding:
UNDP
Evaluation Expenditure(US $):

40,000

Joint Programme:
No
Joint Evaluation:

No

Evaluation Team members:

| Name | Title | Nationality |
| --- | --- | --- |
| Dr. Nathan Leibel | International Consultant | |
| Dr. Tadesse Woldemariam Gole | Local Consultant | ETHIOPIA |

GEF Evaluation:

No

Key Stakeholders:
Environment Forest and Climate Change Commission, Sweden and Norway
Countries:

ETHIOPIA
Lessons
1.

(1) Development-oriented action research: the project has integrated research in order to co-generate scientific knowledge and evidence with beneficiaries. The research works are conducted on different thematic areas of the forest sector development, including considerations of ecological/ ecosystem differences. Researchers do not design their research proposals in offices like traditional academic research. Rather, they identify research issues or problems related to forest development in the target geographic area with the community. They also prioritize and separate development problems that already have known solutions and researchable problems that need action research. The team of researchers (representing different disciplines) and community members identify solutions and test these solutions jointly with the community. This makes the research truly trans-disciplinary.



2.

(2) Capacity building training- engaging specialized institutions. One of the problems in the forestry sector is the lack of human resource capacity at different levels, especially extension services and technical forestry practices. The project has conducted capacity gaps at the beginning, and then design strategies to fill the identified gaps. The training was designed for different levels: senior management of the forest sector at federal and regional states levels, and development agents at community levels. The training was given by specialized institutions like Wondo Genet College of Forest, Holeta Polytechnic College, and Mertule Mariam TVET College. Material preparation and delivery involved different universities in Ethiopia, the Swedish University of Agricultural Sciences (SLU), and the participating at specialized technical training colleges, not just the forest sector institutions



3.

3) Integration of livelihoods component: past forestry projects rarely integrate livelihoods aspects, and mainly focused on conservation and restoration functions of forest development. The current project has integrated livelihoods aspect in two ways: (i) tree-based or forest-based livelihoodswhere tree species that have high economic potential (fruit trees or commercial timber trees) and that have short rotation period are identified and promoted in areas selected for A/R intervention, or sustainable non-timber forest products like gums and resins, honey and bamboo are promoted in areas targeted for sustainable management of dry forests through PFM and ANR; and (ii) diversification of alternative livelihoods that generate interim income like poultry, fattening and improved agricultural practices, since forest products take longer time till the first harvest.



4.

(4) Private sector initiative: the current and previous forest development efforts are expected to increase the production of forest products, including timber. The forest products market chain and formal private engagement in local forest products are not well developed. For the forest sector to contribute to the economy through increased income for the smallholder farmers and farmers groups, it is important to strengthen private sector engagement and improve wood processing and product quality, value addition, and enhance supply to the consumers. This also involves strengthening the capacity of smallholder producers through the establishment of forest users' groups and cooperatives in order to increase their aggregation capacity, bargaining capacity, and primary processing capacity for value addition and higher income. The project has identified gaps and challenges in establishing forest users' cooperatives and proposed steps towards establishing such cooperatives. Besides, the project has developed materials and strategies for forest 35 | P a g e entrepreneurship development. This has to be mainstreamed and implemented as part of forest development in the country.



5.

5) Mobile or portable sawmills for wood processing initiative: the project has initiated introducing a portable sawmill that is simple, reliable, and easily movable from one place to another and used in wood processing, in order to add value to forest products at the forest gate. This has great potential in increasing income for the producers or producer's cooperative. The project has partnered with a Swedish forestry machinery producer and procured a portable sawmill through SLU and CIFOR to pilot test at the Wood Technology Research Institute (WTRC) of EEFRI before wide distribution and implementation.



6.

(6) Clonal nursery initiative: though not yet implemented, this is an important initiative that has great potential to transform forest trees propagation, especially native trees for which propagation methods are not well developed. Clonal nursery technology enables the propagation of genetically identical individuals through asexual reproduction from genetically superior trees that have essential attributes like fast growth, high yield, and disease tolerance with desirable qualities that lead to higher productivity. This technology has the potential to transform the development of many native tree species in commercial forest plantations. The project has identified the site for clonal nursery development and has engaged an international expert in the design and development protocols.



7.

(7) Urban greenery and pre-urban forestry: past forest development projects have focused only on rural areas. This project has initiated urban greening and pre-urban forest development in selected cities and towns. The project interventions include pilot urban green infrastructure design and implementation, and planning pre-urban forestry, focusing on three cities: Addis Ababa, Adama, and Kombolcha. The project intervention has included training on the integration of urban green space in urban planning and implementation. The training has benefited experts from selected cities of all regional states and major cities in Ethiopia. It is also preparing guidelines that can be used in all types of urban areas, including metropolitan cities like Addis Ababa, medium towns, and small woreda towns.



Findings
Recommendations
1

Evaluation recommendation 1. Sustained Financing: Availability and access to adequate funding remain one of the main barriers for scaling and sustaining project interventions. Further external financial support is required.

2

Evaluation recommendation 2 Project Indicators: Key performance indicators used to determine the overall success of the project have seemingly been unofficially changed. The original 10 indicators in the 2018 signed Pro Doc are now replaced by 17 new indicators.

3

Evaluation recommendation 3 Monitoring & Evaluation (M&E): The appropriate M&E system needs to be in place to actively monitor and periodically evaluate project performance, secure necessary funds and ensure quality.

4

Evaluation recommendation 4. Risk log: A project risk log needs to be developed, monitored, and reported to capture risks to the overall programme. This process can greatly assist in the identification of issues and mitigating actions

5

Evaluation recommendation 5 Theory of Change (ToC): Project ToC is important for effective project delivery and in assessing the merits of the program and its framework to achieve the desired outcomes e.g., impacts. After review of project key performance indicators, revisit the ToC by hosting a virtual workshop with IPs and relevant stakeholders

6

Evaluation recommendation 6. Regular reporting is a key aspect of any public, private or development-orientated project. Reporting keeps all stakeholders informed with respect to progress, delays, and any upcoming needs, etc.

7

Evaluation recommendation 7 Forest Database: To advance Ethiopia's forestry sector, the collection and storage of forestry statistics will become essential. Efforts are ongoing to develop a database system at the commission, but it's likely the system won't be ready any time soon.

8

Evaluation recommendation 8. Private Sector Engagement: Involvement of the private sector in the forestry sector is a key area of the ISCFSD project. To promote a thriving economically resilient forestry sector, the Government of Ethiopia needs to encourage the development of well-managed professional businesses across each segment of the forestry value chain.