Final Evaluation of Joint UNDP-FAO Project Entitled â??Support to Livelihoods of drought affected households and resilience building of vulnerable groups in Warder and Kebridehar Woredas of Ethiopia Somali Regionâ??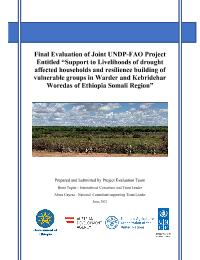 Evaluation Plan:

Evaluation Type:

Final Project

Planned End Date:

06/2021

Completion Date:

07/2021

Status:

Completed

Management Response:

Yes

Evaluation Budget(US $):

31,000
Title
Final Evaluation of Joint UNDP-FAO Project Entitled â??Support to Livelihoods of drought affected households and resilience building of vulnerable groups in Warder and Kebridehar Woredas of Ethiopia Somali Regionâ??
Atlas Project Number:

00059570

Evaluation Plan:
2021-2025, Ethiopia
Evaluation Type:
Final Project
Status:
Completed
Completion Date:
07/2021
Planned End Date:

06/2021

Management Response:
Yes

Focus Area

:
Corporate Outcome and Output (UNDP Strategic Plan 2018-2021)

1. Output 2.3.1 Data and risk-informed development policies, plans, systems and financing incorporate integrated and gender-responsive solutions to reduce disaster risks, enable climate change adaptation and mitigation, and prevent risk of conflict

SDG Goal

Goal 1. End poverty in all its forms everywhere

SDG Target

1.5 By 2030, build the resilience of the poor and those in vulnerable situations and reduce their exposure and vulnerability to climate-related extreme events and other economic, social and environmental shocks and disasters

Evaluation Budget(US $):

31,000

Source of Funding:
UNDP
Evaluation Expenditure(US $):

31,000

Joint Programme:
No
Joint Evaluation:

No

Evaluation Team members:

| Name | Title | Nationality |
| --- | --- | --- |
| Brent Tegler | International Consultant | |
| Abera Gayesa | National Consultant | ETHIOPIA |

GEF Evaluation:

No

Key Stakeholders:
Somali BOFED, NDRMC
Countries:

ETHIOPIA
Lessons
1.

Project Implementation Model

The following elements of the project implementation model stand out as approaches contributing to the success and sustainability of project activities:

a ProDoc that: (a.) established important foundational elements; (b) specified inception studies to better understand the local context; and (c) encouraged the use and adaptation of locally appropriate, community-led solutions;
a local, "beneficiary-led" process that selected communities, HH and individuals most in need of project assistance;
the establishment of local (kebele) committees that identified issues and locally appropriate solutions for water management, pasture management and AIG; and
the engagement of local government in project design and implementation.

Project implementation staff, including local government staff, clearly understood and articulated the important elements of creating space for and listening to community/beneficiary led processes that identified issues, choose intervention activities and methods of implementation and selected beneficiaries.
Project beneficiaries clearly understood and articulated their role (and right) and need to reflect on and discuss factors contributing insecurity of livelihoods, locally appropriate methods to improved livelihood security and methods to self-govern and engage community members in project activities.

The following steps of the implementation approach are considered to have made an important contribution to success and sustainability of project activities:

Step 1: The ProDoc established high level goals and objectives, that set the direction and mode of implementation for the project including:

stabilization and increased resilience of pastoral livelihoods;
targeted inclusion of women and youth and PWD;
establishment of a more secure water supply;
enhancement of traditional and innovative pasture management;
introduction of AIG supporting natural resource development;
introduction of CSA; and
capacity development of government.

Step 2: Undertaking a project inception phase that developed a better understanding of the local situation through engagement of implementing staff, local government and communities in:

socio-economic needs analysis;
climate and vulnerability assessment;
mapping of existing of water supply;
community livelihood needs assessment to identify AIG opportunities and supporting training services available;
GIS supported mapping of natural resources (e.g. water courses, Prosopis infested areas, etc.) and services (animal health service offices, livestock marketing centres, access roads, etc.); and
baseline assessment of animal health delivery system.

Step 3: The initiation of project activities regionally was preceded by the engagement of regional and woreda (local) government offices and NGOs in the development and application of selection criteria for target communities to be included in the project.

Step 4: The initiation of project activities in target communities was preceded by the engagement of woreda (local) and kebele (village) governments and local beneficiaries in the development and application of selection criteria for beneficiaries and activities to be implemented in the community.

Step 5: Adoption of a wholistic approach to building resilience within the community based on the main livelihood of pastoralism. In this respect, interventions were related to the circular economy, livestock feed and health were addressed through range land improvement, feed densification support, utilization of uncommon available feed and forage production, improved water supply and improved veterinary services by strengthening government health clinics and mobile clinics and CAHWs.



2.

Working with Persons with Disability (PWD)

Partnering with an organization such as BtG provides a strong incentive for project design, implementation and implementing staff to include and effectivel address the inclusion of PWD in all phases of a project.
If an organization such as BtG is not in a project partner, there is always the posibility to work with a local or international NGO working with PWD. All projects will benefit from a PWD analysis in the early stages of the project to provide training for implementing staff and to conduct or provide direction for a PWD needs analysis.
There are three distinct and important positive outcomes associated with meaningful and effective inclusion of PWD, which are:

Capacity development training and sensitization of implementing staff, including participation government partners, on methods for inclusion of and analysis needs studies for PWD
The Inclusion of PWD ensures they are direct beneficiaries and participating members in project decision making;
Awareness raising occurs within project communities leading to changes in the way society understands and views PWD, i.e. a recognition of the positive contribution PWD can make and a resulting increase their social status. The latter being important to social and mental well-being of PWD.



3.

Introducing Alternative Income Generation (AIG) Activities

In resilience building of communities the inclusion of diverse, well-supported AIG activities addresses community needs and contributes to community resilience.
Factors in design and implementation contributing to successful AIG and the associated resilience building learned, include the following:

enagage communities in the identification and self-selection of AIG;
ensure the inclusion of PWD in AIG;
set targets for the inclusion of women and youth in AIG;
work with and provide capacity development to local technical colleges that provide training for AIG;
conduct needs analysis to identify a wide protfolio of locally relevant AIG that are innovative and supportive of local needs. Needs analysis should include market chain analysis where appropriate to ensure suitable markets exist and local producers maximize their income.
AIG needs analysis should consider potential negative impacts that may arise from AIG, such as increased workload on women, putting women and youth at risk; excessive competion of existing activities, and potential environmentatl impacts;
provide comprehensive training in both the target activity and busness management and include follow-up refresher training based on M&E to strengthen sustainability.
provide the necessary equipment and captial for startup through direct grants or the establishment of micro-credit and cooperatives;
a project should include advocacy and awareness raising of AIG opportunities within target communities reporting on the success of AIG, particularly the success of women, youth and PWD to create positive role models and build self-confidence among less-advantaged groups;
ensure participation in AIG is accessible, including meeting the needs of women, youth and PWD to receive training and subsequently manage selected AIG activities.
establish a participartory monitory program to measure the social, economic and ecological benefits of AIG.



4.

Maximizing the Gender Focus of a Project

1. The establishment of gender as a "significant objective" of a project contributes to success of addressing gender issues and it ensures the inclusion of women, including young women, in project design, implementation and benefits.

2. A comprehensive gender analysis should be conducted during development of the ProDoc or during project inception to better understand gender issues, needs and impacts of the project and how best to address gender in project design and implementation.

3. The ProDoc should establish a Gender Marker to measure how much the project invests in gender equality and women's empowerment. The gender marker should be GEN2 or GEN3 based on the following UNDP gender marker ranges: GEN3 (Gender equality as a principle objective); GEN2 (Gender equality as a significant objective); GEN1 (Limited contribution to gender equality); GEN0 (No contribution to gender quality).

4. The potential linkages with and involvement of global, national, regional and local women's organizations in project design and implementation should be considered as appropriate.

5. Projects should utilize government women's agencies or departments (e.g. Women's and Children's Affairs) to bridge women's involvement with male dominated agencies/departments such as agriculture, livestock, forestry, water, etc.. This will assist in ensuring the voices of local women are heard and understood by these agencies/departments and it will provide training for women in how to advocate for their issues.

6. Establishing outcomes and indicators specific to women and youth gurantees the inclusion of these groups in project activities.

7. For oucomes and indicators that are not specific to women and youth, indicator targets should be set, that include 50% women, or a specfic number of women-headed HH or groups, or a specific number of individual women and young women to ensure women are targeted for inclusion in project activities.

8. Set targets for the inclusion of women and youth in project implementation committees such as the PSC, technical committes, and local community groups.

9. Ensure M&E provides gender disaggregated data for all indicator measures wherever possible. Include monitoring that goes beyond numbers to include measures of successful advocacy, social status, role models, changing perceptions, in regard to women and youth.



5.

Measuring the efficacy of pastoral livelihood stabilization

In order to effectively utilize the Support to Livelinhoods available budget a finite number of HH were provided with assistance to stabilize their livelihoods. The selection of HH was conducted in consultation with the community and was based on criteria that prioritized those most in need and included targets for the inclusion of female headed HH.
In order to assess the efficacy of the pastoral livelihood stabilization there is a need for documentation of:

the number of potential target communities (kebeles, sub-kebeles) in the project area (in this case Kebridehar and Warder woreda);
the total number of HH in target communities;
the number of female headed HH in target communities;
the health and number of livestock within each HH at the beginning and end of the project; and
a baseline and endline survey providing a measure of livelihood security.

With the above information it is possible to assess the following questions:

What proportion of communities within the project area have received assistance to stabilize livelihoods?
What proportion of all HH, and of female headed HH, within target communities met criteria to receive assistance, and how many of these actually received project assistance to stabilize livelihoods?
For HH receiving assistance is the amount of assistance provided consistent with the level of need identified based on the health and number of livestock within each HH?
At project completion what is the status of the health and number of livestock within all HH and HH that received assistance both in target and non-target communities?
At project completion what is the status of livelihood security?
What else could the project have done to stabilize HH?



6.

UN "New Way of Working" Approach

Humanitarian assistance, sustainable development and climate change adapation are complex, inter-related issues. UN agencies (UNICEF, UNHCR, WHO, OCHA, WFP, FAO, UNFPA and UNDP) have developed a tremendous amount of "area-specific" knowledge and experience which, when combined, can present a formidibale team approach to addressing humanitarian needs.
The support to Livelihoods project is an example of a UN "Multi-year Resilience Program" that bridges the gap between emergency response and long-term development. This approach is intended to break the cycle of providing emergency aid following recurring periods of drought. Resilience programmes must ensure there is a focus on those most in need (women, children, youth, PWD, IDP) as thes are the individuals mostly likely to require emergency assistance.
The Support to Livelihoods "New Way of Working" approach successfully provided coordinated input from two lead agencies, UNDP and FAO, and UNICEF as a supporting agency.
Project budgets were provided directly to UNDP and FAO from the MPTFO and UNDP took a lead role in compiling annual narative reports on project progress
UNICEF shared its knowledge in regard to water security in the region and would have played a larger role in the project had financing been available to support them in the construction of capital intensive water development (bore holes, dams, pipelines) project activities.
UNDP susccessful worked with UNICEF and FAO to implement enhanced water security for human and livestock consumpiton and for CSA activities being implemented by UNDP. UNDP also implemented the project's AIG activities.
FAO's experience working with pastoral communities and their knowledge of livestock needs supported livelihood stabilization activities providing supplimentary feed and animal health services and community resilience through enhanced rangeland management.
The humantiarian crises associated with prolonged drought, the general lack of development and the increasing impacts of climate change in the Somali Region were much more effectively addressed in the Support to Livelihoods project through a humanitariang-nexus approach that involved multiple UN agencies.



Findings
1.



Recommendations
1

Evaluation recommendation 1. There is a need for UNDP-FAO and government implementing to replicate and scale-up successful project activities to achieve the project's long-term goal

2

Evaluation recommendation 2. The project activities (for instance; Bee keeping, Prosopis pod processing, Climate Smart Agriculture (CSA), and Gum Arabic and Incense trading) require follow-up by responsible parties as indicated to enhance their sustainability

3

Evaluation recommendation 3. UNICEF and UNDP, working with local and regional government water offices should develop a simple, science-based groundwater monitoring program that provides reliable information to ensure groundwater use is sustainable

4

Evaluation recommendation 4. UNDP-FAO working with local and regional disaster management offices should improve the climate impact early warning system

5

Evaluation recommendation 5. The Support to Livelihoods project has provided important lessons learned that may be applied to scaling up of the project, to projects engaged in livelihood stabilization and resilience and to all projects