Terminal evaluation of the PBF Ethiopia project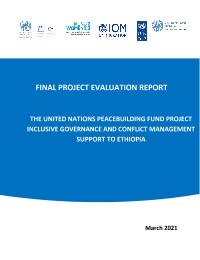 Evaluation Plan:

Evaluation Type:

Final Project

Planned End Date:

04/2021

Completion Date:

05/2021

Status:

Completed

Management Response:

Yes

Evaluation Budget(US $):

60,000
Title
Terminal evaluation of the PBF Ethiopia project
Atlas Project Number:

00116658

Evaluation Plan:
2021-2025, Ethiopia
Evaluation Type:
Final Project
Status:
Completed
Completion Date:
05/2021
Planned End Date:

04/2021

Management Response:
Yes

Focus Area

:
Corporate Outcome and Output (UNDP Strategic Plan 2018-2021)

1. Output 3.2.1 National capacities strengthened for reintegration, reconciliation, peaceful management of conflict and prevention of violent extremism in response to national policies and priorities

SDG Goal

Goal 16. Promote peaceful and inclusive societies for sustainable development, provide access to justice for all and build effective, accountable and inclusive institutions at all levels

SDG Target

16.1 Significantly reduce all forms of violence and related death rates everywhere

Evaluation Budget(US $):

60,000

Source of Funding:
UNDP
Evaluation Expenditure(US $):

60,000

Joint Programme:
No
Joint Evaluation:

No

Evaluation Team members:

| Name | Title | Nationality |
| --- | --- | --- |
| Prof. Fekadu Bayene | Local consultant | ETHIOPIA |
| Edwin Ochieng Okul | international consultant | |

GEF Evaluation:

No

Key Stakeholders:
MOP, Ministry of Women, Children and youth Affairs, Oromia, SNNPR, Somali regional States, EBA
Countries:

ETHIOPIA
Lessons
1.

One of the best practices, innovations, and lessons emerging from the project is the establishment of Women Peace Forums which has already been institutionalized by the respective regional states. It should be replicated in all regions as it provided the platform for women to come together. These forums have created the voice among women to respond to conflicts that had been missing. The creation of the women's peace forum was done from the grassroots level thus moved the voice of the woman from the local to the national level. Efforts made to institutionalize women's peace forum should be appreciated and a strategic intervention to further reinforce this through linking it with the women's federation at different levels of governance (starting from kebele to the region) may contribute to the women's empowerment to sustain the role they would play in peacebuilding.



2.

The second is the creation of the forum to discuss peaceful co-existence and sustained dialogue among university students. The implementation of such an activity at the three universities is also institutionalized within the university system as it is taken up by the students' peace club, which is one of the clubs of the students' union. Students who were initially trained appeared as trainers and such tradition will be sustained after the project period. Conflict resolution, management, and lasting peace require identifying and understanding the root causes of the conflict which are best uncovered through inter-communal dialogue, which provides a chance to dig deeper and reveal underlying issues. However, the difficult situation may be, bringing people together to solve their issues, will help them find a way to resolve them. The solutions don't need to come from the government or NGOs, but they can come from them. As the third lesson, the experience obtained from the project in conducting community dialogue has generated an important lesson towards the establishment of strategies that integrate customary and statutory conflict management on a sustainable basis where gender mainstreaming in peacebuilding is an added element that can be considered as an innovative approach. It is possible to have the voices from the grassroots included in policymaking. Local communities can influence policy through engagement at the grassroots level. The role played by CSOs such as PDC and IRCE in reaching local communities where religious and customary leaders played a central role in promoting the importance of socially sensitive and ethically oriented conflict reporting among journalists is appreciable.



3.

Another lesson in this project is that building the capacity of stakeholders in gender mainstreaming both within the project and among stakeholders helps the partners to mainstream gender in peacebuilding projects and thus needs to be replicated in future programs. Establishing the peace committees is an important thing in peacebuilding and strengthen its role in the community provides the needed sustainability at the community level. As peace committees work on monitoring the peace and security situation in their villages, the establishment, and strengthening of CEWARN facilities will complement the interaction between the local and woreda level to take measures 52 | P a g e predating any possible violent conflict. CEWARN facilities when used effectively fill the possible information and communication gap between the kebele and woreda administration. Preparation of the training guide for educators and journalists and the preparation of a documentary video on how to engage women in peacebuilding can be cited as one of the best initiatives to take the project outputs forward since the wider dissemination of such materials can increase the synergy for cooperation among different sectors of the government to engage in peacebuilding activities. The implementation of the project was initially challenged by factors including change of persons' positions, especially within the MoP at the start of the project, emergence of the COVID 19 pandemic that has caused shifting of activities and introducing new priority areas, delays in decision-making due to communication gaps between different stakeholders. Despite these, due to effective coordination, the project has been very flexible, developed its internal strategies to respond to new circumstances, exercised close consultative meetings among the UN implementing partners and government institutions. Periodic review meetings were held to identify challenges and adjustments were made to deliver the intended outputs at different levels of governance. If the designing phase of the project had involved regional bureaus, one would expect that the delay in decision-making and communication gaps would have been prevented, which is an important lesson for future intervention. The establishment of women peace ambassadors that include the traditional haadha sinqees as playing a pivotal role in supporting women empowerment is another innovative approach. Restoring relationships of conflicting parties using school-based sports events where IOM has provided school facilities including sportswear has played a significant role in conflict management and peacebuilding in the case of the West Guji - Gedeo zone in the southern cluster. When complemented with Intra and Intercommunity dialogues, it facilitated the rehabilitation of the infrastructures. The organization of the event immediately after the community dialogue has made the conflict management intervention very effective. Such practices can be replicated in other areas where and when required. The development of a gender-sensitive conflict reporting guideline is another good practice that will have a policy-level influence due to the strategic nature of intervention.



Findings
Recommendations
1

RECOMMENDATION or Issue 1: -The involvement of the government entities should be present and involved at all levels not just at the regional level. The project needs to involve local, regional, and federal governments. Equally important is the involvement of the community at the project designing phase to ensure ownership and sustainability.

2

RECOMMENDATION or Issue 2: Greater focus by all stakeholders should be on women's role in peacebuilding at the local (community level) rather than the regional or federal level. The approach was not comprehensive in emphasizing the interaction between the traditional leaders and women's groups in the community.

3

RECOMMENDATION OR ISSUE 3: In the future, a comprehensive study and policy initiatives may perhaps need to be carried out by the government, UN agencies, CSOs, and the academia since some geographical areas stood excluded yet one of the goals of the project is to contribute to a rightly national peacebuilding strategy and policy. There is a need to expand to cover more regions to have a categorically national peace policy.

4

RECOMMENDATION or ISSUE 4: The government and UN agencies should design peacebuilding programs to last longer than two years. A highly systematized project such as the Peace Building Fund, which seeks to make change happen in contested issues, such as peace and reconciliation, requires a long-term investment in trust-building, consensus in building capacities all of which cannot easily be achieved in 2 years.

5

RECOMMENDATION OR ISSUE 5: The government and UN agencies should source more funding to support the capacity building of elders and local police on issues of human rights and peacebuilding. The government and UN agencies should also seek funding to capitalize on natural resource management for the communities

6

RECOMMENDATION OR ISSUE 6: Similar projects involving UN agencies and GoE should early on establish very clearly the division of labor responsibilities with clear frameworks and conditions with the government.