Final evalutiaon_Developing Climate Resilience of Farming Communities in the Drought Prone Parts of Uzbekistan (Adaptation Fund)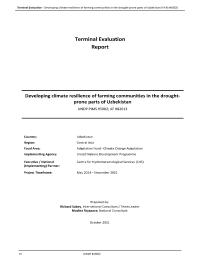 Evaluation Plan:

Evaluation Type:

Final Project

Planned End Date:

11/2021

Completion Date:

11/2021

Status:

Completed

Management Response:

Yes

Evaluation Budget(US $):

25,000
Title
Final evalutiaon_Developing Climate Resilience of Farming Communities in the Drought Prone Parts of Uzbekistan (Adaptation Fund)
Atlas Project Number:

00066434

Evaluation Plan:
2021-2025, Uzbekistan
Evaluation Type:
Final Project
Status:
Completed
Completion Date:
11/2021
Planned End Date:

11/2021

Management Response:
Yes

Focus Area

:
Corporate Outcome and Output (UNDP Strategic Plan 2018-2021)

1. Output 1.3.1 National capacities and evidence-based assessment and planning tools enable gender-responsive and risk-informed development investments, including for response to and recovery from crisis

SDG Goal

Goal 1. End poverty in all its forms everywhere
Goal 13. Take urgent action to combat climate change and its impacts
Goal 2. End hunger, achieve food security and improved nutrition and promote sustainable agriculture

SDG Target

1.5 By 2030, build the resilience of the poor and those in vulnerable situations and reduce their exposure and vulnerability to climate-related extreme events and other economic, social and environmental shocks and disasters
13.1 Strengthen resilience and adaptive capacity to climate-related hazards and natural disasters in all countries
2.4 By 2030, ensure sustainable food production systems and implement resilient agricultural practices that increase productivity and production, that help maintain ecosystems, that strengthen capacity for adaptation to climate change, extreme weather, drought, flooding and other disasters and that progressively improve land and soil quality

Evaluation Budget(US $):

25,000

Source of Funding:
Evaluation Expenditure(US $):

17,705

Joint Programme:
No
Joint Evaluation:

No

Evaluation Team members:

| Name | Title | Nationality |
| --- | --- | --- |
| Madina Rajapova | Ms | UZBEKISTAN |
| madina.rajapova@undp.org | Ms. | UZBEKISTAN |
| Richard Timothy | Ms. | |
| Richard Sobey | Mr | |

GEF Evaluation:

Yes

| | |
| --- | --- |
| GEF Project Title: | DEVELOPING CLIMATE RESILIENCE OF FARMING COMMUNITIES IN THE DROUGHT PRONE PARTS OF UZBEKISTAN |
| Evaluation Type: | Terminal Evaluation |
| Focal Area: | Climate Change |
| Project Type: | EA |
| GEF Phase: | GEF-5 |
| GEF Project ID: | 5002 |
| PIMS Number: | 5002 |

Key Stakeholders:
National partners
Countries:

UZBEKISTAN
Lessons
1.

Institutional Structures The project worked closely with state institutions (e.g. CHS hosting the hydromet / DEWS platform), but also with a number of academic / research institutes (Tashkent Agrarian University in Nukus, and the Kegeyli Agrarianindustrial College in the demonstration of high-tech greenhouses, and agromet stations; Nukus Natural Sciences Research Institute in fodder seed multiplication, and ecologically-based pasture rehabilitation; and Nukus Science Academy in using glauconite mineral as a soil amelioration agent). The value in working with these institutions lay in their remit to undertake research, test, pilot and disseminate new advances in arid zone farming. The solutions needed by the project were not just the obvious CA / SWC measures (no till – direct drill, mulching, soil bunding), but were activities that needed both new and efficient technologies such as laser-levelling and hydroponics, but also technologies based on ecological principles to begin the process of pasture restoration. Extension and access to agromet information For joining up the agriculture information network, from a farmers point of view, there is no plan at present. CHS provide hydromet services, directly to MoA who pass on to their Departments of Agriculture, especially seasonal, monthly, and 10-day windows, on a regional level. However the farmers at present have to rather hunt down this information separately. Thus, there is a need for a clearer model in not only how on a farmer-level to access hydromet / agromet DEWS information, but in the general outreach model to farmers. The further use of smartphone apps and telegram groups needs to be explored. Aquifer extraction Due to the success of making potable water, more boreholes are being requested, however the extent that either the extraction or if the monitoring of aquifer levels is being undertaken needs to be addressed. This is based on the importance of the water scarcity problem, and the issue needing to rise on the political agenda of MWR in KKPS. Pasture restoration & Tree planting in the ABDA The cost-benefit of the impressive now working pasture restoration efforts needs to be assessed, for a number of reasons: there is a clear community vested interest; livelihoods should improve as a result, and in terms of a (climate change mitigation measure) carbon-sink, there should also be benefits, if much larger areas of pasture can be restored. The cost-benefit of nursery production and planting of saxaul trees needs to be assessed, to see how improvements can be made. The extent that the ABDA tree planting reduces the severity of dust storm damage is also difficult to determine in the short-term, but needs longer-term monitoring. Glauconite The glauconite mineral needs to be tested, mainly based on soil structure (sand, silt, clay content), which largely. Terminal Evaluation - Developing climate resilience of farming communities in the drought-prone parts of Uzbekistan (PIMS #5002) TE (UNDP #5002) 59 determines the soil's water-holding capacity, and not based on crop type100 .



Findings
1.

Weather and water forecasting CHS is expected to maintain the AWSs and hydro-posts, and host the hydromet platform and DEWS module, which can provide early-warning weather and water scarcity notifications. One concern is whether it will be used to its full potential. Whilst the DEWS early-warnings on drought, and agromet cropping actions, have been prepared to date with project support, it now requires CHS, MWR and MoA to work together without the project.

Additionally, the hydromet data from the ten AWSs in KKPS needs to be utilized, and fed back into the forecasting system, for which the platform can be used. DEWS is a seasonal forecast on water availability prepared in October for a long-term forecast in April the following year – for the crop planting season, but also monthly thereafter during the season until September. CHS also need to ensure that the AWSs complete their calibration period so that they can be added to the global synoptic grid. This will also allow others to produce and improve long and short-term weather forecasting for KKPS. At present, the AWSs in KKPS are used for standard weather forecasting. This was the original expectation of delivering a multi-module information platform, with hydromet and drought early-warning, and agromet forecasting. The former with data coming from the new AWSs, and the latter from the new hydro-posts, with added upstream rain / snowfall data. By project end, DEWS was running as a selfcontained module, and the multi-module platform was operating as a early-warning notification system for CHS, MWR, MoA, Ministry of Emergencies, and KKPS government, and others in KKPS.

Soil improvement measures Soil problems include water scarcity, high salinity, and low soil organic matter (SOM). There is still an over production (reliance for export income) on cotton which is dependent on irrigated water, however government quotas have recently been rescinded. Thus there is a change, which the project has generally supported, from cotton / wheat production to to lucerne / bean crops, which also both fix soil nitrogen as an added benefit. In order to address the low SOM, the project introduced 'zero till' machinery which cuts the roots of residue crops below the soil surface, aiding plant material decomposition and thus the build-up of SOM / soil nutrients the following season. Also not having a surface residue also reduces the incidence of plant pathogens and plant insect pests. The project succeeded in popularizing the combined adoption of conservation agriculture (CA) and of soil and water conservation (SWC) measures,such as zero till / direct drill, crop residue mulching, plough-pan-breaking, and laser-guided land levelling. Pasture restoration, and hydroponic fodder KKPS has over one million ha of pasture land, with over 90% heavily degraded due to upstream water extraction from the Amudarya river. In no-water years, there is virtually no vegetation growth. The pastures are on sand / silt alluvial soils or on clay-pans (~50% each). These old pasture areas need to flood to get seeds to germinate, but don't receive it. Smallholders keep livestock, which in the absence of gazing land, need fodder. The challenge has been to bring back degraded pasture area, which then need to be nurtured with a machine harvesting 'hay-making' method and / or with limited livestock rotation97, and to experiment on stocking rates and timing, and then to replicate and scale-up. The project has begun this with: a 'pasture seed stock & multiplication demonstration', for future enrichment reseeding works; with saturation irrigation of bunded pasture areas to germinate the dormant seed bank; and now also importantly pasture rotation rational-use plans for fodder and hay production. Whilst this is underway, the project has been supporting intensive fodder production of cereals and lucerne using hydroponics (growing in water with added plant nutrients, but without soil). From saline to clean water, but aquifers need replenishment Extracted aquifer water is saline and needs to be purified, if it is to be used for drinking, for hydroponics, or for drip irrigation in horticulture. However, if there is over extraction from these aquifers (more borehole drilling is being requested by the PPCs with local official support), then they are unlikely to be replenished, and the result will be a permanent water shortage, which is likely to make more areas uninhabitable. Due to drought, some areas have been temporarily uninhabitable, and settlements have had to move with state support. Thus the project's water purification technology on its own is not a panacea.

Horticulture Low spring temperatures and then early frost in the autumn impedes on the production of horticulture crops. The intervention solution was hotbeds prepared in the soil, with bio-organic stimulators (straw / manure under the soil) to raise soil temperature. The below-ground system was augmented by above ground polythene tunnels to trap sunlight heat, and also raise the soil surface temperature. The result of this is earlier seed germination / seedling growth, and it allows for a quicker plant flowering and fruiting cycle to mature earlier before autumn frost. Demonstration farmers with farmer field days were used to expand the uptake of the technology, which was very successful. New legislation, including the Cooperative & Land lawsThe project supported agriculture policy change, however the building blocks for this were the change in the land ownership law98, plus the Cooperatives Law, which together provided much greater livelihood security. The project also directly supported a number of production pasture cooperatives (PPCs). The model for this institutional change, in cooperatives becoming self-governing and working with district affiliates / associations, was partly adapted from experiences in the Fergana Valley, Korea, and Israel. In 2019, the farm cluster system started. The farmers elected a cluster or enterprise leader who holds the land tenure certificate, however as cooperatives become legal entities, the entity with its membership should be able to hold the land tenure certificate (making the system transparent and less open to corruption). Under the farmcluster initiative, the establishment of cooperatives is being encouraged, which is more efficient than individual smallholder dekhan farms.



Recommendations
1

1. The multi-module early-warning platform for hydromet / drought / agromet needs to be finalized and adopted by Uzhydromet. Uzhydromet needs to indicate how the weather data from the ten new telemetric automatic weather stations will be used via the platform to provide more localized forecasts for the farmers in Karakalpakstan [Uzhydromet / UNDP]

2

In light of the project's successful achievements in demonstrating CCA measures, it would be useful to now assess them against, the Aral Sea Basin Programme 2021-2030, and make any recommendations. This would be especially useful, in assessing the four project components in a holistic way, and where overall impacts were greater when particular activities were implemented with other activities [PIU / UNDP with Karakalpakstan government]

3

The conservation agriculture such as activity 'zero till - direct drill' may not be supported by agribusiness, because of grain crop contamination with weed seed. However, the long-term conservation of the soil is of higher importance and is sustainable. Local legislation to incentivize and / or protect the conservation agriculture direct-drill areas may be needed. [PIU / UNDP with Karakalpakstan government]

4

The Production Pasture Cooperatives to update their annual and 5-year development plans, with the uptake of project activities, including the tree nursery production and hydroponic fodder production, so they are transparent for their Production Pasture Cooperative members, but also equitable in providing the fodder products at a fair price for their members, before any outside sales [Production Pasture Cooperatives, Association of Production Pasture Cooperatives]

5

The project developed a 'pasture rotation rational-use plan' for each Production Pasture Cooperative, however, these plans need to be supported and monitored, to assess their on-going quality in achieving desired aims. Records need keeping of rotations of fodder cuts and baling volumes from the pasture areas [Production Pasture Cooperatives, with the Village Citizens Councils and Department of Agriculture in regional administration of Karakalpakstan]

6

Concerning the pasture rehabilitation demonstrations (delta irrigation / drainage for seed germination, pasture seed multiplication & re-seeding), it is an example of applied research, and there is a need to monitor and refine methods [Nukus Research Institute for Natural Sciences under the Academy of Science of Karakalpakstan]

7

Monitoring of the saxaul tree nurseries is important, because technical efficiencies should be found for the large scaling-up of production and planting by government. The Production Pasture Cooperatives are involved twice – as seedling producers, and as young tree planters, so the vested interest in a professional operation is high. [Nukus Research Institute for Natural Sciences Under the Academy of Science in Karakalpakstan with the Production Pasture Cooperatives, with the Committee for Forestry of Karakalpakstan, and Production Pasture Cooperatives

8

It is also important to monitor the saxaul tree plantations, to identify lessons to improve tree survival rates, and the impact on reducing sand / dust storms. It is important that the lead monitor is an independent institution [Nukus Research Institute for Natural Sciences with the PPCs, with the KKPS State Committee for Forestry, and the PPCs]