SUPPORTING ELECTORAL AUTHORITIES OF MOZAMBIQUE TO ENHANCE THE TRANSPARENCY AND CREDIBILITY OF THE ELECTORAL PROCESS (SEAM)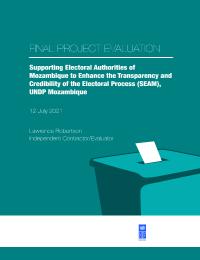 Evaluation Plan:

Evaluation Type:

Final Project

Planned End Date:

08/2021

Completion Date:

09/2021

Status:

Completed

Management Response:

No

Evaluation Budget(US $):

20,000
Title
SUPPORTING ELECTORAL AUTHORITIES OF MOZAMBIQUE TO ENHANCE THE TRANSPARENCY AND CREDIBILITY OF THE ELECTORAL PROCESS (SEAM)
Atlas Project Number:

00113673

Evaluation Plan:
2017-2021, Mozambique
Evaluation Type:
Final Project
Status:
Completed
Completion Date:
09/2021
Planned End Date:

08/2021

Management Response:
Yes

UNDP Signature Solution

:
Corporate Outcome and Output (UNDP Strategic Plan 2018-2021)

1. Output 2.2.2 Constitution-making, electoral and parliamentary processes and institutions strengthened to promote inclusion, transparency and accountability

SDG Goal

Goal 16. Promote peaceful and inclusive societies for sustainable development, provide access to justice for all and build effective, accountable and inclusive institutions at all levels
Goal 5. Achieve gender equality and empower all women and girls

SDG Target

16.6 Develop effective, accountable and transparent institutions at all levels
16.7 Ensure responsive, inclusive, participatory and representative decision-making at all levels
5.5 Ensure women's full and effective participation and equal opportunities for leadership at all levels of decision-making in political, economic and public life

Evaluation Budget(US $):

20,000

Source of Funding:
UNDP
Evaluation Expenditure(US $):

20,000

Joint Programme:
No
Joint Evaluation:

No

Evaluation Team members:

| Name | Title | Email | Nationality |
| --- | --- | --- | --- |
| Lawrence Robertson | | robertsonlawrence@hotmail.com | |

GEF Evaluation:

No

Key Stakeholders:
Countries:

MOZAMBIQUE
Lessons
1.


1. Project Documents need to be developed through a more consultative, realistic process to produce project designs that are more aligned with reality of the country.

2. The legal framework for elections needs to be prioritised for reform. The legal framework has become so complicated as years of election legislation are piled on top of each other. The framework needs a deep cleaning to address contradictions from accumulating amendment upon amendment, which has end up with "a Frankenstein monster."

3. UNDP electoral cycle projects need to retain flexible and be adaptive. Project metrics need to not be rigid, and project planning should allow for flexibility in implementation, as was the case with the SEAM project.



Findings
1.

1. SEAM technical and operational assistance was relevant in addressing the needs and strategic priorities of STAE, CNE and other electoral stakeholders

2. Interventions informed by gender and social inclusion analyses to enhance women, youth, people with disability and marginalized groups' meaningful participation in the electoral processes as voters and candidates

3. SEAM assistance was relevant in making the election management bodies (CNE and STAE) and the electoral system and processes more inclusive, credible and transparent.

4. Ability to cater the needs of the beneficiaries in the changed context/project flexibility

5. Good Evidence that the project advanced key national human rights, gender or inclusion policies and the priorities of UN & UNDP, including the UNDAF

6. Relevance of geographical coverage in all of the ten provinces of the country

7. Effectiveness in enhancing the institutional and professional capacity of STAE to conduct democratic, an inclusive, credible and transparent elections

8. The objective of developing a new Result Management System was not achieved but SEAM was able to work with STAE prior to the elections and afterwards towards improving the RMS and preparing STAE for a revision of the system in the future.

9. The project has a mixed record on meeting the targets set for its indicators in this component.

10. SEAM supported the development and use of inclusive products for civic and voter education through STAE, and later the use of STAE resources for COVID-19 education with SEAM-produced materials on pandemic awareness.

11. Evidence and extent planned outputs contributed towards achievement of the UNDAF outcome

12. Implementation of the project was challenged by unprecedented challenges Mozambique faced after the country was hit by two major cyclones in early 2019.

13. SEAM project activities were seen as successful and impactful for the 2019 election.

14. project's focus on increasing credibility, transparency, and inclusiveness produced more credible electoral processes at STAE and CNE and in how the Constitutional Council and Supreme Court managed their electoral responsibilities. STAE was seen as having done better outreach to people towards registration and voting, stronger training for temporary staff, and better administration of VR and the polls themselves.



Recommendations
1

UNDP should consider developing a successor, longer- term electoral support project in Mozambique using an electoral cycle approach that can start with assessment and capacity building with EMBs and other electoral stakeholders well in advance of the elections in 2022/2023


2

UNDP should fundraise early in the process of developing an electoral cycle to ensure that funds are available to implement programming as planned well before the elections.