Mid-term Evaluation of Support to Host Communities Affected by the Rohingya Influx Project (SHARIP)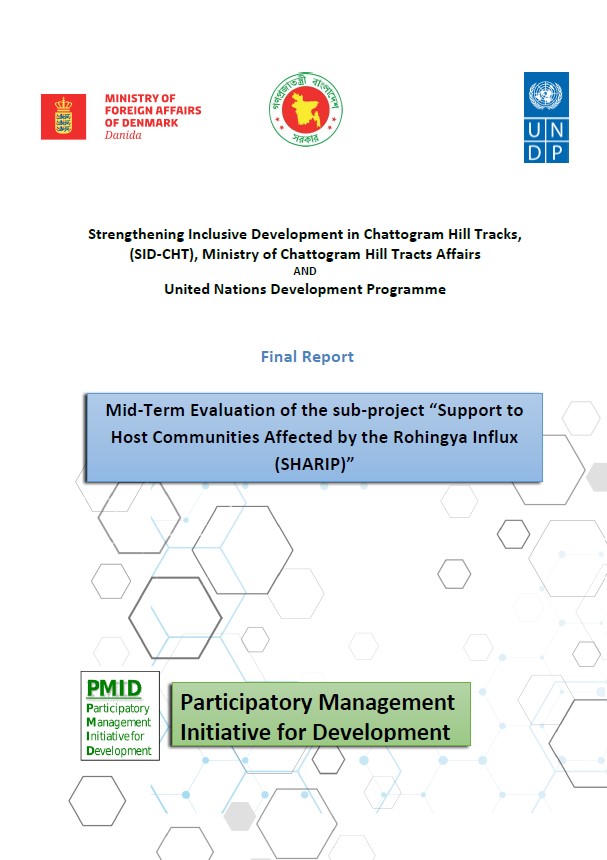 Evaluation Plan:

Evaluation Type:

Mid Term Project

Planned End Date:

03/2022

Completion Date:

06/2022

Status:

Completed

Management Response:

No

Evaluation Budget(US $):

58,000
Title
Mid-term Evaluation of Support to Host Communities Affected by the Rohingya Influx Project (SHARIP)
Atlas Project Number:

00085987

Evaluation Plan:
2017-2021, Bangladesh
Evaluation Type:
Mid Term Project
Status:
Completed
Completion Date:
06/2022
Planned End Date:

03/2022

Management Response:
No

Focus Area

:

1. Poverty
2. Governance
3. Sustainable
4. Others

Corporate Outcome and Output (UNDP Strategic Plan 2018-2021)

1. Output 1.2.1 Capacities at national and sub-national levels strengthened to promote inclusive local economic development and deliver basic services including HIV and related services
2. Output 1.4.1 Solutions scaled up for sustainable management of natural resources, including sustainable commodities and green and inclusive value chains
3. Output 2.1.2 Capacities developed for progressive expansion of inclusive social protection systems
4. Output 3.1.1 Core government functions and inclusive basic services4 restored post-crisis for stabilisation, durable solutions to displacement and return to sustainable development pathways within the framework of national policies and priorities

SDG Goal

Goal 1. End poverty in all its forms everywhere
Goal 13. Take urgent action to combat climate change and its impacts
Goal 15. Protect, restore and promote sustainable use of terrestrial ecosystems, sustainably manage forests, combat desertification, and halt and reverse land degradation and halt biodiversity loss
Goal 16. Promote peaceful and inclusive societies for sustainable development, provide access to justice for all and build effective, accountable and inclusive institutions at all levels
Goal 2. End hunger, achieve food security and improved nutrition and promote sustainable agriculture
Goal 4. Ensure inclusive and equitable quality education and promote lifelong learning opportunities for all
Goal 8. Promote sustained, inclusive and sustainable economic growth, full and productive employment and decent work for all

SDG Target

1.2 By 2030, reduce at least by half the proportion of men, women and children of all ages living in poverty in all its dimensions according to national definitions
1.4 By 2030, ensure that all men and women, in particular the poor and the vulnerable, have equal rights to economic resources, as well as access to basic services, ownership and control over land and other forms of property, inheritance, natural resources, appropriate new technology and financial services, including microfinance
1.5 By 2030, build the resilience of the poor and those in vulnerable situations and reduce their exposure and vulnerability to climate-related extreme events and other economic, social and environmental shocks and disasters
13.1 Strengthen resilience and adaptive capacity to climate-related hazards and natural disasters in all countries
13.3 Improve education, awareness-raising and human and institutional capacity on climate change mitigation, adaptation, impact reduction and early warning
13.b Promote mechanisms for raising capacity for effective climate change-related planning and management in least developed countries and small island developing States, including focusing on women, youth and local and marginalized communities
15.1 By 2020, ensure the conservation, restoration and sustainable use of terrestrial and inland freshwater ecosystems and their services, in particular forests, wetlands, mountains and drylands, in line with obligations under international agreements
15.2 By 2020, promote the implementation of sustainable management of all types of forests, halt deforestation, restore degraded forests and substantially increase afforestation and reforestation globally
16.3 Promote the rule of law at the national and international levels and ensure equal access to justice for all
2.3 By 2030, double the agricultural productivity and incomes of small-scale food producers, in particular women, indigenous peoples, family farmers, pastoralists and fishers, including through secure and equal access to land, other productive resources and inputs, knowledge, financial services, markets and opportunities for value addition and non-farm employment
4.1 By 2030, ensure that all girls and boys complete free, equitable and quality primary and secondary education leading to relevant and effective learning outcomes
4.5 By 2030, eliminate gender disparities in education and ensure equal access to all levels of education and vocational training for the vulnerable, including persons with disabilities, indigenous peoples and children in vulnerable situations
8.5 By 2030, achieve full and productive employment and decent work for all women and men, including for young people and persons with disabilities, and equal pay for work of equal value

Evaluation Budget(US $):

58,000

Source of Funding:
Project Budget
Evaluation Expenditure(US $):

29,079

Joint Programme:
No
Joint Evaluation:

No

Evaluation Team members:

| Name | Title | Nationality |
| --- | --- | --- |
| Dr. Nizamuddin Al-Hussainy | Team Leader cum Agriculture Expert | |
| A.K.M Waliul Islam | Deputy Team Leader cum Cohesion Expert | |
| Md. Fakhrul Islam | Data Scientist | |

GEF Evaluation:

No

Key Stakeholders:
Countries:

BANGLADESH
Lessons
1.

IFM has been proven as a good model for benefitting marginal farmers who have no particular land but can produce multiple crops, particularly vegetables and fruits, by using their homestead. They can also rear poultry and livestock on their homestead. The model has been successfully replicated by many non-FFS farmers in the project area. This could be a replicable model to support marginal farmers elsewhere in the country through mainstreaming.



2.

Although technical, farmers can better understand and learn from project field school and can adopt those improved practices at their homestead. The flexible learning model where farmers identify their needs and make their own choice and the co-learning approach worked well to apply their learning in practice. Group learning through study plot demonstration is a good technique for learning and adapting, and the same technique can be adopted elsewhere for agricultural extension work.



3.

The school sessions other than 5 compulsory sessions (preparatory, IFM, nutrition, agroforestry, and marketing) were selected in consultation with the farmers based on local demand. Therefore, the sessions were more relevant to the local contexts growing interest in the farmers, and the learnings were easily adopted by the farmers. This was proved as a good technique to transfer technology from school to field in remote and backward areas.



4.

The organization of Farmer Field Days has proven to be an effective way to inspire neighbouring farmers (non-IFM-FFS members) to adopt improved agroforestry practices.



5.

Engagement of the female FFs from the local community has proven to be highly effective as the dropout rate was minimal. As most of the IFM-FFS members are women, having female FFs as role models helped build up the confidence of the female IFM-FFS members.



6.

During COVID-19 locked down, the Master Trainers could not provide the planned level of backstopping support in the field. Instead, support was provided over the phone, through video calls and Union-wise online meetings organized in Messenger groups, which proved to be a workable substitute for field-level backstopping support. So online communication and meeting seems to be effective for extension work among new target groups in a natural disaster or pandemic situation.



7.

Accessing quality farming inputs continues to be a challenge in the project area. In the current phase of the project, farmers take sessions on how to recognize good farming inputs, and training for input sellers was conducted. However, many farmers are not eventually linked with the sellers, with the distance between farmers' homes and the sellers' shops being a major factor (most of the sellers' shops are either at Upazila or Union central markets). Hence, in the extension phase, it has been proposed to organize input-related coordination meetings at the Union level between farmers and input sellers. This would be helpful to strengthen linkages and raise further awareness among farmers and input sellers about how to identify quality input and what type of seeds are suitable for the different localities. The project can organize this input-related coordination meeting in the collection points to make the collection points hub for interaction between farmers and the input sellers.



8.

In Bandarban, collection point management committees played a very supporting role by regularly contacting buyers and updating IFM-FFS farmers about the price over the phone. This may increase the trust of the farmers and input sellers on the collection points.



9.

The involvement of local political leaders in LVMF has worked positively to influence the disputant parties and gain their trust to approach LVMF for the solution. This also mitigated political conflicts threatening the safety and security of the local people and reduced the threats or harassment of LVMF members.



10.

There is no in-built mechanism in the project to continuously engage the youth after their participation in various youth-targeted events. Ward-based committees and local CBOs can help to encourage more involvement of the youths in social cohesion-building activities. Encouraging youth to use social media to engage other youth and spread awareness messages has also turned out to be an effective way to reach youth in the project areas more broadly.



11.

In some events and groups in the social cohesion component, it was a challenge to ensure female participation, particularly in culturally and religiously conservative areas of Cox's Bazar, where female participation in public events is generally not encouraged. The strategy of planning female-only events (e.g. martial art training and football tournaments) and making alliances with gender-equality sensitive teachers has proved successful.



12.

In Cox's Bazar, it was challenging to carry out the street drama events. For these to be attractive, good local drama artists are key, but they were not readily available. Furthermore, the many kinds of youth events meant that it was at times difficult to focus on continuously improving the quality of the events based on learnings. It was therefore decided to focus on fewer types of activities in the extended phase.



Findings
1.

General

The project is relevant to the sectoral government policies and strategic goals and visions and to the UNDP strategic framework and international SDGs. Its design is overall appropriate. Whilst there are clear, logical linkages from activities to outputs, through outcome to impact, the outcome rationale and clear indicators are present. Benchmarks for outcome indicators have been established (Relevance).
The Evaluation Team found the management structure in the ProDoc clear. The project is headed by the Steering Committee (SC). This structure has proven to be smooth for implementation because it involves a multi-agency arrangement between Strengthening Inclusive Development in Chattogram Hill Tracks (SID-CHT), Ministry of Chattogram Hill Tracts Affairs, and United Nations Development Programme, leading to supporting each other in implementing responsibilities in project's implementation and accountability (Document review).
The project management has a multi-party partnership arrangement for implementation, which is always more complex but supportive of each other than a single agency. The M&E system has remained planned, and the baseline study was adequately used. The institutional oversight of the project worked well. Reports are generated regularly and are descriptive-analytical. But the Project's exit plan was not defined yet. The financial management of the Project's funds was transparent and efficient (Overall assessment).
Achievement of 3 outcomes is satisfactory. To address gender equality, the project design has a strong emphasis on women's inclusion. The project has emphasized practical training and capacity development of the target beneficiaries, i.e. FFS farmers and farmers' facilitators, and accordingly, the project has an extensive capacity-building component. Most of the capacity-building efforts seemed to be effective and driven toward making the intended results (Overall assessment).



2.

Agricultural production

The project has achieved clear results under outcome 1. Agricultural production was increased and diversified in targeted communities through the Establishment of Integrated Farm Management – Farmer Field Schools (IFM-FFS) (372 IFM-FFS in Cox's Bazar and 540 IFM-FFS in Bandarban) with the participation of poor and marginalized farmers, of which 77% were women. It was found that the production of vegetables, fruits, eggs, chicken meat and fish, the major 5 items of result framework has significantly increased respectively by 67.2% , 39.3%, 56.9%, 67.7% and 66.8% for FFS farmers and 31.5%, 38.2%, 26.8%, 21.9% and 66.5% for non-FFS farmers. The difference between FFS and non-FFS is statistically significant at α=1% (Agricultural production before and after project under section 4.2.4 and Table 4)
97.4% of FFS respondents in Cox'sBazar and 92.4% in Bandarban increased additional farming components after getting training from the project field school. Overall, 93.7% of FFS farmers increased additional farming components. In contrast, only 6.4% of non-FFS respondents in Cox's Bazar and 13.5% in Bandarban increased additional farming components after getting training from different GoB line departments. Overall, 10.0% of non-FFS farmers increased additional farming components. The difference between FFS and Non-FFS farmers is statistically significant at α=1% (Fig-10)
The Farmer Facilitators have been developed to act as model farmers, who are now facilitating learning in the IFM-FFS Facilitating group on new farming components and improved techniques focusing on homestead production (Qualitative assessment).
Based on the results of performance levels, the evaluators consider that the level of efficiency of output and outcome achievement was satisfactory (Efficiency and effectiveness in section 4.5.2 and 4.5.3). Most of the improved agricultural technologies as learned in IFM-FFS are already adopted by all FFS members and are seen as important not only for increasing production but also for income generation, saving money on chemical fertilizers input, and producing more safe food. The project extended benefits to farmers beyond the project beneficiaries. As reported by FFs, the IFM-FFS technologies such as Hazol, vermicomposting, organic fertilizing, homestead agroforestry, hand pollination, mulching are becoming popular in the community. Many neighbouring farmers have also started replicating these technologies, and they get requests for starting up new IFM-FFS (Qualitative assessment).
As the field survey demonstrates, the FFS farmers are getting increased production in different items by adopting the improved farming technologies as learned from IFM-FFS. So it can be attributed that improved farming technologies have been successfully transferred from school to farmers' production fields (Qualitative assessment).
The distribution of solidarity packages providing high-quality seeds was proved as an effective COVID-19 response to support FFS farmers to recover after facing economic hardship because of the lockdown. Survey Data shows that 4.5% of affected FFS farmers in Cox's Bazar and 48.3% of affected farmers in Bandar ban received agricultural input packages mainly from the project partners, and they resumed their agricultural production. Access to quality agricultural inputs like seeds, fertilizers, and insecticides is the most frequently highlighted challenge for the IFM-FFS farmers. The farmers were introduced to high-quality seeds, and they were much benefited by getting very good production in the field. Farmers are now searching for quality seeds when making their purchases. As per the project annual report, 93% of the beneficiaries interviewed for the annual assessment could mention relevant COVID-19 preventive measures, which is an indication that the project's awareness sessions and initiatives on COVID-19 were effective. The COVID-19 response strengthened institutional linkages and coordination with the Upazila Administration, Union Parishad, government line departments, and other stakeholders who have boosted the image of and trust in UNDP and its implementing partners (Fig 24, document review and qualitative assessment).



3.

Agroforestry

The survey data reveals that the growth of seedlings in the nursery, vegetation, and bamboo bushes were increased respectively by 77.0%, 47.7% and 63.6% for FFS farmers. For non-FFS farmers, the growth of seedlings and vegetation were decreased respectively by 49.7% and 56.5%, and bamboo bushes increased by 43.9%. For all items, the difference between FFS and non-FFS farmers is statistically insignificant at α=5% (Increase in area of land (in hector) under the firewood, bamboo, vegetation coverage section and Table 7 under Outcome-2).
The project organized different capacity-building training on agroforestry issues for key stakeholders, staff, Master Trainers, Farmer Facilitators, and IFM-FFS farmers, which makes them aware and knowledgeable about agroforestry concepts, their importance, models, planning, and management of agroforestry. The project is making efforts to engage IFM FFS farmers in developing their site-specific Agroforestry Development Plans (ADPs) in a participatory way, prioritizing actions, and implementing their preferred agroforestry systems at the community level (Qualitative assessment).



4.

Social Cohesion

According to survey findings and field observation, the Rohingya influx has made negative social, economic, and environmental impacts, except in a few cases in the camp area of Ukhya and Teknaf in Cox's Bazar, the direct conflict between the host community and Rohingyas were not reported. The primary survey data shows that 47.0% of FFS farmers in Cox's Bazar and 99.9% of FFS farmers in Bandarban have not been directly affected by the Rohingya crisis as they lived in a distant place from the Rohingya. In case of non-FFS farmers, 71.6% in Cox's Bazar and 99.3% in Bandarban are not directly affected (Fig 38,39). The social cohesion program dealt more with social issues and internal disputes of the host community (e.g. land disputes, kidnapping, GBV, early marriage, drugs, human trafficking, etc.) (Qualitative assessment)
IFM-FFS members are providing a holistic approach to strengthening social cohesion between the host community and Rohingya communities . Many of the IFM-FFS members feel more confident and respected through contributing to their family's food production and income, and this confidence is further boosted through the cohesion-related courtyard sessions on leadership, gender, and conflict mediating. Particularly the courtyard sessions on conflict and conflict management have proved effective, with the majority (more than 80 %) of the IFM-FFS members interviewed for the project outcome assessment reporting that they have been able to solve or mediate minor, and mainly, domestic and family/neighbour disputes in their community . The primary survey data of this evaluation has also confirmed this finding. The FFS farmers who attended the above courtyard sessions were confident in applying knowledge of courtyard sessions, and accordingly, they are playing a conflict mediating role in the community (Table-9,10).
A multi-stakeholder involvement (Upazila Administration, Union Parishad, educational institutions, and members of Local Volunteer Mediator's Forums and youth forums) created a wider scope to promote social cohesion interventions in the project working areas. The project is using already existing and organically formed youth forums for organizing different events to increase social cohesion, which could be a potential body to carry on these activities in the future.
The young school girls are trained in Martial Arts by engaging professional Martial Art instructors, and this enables the girls to have self-defence against any eve-teasing, bullying and gender-based violence. The girls receiving Martial art training also expressed that this training increased their self-confidence to speak up against bullying and eve-teasing. They are not feeling afraid of any GBV and can protect themselves in case of any such occurrence. This confidence of Martial Art girls is much appreciated and is expected to reduce the occurrence of eve-teasing and GBV (Qualitative assessment).
A significant contribution has been made by the project to reduce social conflicts and increase social cohesion through the intervention of LVMF, which in fact, works as an informal body with the spirit of voluntarism to mediate/ resolve internal conflicts of the FFS members and to some extent conflicts with Rohingya community. The project provided training to the LVMF members on the social conflict mediation process, which developed sufficient skills to play an active role in the conflict mediation process. As found in the bi-annual progress report, a good number of social conflicts in the project area have been mediated through LVMF. LVMF is working well, and the community people, especially female members of the community, feel more comfortable approaching LVMF members. This has been confirmed while visiting Teknaf and talking to implementing partners, LVMF, and IFM-FFS members during this evaluation. LVMF is gradually becoming popular in the local communities for its informal and friendly approach to conflict mediation. This informal approach is effective in getting access to the communities and gaining their trust. (Qualitative assessment).



View report for recommendation