00094636 Illegal Wildlife Trade (IWT) GEF Mid-Term Evaluation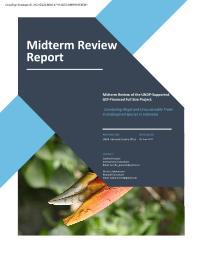 Evaluation Plan:

Evaluation Type:

Mid Term Project

Planned End Date:

09/2021

Completion Date:

08/2021

Status:

Completed

Management Response:

Yes

Evaluation Budget(US $):

40,000
Title
00094636 Illegal Wildlife Trade (IWT) GEF Mid-Term Evaluation
Atlas Project Number:

00094636

Evaluation Plan:
2021-2025, Indonesia
Evaluation Type:
Mid Term Project
Status:
Completed
Completion Date:
08/2021
Planned End Date:

09/2021

Management Response:
Yes

Focus Area

:
Corporate Outcome and Output (UNDP Strategic Plan 2018-2021)

1. Output 2.4.1 Gender-responsive legal and regulatory frameworks, policies and institutions strengthened, and solutions adopted, to address conservation, sustainable use and equitable benefit sharing of natural resources, in line with international conventions and national legislation

SDG Goal

Goal 15. Protect, restore and promote sustainable use of terrestrial ecosystems, sustainably manage forests, combat desertification, and halt and reverse land degradation and halt biodiversity loss

SDG Target

15.5 Take urgent and significant action to reduce the degradation of natural habitats, halt the loss of biodiversity and, by 2020, protect and prevent the extinction of threatened species

Evaluation Budget(US $):

40,000

Source of Funding:
Evaluation Expenditure(US $):

30,000

Joint Programme:
No
Joint Evaluation:

No

Evaluation Team members:

| Name | Title | Nationality |
| --- | --- | --- |
| Camillo Ponziani | External Evaluator | |
| Wshnu Sukmantoro | External Evaluator | |

GEF Evaluation:

Yes

| | |
| --- | --- |
| GEF Project Title: | 00094636 Combatting illegal and unsustainable trade (IWT) GEF Mid-Term Evaluation |
| Evaluation Type: | Mid-term Review |
| Focal Area: | Biodiversity |
| Project Type: | FSP |
| GEF Phase: | GEF-6 |
| GEF Project ID: | 00094636 |
| PIMS Number: | 5391 |

Key Stakeholders:
Ministry of Environment and Forestry (Directorate General of Law Enforcement on Environment and Forestry); WCS, WWF, JAAN and YIARI (micro grant recipients / partners)
Countries:

INDONESIA
Lessons
1.

The MTR finds the following lessons generated from the review of the documents and consultations with the project stakeholders:

Lesson 1 - NGOs / CSOs can contribute immensely to law enforcement and ought to be considered strong partners in IWT efforts: The MTR assessment surfaced the tremendous value and innovation demonstrated by NGOs / CSOs that one would not normally associate with the dismantling of illegal wildlife trade. The results from the microgrants have clearly demonstrated they have a strong role to play in the Project and should be leveraged to their full capacity. From SOPs on animal handling, DNA forensics, recommendations on how to leverage anti-money laundering legislation to the coordinating role on the NASTRA, to name just a few, NGOs bring a lot to the table and are an essential piece to the law enforcement puzzle.

Lesson 2 - When it comes to tackling IWT, the sum is greater than its parts: Criminal syndicates have an uncanny ability to evolve, exploit weaknesses, leverage technology effectively to operate under cover and stay ahead of the curve to avoid detection. For this reason, efforts to combat the unsustainable and illegal trade of wildlife are only as strong as the weakest link. Collaboration and cooperation is not just key, but indispensable and an "all hands on deck" strategy is required to pool together the assets, services and intelligence that different actors bring from their own unique lens.

Lesson 3 - If you build it, will they come?: The Project has proposed a number of ICT products that are forthcoming, including (i) an android and IOS based mobile protected species application to assist law enforcement agencies in the field such as forest rangers, customs, police, and coast guards in wildlife identification; and (ii) a knowledge management system for e-learning. To ensure uptake and business continuity any new system ought to be accompanied by a change management plan, as well as accompanying documentation of new proposed business processes to support transition.

Lesson 4 - Campaigns have limited shelf life and need to be refreshed and sustained over time to be effective: The MTR has highlighted the power of social marketing and the power of electronic and social media towards changing perceptions of the general public and policy makers who are consumers of goods. Use of public figures is also an effective way for people to connect with an issue. With limited attention spans these days, awareness raising should continue throughout projects and be accompanied by a mechanism to gauge changes in opinion on key issues. Also, is it enough to focus campaigns at the domestic level or should the net be cast wider across the region?



Findings
1.

By its nature, and according to the requirements defined in the ToR, this midterm review has followed a rigorous and exhaustive process, albeit entirely virtual, to gather and analyze sufficient data in order to obtain fact-based evidence that is credible, reliable and useful for the purposes of the review. Through this process, a detailed, objective, and accurate view of the project progress to-date has been ascertained.
The overall conclusion of the MTR is that the hallmarks of a foundational Project and the enabling conditions for success are largely in place. Despite a slow start bogged down in procedural and administrative matters, delays in securing a shared vision, a caretaker National Project Manager persisting until January 2019, and amidst a global pandemic - which together must have stolen nearly a year and a half of uninterrupted implementation - considerable progress has been made on a number of fronts that can help to advance the cause of more effective efforts to address the unsustainable and illegal wildlife trade in Indonesia and within the region.
Strong successes have been registered, particularly in the areas of improved data management and intelligence capabilities within Gakkum's operations, development of a foundational long-term blueprint for IWT that will endure long after the Project, top rate communications efforts leveraging myriad tools, training and capacity-building using synchronous and asynchronous methods, and to a lesser extent, enhanced threat reduction efforts to flagship species through an aggressive regime of joint patrolling within a relatively short time period. A number of promising community participation models are also in their infancy that if nurtured carefully, will be a boon for scaling and replication efforts under Outcome 3 when it gets moving. These are all things the Project should be proud of thanks to an experienced, passionate and flexible PMU that showed remarkable tenacity, persistence and adaptive management in the face of unprecedented setbacks.
Examining the areas in which the project has been relatively successful and contrasting those with the aspects where the project has been weak, it soon becomes apparent that the project has had the most success in its efforts on Outcome 2, while progress at the higher legislative and policy level has been more muted, albeit in a better position going forward with the NASTRA now drafted. The intention of the original project design, working on four different levels, was undoubtedly to encourage synergies among all levels, that would strengthen and lead to a multiplier effect towards the realization of the overall objective.
The project strategy is still highly relevant and well-aligned with national policy and both the former and current CPD. The project thus is driven by strong national needs. While combatting IWT issues has strong country ownership, this has not necessarily always translated to ownership of the Project itself. At present the project is only partly on track to achieve its planned results and significantly shift the baseline situation in Indonesia. Implementation to date has shown that the project strategy needs to be further adapted to give greater attention to priority legislation and ensuring the levers to increase fines and sentences translate to law enforcement agencies, prosecutors and the judiciary being able to apply them successfully, in order to tip the scales back in the favour of biodiversity and flagship species. There is also a need to prioritize joint efforts and collaboration with target countries such as China, Vietnam, Malaysia, Thailand and Singapore, as well as accelerating efforts at key ports and at the landscape level to ensure the Project's geographic and ecological coverage are met. The Project would benefit from greater attention to addressing the socio-economic dimensions of IWT at the grassroots level by tackling both the "push" and "pull" factors that make engaging in these activities attractive and realign the calculus of those who might consider it an option through more stringent enforcement measures. There is also an uncapitalized opportunity for significant knowledge transfer from WCS' WCU (cyber patrol unit) to Gakkum to strengthen its online presence and operations.
Additionally, the project currently has 14 planned outputs under its 4 outcomes, each of which involves numerous activities at national and subnational levels, including significant interventions pending at demonstration ports and at the landscape level, at sites in remote areas. Given the unanticipated delays and challenges and a remaining implementation timeframe of approximately 3.5 years, even with a six-month extension, the project risks spreading itself too thin and not delivering sufficient impact at scale unless its scope is reduced by being laser focused at prioritizing the interventions and investments that are most likely to deliver significant and sustainable impacts by the end of the project. The MTR process facilitated a Theory of Change (ToC) workshop precisely to shed light on the key impact pathways to enable the Project to focus on the investments that are likely to deliver results. The Project Results Framework also needs to be comprehensively reviewed and updated to ensure that indicators, baselines and targets are sufficiently 'SMART' and can capture project progress in a meaningful and objective manner.
The Project is already generating some useful lessons, communication products, disseminating information and participating in knowledge management activities organized by the GWP. These can provide invaluable guidance to other IWT initiatives and child projects. There is an opportunity here for the project to take more of an active leadership role and not be a passive bystander. This is an area where there is also good potential synergy with and mentorship to the forthcoming UNDP-GEF CONSERVE project.
Project management is generally good in that project planning, and technical and financial monitoring and reporting, is timely and follow due process. Annual Work Planning should consider co-financing commitments and inputs for each activity going forward so the Terminal Evaluation does not have to wait for a post-facto assessment by the IP. For more critical analysis of monitoring results, and for harmonizing and integrating reporting and risk monitoring across different reporting formats, Project implementation would benefit from further developing the capacity of PMU staff on monitoring and reporting on higher-level results and impacts against Results Framework indicators rather than at the activity level. There is also need for better understanding of how to accelerate gender considerations into project activities to meet the beneficiary target of 50% in the Project Document.
Stakeholder engagement, including communication through effective campaigns, has been generally good when microgrant initiatives were active but needs to be further strengthened both with CSOs through regimented updates, and with local communities and/or other stakeholders at the subnational level in the lead up to ramping up Outcome 3 activities. The Project should consider including stakeholders from other relevant government departments and sectors; in light of the pandemic and obvious linkages between IWT and zoonoses, the Ministry of Health would be appropriate here, perhaps as an observer at PB meetings. Communication strategies are also likely to be more effective if these are tailored to the interests and priorities of different audiences, and therefore, the KAP survey should be expanded nationally.
The CIWT Project has resulted in several positive initiatives related to community livelihoods to date, although the scale has been quite small as seen from the interventions carried out and the scope of participants and the number of activities implemented. Activities in the context of the livelihood systems and initiation of training in community patrols or related to animal handling are still scattered and not systematically focused.
Gender mainstreaming is constrained by the fact that law enforcement is male dominated and the strongly paternalistic cultures of the rural communities in the landscape level are slow to penetrate. Gender issues can and should become a highlight if the CIWT Project if packaged properly.
The sustainability of project outcomes will continue to depend on external funding in the medium-term as the Project transitions to other sources of financial and human resources when the GEF investment is fully utilized. A Project exit strategy - and perhaps even a change management strategy to improve transition of new operating practices - ought to be considered immediately following the MTR, with options for sustaining and building on successful project outcomes. This strategy needs to be developed by the CIWT project and its partners as soon as possible and well before the end of the project.



Recommendations
1

Undertake a comprehensive, participatory and strategic review of the project design and Results Framework. This includes:

• reducing the overall scope of work

• prioritizing interventions that are likely to have greatest sustainable impact by the end of the project as per outcomes of the Theory of Change workshop Organized by the MTR consultant team;

• paring down and ensure objective indicators are unique;

• ensuring all indicators are SMART;

• revisiting dependencies between outcomes, outputs and activities;

• ensuring that project progress and impacts can be measured systematically and rolls up to the objective level;

• Take a Theory of Change approach to the prioritization of investments, including the consideration of the Rare behavioural dynamics approach raised during the ToC workshop;

• systematically recording all major changes to the original project design described in the Project Document and seek approval from the Project Board.

2

Extend the timeframe of the Project by at least six months for operational contingency to account for time lost at the outset of the Project and disruption caused by the COVID-19 pandemic.

3

Consider how to improve engagement of women in remaining Project activities improve chances of reaching gender beneficiary targets of 50%.

4

Strengthen Communication and Coordination, and Leverage Synergies Between Microgrant Initiatives

5

Continue High-Level Engagement For Greater Buy-In and More Effective Implementation of the Legislative and Policy Aspects of the Project

6

Clear Traceability Mapping of the NASTRA to the CIWT Project's Outputs and Activities:

• Step 1: Develop and map the NASTRA's forthcoming action plan to the CIWT project's outputs and activities. The mapping may not be one to one;

• Step 2: Highlight commonalities and associated progress by the Project;

• Step 3: Identify items that are not in common (either unique to NASTRA or to the Project) and articulate / document the status;

• Step 4: If there are actions in the NASTRA that are not part of the Project scope but can be undertaken with minimal disruption to the Project, following existing governance processes, and assuming no additional funding required from the Project, schedule for delivery in concert with the Project's ongoing activities. Also if there are items in the Project's scope not covered in the NASTRA, it should either be amended or the IP should acknowledge and commit to its delivery within the remaining timeframe;

• Step 5: Monitor the project's critical path closely to proactively address issues (people, process, technology, governance).

7

Actively Seek Out Support for the NASTRA at the Highest Level in Government

8

Right-Sizing of Products for the Target Audience

9

Phased Software Rollout Versus Big Bang

10

Improve Communications and Knowledge Sharing

11

More Targeted Communications and Campaigns to Extend Early Project Successes

12

Adopt a One Health Approach to IWT

13

Aggressively Pursue Collaboration with National & Regional Law Enforcement Entities

14

Expedite a Decision on Operational Modalities for Outcome 3

15

Demonstrate Stronger Leadership on Knowledge Management by Adopting an Active Approach, as Opposed to Passively Waiting for Yearly GWP Conferences

16

Involvement of RTA in Annual Work Planning

17

Ongoing Tabulation of Co-Financing During Work Planning

18

Initiate Twice Yearly Project Board Meetings

19

Expand CSO Partnerships and Re-Engagement of Microgrant Entities

20

Risk Review and Mitigation Measures

21

A Good Exit Strategy Needs to be Developed Early and Implemented

22

More Frequent Project Updates and Communication

23

Terminal Evaluation to Include a Gender and Community Specialist

24

Adopt Workflow Automation