End Line Evaluation of SWAPNO 3rd Cycle (SWAPNO II)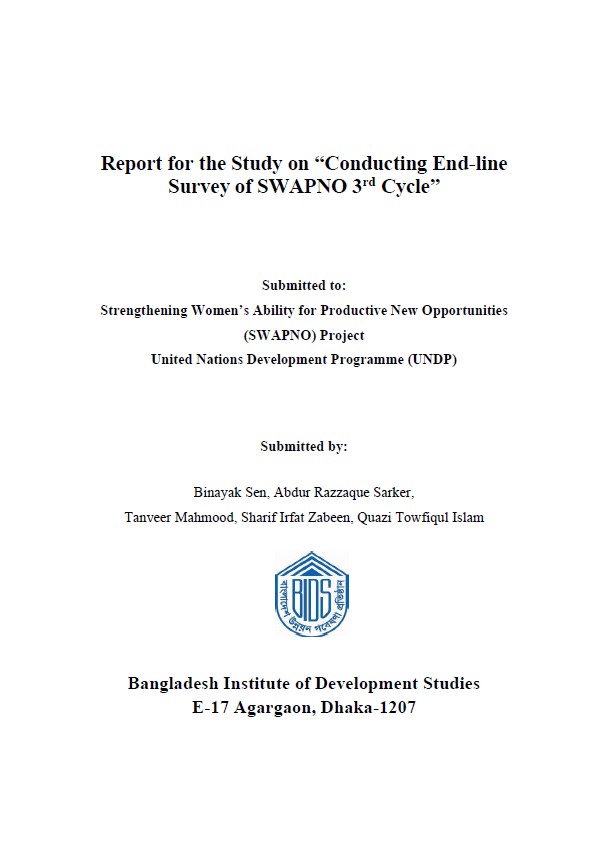 Evaluation Plan:

Evaluation Type:

Final Project

Planned End Date:

06/2022

Completion Date:

06/2022

Status:

Completed

Management Response:

No

Evaluation Budget(US $):

60,000
Title
End Line Evaluation of SWAPNO 3rd Cycle (SWAPNO II)
Atlas Project Number:

00081623

Evaluation Plan:
2022-2026, Bangladesh
Evaluation Type:
Final Project
Status:
Completed
Completion Date:
06/2022
Planned End Date:

06/2022

Management Response:
No

UNDP Signature Solution

:
Corporate Outcome and Output (UNDP Strategic Plan 2022-2025)

1. Output 1.3 Access to basic services and financial and non-financial assets and services improved to support productive capacities for sustainable livelihoods and jobs to achieve prosperity

SDG Goal

Goal 1. End poverty in all its forms everywhere
Goal 10. Reduce inequality within and among countries
Goal 13. Take urgent action to combat climate change and its impacts
Goal 4. Ensure inclusive and equitable quality education and promote lifelong learning opportunities for all
Goal 5. Achieve gender equality and empower all women and girls

SDG Target

1.1 By 2030, eradicate extreme poverty for all people everywhere, currently measured as people living on less than $1.25 a day
1.2 By 2030, reduce at least by half the proportion of men, women and children of all ages living in poverty in all its dimensions according to national definitions
10.1 By 2030, progressively achieve and sustain income growth of the bottom 40 per cent of the population at a rate higher than the national average
13.1 Strengthen resilience and adaptive capacity to climate-related hazards and natural disasters in all countries
4.4 By 2030, substantially increase the number of youth and adults who have relevant skills, including technical and vocational skills, for employment, decent jobs and entrepreneurship
5.1 End all forms of discrimination against all women and girls everywhere

Evaluation Budget(US $):

60,000

Source of Funding:
Project Budget
Evaluation Expenditure(US $):

57,022

Joint Programme:
No
Joint Evaluation:

No

Evaluation Team members:

| Name | Title | Nationality |
| --- | --- | --- |
| Dr. Binayak Sen | Team Leader | |
| Dr. Abdur Razzaque Sarker | Associate Evaluator | |

GEF Evaluation:

No

Key Stakeholders:
Countries:

BANGLADESH
Lessons
1.

The SWAPNO project shows that, with injection of threshold amount of external resources, the persistent poverty trap syndrome can be overcome. This is in contrast to the tokenism that characterizes the conventional social protection projects. While this is a big success for the SWAPNO type of Mini Big-Push intervention, the issue of sustainability of the project impact has not been settled for good. The changing economic fortunes of the beneficiaries are a case in point: they need to get some attention from the SWAPNO project, especially during the COVID-19 crisis, to ensure long-term graduation from the poverty trap by enhancing their resilience capacity to bounce back when setbacks occur.



Findings
1.

SWAPNO contribution to SDGs: SWAPNO project effectively contributes to achieving the Sustainable Development Goals (SGD) 1, 2,3,5, 8, 10 and 13: No poverty, zero hunger, good health & well-being, gender equality, decent work & economic growth, reduced inequalities, and climate action by implementing several initiatives like public works programme, micro-enterprise development, training on Health & Nutrition, Climate change, Gender, Formal sector employment, etc. This could be justified by comparing various well-being indicators like changes in income, expenditure, assets, dietary improvement and status of nutrition, empowerment, etc. over time across the beneficiary and control groups. Our study findings strongly support this statement as well. In terms of per capita income, consumption expenditure, and asset holding, the SWAPNO project beneficiaries are ahead of the control households.



2.

SWAPNO is in line with the National Social Security Strategy (NSSS): The project is in line with the NSSS, this social protection program leverages public works to train vulnerable women in vocational skills, places them in productive employment and supports them to move out of poverty. SWAPNO contributes to Bangladesh's national and global level commitment. On the national level, it promotes an inclusive and equal opportunity workforce, including increasing women's labor force participation. On the global level, the project reflects Bangladesh's commitment to eradicating extreme poverty as part of the Sustainable Development Goals (SDGs).



3.

Ownership Building of Local Government Division: The project has consciously invested in "Ownership Building" with the Local Government Division, District and Upazila Administration and the Union Parishad (UP) in various ways. These include extensive reporting, briefing and meetings, involve them in decision making, accounts operation and day-to-day management of project operation. The Central account is operated jointly by the National Project Director (NPD) and the National Project Manager (NPM), the district account is jointly used by the Deputy Director of Local Government (DDLG) and District Manager (DM), while the UP Account is operated by three signatories: the UP Chair, Chairperson of the concerned Standing Committee-a female member of UP and the Secretary.



4.

Ownership Building of Community People: Community involvement is embedded in the project through the contribution of road maintenance materials such as soil gathered from homesteads, protection, and monitoring of SWAPNO women at work in public places, and supervision of the beneficiary selection process. This kind of involvement builds community ownership and helps establish reciprocal accountability and a participatory monitoring process.



5.

Correct Targeting: Using a rigorous beneficiary selection process, the project has selected extremely poor, single female-headed rural households where the women are widowed/ divorced/ separated/ abandoned/ having disabled husbands.The project disseminated information on beneficiary selection criteria, date, time, and venue in the selected unions. Community members, local journalists, NGO and Upazila level government officials supervised the entire selection process. Finally, Union Parishad approved the final list as project beneficiaries. Because of the transparency and active involvement of all stakeholders, 96% of SWAPNO's women are correctly targeted.



6.

Economic well-being of SWAPNO Beneficiaries: In respect of all major indicators of economic well-being, the SWAPNO beneficiaries graduating from the current cycle of 2020-21 outperformed the control group households. We focused on income per capita, consumption, expenditure per capita, and non-land assets per capita as three key economic indicators determining long-term income growth and economic well-being. This conclusion is upheld by all methods: simple OLS exploring the observed current differences in welfare, Propensity Score Matching (PSM) and the Difference-in-Difference (DID) methods.



7.

Women's Decision making power: Currently, around 125 social safety net programs are operating in Bangladesh ensuring gender equality and women's economic empowerment, including access to social services, formal sector employment, increasing the decision-making power of women, reducing domestic violence and many more. Strengthening Women's Ability for Productive New Opportunities (SWAPNO) is one of a kind project that specifically focuses on future employability by ensuring women's economic empowerment. The evaluation study documented that decision-making power in terms of new income generating activities and participation in meetings and committees is significantly higher for SWAPNO beneficiary households than that of the control households. In summary, women from the beneficiary households have more physical mobility and greater decision-making power than the control households.



8.

COVID-19 Response: The project reached out to the beneficiaries and community people in its working areas and disseminated WHO-recommended messages through awareness development sessions and hand-washing demonstrations on COVID-19. Hygiene kits including soap bars, face masks, and hand sanitizers were distributed among the beneficiaries. Following WHO advisories, the project quickly developed, printed, and distributed 94,500 posters and leaflets with visual and Bangla manifestation. Posters were pasted at District, Upazila and Union level important places like school-college, hat-bazar (local market), pharmacies, restaurants, hospital compounds, and mosques. Leaflets were distributed to a wider community, SWAPNO beneficiaries, Imams and Muazzins of local mosques, District and Upazila parishads and Union parishads. The project also organized wider dissemination of pre-recorded messages through loudspeakers.



9.

Project Sustainability: SWAPNO beneficiaries employed in formal sector are sustained their jobs with garments factories. The formation of the cooperatives by the beneficiaries and registration with the government bodies have given a new dimension to local job creation and sustainable graduation. Also, it is observed that beneficiaries are actively involved with more than two types of income-generating activities presently/even after the project completion. Moreover, the indicators regarding aspiration and optimism suggest that this is going to be much more sustainable.



10.

Statistical Achievement of the Project: The evaluation study observed that SWAPNO beneficiaries have, on average, 131.13% higher yearly per capita income than their control counterparts. The differences in respect of per capita consumption expenditure is understandably less (because of the heightened emphasis on savings in beneficiary households) but still considerable. According to the Propensity Score Matching (PSM) methods, SWAPNO beneficiaries have, on average, 42.24% higher per capita consumption expenditure than the control group. The productive asset value of beneficiary households increased dramatically compared with the control group. The current average productive asset value of the beneficiary household is BDT 160,299 (USD 1,886) and the control group is BDT 101907 (USD 1,199). The average monthly savings of beneficiary households is more than seven times higher than that of the control group. Current monthly savings of beneficiary households is BDT 1132 (USD 13) and the control group is BDT 142 (USD 1.7). The benefits from the SWAPNO project are not just noticeable in terms of major economic indicators but also reflected in dietary diversity and "subjective measures" of well-being. Among the beneficiary households, 53% percent have median or above bear dietary diversity, which is around 31% for the control households indicating significantly higher dietary diversity for SWAPNO beneficiary households. Around 20% of the beneficiary households reported food surplus, while only 4.82% of the control households mentioned that they had surplus food in their house. An Increase in income/earnings, expenditure, savings and assets accumulation of SWAPNO beneficiaries' gives them self-confidence and self-esteem. More than 90% of the SWAPNO beneficiaries are decision-makers, participate in social institutions, and are sole bread earners, who have complete control over their assets and income. They also tend to be more ambitious, marked with higher aspirations for themselves (20.22% as against 6.03%) and their children (45.70% vs. 31.87%).



View report for recommendation