Terminal Evaluation of the Medium sized Project "Strengthening Natural Resource Valuation Capacities for improved planning and decision-making to conserve the global environment"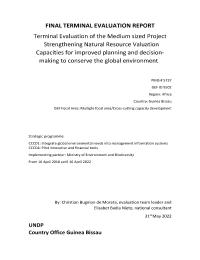 Evaluation Plan:

Evaluation Type:

Final Project

Planned End Date:

01/2022

Completion Date:

05/2022

Status:

Completed

Management Response:

No

Evaluation Budget(US $):

30,000
Title
Terminal Evaluation of the Medium sized Project "Strengthening Natural Resource Valuation Capacities for improved planning and decision-making to conserve the global environment"
Atlas Project Number:

00109463

Evaluation Plan:
2022-2026, Guinea-Bissau
Evaluation Type:
Final Project
Status:
Completed
Completion Date:
05/2022
Planned End Date:

01/2022

Management Response:
Yes

UNDP Signature Solution

:
Corporate Outcome and Output (UNDP Strategic Plan 2022-2025)

1. Output 4.1 Natural resources protected and managed to enhance sustainable productivity and livelihoods

SDG Goal

Goal 17. Strengthen the means of implementation and revitalize the Global Partnership for Sustainable Development

SDG Target

17.16 Enhance the Global Partnership for Sustainable Development, complemented by multi-stakeholder partnerships that mobilize and share knowledge, expertise, technology and financial resources, to support the achievement of the Sustainable Development Goals in all countries, in particular developing countries
17.18 By 2020, enhance capacity-building support to developing countries, including for least developed countries and small island developing States, to increase significantly the availability of high-quality, timely and reliable data disaggregated by income, gender, age, race, ethnicity, migratory status, disability, geographic location and other characteristics relevant in national contexts
17.9 Enhance international support for implementing effective and targeted capacity-building in developing countries to support national plans to implement all the Sustainable Development Goals, including through North-South, South-South and triangular cooperation

Evaluation Budget(US $):

30,000

Source of Funding:
Project Budget
Evaluation Expenditure(US $):

26,974

Joint Programme:
No
Joint Evaluation:

Yes

Joint with

Ministry of Environment and Biodiversity

Evaluation Team members:

| Name | Title | Nationality |
| --- | --- | --- |
| Christian Bugnion de Moreta | Mr. | |
| Elisabet Badia Nieto | Ms. | |

GEF Evaluation:

Yes

| | |
| --- | --- |
| GEF Project Title: | Strengthening Natural Resource Valuation Capacities for improved planning and decisionmaking to conserve the global environment |
| Evaluation Type: | Terminal Evaluation |
| Focal Area: | Multifocal Areas |
| Project Type: | MSP |
| GEF Phase: | GEF-6 |
| GEF Project ID: | 9502 |
| PIMS Number: | 5737 |

Key Stakeholders:
Countries:

GUINEA-BISSAU
Recommendations
1

A follow-up project is justified but is feasible only if there is a clear political commitment and ownership from the national implementing partner.

2

A technical capacity assessment should be done to identify clearly capacity gaps in the concerned ministries.

3

A national champion needs to be found to articulate the project across the various ministries and institutions.

4

A financial capacity assessment should be carried out to determine the manner in which NIM projects should be implemented.

5

UNDP (United Nations Development Programme) needs to develop its own technical capacity to provide support to the national partners. It should review its own human resource base and ensure that PMU (Project Management Unit) staff recruited have both the necessary skills and knowledge and remain committed for the duration of their contract, with a higher profile.

6

A management information system needs to be developed in the CO along a proper M&E system for project implementation to provide all necessary data to UNDP management and for monitoring and evaluation purposes.

7

For future projects consider hiring an international CTA to provide the overall guidance, strategic leadership and steering of the project progress and processes.

8

Project designs need to be much more aligned with the UNDG, UNDP and RBM guidance documents which are compulsory. In particular the formulation of the ToC and the conceptual understanding of "outcomes" need to be aligned with corporate norms and standards.

9

RF and M&E design need to be grounded on researched targets and indicators must be worded clearly and neutrally. The indicators need to be specified and separated from the indicator statement. The formulation of indicators has to ensure they are SMART and measure one process only.

10

A clear, targeted and incremental strategy is needed in the project document which is realistically researched taking into consideration the lessons from other UNDP implemented projects in the country. Without a clear strategy the roadmap for success is blurred and the vision is not shared by the different stakeholders.