Assessment of Development Results: Serbia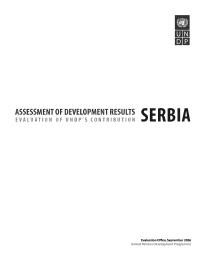 Evaluation Plan:

Evaluation Type:

ICPE/ADR

Planned End Date:

06/2006

Completion Date:

06/2006

Status:

Completed

Management Response:

Yes

Evaluation Budget(US $):

150,000
| Document | Type | Language | Size | Status | Downloads |
| --- | --- | --- | --- | --- | --- |
| ADR_Serbia_Web.pdf | report | | | Posted | 2508 |
| | summary | | | Posted | 161 |
| 2006-serbia_final_brief.pdf | summary | English | 82.54 KB | Posted | 1376 |
Title
Assessment of Development Results: Serbia
Atlas Project Number:
Evaluation Plan:
2004-2008, Independent Evaluation Office
Evaluation Type:
ICPE/ADR
Status:
Completed
Completion Date:
06/2006
Planned End Date:

06/2006

Management Response:
Yes
Corporate Outcome and Output (UNDP Strategic Plan 2018-2021)
Evaluation Budget(US $):

150,000

Source of Funding:
Joint Programme:
No
Joint Evaluation:

No

Evaluation Team members:

| Name | Title | Nationality |
| --- | --- | --- |
| Richard Flaman | Team Leader | |

GEF Evaluation:

No

Key Stakeholders:
Location of Evaluation:

Country Level

Countries:

SERBIA
Recommendations
1
Clearly Define the UNDP Mission and Role in Serbia

UNDP has established itself as a capable and reliable implementing agency for the Government, the EAR and for other European donors that are bilaterally funding Serbia's preparation for the accession process. The donors - driven by their own agendas - along with the Government, perceive UNDP to be more of an implementing agency, rather than a partner in the policy domain. UNDP perceives itself not so much as an implementing agency, but as a full development partner that is able to engage in and influence the policy agenda, and that is able to advocate the core values of the United Nations.
Within the context of UN reform, the UNDP office in Belgrade will need to clarify and then communicate its vision, mission and role. That role should be aligned with national development priorities, on the one hand, and remain consistent with an amended or new UNDAF for Serbia, on the other hand. Furthermore, UNDP should con
2
Align Programmes with Serbia's Goal of EU Accession

Development policy in Serbia is dominated now and for the foreseeable future by needs associated with EU accession. The dominant players in this process will continue to be EU entities - the European Agency for Reconstruction, its successor, and EU bilateral donors. 2006 is expected to be the last year of EAR programming, and consequently the June 2004 Memorandum of Understanding between the EC and UNDP should be used as the basis for working out concrete collaborative arrangements.

The Government may well look to UNDP to assist in the mobilization of resources to meet a range of development programme implementation needs, particularly in those areas where UNDP is well positioned and is currently providing support. Having worked in the EU accession countries, UNDP has substantial institutional experience supporting national governments and civil society in the process of European integration. It could be
3
Use Local Development and Rule of Law Reforms as Flagship Programmes

Some of the most pressing development needs in Serbia are at the subnational or local level where income disparities persist or are growing, where poverty is most prevalent and where the capacities of Government, civil society and the private sector are weakest. Further, it is at certain local levels where the risk of stability or crisis still exists. UNDP has a proven track record in supporting multidisciplinary development programmes at the local level (South Serbia and the new EAR-funded programme in SouthWest Serbia). While many other donors, including the European Commission, are expected to continue to provide substantial levels of funding and support at the central levels of the Serbian Government, it would appear that major gaps in capacity-development, economic and human development and public administration reform will persist at the local level - gaps that UNDP could fill.

Shou
4
Support Anti-corruption at All Levels of Programming

Any and all development efforts could be seriously undermined - and even fail - if corruption, deterioration in the rule of law and organized crime are not tackled in a concerted and coordinated manner. The UNDP in Serbia has a role to play, and this can range from supporting UN conventions on anti-corruption to factoring anti-corruption considerations into programme design, performance measures and targeted capacity development. Experience in some countries that have joined the EU have shown some backsliding on the anti-corruption front, and it cannot be assumed that accession to the EU alone will solve the problem. The Council of Europe and European Commission bodies can and should take a lead role in this area, while UNDP can play an important supporting role. For example, since corruption and organized crime know no boundaries, UNDP can work with other UNDP country offices in the region as well as donors and in
5
Narrow the Programme Focus A main challenge for UNDP over the near to medium term will be to narrow the programme focus, by consolidating programme activities in two to three carefully selected sectors, themes or clusters. As noted above, a shift of emphasis to local development presents an opportunity to consolidate several existing programme and cluster activities. The noted areas fall within UNDP's current priority MYFF global goals and service lines, especially the goals dealing with (1) achieving the MDGs and reducing human poverty (especially service lines on local poverty initiatives, including microfinance and on private-sector development), (2) fostering democratic governance (service lines on justice and human rights, on e-governance and access to information, on decentralization, local governance and urban/rural development, and on public administration reform and anti-corruption), and (4) crisis prevention and recovery (service lines on conflict prevention and pe
6
Forge a Strategic Alliance with the European Commission and Government of Serbia

The June 2004 "Memorandum of Understanding concerning the establishment of a strategic partnership between the European Commission and the United Nations Development Programme" should be used as the basis for working out concrete collaborative arrangements with the EC and the Government of Serbia as EAR funding and operations are decentralized and deconcentrated (2006 is expected to be the last year of EAR programming). During 2006, a new programming instrument (IPA or Instrument for Pre-Accession) is being developed by the EC and will be implemented in 2007. Future government execution of EC funds may be hampered by limited government capacity, and UNDP, based on past experience, may implement a number of government programmes. However, as mentioned above, the challenge for UNDP will be to maintain focus and abide by EC standards of project management, procurement and contracting.
7
Strengthen Country Office Strategic Management

The UNDP programme in Serbia is in its early stages. Individual programmes supporting such areas as local development, the rule of law and judicial reform require a long time to generate results, outcomes or impacts. The UNDP country programme over the period 2001-2005 may be seen as the first phase of a medium- to longer-term partnership to assist Serbia in meeting human and economic development goals. Without any concrete baselines or measures of performance, other proxy or qualitative indicators may be needed to measure and assess performance of the overall country programme. All this is to say that more attention will need to be paid to ongoing strategic management, performance monitoring and reporting, evaluation and 'business planning' to ensure that the UNDP programme operation remains relevant and cost-effective. To be sure, the recently developed strategy notes for each cluster are helpful in establishing a lo
8
Think Early About an Exit Strategy

The former Yugoslavia was a founding member of the United Nations and an initial contributor. Serbia today is a middle-income country that could soon graduate to net contributor country status and be accepted as a candidate for EU membership. The argument has been made that UNDP established a position in Serbia and expanded its programmes because it had a legitimate role to play as a UN agency (for example, in crisis prevention in southern Serbia). Serious thinking about UNDP exiting from the republic should coincide with Serbia's strategy for EU accession and economic development. One mechanism to ensure that such strategic thinking occurs is to place a 'sunset clause' for the UNDP presence in Serbia in the UNDAF and Country Programme Document, to be reviewed annually in the Country Programme Action Plan. The current programme cycle ends in 2009, and this may be a good juncture to review and decide on continued UNDP presence or exi
9
Bring Greater National Balance to Programming

UNDP has made significant progress in supporting policy and capacity development in Government and civil society, while at the same time building bridges between the two. However, while it is not a major issue at the present time, there is the risk that future UNDP programming and implementation could tilt more towards NGOs to offset corruption or capacity weaknesses in Government. This could produce national imbalances where the role of Government (in policy, in some areas of service delivery, and in programme management) could be undermined. UNDP might strive in the future to attain a greater development balance in consultation and participation by involving Government, the broader civil society and the private sector through such initiatives as the 'global compact'.
10
Use Partnerships as a Means to Better Coordination and Capacity Development.

At the sectoral level, the challenge for UNDP is to be able to strike a balance between meeting national priorities that might often take the form of reactive 'quick fixes', and advocacy for a long-term approach to improve governance. The notion of partnership or sector-wide approaches to programming and the channelling of development assistance can be introduced as a means to address some of these programming and coordination problems. UNDP is in a good position to provide coordination leadership in the subsectors of public administration reform/ institutional development, decentralization and judicial reform. At the programme execution level, UNDP should endeavour to use structured and collaborative partnership modalities for the execution and implementation of projects and programmes, and move away from the NEX/DEX dichotomy. UNDP may well find alternative methods for project and program
11
Develop Standard Measures for Country Programme Performance

For the Belgrade office and other Country Offices in the region, UNDP should develop a standard approach to country programme performance measurement. The UNDP 'Executive Snapshot' database may be a good foundation for this. Measures dealing with such aspects as resource mobilization, office costs and efficiency, and so on would be most useful not only in quantifying some aspects of country programme performance, but also in drawing comparisons and sharing experiences across the region and with other development partners. Results measures should also be considered and included, where feasible. To generate these, more attention will need to be paid to strategic planning and performance monitoring at the individual Country Office level. Such measures, however, should be kept simple, drawing from readily available sources of information.
12
Develop a UNDP Policy on Net Contributor Countries

The countries in Eastern Europe are a special case for UNDP from a number of perspectives. A major differentiating factor in development and development assistance is the reality and potential of EU membership (and this is certainly the case of Serbia and Montenegro). Furthermore, there is a considerable likelihood that the republics could achieve NCC status within a reasonably short period of time. It can be tempting to rationalize an ongoing role for UNDP in such situations. However, UNDP operations in Serbia and other countries of the region are expensive relative to other regions of the world, where scarce UNDP resources and talent may be better deployed. Outside of the Serbia and Montenegro cases, the role of UNDP in NCCs is, in many cases, ambiguous. A recent UNDP study on the role of UNDP in NCCs revealed that in some regions, UNDP increasingly saw itself as a 'partner' with national governments in the p
1. Recommendation: Clearly Define the UNDP Mission and Role in Serbia

UNDP has established itself as a capable and reliable implementing agency for the Government, the EAR and for other European donors that are bilaterally funding Serbia's preparation for the accession process. The donors - driven by their own agendas - along with the Government, perceive UNDP to be more of an implementing agency, rather than a partner in the policy domain. UNDP perceives itself not so much as an implementing agency, but as a full development partner that is able to engage in and influence the policy agenda, and that is able to advocate the core values of the United Nations.
Within the context of UN reform, the UNDP office in Belgrade will need to clarify and then communicate its vision, mission and role. That role should be aligned with national development priorities, on the one hand, and remain consistent with an amended or new UNDAF for Serbia, on the other hand. Furthermore, UNDP should con
Management Response:
[Added: 2006/10/30]
Agree that the recent changes in Serbia (e.g,. independence of Montenegro), as well as a need to ensure that all staff share a common vision of overall CO mission and priorities, call for a further clarification of these strategic elements. However, such a process is less needed due to UN reform, and more to the political changes to date, and possible further ones in the near future, in order to ensure that our efforts are best aligned with these changing realities.Thus, in practice, a major review and revision of our vision, mission, roles, etc., and of the CPD and CPAPs will be necessitated by the outcome of the Kosovo status negotiations (probably by the end of 2006), and by the probable "early elections" for both Parliament and the Presidency (which may take place before the end of this year) . Such elections will lead to a new Government, including the possibility of one that has little enthusiasm (at least initially) for EU accession, cooperation with ICTY, etc.
Key Actions:
Key Action

Responsible
DueDate
Status
Comments
Documents

a. In these fluid circumstances, the CO will proceed the second half of this year with our further internal review of our overall strategy and roles.b. Strengthen our advocacy efforts (and re advocacy, receive HQ technical assistance), promoting UN values, raising the profile of UNDP and the UN in Serbia., and focusing on CO prioritiesc. As the situation re Kosovo, elections, etc., unfold, the CO determine with our agency partners whether a wider UN review, including a modified UNDAF is needed, or a revised CPD instead.




[Added: 2007/05/18]

[Last Updated: 2009/03/13]

Serbia

2007/06

Completed

UNDP mission and role in Serbia was reviewed in 2008 through the process of developing a CCA and the initial dialogue on developing UNDAF. It was clearly articulated to position UNDP in a role of policy advocacy and an initiator of national capacity development. Through that process UNDP's mission and roles were also reviewed to align with newly elected Government's national priorities within the framework EU accession.
2. Recommendation: Align Programmes with Serbia's Goal of EU Accession

Development policy in Serbia is dominated now and for the foreseeable future by needs associated with EU accession. The dominant players in this process will continue to be EU entities - the European Agency for Reconstruction, its successor, and EU bilateral donors. 2006 is expected to be the last year of EAR programming, and consequently the June 2004 Memorandum of Understanding between the EC and UNDP should be used as the basis for working out concrete collaborative arrangements.

The Government may well look to UNDP to assist in the mobilization of resources to meet a range of development programme implementation needs, particularly in those areas where UNDP is well positioned and is currently providing support. Having worked in the EU accession countries, UNDP has substantial institutional experience supporting national governments and civil society in the process of European integration. It could be
Management Response:
[Added: 2006/10/30]
The two main strategies that are of relevance for Serbia at the current point in time are 1. EU accession2. PRSPOf these two the former is growing in importance. Our programming will acknowledge this and ensure that most interventions are linked to it. There is also a niche here for us in showing the links between these two different strategies.We are well placed here to build upon our current programme activities to further advance EU accession priorities, and to also engage other EU bilateral donors in such efforts.
Key Actions:
Key Action

Responsible
DueDate
Status
Comments
Documents

a. Collaborate with EC both in Serbia and in Brussels on the development of further programme plans in Serbia, including on areas of common special concern (e.g., social inclusion, regional development, capacity building, etc.)b. Explore and undertake further regional (i.e., cross-border/boundary) actions, e.g., with UNDP Country Offices in Balkansc. Explore participation by additional donors (and Government) in projects focused on EU accession preparedness.




[Added: 2007/05/18]

[Last Updated: 2009/03/13]

Serbia

2007/06

Completed

Ongoing, productive dialogue with EC/Brussels and in-country on MIPD for 2007-2009. Discussions under way with all other Western Balkans UNDP offices on cross-border action. Swiss Government has joined in SouthWest Serbia programme
3. Recommendation: Use Local Development and Rule of Law Reforms as Flagship Programmes

Some of the most pressing development needs in Serbia are at the subnational or local level where income disparities persist or are growing, where poverty is most prevalent and where the capacities of Government, civil society and the private sector are weakest. Further, it is at certain local levels where the risk of stability or crisis still exists. UNDP has a proven track record in supporting multidisciplinary development programmes at the local level (South Serbia and the new EAR-funded programme in SouthWest Serbia). While many other donors, including the European Commission, are expected to continue to provide substantial levels of funding and support at the central levels of the Serbian Government, it would appear that major gaps in capacity-development, economic and human development and public administration reform will persist at the local level - gaps that UNDP could fill.

Shou
Management Response:
[Added: 2006/10/30]
Agree with the importance and relevance of these two areas, as well as our strong credibility and comparative advantage in working in them.
Key Actions:
Key Action

Responsible
DueDate
Status
Comments
Documents

a. Restructure CO to consolidate the two UNDP local/regional development projects into one management area, together with related local government projects.b. Develop ways to further strengthen capacity of local/regional governance and populations to effectively programme additional EU/EC, and Government (e.g., National Investment Plan) funding. c. Take a lead in helping create a Regional Development Agency in South Serbia.d. Examine how to more effectively address rural poverty, both in areas of UNDP involvement and also through research, policy development, and programme design with wider applicability.e. Undertake actions regarding Growing Sustainable Business to link private sector with actions that help vunerable populations (e.g., Roma). f. Examine additional actions to provide cross-sectoral assistance to selected cities and towns.g. Create cross-cluster efforts that include aspects of Rule of Law, anti-corruption, local/regional development, etc.h. Undertake regional Tr




[Added: 2007/05/18]

[Last Updated: 2009/03/13]

Serbia

2006/12

Completed

Dialogue is well under way with all actorsRegional Development Agency now established, receiving substantial project supportCross cluster and project Working Group created, research includes jointly with GovernmentProject for Roma under negotiationDesign under way for possible ART/GOLD project. All activities initiated during 2006
4. Recommendation: Support Anti-corruption at All Levels of Programming

Any and all development efforts could be seriously undermined - and even fail - if corruption, deterioration in the rule of law and organized crime are not tackled in a concerted and coordinated manner. The UNDP in Serbia has a role to play, and this can range from supporting UN conventions on anti-corruption to factoring anti-corruption considerations into programme design, performance measures and targeted capacity development. Experience in some countries that have joined the EU have shown some backsliding on the anti-corruption front, and it cannot be assumed that accession to the EU alone will solve the problem. The Council of Europe and European Commission bodies can and should take a lead role in this area, while UNDP can play an important supporting role. For example, since corruption and organized crime know no boundaries, UNDP can work with other UNDP country offices in the region as well as donors and in
Management Response:
[Added: 2006/10/30]
At the June 2006 Staff Retreat, anti-corruption was flagged as a national priority, but staff also noted the difficulties in identifying effective ways for UNDP to address this problem beyond those already under way (e.g., ongoing actions to promote judicial reform, transparent decision-making re South Serbia sub-project selection, etc.).
Key Actions:
Key Action

Responsible
DueDate
Status
Comments
Documents

a. CO to develop a multi-sectoral framework programme for anti-corruption based on UNDP strengths, including through inter-Cluster Working Group.b. Advocate for and support the expansion of the actions of the UN Office on Drugs and Crime.




[Added: 2007/05/18]

[Last Updated: 2009/03/13]

Serbia

2006/12

Completed

UNODC confirms plans to expand programme, including possible regional base in Belgrade
5. Recommendation: Narrow the Programme Focus A main challenge for UNDP over the near to medium term will be to narrow the programme focus, by consolidating programme activities in two to three carefully selected sectors, themes or clusters. As noted above, a shift of emphasis to local development presents an opportunity to consolidate several existing programme and cluster activities. The noted areas fall within UNDP's current priority MYFF global goals and service lines, especially the goals dealing with (1) achieving the MDGs and reducing human poverty (especially service lines on local poverty initiatives, including microfinance and on private-sector development), (2) fostering democratic governance (service lines on justice and human rights, on e-governance and access to information, on decentralization, local governance and urban/rural development, and on public administration reform and anti-corruption), and (4) crisis prevention and recovery (service lines on conflict prevention and pe
Management Response:
[Added: 2006/10/30]
We feel that the issue of how much programmatic complexity a CO can/should sustain, while undertaking programes within UNDPs overall mandate, is still an open question. The ADR risks taking a philosophical position on this matter, by arguing for a more narrow programmatic approach without providing substantial evidence that the current level of CO complexity is causing actual strategic, programmatic and /or operational problems. Thus, important changes that have been made to help manage complexity thus run the risk of being viewed by ADR as simply "belying the breadth of projects and programmes" (to quote the ADR document), when in fact they are meant to help ensure that complexity can be effectively managed. Examples of actions taken and ongoing include by improving internal communication, promoting cross-cluster activities, strengthening operations support by using matrixed management, etc.
Key Actions:
Key Action

Responsible
DueDate
Status
Comments
Documents

a. In practice, we will (as noted earlier) review our overall mission statement and focus in order to identify those aspects which will be given priority attention programmatically and in terms of the "face" that we present to external partners. b. Further, beyond the recent changes in office structure, we will continue to scrutinize projects to ensure that they focus on UNDP and national priorities and can be cost-effectively and efficiently managed, with a view to ending those that do not meet these criteria.




[Added: 2007/05/18]

[Last Updated: 2009/03/13]

Serbia

2006/12

Completed

Activities completed through realignement of programmatic focos onthree areas: Capacity development for accountable and transparent governance, support to sustainable local development and support for inclusive development.
6. Recommendation: Forge a Strategic Alliance with the European Commission and Government of Serbia

The June 2004 "Memorandum of Understanding concerning the establishment of a strategic partnership between the European Commission and the United Nations Development Programme" should be used as the basis for working out concrete collaborative arrangements with the EC and the Government of Serbia as EAR funding and operations are decentralized and deconcentrated (2006 is expected to be the last year of EAR programming). During 2006, a new programming instrument (IPA or Instrument for Pre-Accession) is being developed by the EC and will be implemented in 2007. Future government execution of EC funds may be hampered by limited government capacity, and UNDP, based on past experience, may implement a number of government programmes. However, as mentioned above, the challenge for UNDP will be to maintain focus and abide by EC standards of project management, procurement and contracting.
Management Response:
[Added: 2006/10/30]
The CO agrees with this approach, and indeed has already been working to do so, both in-country with the Government and the EC, and with EC/Brussels. This will include the challenge of providing assistance to both Government and EC in ways that clearly support national ownership, rather than promoting (in practice or perception) an extended UNDP role. FYI, we do not see any particular issues regarding abiding by EC rules and regulations. EAR funds will be programmed into the second half of 2007.
Key Actions:
Key Action

Responsible
DueDate
Status
Comments
Documents

a. Participate in dialogue with EC and Government regarding IPA/MIPD programming for 2007-2009.b. Assist with capacity building of local government, as well as key parts of central Government (e.g., Project Office of the Ministry of Finance)c. Agree with Government and EC on further projects (post-ADR mission) on carrying out specific projects and actions with strong EU accession preparedness components.d. Support the Serbian EU Integration Office




[Added: 2007/05/18]

[Last Updated: 2009/03/13]

Serbia

2006/12

Completed

Special attention being given to expanding "absorptive capacity" of local government and organizations for future EU funds
7. Recommendation: Strengthen Country Office Strategic Management

The UNDP programme in Serbia is in its early stages. Individual programmes supporting such areas as local development, the rule of law and judicial reform require a long time to generate results, outcomes or impacts. The UNDP country programme over the period 2001-2005 may be seen as the first phase of a medium- to longer-term partnership to assist Serbia in meeting human and economic development goals. Without any concrete baselines or measures of performance, other proxy or qualitative indicators may be needed to measure and assess performance of the overall country programme. All this is to say that more attention will need to be paid to ongoing strategic management, performance monitoring and reporting, evaluation and 'business planning' to ensure that the UNDP programme operation remains relevant and cost-effective. To be sure, the recently developed strategy notes for each cluster are helpful in establishing a lo
Management Response:
[Added: 2006/10/30]
The changes to the office structure and management over the past 12 months have been quite significant, following the period of fluidity in RR presence. Thus, it is important to consolidate the changes already identified, undertake certain further steps (e.g., re consolidation of local/regional development, and strengthening support within Clusters) in 2006. This will set the ground for a wider review in 2007 following anticipated creation of a new Government, and resolution of the status of Kosovo
Key Actions:
Key Action

Responsible
DueDate
Status
Comments
Documents

The Country Office undertook restructuring exercise to improve and sharpen the coherence and focus of the programme during 2008




[Added: 2009/03/13]

CO

2008/12

Completed

In 2008, the Country Office undertook restructuring exercise to improve and sharpen the coherence and focus of the programme. The Country Office staff structure was realigned to deliver the priorities as set out under the new Strategic Plan and to function within the revised downward core management budget based on Serbia being categorized a middle-income country at the beginning of 2008.
8. Recommendation: Think Early About an Exit Strategy

The former Yugoslavia was a founding member of the United Nations and an initial contributor. Serbia today is a middle-income country that could soon graduate to net contributor country status and be accepted as a candidate for EU membership. The argument has been made that UNDP established a position in Serbia and expanded its programmes because it had a legitimate role to play as a UN agency (for example, in crisis prevention in southern Serbia). Serious thinking about UNDP exiting from the republic should coincide with Serbia's strategy for EU accession and economic development. One mechanism to ensure that such strategic thinking occurs is to place a 'sunset clause' for the UNDP presence in Serbia in the UNDAF and Country Programme Document, to be reviewed annually in the Country Programme Action Plan. The current programme cycle ends in 2009, and this may be a good juncture to review and decide on continued UNDP presence or exi
Management Response:
[Added: 2006/10/30]
The question of regularly examining our "exit strategy" is useful and important. There seems little likelihood of EU accession by the end of the present UNDAF in 2009, nor of the end of the need for UN actions at that time. However, such accession will hopefully take place in the next years,. Thus, the process leading up to the next CCA and UNDAF will require major thinking, creativity, and practicality for the UN in general, and UNDP in particular, to retain its relevance and usefulness in these changing conditionsOver the next years, this will also entail looking at the necessity of changing the roles for the CO, and possible phasing down of our overall delivery, as the EU and other donors, as well as the UN, place greater emphasis on national ownership and implementation.
Key Actions:
Key Action

Responsible
DueDate
Status
Comments
Documents

a. Annual CPAPS to include review of strategy for phasing over and out of the various programme areas as Serbia progresses towards EU accession and NCC status.b. Mid-term UNDAF review to include review of these issues re UNDP roles, phasing down and over of actions, and exit strategy within larger UN planningc. Development of CCA and UNDAF for post 2009 period to include these issues.




[Added: 2007/05/18]

[Last Updated: 2009/03/13]

Serbia

2008/12

Completed

Exit strategy thinking was initiated through the new UNDAF and CPD formulation process.
9. Recommendation: Bring Greater National Balance to Programming

UNDP has made significant progress in supporting policy and capacity development in Government and civil society, while at the same time building bridges between the two. However, while it is not a major issue at the present time, there is the risk that future UNDP programming and implementation could tilt more towards NGOs to offset corruption or capacity weaknesses in Government. This could produce national imbalances where the role of Government (in policy, in some areas of service delivery, and in programme management) could be undermined. UNDP might strive in the future to attain a greater development balance in consultation and participation by involving Government, the broader civil society and the private sector through such initiatives as the 'global compact'.
Management Response:
[Added: 2006/10/30]
The possible over-balance towards UNDP working more with civil society at the expense of support to Government does not, in all frankness, seem applicable to UNDP in general, nor to UNDP in Serbia. Rather, there is arguably more need to still further strengthen our collaboration with civil society and the private sector.
Key Actions:
Key Action

Responsible
DueDate
Status
Comments
Documents

In terms of resources, balance was attained through the allocation of programme resources for capacity development at the central level ministries linking with local level municipalities. Such as the ministry of economy and rural development, ministry of Environment, ministry of Public Administration and Local Self Government and MoLESP and ministry of Finance, ministry of Agriculture ministry of Justice and ministry of Interior




[Added: 2009/03/13]

CO

2008/12

Completed

Beginning late 2007 definite effort was taken to support legislative executive and judiciary branches. At the same time initiatives were taken to strengthen the capacities of key legislative and judiciary institutions. In all the programming emphasis was placed on participatory methodology and outreach mechanisms such as public hearings to allow dialogue between civil society and 3 branches of the state.
10. Recommendation: Use Partnerships as a Means to Better Coordination and Capacity Development.

At the sectoral level, the challenge for UNDP is to be able to strike a balance between meeting national priorities that might often take the form of reactive 'quick fixes', and advocacy for a long-term approach to improve governance. The notion of partnership or sector-wide approaches to programming and the channelling of development assistance can be introduced as a means to address some of these programming and coordination problems. UNDP is in a good position to provide coordination leadership in the subsectors of public administration reform/ institutional development, decentralization and judicial reform. At the programme execution level, UNDP should endeavour to use structured and collaborative partnership modalities for the execution and implementation of projects and programmes, and move away from the NEX/DEX dichotomy. UNDP may well find alternative methods for project and program
Management Response:
[Added: 2006/10/30]
Our CO has found the Project Steering Committee structure, especially for projects (such as South Serbia) with strong multi-donor participation, to be especially effective for addressing this concern.With the new UNDP execution and implementation modality, the dichotomy between NEX and DEX is being addressed at least in part.UNDP/Serbia to pioneer use of an external module of Atlas with selected partners to further strengthen partnership in implementation.
Key Actions:
Key Action

Responsible
DueDate
Status
Comments
Documents

Sector wide approach discussions were initiated after the newly elected Gvt started functioning in late 2008. Secondly, pilot capacity assessments were also initiated at the central ministerial and the local government level focusing on the region of Vojvodina and south west Serbia municipalities.




[Added: 2007/05/18]

[Last Updated: 2009/03/13]

Serbia

No due date

No deadline established

Sector wide approach discussions initiated
11. Recommendation: Develop Standard Measures for Country Programme Performance

For the Belgrade office and other Country Offices in the region, UNDP should develop a standard approach to country programme performance measurement. The UNDP 'Executive Snapshot' database may be a good foundation for this. Measures dealing with such aspects as resource mobilization, office costs and efficiency, and so on would be most useful not only in quantifying some aspects of country programme performance, but also in drawing comparisons and sharing experiences across the region and with other development partners. Results measures should also be considered and included, where feasible. To generate these, more attention will need to be paid to strategic planning and performance monitoring at the individual Country Office level. Such measures, however, should be kept simple, drawing from readily available sources of information.
Management Response:
[Added: 2006/10/30]
From the CO perspective this would be welcomed. We would be glad to participate in a wider UNDP effort in this regard.
Key Actions:
Key Action

Responsible
DueDate
Status
Comments
Documents

In mid 2009, a joint UNDP and Government CPD evaluation will be undertaken to set baselines for the new programming process to be initiated for the next cycle. Currently project/programmes evaluation plans have been put in place to allow monitoring of development results.




[Added: 2009/03/13]

CO

No due date

No deadline established

The process is currently on going
12. Recommendation: Develop a UNDP Policy on Net Contributor Countries

The countries in Eastern Europe are a special case for UNDP from a number of perspectives. A major differentiating factor in development and development assistance is the reality and potential of EU membership (and this is certainly the case of Serbia and Montenegro). Furthermore, there is a considerable likelihood that the republics could achieve NCC status within a reasonably short period of time. It can be tempting to rationalize an ongoing role for UNDP in such situations. However, UNDP operations in Serbia and other countries of the region are expensive relative to other regions of the world, where scarce UNDP resources and talent may be better deployed. Outside of the Serbia and Montenegro cases, the role of UNDP in NCCs is, in many cases, ambiguous. A recent UNDP study on the role of UNDP in NCCs revealed that in some regions, UNDP increasingly saw itself as a 'partner' with national governments in the p
Management Response:
[Added: 2006/10/30]
While the NCC concept itself does not seem applicable in the EU countries, a number of different models for UNDP presence in EU countries which still wish for UNDP support have been developed, all of them on a self-financing basis.At the same time a strategy for UNDP activities in EU countries has already been developed, which could be extended towards MICs in general.
Key Actions:
Key Action

Responsible
DueDate
Status
Comments
Documents

Development of a strategy for UNDP activities in the EU.




[Added: 2007/05/18]

[Last Updated: 2009/03/13]

Serbia

2006/12

Completed

RBEC is responsible for this task