Evaluation du programme conjoint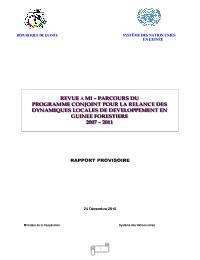 Evaluation Plan:

Evaluation Type:

UNDAF

Planned End Date:

12/2010

Completion Date:

12/2010

Status:

Completed

Management Response:

Yes

Evaluation Budget(US $):

15,000
Title
Evaluation du programme conjoint
Atlas Project Number:
Evaluation Plan:
2007-2011, Guinea
Evaluation Type:
UNDAF
Status:
Completed
Completion Date:
12/2010
Planned End Date:

12/2010

Management Response:
Yes

Focus Area

:
Corporate Outcome and Output (UNDP Strategic Plan 2014-2017)

1. Capacités nationales de suivi et de mise à jour de la pauvreté et des inégalités améliorées en rapport avec les OMD

Evaluation Budget(US $):

15,000

Source of Funding:
Evaluation Expenditure(US $):

12,309

Joint Programme:
No
Joint Evaluation:

Yes

Joint with

Toutes les agences des Nations Unies, autorités locales, communautés

Evaluation Team members:

| Name | Title | Email | Nationality |
| --- | --- | --- | --- |
| | Team Leader | | |

GEF Evaluation:

No

Key Stakeholders:
Countries:

GUINEA

Comments:

Le programme conjoint est une approche intégré de développement et une expérience pilote de réalisation des OMD au niveau régional (approche village du millénaire). La Transition en cours dans le pays depuis décembre 2008 a une incidence certaine sur le rythme de fonctionnement de l'Administration publique et des projets.La mise en place des institutions de la transition et le recours à la vie constitutionnelle sont aujourd'hui les priorités du pays. Aussi, le réaménagement des périodes d'évaluation s'impose pour tenir compte de ce contexte.
Recommendations
1
Les principales recommandations découlant de l?évaluation d?ensemble se déclinent comme suit : (1) Adopter, au niveau de toutes les agences, un plan de travail conjoint basé sur les effets et les produits du Programme (2) Accentuer la mobilisation des ressources et aller vers un panier commun dans la gestion du Programme (3) Renforcer l?implication des services techniques dans la mise en oeuvre des projets et garantir une approche appuyant la mise en oeuvre (4) Renforcer la coordination opérationnelle des interventions (5)Renforcer le suivi évaluation (6) Élaboration d?une politique de communication adaptée et orientée vers l?ensemble des acteurs concernés par la mise en oeuvre du Programme. (7) Donner une identité propre au Programme dans la gestion de chaque agence
1. Recommendation: Les principales recommandations découlant de l?évaluation d?ensemble se déclinent comme suit : (1) Adopter, au niveau de toutes les agences, un plan de travail conjoint basé sur les effets et les produits du Programme (2) Accentuer la mobilisation des ressources et aller vers un panier commun dans la gestion du Programme (3) Renforcer l?implication des services techniques dans la mise en oeuvre des projets et garantir une approche appuyant la mise en oeuvre (4) Renforcer la coordination opérationnelle des interventions (5)Renforcer le suivi évaluation (6) Élaboration d?une politique de communication adaptée et orientée vers l?ensemble des acteurs concernés par la mise en oeuvre du Programme. (7) Donner une identité propre au Programme dans la gestion de chaque agence
Management Response:
[Added: 2011/01/17]
Réaliser le maximum des récommandations
Key Actions: