JVPPSD (Community of Practice)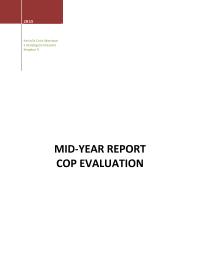 Evaluation Plan:

Evaluation Type:

Project

Planned End Date:

11/2010

Completion Date:

05/2010

Status:

Completed

Management Response:

Yes

Evaluation Budget(US $):

16,000
Title
JVPPSD (Community of Practice)
Atlas Project Number:
Evaluation Plan:
2007-2011, Jamaica
Evaluation Type:
Project
Status:
Completed
Completion Date:
05/2010
Planned End Date:

11/2010

Management Response:
Yes

Focus Area

:
Corporate Outcome and Output (UNDP Strategic Plan 2014-2017)

1. Effective, responsive, accessible and fair justice systems promote the rule of law, including both formal and informal processes, with due consideration on the rights of the poor, women and vulnerable groups

Evaluation Budget(US $):

16,000

Source of Funding:
BCPR
Joint Programme:
No
Joint Evaluation:

No

Evaluation Team members:

| Name | Title | Email | Nationality |
| --- | --- | --- | --- |
| | Team Leader | | |

GEF Evaluation:

No

Key Stakeholders:
MNS, PMU
Countries:

JAMAICA

Comments:
Mid term evaluation
Recommendations
1
Promote Periodic Face to Face Meetings
2
Rotation of the Resource Group
3
Concept Changes are required
4
Expansion of Potential Membership
5
Adjustments to the Webpage Design
6
Setting Periodic Corporate Targets
7
Preparing for movement to new Home Institutions
1. Recommendation: Promote Periodic Face to Face Meetings
Management Response:
[Added: 2011/01/05]
Regular formal and informal meetings will be conducted. At least once a quarter the Facilitator will co-ordinate an in-person activity to builds camaraderie and trust.
Key Actions:
2. Recommendation: Rotation of the Resource Group
Management Response:
[Added: 2011/01/05]
The resource group will be rotated on a two or three month basis in the carrying out of their duties Members of this oversight body will be asked to accomplish specific deliverables instead of just being custodians alone of the initiative.
Key Actions:
3. Recommendation: Concept Changes are required
Management Response:
[Added: 2011/01/05]
1. Add to the concept an outreach or extension programme. Contact regional and local institutions e.g. NGOs and assist in training and access to public library internet links to increase rural participation 2. Explain more clearly to existing and potential members how the CoP will impact on policy by: a. Having representatives from major national policy making bodies e.g. PIOJ and the Cabinet Office as members. b. Targeting policy makers with copies of the newsletter c. Considering major advocacy institutions as members e.g. human rights lawyers, political ombudsmen, child advocates etc 3. The target demographic has to change. Expand the target audience to younger middle managers who are more computer savvy.
Key Actions:
4. Recommendation: Expansion of Potential Membership
Management Response:
[Added: 2011/01/05]
1. Expand the internal membership of the CoP in present stakeholder institutions. For large agencies and ministries additional departmental and divisional representatives to be targeted. 2. Tertiary level law and social work students can provide ?fresh? intellectual information and are more likely to have time for credible comments
Key Actions:
5. Recommendation: Adjustments to the Webpage Design
Management Response:
[Added: 2011/01/05]
1. Input of navigational aids. 2. Fewer reading aids and more navigational buttons. 3. Change of location for the membership sign to the centre of the page or to the right. 4. When the CoP matures instant messaging be provided as an option for direct communication between members or among groups. 5. Provide hyperlinks to other pages which are important to practitioners 6. Offer limited space for social marketing and advertising for members, for sustainability purposes 7. Make changes to the website periodically such as every year or 18 months, to provide a sense of renewal to members. 8. Add more video links to the community library. 9. Partner with organizations such as the SDC and PIOJ which have copyright protected material to provide them to members at a reduced fee
Key Actions:
6. Recommendation: Setting Periodic Corporate Targets
Management Response:
[Added: 2011/01/05]
Additional indicators to be assessed relating to rating of services by members 1. Level of increase of comments 2. Increase in the number of queries and consolidated replies 3. Increase in the activity levels of existing members. E.g. queries, writings etc. 4. Increase in feedback from the newsletter (the aim must be to make this into a quarterly or bi-annual academic journal in the next 3-5 years)
Key Actions:
7. Recommendation: Preparing for movement to new Home Institutions
Management Response:
[Added: 2011/01/05]
1. Institutional audit of potential institutions for hosting the CoP 2. Training of selected representatives and 3. Infusion of technical and information technology resources.
Key Actions: