Terminal Evaluation: Renewable energy for electricity generation - Renewable electrification of the Galapagos Islands - ERGAL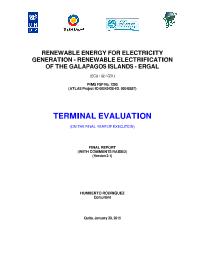 Evaluation Plan:

Evaluation Type:

Final Project

Planned End Date:

09/2013

Completion Date:

01/2015

Status:

Completed

Management Response:

Yes

Evaluation Budget(US $):

29,297
Title
Terminal Evaluation: Renewable energy for electricity generation - Renewable electrification of the Galapagos Islands - ERGAL
Atlas Project Number:
Evaluation Plan:
2010-2014, Ecuador
Evaluation Type:
Final Project
Status:
Completed
Completion Date:
01/2015
Planned End Date:

09/2013

Management Response:
Yes

Focus Area

:
Corporate Outcome and Output (UNDP Strategic Plan 2018-2021)

1. Output 1.5. Inclusive and sustainable solutions adopted to achieve increased energy efficiency and universal modern energy access (especially off-grid sources of renewable energy)

Evaluation Budget(US $):

29,297

Source of Funding:
GEF
Joint Programme:
No
Joint Evaluation:

No

Evaluation Team members:

| Name | Title | Nationality |
| --- | --- | --- |
| Humberto Rodriguez | consultor | COLOMBIA |
| Humberto Rodriguez | Consultor | COLOMBIA |

GEF Evaluation:

Yes

| | |
| --- | --- |
| GEF Project Title: | |
| Evaluation Type: | Terminal Evaluation |
| Focal Area: | Climate Change |
| Project Type: | FSP |
| GEF Phase: | GEF-2 |
| GEF Project ID: | 1135 |
| PIMS Number: | 1295 |

Key Stakeholders:
Ministerio de Electricidad y Energías Renovables, Ministerio del Ambiente, SENPLADES
Countries:

ECUADOR
Recommendations
1
When designing ProDocs, it is important to consider the project competences because some of its expected outcomes are beyond the intervention capacities or scope of projects. For example, it is hard for the project to achieve changes in regulatory or legal frameworks, although projects can certainly promote such changes, because the final result does not depend on the project but on national organisms.
2
The modifications that are made to the Results Framework must include indicators for the results.
3
To systematize the achievements and disseminate the information that has been obtained, making them public; in order to obtain a greater impact on the project?s achievements and to make this joint effort between UNDP-GEF and MEER more visible.
4
The global environmental objectives of the projects will only be fulfilled when all related (renewable energy) projects are in operations, starting in 2017. Hence, it is very important to execute and start operations of the projects currently being developed as soon as possible
5
To continue disseminating existing information. To upload to MEER?s website the information concerning training workshops and courses and to keep ERGAL?s website or create a link in MEER?s website.
6
Report about the procedures, processes, barriers, that were followed to install the wind farm Baltra/Santa Cruz, once the farm is commissioned (Sub outcome 6.2 is pending)
7
To elaborate the Insular Energy Inventory, integrated in the General Resource Planning.
8
To coordinate with MEER to participate in a Regional Seminar to present and discuss results/lessons learned (Sub outcome 5.2 is pending)
9
To establish a fund in Elecgalapagos which would obtain resources from renewable generation to finance the sustainability of renewable projects and the widening of the renewable generation basis; and hence assuring the sustainability of the project. This is an activity that should be developed by MEER.
10
To continue and strengthen ERGAL?s achievements because this effort responds to the needs and realities of the Galapagos Islands To continue strengthening Elecgalapagos? capacity for the development and operation of renewable energy projects, and the implementation of energy efficiency.
11
To demand better capacity building for the personnel in the delivery process of the renewable energy power plants, to ensure their sustainability.
12
To provide permanent technical and financial support in order to ensure long term operational and maintenance sustainability of RE systems. Accordingly, a good option is to implement a fund in Elecgalapagos for this specific end; which would be financed through the income from renewable energy generation, as recommended in the ProDoc.