End of Term Evaluation of the Malawi Human Rights Support Project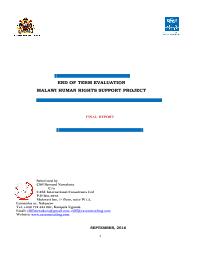 Evaluation Plan:

Evaluation Type:

Final Project

Planned End Date:

08/2016

Completion Date:

09/2016

Status:

Completed

Management Response:

Yes

Evaluation Budget(US $):

35,000
Title
End of Term Evaluation of the Malawi Human Rights Support Project
Atlas Project Number:

00067141

Evaluation Plan:
2012-2018, Malawi
Evaluation Type:
Final Project
Status:
Completed
Completion Date:
09/2016
Planned End Date:

08/2016

Management Response:
Yes

Focus Area

:

1. Democratic Governance
2. Cross-cutting Development Issue
3. Others

Corporate Outcome and Output (UNDP Strategic Plan 2014-2017)

1. Output 2.3 Capacities of human rights institutions strengthened
2. Output 2.4. Frameworks and dialogue processes engaged for effective and transparent engagement of civil society in national development

SDG Goal

Goal 1. End poverty in all its forms everywhere
Goal 16. Promote peaceful and inclusive societies for sustainable development, provide access to justice for all and build effective, accountable and inclusive institutions at all levels

SDG Target

1.2 By 2030, reduce at least by half the proportion of men, women and children of all ages living in poverty in all its dimensions according to national definitions
16.1 Significantly reduce all forms of violence and related death rates everywhere
16.3 Promote the rule of law at the national and international levels and ensure equal access to justice for all
16.6 Develop effective, accountable and transparent institutions at all levels

Evaluation Budget(US $):

35,000

Source of Funding:
TRAC
Evaluation Expenditure(US $):

29,393

Joint Programme:
No
Joint Evaluation:

No

Evaluation Team members:

| Name | Title | Email | Nationality |
| --- | --- | --- | --- |
| Cliff Bernard Nuwakora | Mr. | cliff.nuwakora@gmail.com | UGANDA |

GEF Evaluation:

No

Key Stakeholders:
Malawi Human Rights Commission; Office of the President and Cabinet, Development Partners, Civil Society Organizations
Countries:

MALAWI

Comments:

The title of the evaluation has been updated to match the project name. The timing of the evaluation has been revised in respect of other CO commitments.
Recommendations
1

Develop a Successor Programme: This should consolidate, popularize and cascade the achievements downstream up to the grass root community levels in a bid to promote and protect human rights holistically. The following should be taken into considerations as crucial actions:

Emerging issues and lessons learnt under this project such as minority rights, issues of innovative capacity building of institutions and organizations, as well as supporting the downstream levels to ensure that the demand side of human rights by the population should be enhanced through active and robust participation of non-state actors (NSAs);
Minority Rights: For any future program to be appreciated, it should take into account the issues of minority rights such as LGBT, HIV and the Law, Disability, from the design stage. These emerging human rights issues should also be premised on deeper research, investigations and public inquiries as a way of getting the root causes of specific human rights violations for proper litigation and awareness purposes;
The design of the successor program should continue to be aligned to the Democratic Governance Sector Strategy, National Action Plan for Human Rights and MHRC Strategic Plan and ensure logical alignment of activities across these major documents;
The design should take into account the need for Mid Term Review; exit strategy, clear definition of strategic approaches as well as program delivery instruments like Results based management among others.

Mainstreaming of Sustainable Development Goals (SDGs): The successor program should take into account the SDGs as a new global development framework.

2

Enhance Monitoring and Evaluation with Results based Management and real time monitoring.

3

Strengthen innovative capacity building initiatives through volunteerism and human rights forum among others.

4

Review and development of a National Civic Education Framework.