00060927: Persistent Organic Pollutants (POPs) Pesticide End of Project Eval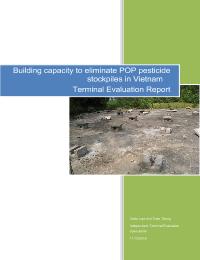 Evaluation Plan:

Evaluation Type:

Final Project

Planned End Date:

03/2016

Completion Date:

12/2015

Status:

Completed

Management Response:

Yes

Evaluation Budget(US $):

25,000
Title
00060927: Persistent Organic Pollutants (POPs) Pesticide End of Project Eval
Atlas Project Number:

00060927

Evaluation Plan:
2012-2016, Viet Nam
Evaluation Type:
Final Project
Status:
Completed
Completion Date:
12/2015
Planned End Date:

03/2016

Management Response:
Yes

Focus Area

:
Corporate Outcome and Output (UNDP Strategic Plan 2014-2017)

1. Output 1.3. Solutions developed at national and sub-national levels for sustainable management of natural resources, ecosystem services, chemicals and waste

Evaluation Budget(US $):

25,000

Source of Funding:
GEF
Evaluation Expenditure(US $):

25,000

Joint Programme:
No
Joint Evaluation:

No

Evaluation Team members:

| Name | Title | Email | Nationality |
| --- | --- | --- | --- |
| Carlo Lupi | | | |
| Toan Thang | | | |

GEF Evaluation:

Yes

| | |
| --- | --- |
| GEF Project Title: | |
| Evaluation Type: | Terminal Evaluation |
| Focal Area: | Persistent Organic Pollutants |
| Project Type: | FSP |
| GEF Phase: | GEF-4 |
| GEF Project ID: | 3105 |
| PIMS Number: | 3578 |

Key Stakeholders:
MONRE
Countries:

VIET NAM
Recommendations
1

Lesson learned is how to combine the different implementation modalities, administrative procedures, traditions and missions of different UN agencies when implementing multi-agency projects. In the current case, the parallel implementation of different project components by the two agencies (FAO and UNDP) created initially some difficulties. In the end, the two agencies coordinated each one with a different reference institution for carrying out their relative activities: FAO with MARD, and UNDP with MONRE. This arrangement was eventually successful as the project was capable to deliver a more specialized support through the combination of the specific competences of the two agencies.

Therefore, the lesson learned here is that multi-agency project may be recommended whenever different competencies requiring the involvement or agencies with different comparative advantages are needed under the same project – in this case, competences on disposal technologies and pesticide management. However, when more agencies are involved, sound planning, clear attribution of responsibilities, and the adoption of a single implementation modality should be sought since project drafting to avoid implementation difficulties and misunderstanding.

2

The Government of Vietnam already undertake the right steps to reinforce the initial project benefits in term of enactment of specific legislation. The government should pay special care to the following practical aspects:

The disbursement mechanism envisaged for site clean-up by the NTP should be possibly revised to ensure that the funds are timely effectively allocated. The co-financing rules underpinning the NTP should not represent an obstacle for low-budget provinces to receive support for their remediation activities;
It is not recommendable to bind the NTP to a fixed list of contaminated sites, as priorities may changes each year due to new sites found. A dynamic priority list based on updated information should be maintained and linked to the NTP;
The official endorsement of the 5-steps Guidance Documents on contaminated sites should completed as soon as possible;
There is the need to further strengthening laboratory capabilities on the determination of POP pesticides, by performing cross validation and inter-laboratory comparison at different sampling and analytical stage, to understand analysis reliability and replicability, and the relative variability associated with sampling and laboratory determination;
A guidance for conduction burn-test procedure for permitting POPs disposal facilities should be drafted and endorsed by the government. The guidance should include the determination of relevant POPs and U-POPs in all the out-stream of the facility (exhaust gas, sludge, water, fly and bottom ashes) to allow the calculation of both Destruction Efficiency (DE) and Destruction and Removal Efficiency (DRE);
Competences on contaminated site remediation appeared fragmented among different institutions (MONRE, MARD, PPD, and MOIT). There would be good to establish a "knowledge center " for contaminated sites, to prevent different institutions to elaborate / enact their own standard;
There is the need to ensure that rehabilitation work carried out at sites comply with the technical specification and design, maybe by training staff from relevant authorities on remediation design and verification.

3

Proposals for future directions underlining main objectives

To limit import of illegal pesticides, in addition to strengthen the control at the border, random inspections at market level (distribution, retailers and farmers) could help discouraging the illegal practices and eventually reduce import.
As additional POP pesticides contaminated sites will be likely discovered, there is the need to identify financial source for site remediation and clean-up beyond GEF resources.
More training of trainers should be applied to ensure sustainability of training, facilitating the participation of private operators and establishing certification schemes.
To reduce the exposure of the operators, there is the need to promote the use of adequate Personal Protective Equipment (PPE) at the same time studying how to improve tools and procedures more suitable to the local climate (hot and wet).
There is the need to ensure sustainability of the inventory tools delivered to MARD/PPD and their possible integration to the ones delivered to MONRE
1. Recommendation:

Lesson learned is how to combine the different implementation modalities, administrative procedures, traditions and missions of different UN agencies when implementing multi-agency projects. In the current case, the parallel implementation of different project components by the two agencies (FAO and UNDP) created initially some difficulties. In the end, the two agencies coordinated each one with a different reference institution for carrying out their relative activities: FAO with MARD, and UNDP with MONRE. This arrangement was eventually successful as the project was capable to deliver a more specialized support through the combination of the specific competences of the two agencies.

Therefore, the lesson learned here is that multi-agency project may be recommended whenever different competencies requiring the involvement or agencies with different comparative advantages are needed under the same project – in this case, competences on disposal technologies and pesticide management. However, when more agencies are involved, sound planning, clear attribution of responsibilities, and the adoption of a single implementation modality should be sought since project drafting to avoid implementation difficulties and misunderstanding.
Management Response:
[Added: 2016/10/19]
Agreed. It is also important to have clear governance structure to have specific lead among participating agencies and support the driving seat by the government. These lessons and recommendations will be used for the design and formulation of future projects.
Key Actions:
2. Recommendation:

The Government of Vietnam already undertake the right steps to reinforce the initial project benefits in term of enactment of specific legislation. The government should pay special care to the following practical aspects:
The disbursement mechanism envisaged for site clean-up by the NTP should be possibly revised to ensure that the funds are timely effectively allocated. The co-financing rules underpinning the NTP should not represent an obstacle for low-budget provinces to receive support for their remediation activities;
It is not recommendable to bind the NTP to a fixed list of contaminated sites, as priorities may changes each year due to new sites found. A dynamic priority list based on updated information should be maintained and linked to the NTP;
The official endorsement of the 5-steps Guidance Documents on contaminated sites should completed as soon as possible;
There is the need to further strengthening laboratory capabilities on the determination of POP pesticides, by performing cross validation and inter-laboratory comparison at different sampling and analytical stage, to understand analysis reliability and replicability, and the relative variability associated with sampling and laboratory determination;
A guidance for conduction burn-test procedure for permitting POPs disposal facilities should be drafted and endorsed by the government. The guidance should include the determination of relevant POPs and U-POPs in all the out-stream of the facility (exhaust gas, sludge, water, fly and bottom ashes) to allow the calculation of both Destruction Efficiency (DE) and Destruction and Removal Efficiency (DRE);
Competences on contaminated site remediation appeared fragmented among different institutions (MONRE, MARD, PPD, and MOIT). There would be good to establish a "knowledge center " for contaminated sites, to prevent different institutions to elaborate / enact their own standard;
There is the need to ensure that rehabilitation work carried out at sites comply with the technical specification and design, maybe by training staff from relevant authorities on remediation design and verification.
Management Response:
[Added: 2016/10/19]
[Last Updated: 2016/10/19]
Agreed. All these issues have been communicated with VEA/MONRE at the project closing workshop in Dec 2015 and consultation discussions of the terminal evaluation. VEA MONRE well noted the recommendation and will considered to take those forward. So far, the 5-steps Guidance Documents on contaminated sites was included in a MONRE draft circular. Further training for staff and strengthen capacity of provincial and national laboratories will either be continued by state budget or integrated to new projects. Relevant NTP financial mechanism to support poor provinces in addressing POP pesticides contaminated sites will be considered in the next phase of 2017-2020
Key Actions:
Key Action

Responsible
DueDate
Status
Comments
Documents

2.1 Present at the Project closing workshop




[Added: 2016/10/19]

Project Management Unit & UNDP

2015/12

Completed
3. Recommendation:

Proposals for future directions underlining main objectives
To limit import of illegal pesticides, in addition to strengthen the control at the border, random inspections at market level (distribution, retailers and farmers) could help discouraging the illegal practices and eventually reduce import.
As additional POP pesticides contaminated sites will be likely discovered, there is the need to identify financial source for site remediation and clean-up beyond GEF resources.
More training of trainers should be applied to ensure sustainability of training, facilitating the participation of private operators and establishing certification schemes.
To reduce the exposure of the operators, there is the need to promote the use of adequate Personal Protective Equipment (PPE) at the same time studying how to improve tools and procedures more suitable to the local climate (hot and wet).
There is the need to ensure sustainability of the inventory tools delivered to MARD/PPD and their possible integration to the ones delivered to MONRE
Management Response:
[Added: 2016/10/19]
The first 4 issues have been discussed with VEA/MONRE, including at the project closing workshop in Dec 2015, who leads the implementation of the NTP, and collaborate with other authorities such as customs, etc. and they agreed to take those forwards
The fifth issue fall under FAO's work and responsibility. The terminal evaluation report, from where these recommendations come, was approved by FAO.
Key Actions:
Key Action

Responsible
DueDate
Status
Comments
Documents

3.1 Present at the Project closing workshop




[Added: 2016/10/19]

Project Management Unit & UNDP

2015/12

Completed